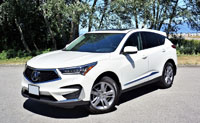 So here it is, the first application of Acura's new Diamond Pentagon grille on a vehicle that was designed to incorporate it from the ground up. 
Together with a more fluidly shaped set of Jewel-Eye LED headlamps to each side and a more progressive front fascia down below, not to mention plenty of chrome thanks to my tester's top-line Platinum Elite trim, the new 2019 RDX is one eye-catching luxury SUV. 
The sharp creases and shapely folds continue down each side of the redesigned model, providing a wedge-like profile and muscular, sporty stance, while the roofline up top culminates into now popular floating D-pillars above an attractive set of pointed LED taillights. Again, the new RDX design is pleasing from front to back.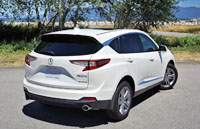 Those who found the previous RDX a bit too budget-oriented when compared to some of its peers should welcome the new interior as well, as it's really hard to fault it on styling or materials quality. The top half of the cabin is primarily composed of high-end, soft-touch synthetics, contrast-stitched padded leathers, and real hardwood inlays on the upper edges of the dash top, flowing into the door panels, and extending across the mid portion of the instrument panel, plus the lower console as part of a scrolling lid that accesses the cupholders and large cell phone bin/USB charger below.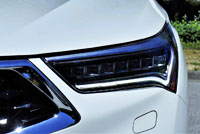 Acura has done a great job with metal accents too, tastefully detailing the steering wheel, column stalks, gauges, vents, centre stack, door handles, power seat controls, and overhead console, and then stepping things up another notch by trimming the handle on that aforementioned centre bin lid and the ELS Studio 3D speaker grilles with an even nicer grade and finish of aluminum. Impressive. 
A large infotainment display with superb definition, clarity and depth of colour is now perched atop the dash, providing easy visibility from a quick glance, while other functions can be sourced from a sizeable multi-information display within the otherwise analogue gauge cluster.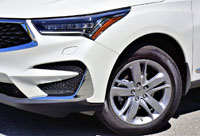 Also notable, the centre stack actually floats above a large open compartment featuring a rubberized base for holding personal devices that can be conveniently plugged into a USB charge point, an auxiliary plug or a 12-volt power outlet. 
The sides of that floating centre console's upper portion are finished in padded leatherette with nice contrast stitching that continues all the way back to the centre armrest/bin lid cover, and some of that soft-touch material wraps over to the edge of the steering wheel column where the engine ignition button sits, as well as to the right side to the glove box lid. You'll be hard pressed to find as high a level of luxury finishings amongst RDX competitors.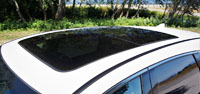 Common in this class, however, the lower door panels are made from harder plastic, as is most of the lower dash and lower console. Nevertheless, the RDX is finally in the same league as its compact luxury SUV peers when it comes to interior fit, finish, refinement and features, which means it can now command the higher price point this Elite Platinum trim requests. 
My top-line tester is available from $57,160, my example actually priced at $57,660 due to White Diamond Pearl paint. That's $2,770 into MDX territory, but as noted the RDX is more than ready to do battle with the Audi Q5, Mercedes-Benz GLC, BMW X3, et al, and feels like a much more complete package than the Lexus NX and some others in the class, with better switchgear refinement and a more solid, substantive feel all-round.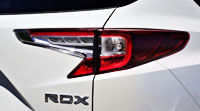 The RDX is a lot sportier than I expected too. Initially factoring in a displacement drop from 3.5 to 2.0 litres and the elimination of two cylinders, from six to four, straight-line performance was a pleasant surprise. In fact, the new RDX feels even quicker off the line than the old model and is now one of the sportier SUVs in its segment. Along with 272 horsepower and 280 lb-ft of torque, which is a generational bump of 7 horsepower and 28 lb-ft, the engine also makes wonderful noises, its soundtrack just enhancing the experience enough to excite without overwhelming conversations within.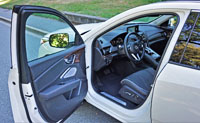 The new 10-speed automatic, a significant two forward speeds more advanced than most premium challengers, allows the engine to rev up to its maximum between shifts, and swapping cogs via the steering wheel paddles happens instantaneously when in Sport or Sport Plus modes. It's wonderfully smooth too, especially in its Normal default mode, this new engine/gearbox combination delivering one of the best refinement/performance compromises in this class. 
Choosing driving modes is accomplished by rotating a massive knob placed square in the middle of the centre stack (more on this in a moment), while Acura has also made its class-exclusive button/rocker switch-actuated gear selector standard across the RDX line. It's slightly different than the one used for the MDX, for instance, but it didn't take long for me to acclimatize. My advice to those taking the new RDX out for a test drive is, be patient and give it time. You'll get used to it and might even like it more than a shift lever after settling in, while you've got to admit it's a pretty futuristic looking human-machine interface.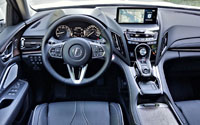 The RDX has always been a strong performer, but this new model feels lighter up front and more responsive around fast-paced corners than its predecessor, with easy, reactive turn-in and rock-steady grip when snaking through circuitous backroads. Acura's highly touted torque-vectoring Super Handling All-Wheel Drive (SH-AWD) is standard, and as with the previous model provides excellent all-weather control, while braking is linear and fully up to the task of scrubbing off speed quickly with confidence, all adding up to a new RDX that once again feels more capable than the outgoing one, as well as many of its peers.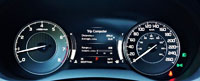 With a much smaller displacement, more advanced engine and four additional forward gears it only makes sense that RDX emissions and fuel economy have made gains too, the latter rated at 11.0 L/100km city, 8.6 highway and 9.9 combined for all trims other than the sporty new A-Spec that gets an estimated 11.3, 9.1 and 10.3 respectively, these numbers comparing favourably against last year's claimed fuel economy rating of 12.4 city, 8.7 highway and 10.7 combined. New idle stop-start, which automatically shuts the engine down when it would otherwise be idling and then immediately reboots it when ready to go, does its part in reaching the improved consumption figures, while making a big difference in reducing emissions.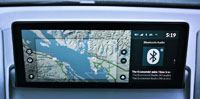 While its mix of performance and economy certainly gives the RDX an edge over the majority of entry-level luxury rivals, Acura hasn't forgotten that comfort is king in the luxury SUV class. Therefore, along with all the aforementioned high-end detailing and impressive assortment of premium equipment, the redesigned model is even larger and roomier than the SUV it replaces, which was already quite generous. Specifically, the 2019 RDX is 78 mm (3.1 inches) longer than the old one, with a 65-mm (2.5-inch) increase in wheelbase that makes a significant difference to rear seat roominess, while it's also 46 mm (1.8 inches) wider for added shoulder and hip space, and 31 mm (1.2 inches) taller, improving headroom. Despite its increased dimensions it has only gained 86 kilos (189 lbs) of curb weight, the previously noted performance improvements partially attributed to this.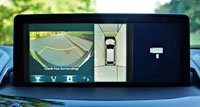 When seated in back I could almost completely stretch out my legs with my feet under the front seat, leaving at least eight to 10 inches ahead of my knees, about five inches next to my shoulders, and another three or so between my outside hip and the door panel, while the rear seat is also comfortable. A reasonably sized armrest folds down from centre, exposing two smallish cupholders. Even better, the back padding of the armrest's alcove is covered in a wonderful soft velvet-like material that does a good job of pampering elbows. Also appreciated, three-way seat heaters warmed rear outboard positions in my top-tier trim, while rear ventilation is good too. Lastly, the rear seating area is finished just as nicely as that up front, with the same high-quality soft-touch door uppers, the same nicely padded leather on the inserts and armrests, identical aluminum speaker grilles, and satin silver finished door pull accents, plus of course the same sumptuous perforated leather upholstery edged out with stylish grey piping and contrast stitching.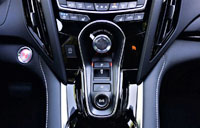 The new SUV's larger size also makes for more cargo room, with maximum space behind its 60/40 split-folding rear seatbacks growing by 142 litres (5.0 cubic feet) to 881 litres (31.1 cubic feet), while the new model offers 82 additional litres (2.9 cubic feet) of luggage space when the second-row is folded flat, at 2,260 litres (79.8 cubic feet). 
Acura trims the cargo compartment out with premium carpeting that goes all the way up each sidewall, plus of course the backside of the rear seats, while chrome tie-down hooks bling up each corner. The sturdy load floor is removable, exposing large compartments for additional stowage below. Each side of the cargo wall gets a convenient carryover feature, a release lever for laying 60-, 40-, or 100-percent of the split rear seatbacks flat, and yes when I say flat I mean the load floor is now much better at swallowing up cargo than previously. I was disappointed not to see a centre pass-through, however, necessary for loading longer items like skis when the more comfortable, heated window seats are occupied.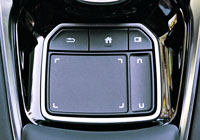 Problems? None, but I found the infotainment system's new True Touchpad Interface a bit disconnected when compared to life with a regular tablet-style touchscreen, like those used for many Honda vehicles. I understand the need for a separate controller when the display is positioned far away from the driver's reach, but this brings up the question of why it's so far away, and why Acura chose to fill prime centre stack real estate with the aforementioned massive rotating dial for choosing driving modes. A simple button on the lower console, instrument panel, or better yet the steering wheel, would suffice for driving modes, which would've freed space to lower the HVAC interface and pull the infotainment display downward and closer, within easy reach of front occupants. This would have reduced the unnecessary cost of developing such a complex touchpad, which I must say can be a bit tricky to use.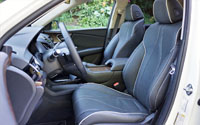 First off, not everyone likes track pads. I use one every day with my MacBook Pro so they're second nature to me, but my partner uses a mouse with her laptop—enough said. On the other side of the argument, most everyone is familiar with touchscreens due to smartphone and tablet use. Despite my familiarity with the latter, I found even simple commands challenging to implement. For instance, the first thing I wanted to do after setting up my smartphone, which worked easily via Acura's HandsFreeLink wireless connectivity, was listen to a podcast via Bluetooth audio. With forefinger on the touchpad I repeatedly attempted to slide it along and then press downward once it reached the Bluetooth logo, but each time it initiated a different function and would not select Bluetooth. I kept trying and eventually managed to select Bluetooth, but this was not a good start. It reminds me of a problem Lexus experienced with its first-generation joystick-style Remote Touch Interface controller, which caused enough frustration from customers to cause the Japanese brand to install separate pushbuttons to each side of the main controller. Acura may want to consider something similar, as merely pressing downward on the trackpad isn't a reliable solution.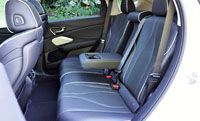 The large 10.2-inch high-definition display and graphics within are superb, with main functions divided two-thirds to the left and one-third to the right. This, of course, allows more variety of simultaneously displayed features and therefore provides a more customizable setup, with the ability to show navigation mapping, for instance, on the larger or smaller screen, plus the audio interface, or some other feature, opposite. Choosing the map function, with finger on touchpad you can explore all around by swiping in any direction, pinching or spreading two fingers for a closer or wider view, and tapping to execute commands. While it mostly sounds hunky-dory the touchpad is much smaller than the screen and therefore doesn't allow for much finger movement. Suffice to say it'll take a little time to get used to.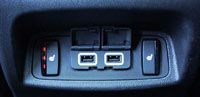 Of note, there's a home button that displays a main screen filled with function links to navigation, phone, AM/FM/HD/satellite radio, Bluetooth audio settings, Apple CarPlay (but no Android Auto), Siri Eyes Free, SMS text message and email functionality, 4G LTE Wi-Fi hotspot capability, Wi-Fi tethering, AcuraLink Subscription Services, etcetera, and I have to say it works pretty well, other than the system's aforementioned habit of not keeping its bright orange cursor on a chosen function after releasing one's finger. You've got to be ultra-exact or you'll miss it, and that's a lot to ask of someone who should be spending less time concentrating on infotainment and more time focused on the road ahead. My advice to you? Spend time learning how to get the most out of this system while parked in the driveway. Try to be patient and you'll probably get the hang of it in time. My advice to Acura? Replace the space-depleting drive mode selector knob on the centre stack with a high-quality touchscreen.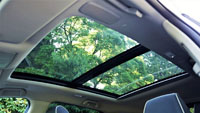 On the positive the gauge cluster looks sharp, the multi-information display (MID) at centre is large at 7.0 inches, very high in resolution with deep, rich contrast, and filled with attractive graphics. Still, I found it odd that the gauge cluster was mostly analogue, for two reasons. First, full TFT gauge clusters are all the rage these days, and some are even included as standard equipment. Secondly, it must be less expensive to make a new digital display from scratch than design, produce and assemble all of the mechanical and digital MID components needed for an analogue cluster these days. 
Other issues? My tester's powered tailgate made a strange groaning noise when opening and closing, as if it needed some lubricating oil somewhere within, and when giving my RDX a bath I noticed a six-inch long score in the front portion of the panoramic glass sunroof, likely due to rubbing up against something when being opened and closed. It wasn't very deep, but over time it could become so. It probably just needs adjustment, but nevertheless these are strange teething pains from a brand like Acura that usually comes to market with its products fully sorted.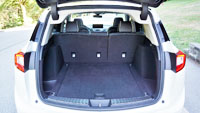 According to CarCostCanada.com, which has the latest in new vehicle pricing, including otherwise hard to get dealer invoice pricing that will help you get the best deal on your next car, truck or SUV, plus everything you need to know about the latest manufacturer discounts and rebates (that your dealer may not tell you about), the 2019 RDX can be had as a well-equipped base model for $46,160 including freight and fees, as well as in $48,660 Tech trim, $48,660 A-Spec, $52,160 Elite and $57,160 Platinum Elite trims. 
Unlike some competitors, I could see plenty of buyers being very happy in the base RDX thanks to features already noted as well as standard automatic high beams for the aforementioned LED headlamps, proximity access, pushbutton ignition, ambient lighting, adaptive cruise control with low-speed follow, dual-zone auto climate control, a garage door opener, a multi-angle rearview camera with dynamic guidelines, an auto-dimming rearview mirror, side mirrors with reverse gear tilt-down and integrated LED turn indicators, 12-way powered front seats including lumbar and four-way headrests, two-position driver's memory, heated front seats, a panoramic moonroof, a powered tailgate, and much more.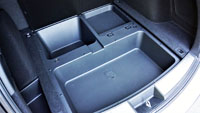 Also standard, AcuraWatch includes Forward Collision Warning, Collision Mitigation Braking, Lane Departure Warning, Road Departure Mitigation, and Lane Keeping Assist, while all the usual active and passive safety equipment are joined by front knee airbags, hill start assist and tire pressure monitoring, all resulting in a best-possible Top Safety Pick+ safety rating from the IIHS. 
Moving up to Tech trim adds Blind Spot Information with a Rear Cross Traffic Monitor, and traffic sign recognition, plus front and rear parking sensors, navigation, voice recognition, and a 12-speaker ELS Studio audio system with dual rear USB ports.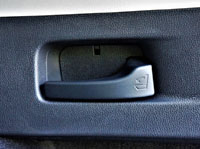 Like with other Acura models, A-Spec trim provides unique front and rear styling, 20-inch alloys, LED fog lights, power-folding side mirrors, a heatable steering wheel, metal sport pedals, unique Alcantara and leather-trimmed upholstery with contrast stitching and seat piping, ventilated front seats, and a 16-speaker ELS Studio 3D audio system. 
Elite trim actually results in a step back to the 12-speaker audio system and the removal of ventilated front seats and LED fog lamps, but it adds headlamp washers, auto-dimming side mirrors, perimeter/approach puddle lights, perforated leather upholstery, and heated rear outboard seats. 
Lastly, my tester's Platinum Elite trim adds back the LED fog lamps, ventilated front seats and 16-speaker 3D stereo, while also including adaptive cornering headlights, a colour head-up display, a surround view monitor, a rear camera washer, 16-way powered front seats including lumbar, thigh extensions and side bolsters, genuine Olive Ash hardwood trim, and metal cargo area garnishes.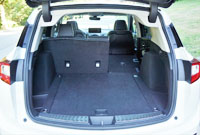 Yes, loaded up with every possible feature the new 2019 RDX can compete head-on with any premium-branded peer, and no matter the trim should once again be seriously considered when also shopping in this hotly contested segment. There are now 14 entries in the compact luxury SUV class, not including four-door coupe variants, which makes it all the more impressive that the RDX has maintained its near top placement. 
As you now know from my criticisms this new RDX is not perfect, but it does most things so very well that it's easy to look past its idiosyncratic infotainment system and my tester's few minor problems, which are likely due to being an early production example. In other words, I like it a lot more than I expected to, and can't help but recommend it highly.