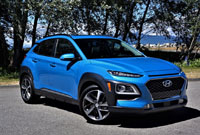 In the burgeoning subcompact SUV segment, one model stands above them all. Kia's Kona only arrived on the scene in March of 2018, but in only its first partial year it rose to sales prominence in Canada, placing third in its class, and even then, it was a mere 42 units behind the next most popular Subaru Crosstrek.
Nissan's Qashqai was number one that year, but it would quickly lose this status during the following 12 months when the Kona's sales increased by a staggering 78-percent to 25,817 examples, dwarfing the next-best-selling Qashqai's 18,526-unit total. Calendar year 2020 saw another bump up the sales charts to 31,733 deliveries, with the best-of-the-rest Crosstrek managing a very respectable 22,161 units, albeit still about a third, or 9,572 deliveries behind, while today, the impressive little Kona is on its way to approximately the same sales results for 2021, once again leading the pack in popularity with 15,715 examples down the road after six months.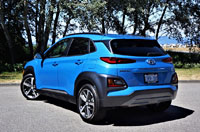 Why such dominance? One look should immediately give it away. This little ute is a knockout, combining plenty of unorthodox styling cues, but doing so in a way that's appealing to most buyers in the entry-level SUV marketplace. Up front and centre it features Hyundai's unique hexagonal grille, although its bold, assertive design is surrounded by some rather fun styling features, including a narrow slat just above, two slim bi-functional LED headlamps with active cornering lights positioned high above the front fenders to each side (projectors are standard below Ultimate trim), some beefy blocks of matte grey/black composite just under those, which are integrated with squarish metallic bezels that look like sporty brake vents, and house LED driving lights inside.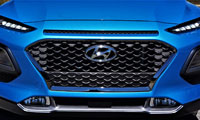 A sporty lower lip spoiler filled with fog lamps sits below everything, the blackened matte material joining up with thick, meaty grey/black fender extensions that circle each wheel cut-out, while more of the darkened trim spans the rocker panels, other than a thin strip of metal-look trim that sits on top.
Hyundai continues a similar look at back, where a thin trip of black trim on the fourth pillar forms a floating roof design that follows the rear window down to an elegant set of horizontally-positioned LED taillights, all of which sit above another blocky cluster of black-cladding that frames backup and reflector lamps before forming into a big black and grey diffuser-style rear bumper.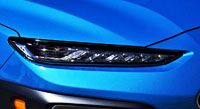 It might sound to some as if I'm describing a mix of the more controversially styled fifth-generation Jeep Cherokee, available from 2014 to 2018, and Nissan's ultimately whacky Juke (that I honestly kind of like), but it all works so well that it's sparked zero controversy at all.
My top-line Kona Ultimate AWD tester added a set of 18-inch machine-finished alloy rims with gray-painted pockets (shared with lesser Trend trim), wrapped around 235/45 Goodyear Eagle Touring all-season rubber. Its Blue Lagoon paintwork borders on radical, but somehow still comes across as tasteful with the Kona, while all the just-noted dark matte grey body cladding across the bottom actually features a slightly glossed up metallic look in Ultimate trim. Some of the metallic bits mentioned a moment ago are partially exclusive to top-line trim too, while the metallic brightwork edging the front grille can also be found on the Trend model.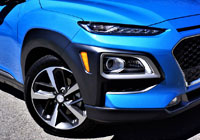 Climb inside, and the Kona continues its expressive attitude, albeit with a dose of upscale refinement. Hyundai mixes dark greys on most surfaces with light grey tones that almost border on white, for the mid-section of the dash and door uppers, while the seats are surfaced in more of a medium grey.
The light grey is dimpled for a nice textured effect, and finished in soft-touch synthetic along the dash facing, while Hyundai utilizes a nice soft paint to make the door uppers a bit more appealing, if not more comfortable for those that rest their elbows on the side window sills. The rest of the interior plastics are harder, although they're comprised of good, solid-feeling composites and seem as if they're designed to put up with abuse over the long haul, while the cabin's overall design is very appealing.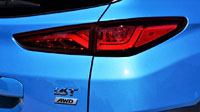 This is especially true of its details, such as the nice leather-wrapped sport steering wheel that includes comfortable thumb spats and elegantly thin spokes dotted with high-quality switchgear, some of the toggles even aluminized. The stalks behind the steering wheel are very high in quality too, while all of the buttons, knobs and toggles throughout the interior are tightly fitted and well damped, despite not being always made from particularly dense composites.
The primary instrument cluster is mostly a backlit analogue design (for now… keep reading), although a narrow, vertical 4.2-inch TFT Supervision multi-information display sits in the middle of the tachometer and speedometer, adding a bit of colour for highlighting key functions. Better yet, a useful head-up display system sits overtop on the dash, projecting key info in the driver's line of sight where it's safer to pay attention to.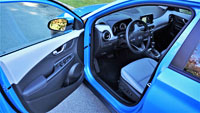 Over to the right, the centre stack is nicely laid out, with the usual fixed tablet-style infotainment display on top, seeming to stick up and out of the dash. The 8.0-inch touchscreen (up an inch from lesser trims) is flanked by two rows of buttons and dials, nothing new here, but I like the way Hyundai has design the pod-like controls, which are all backlit for easy use at night.
The user interface itself is not up to Hyundai's newer standards, with older graphics and a matte screen, but it's still easy to use and filled with functions. Android Auto and Apple CarPlay smartphone integration come standard, as does an accurate navigation system in Ultimate trim, while the backup camera includes helpful active guidelines. The Infinity audio system offers good sound quality, ideally suited to my favourite SiriusXM satellite radio stations, or alternatively one of the many podcasts I regularly listen too, the latter streamed via Bluetooth (which incidentally includes voice command).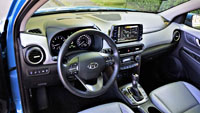 USB ports for smartphone integration and/or charging can be found at the base of the centre stack, along with dual 12-volt chargers, although you might find the Ultimate's exclusive wireless charging pad more to your liking, a real bonus in this entry-level segment.
Separating the two-shelf phone storage/charging area from the infotainment display is a simple, straightforward single-zone automatic climate control interface comprised of two dials and a digital display, the left knob for temperature settings and the right one for fan speeds, this non-manual system only found on the Kona's Ultimate trim, while a row of quick-access HVAC buttons sits just below.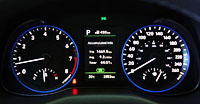 The three-way front seat heater controls are located on the lower console, right in front of a separate button for turning the heatable steering wheel rim on and off, and not far away from two separate buttons for hill descent control and rear parking sensors (this last item exclusive to Ultimate trim), not to mention the gear lever at centre, complete with a leather-clad knob and boot.
Now that we're talking mechanicals, the shifter sends commands down to a sporty seven-speed Dual Clutch Transmission (DCT), standard in all AWD models. Right next to the shifter in these three trims, that include Trend, Luxury and as-tested Ultimate, is another button for four-wheel drive lock, which really helps when trying to get unstuck from the snow, mud or out of any other type of slippery situation, while a Drive Mode button on the opposite side of the console lets you swap between default, Eco and Sport settings, the latter really increasing the fun factor.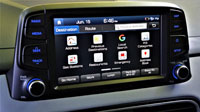 To that end, Hyundai gives its AWD models a little more oomph from a 1.6-litre turbocharged four-cylinder, this engine making 175 horsepower and 195 lb-ft torque compared to the base 2.0-litre mill's 146 horsepower and 132 lb-ft. The former powerplant is sporty for this tiny tyke class, but I won't go so far to say that it sounds sporty, at least not all the time due to a slightly anemic exhaust note when driven slowly, but put your foot into the throttle and a nice growly tone accompanies its brisk acceleration.
In this way, the Kona 1.6T AWD kind of fills the shoes of the aforementioned Juke, which in Nismo AWD-form, or better yet the even more potent Nismo RS, was one seriously zippy performer thanks to 215 horsepower and 210 lb-ft of torque driving a reasonably sophisticated AWD system via a six-speed manual gearbox. That little screamer was killed off five years ago, however, leaving this top-line Kona as one of the segment's most aggressive performers.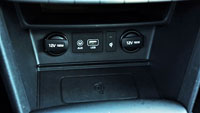 It moves off the line with plenty of chutzpa, although strangely Hyundai forgot to fit a set of paddles to the sporty steering wheel in order to provide any hands-on entertainment. It's certainly shiftable via the gear lever, which merely takes a leftward flick of the wrist to actuate, but folks these days, myself included, would rather flick away in the upper regions of the cockpit. We'll see if Hyundai addresses this in the model's forthcoming refresh, or for that matter updates this model's handbrake with an electromechanical one, although this last point isn't an issue for me.
At least the gearbox allows the engine to rev right up to redline before it automatically shifts, this working best in Sport mode, of course, but shifts are truly quicker than most in this class no matter the mode you're in, due to its dual-clutch design. It's smooth when doing so too, thus a best-of-both-worlds scenario, while its claimed fuel economy rating is about the same as the less powerful engine when optimized with AWD, at 9.0 L/100km in the city, 8.0 on the highway and 8.6 combined, compared to 9.2, 7.8 and 8.6 respectively for the 2.0 AWD. The base 2.0 FWD Kona, incidentally, gets an estimated 8.6 L/100km city, 7.0 highway and 7.9 combined rating.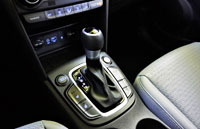 Possibly most important in this class is ride quality and overall comfort, which the Kona provides in spades. Of course, this is a small SUV, so don't expect Palisade levels of poshness or quietude, but within this class it's a refinement superstar, and therefore ideal for everything from inner-city commutes to fast-paced highway road trips, with a little serpentine action thrown in the middle just for fun. Yes, this little ute provides good grip around such circuitous corners for an overall fun experience, which made it my go-to vehicle during its test week.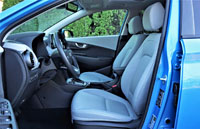 Another reason the Kona sells well is overall practicality, this a critical factor that even mighty Toyota is only starting to figure out with its upcoming Corolla Sport Cross (the CH-R's cargo capacity is miniscule). Settling into the Kona Ultimate's perforated leather-covered eight-way power-adjustable driver's seat, which includes two-way powered lumbar and hides that have a particularly upscale feel, I couldn't help but be impressed by its substantive bolsters that ideally enveloped my backside. All around, it provided the ideal amount of comfort, plus good, firm support, almost Germanic in its design. The tilt and telescopic steering column's reach and rake was superb too, easily finding a good driving position for my short-torso, long-legged frame, which is not always possible in this class or others.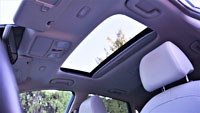 No one should feel claustrophobic up front either, thanks to lofty headroom and plenty of shoulder space, while the same can also be said for rear occupants that offer no shortage of room for legs and feet. The Kona seats three abreast, although two adults in back is best, with the centre armrest folded down to maximize comfort and provide a place for drinks. The outboard seatbacks offer decent lower back support, but other than that, rear creature comforts are nowhere near up to the levels of Ultimate trims in Hyundai's larger SUV lineup—although the netted magazine holders on the backsides of the front seats are nice.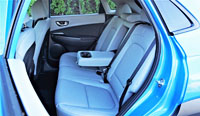 Features in mind, Ultimate trim does come well-equipped for this class, with items like solar front glass, rear privacy glass, rain-sensing wipers, powered and timer-heated exterior mirrors, proximity-sensing keyless access with pushbutton start/stop, a multifunctional auto-dimming centre mirror, a HomeLink universal transceiver, an overhead console integrating a nice padded sunglasses holder and reading lights, plus controls for the powered glass sunroof, lidded and lit vanity mirrors in the front sun visors, plus more.
Advanced safety technologies found in top-tier Ultimate trim include Forward Collision-Avoidance Assist with Pedestrian Detection, Blind-Spot Collision Warning, Lane Change Assist, Lane Keeping Assist, Rear Cross-Traffic Collision Warning, and Driver Attention Warning, while High Beam Assist and Adaptive Cruise Control make the Kona much easier to live with on long commutes and trips.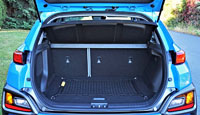 My tester included a handy cargo net attached to all four chromed tie-down hooks at each corner, while the substantive cargo floor is both removable and capable of being raised to match the same level as the seatbacks when folded. Hyundai provides a shallow divided container just below, made from a solid-feeling foam, which is also removable, and when lifted exposes the spare tire below. Likewise, the hard-shell tonneau cover can be removed easily. Expanding on the 544-litre dedicated luggage area are rear seatbacks that fold in the usual 60/40 configuration, which when laid flat via latches on the seat tops makes a sizeable 1,296 litres.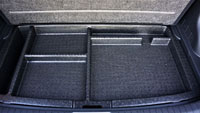 To be honest, due to styling alone the Kona has long been a personal favourite in this class, but after a week behind the wheel I can truly say the rest of the package attests to its popularity. It does everything a subcompact SUV should and more, so it will likely remain on top until some other manufacturer comes up with something that checks off more boxes for similar pricing.
Money in mind, the most basic Kona in Essential trim starts at $21,299 plus freight and fees, while Preferred trim can be had for $23,049, and AWD adds $2,000 to either. The Kona Trend, which comes standard with AWD, starts at $26,899, while Luxury trim does likewise for $27,999. The special Urban Edition, which gets upgraded to the 1.6-litre turbo-four AWD powertrain, is available from $28,049, while the Limited Edition also features the upgraded engine for $28,049. Finally, the as-tested Ultimate can be had from $32,299. On a side note, Hyundai makes the FWD-only Kona Electric, which ranges from $43,699 in Preferred trim to $49,199 for the Ultimate, less government rebates, depending where you live. I'll be covering this one in a separate review soon.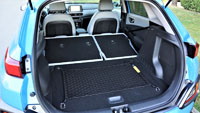 Of note, Hyundai is currently offering up to $5,000 in additional incentives for the 2021 Kona Electric, or up to $1,000 in incentives for conventionally-powered 2021 Kona models, while CarCostCanada members are saving an average of $2,157 when purchasing the latter SUV. To find out how you can access dealer invoice pricing and learn about other CarCostCanada benefits, such as factory leasing and financing rates, check out how their affordable membership works, plus be sure to download their free app from the Apple Store or Google Play Store so you can have all of their valuable info and features at your fingertips when you're ready to negotiate.
Before signing off, it's important for you to know the 2022 Kona will see a fairly dramatic styling refresh from the outside in, including a wider, shallower grille, new headlamps and driving lights, a deeper front fascia, plus changes to the rear lighting elements, bumper, and more. Inside, a new dash design offers an optional digital gauge cluster, while available heated rear seats will give rear passengers more to celebrate on cold mornings. Atop the centre stack, an 8.0-inch infotainment touchscreen will be standard, with the upgraded version stretching to 10.3 inches. Lastly, a sportier N Line trim will soon vie for most entertaining subcompact performance SUV credentials, thanks to a 195-horsepower version of the same 1.6-litre turbo-four used in today's top-line Kona. Details on this last upgrade are not yet available, so we'll keep you posted.
Review and photos by Trevor Hofmann