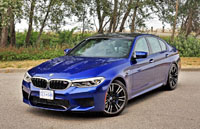 Have you ever wanted something so badly that you fell asleep at night thinking about it and woke up with it still on your mind, repeatedly? That was me when a colleague I worked with at a small BMW retailer back in '96 (that eventually became Canada's top seller) was selling his pre-owned E34 M5. The car was gorgeous, wickedly fast and semi-exotic, or at least as exotic as a four-door sport sedan could get.
I ended up working for that BMW dealership almost every day during the slow months in my seasonal business, because I was already a customer. I'd previously owned a wonderful '74 Bavaria 3.0S and a bulletproof '82 528e, and was driving a little 325e while working there, so appreciated taking home whatever they'd give me on the pre-owned lot; a little green E36 325is being a regular that summer. I liked it so much, in fact, that I ordered my then-wife a brand new '96 325i Cabriolet with the factory aluminum hardtop. After missing out on the E34 M5 that went for silly money (or so I thought at the time), I settled for a similarly sleek '89 E34 525i that was at least a step up in performance from my old, boxy Eta engine-powered 3 and 5 (albeit nowhere near as reliable).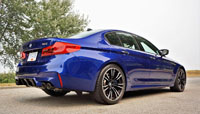 I know I'm not alone when it comes to unfulfilled dreams, particularly with respect to the cars we enthusiasts initially wanted and the ones we settled for, that list a lot longer and more painful than I want to delve into right now, but at least after becoming an automotive pundit I earned the opportunity to drive some of the best cars ever made, some of which wore BMW roundels. Certainly, the various weeks spent with numerous M5s or an even better four days in Bavaria's fabulous Z8 don't quite measure up to the Aston Martins, Lamborghinis, Ferraris, Bentleys, Ford GT, Porsche Carrera GT, Bugatti, etcetera I've driven over the years (although the Z8 was one of the prettiest of them all), but truth be told I'd choose the M5 to drive every day.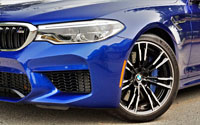 BMW's quintessential sport sedan has been a go-to conveyance for well-heeled commuters for three dozen years, with engine output having increased from 256 horsepower in the North American-spec E28 version to a stellar 617 in this year's Competition model. The regular 2020 M5 makes do with "just" 600, which is good for a 3.4-second blast from standstill to 100 km/h, while the Competition knocks another 0.1 seconds off the clock.
Of course, if all that any of us wanted were straight-line performance we'd buy an old Fox-bodied Mustang, stuff a 5.2-litre crate engine into it and hit the strip (not that there's anything wrong with that). The M5 has become legendary for how it bends its sizeable four-door body through curves, initially for being first this side of a Maserati Quattroporte and a few other exotics to do so, and second for being comparably affordable.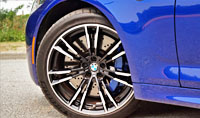 Times have changed and you can now get into a four-door Maserati for less than an M5, but I'll delve into such minutia in a moment or two. For now, after noting the base M5's 176 horsepower and 1.3-second to 100 km/h advantage, while admitting Maserati will soon ante up with a more potent Ghibli Trofeo that's 20 hp shy of the entry-level M5 before even getting out of the gates, and without getting thrust into the deep comparison void that obviously includes AMG-Mercedes' E63 S, Audi's RS 6 (oddly only available as an Avant wagon), Cadillac's CT6-V and Lexus' GS F (although the American and Japanese entrants will soon be ranked alongside other discontinued super sedans such as Jaguar's XF RS), I'll go out on a limb and guess that the Bimmer is the most capable of its class members in the corners too.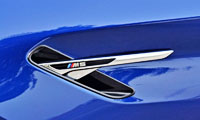 It feels lighter and more agile when pushed hard, more E39-like than the F10's somewhat cumbersome road manners, the carbon fibre roof and other nips and tucks slicing a critical 45 kilos (100 lbs) or so from its predecessor's curb weight. All-wheel drive keeps all the aforementioned power at bay, and the eight-speed transmitting torque to the wheels shifts much quicker than any conventional automatic should.
A bright red "M2" button on the right-side steering wheel spoke triggers Sport+ mode, which eliminates a bevy of safety features in its default setting, resulting in lickety-split launches and even some power-induced oversteer when the car's rear drive-biased underpinnings are coaxed beyond containment. Of course, such shenanigans should only be attempted on a track, particularly when having designs to attain the M5's 305 km/h (190 mph) terminal velocity.
Out on the road, preferably a rural one that winds and undulates like a boa constrictor squeezing its prey, get ready to dust off slower moving traffic as if it's floating in stasis. Passing power borders on the ridiculous, with braking force so strong you'll hardly need to worry about fast-approaching curves. The rate this car can gobble up tarmac is hard to fathom until experiencing it first hand, and that it does so comfortably is even more amazing. Of course, it hardly rides on BMW's most cosseting suspension setup, yet while firm it's far from unpleasant.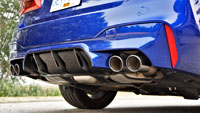 The cabin is a cocoon silent too, other than the ideal amount of combined engine and exhaust note, a critical ingredient for petrolheads buying into this high-powered class. This quiet demeanor will be especially appreciated during everyday driving when you're more likely to leave its sport modes off and turn the 1,400-watt, 16-speaker, 10-amplified-channel Bowers and Wilkins surround audio system up, and believe me the sound quality is almost as awe-inspiring as the driving experience.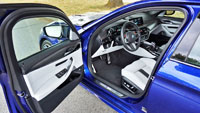 More on that just-noted M2 button, it's combined with an M1 button on the left-side spoke, both featuring pre-set sport settings with the option of personalizing them for your specific driving taste. I tend to like a combination of suspension compliance and engine/transmission eagerness, so to speak, the latter for obvious reasons and the former to overcome the poorly kept country backroads that allow me to test a car like this to its maximum (ok, for the record I was nowhere near the M5's maximum, but out in the boonies I was able to experience much of its capability when safe to do so). I chose to set my M1 button up like that, and added firmer suspension setting to the M2 button, so when the road smoothed out, I could quickly switch over to maximize Gs. I increased shifting speed from D2 to D3 in M2 mode too, turned off the DSC, and more.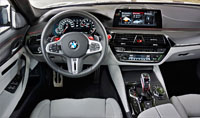 The M5's gauge cluster is perfect for those who want a full digital experience while still maintaining some semblance of analogue design, this due to a set of aluminum rings wrapping the tachometer and speedometer screens. This doesn't allow the complete takeover of a navigation map, for instance, which is a cool feature offered by other manufacturers, but most should find the large multi-info display at centre large enough for such purposes. No shortage of functions can fill the MID, all scrollable via steering wheel controls, while the system's graphics and display quality is top notch.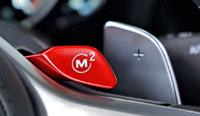 As for the main infotainment touchscreen on top of the centre stack, it was good enough for my needs, although gets better for 2021, growing by more than two inches for a new total of 12.3 inches. And you heard me right, by the way, it is a touchscreen and therefore is as easy to use as a tablet or smartphone, but BMW continues to provide its rotating iDrive controller on the lower console, so spin the dial if you prefer or alternatively tap, swipe and pinch to your heart's content.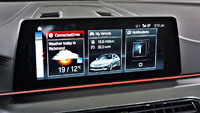 I did my fair share of tapping and pinching elsewhere around the cabin too, my incessant quality checks annoying enough to drive a previous significant other nuts (hence, previous). Suffice to say the M5 offers up one of the nicest interiors in the super sedan segment, with some of the best quality materials available and workmanship that should make anyone proud. I mentioned the Bowers and Wilkins stereo already, so I might as well laud the system's beautiful drilled aluminum speaker grilles first, as they're lovely. The plenty of other metalwork throughout the interior, some accents made from brushed aluminum and others from bright, while glossy carbon fibre could be found in key locations, as could exquisitely stitched leathers.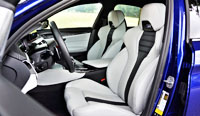 The front seats are gorgeous and wholly comfortable, with more support than any other BMW product I've tested, and at least as much as its competitors. They boast complete adjustability including extendable lower cushions, while the driving position was superb thanks to a generous supply of steering column reach. Those in back should be comfortable enough, as long as they're seated next to the windows, with the entire rear compartment finished to the same high quality as the front compartment. Lastly, the M5's trunk is large and accommodating, plus best of all its usefulness can be expanded via 40/20/40 split-folding rear seatbacks.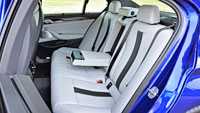 If you like the 2020 M5's styling you're not alone, as the car has been a relative hit. This said the 2021 M5 will undergo some visual surgery, squaring off a slightly enlarged grille, modifying the headlights and tail lamps, plus tweaking some other design details as well. Most should be ok with the changes, but those happy with the 2020 might want to snap one up while they can. This said, BMW isn't offering any greater deal with the 2020 model, at least not yet, with both 2020 and 2021 models available with up to $1,500 in additional incentives, according to CarCostCanada. Check out the 2020 BMW M5 Canada Prices page and 2021 BMW M5 Canada Prices page for more info, plus find out how you can access all the available incentives on the M5 and most other cars available on the Canadian market, including rebates, financing and leasing deals, plus dealer invoice pricing that could save you thousands. Also, download the free CarCostCanada app from the Apple Store or Google Play Store, so you can access all of this critical decision-making info on the fly.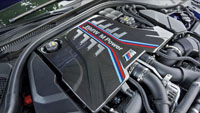 The 2020 M5 starts at $115,300 plus freight and fees for the base car and $123,000 for the Competition model, while the 2021 M5 only comes in Competition trim, but has surprisingly gone down in price to just $121,000. Performance is unchanged, which means the 2021 M5 continues forward as one of the fastest four-door sedans on the planet, as well as one of the nicest to live with.
Story and photo credits: Trevor Hofmann
Photo editing: Karen Tuggay