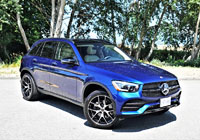 The compact luxury crossover SUV segment is one of the most competitive in the premium automotive sector, with a total of 22 entrants, not including all the unique body-style variants like Mercedes' own GLC Coupe, or the new electrified versions of normally gasoline-powered models.
Looking back at the variety of compact luxury SUVs I've personally spent a week with, I find it difficult to choose one as best overall, because each does at least something especially well. Of course, I have my favourites, and actually loathe one of the top sellers due to its wholly frustrating infotainment interface and confusing gear selector. As you may have already guessed, Mercedes' GLC is not on the naughty list, but in fact right near the top.
Mercedes has competed in the compact luxury SUV market for almost 15 years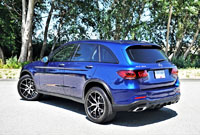 For a bit of background, this first-generation GLC-Class took over from the GLK in 2015, and therefore is one of the more experienced offerings in its segment. Like its predecessor, which arrived early on the compact luxury scene in 2009 for the 2010 model year, it shares underpinnings with the C-Class, although now it does so via Mercedes' flexible MRA platform architecture that supports everything from these current compacts to the mighty AMG GT 4-Door Coupe, plus the outgoing 2013 to 2020 S-Class.
Mercedes doesn't make generational changes as quickly as some other brands, with the 2022 C-Class only just replacing a model that was already eight years old, but this in mind, the now six-years-young GLC will probably be updated with a new design soon, at which point it will likely receive a version of Mercedes' wholly revised C-Class-style infotainment system, while, following the updated C- and S-Class models, the new second-generation MRA 2 platform will underpin it all.
Mercedes makes it easy to get acclimatized between models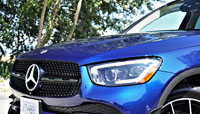 Hard to believe it's taken me this long to get inside a GLC, considering how important the model is to the Mercedes brand, and how many other three-pointed star testers I've driven since it was introduced. All said, it didn't take much time to get acclimatized, being that it provides the same simple, easy-to-use column-mounted gear selector as every other M-B model I've tested in recent years, as well as a similar version of Mercedes' digital driving display and centre touchscreen combo as used in the outgoing C-Class (the GLC will get a similar instrument panel to the new C-Class in 2023), the latter complemented by an intuitively designed set of lower console controls.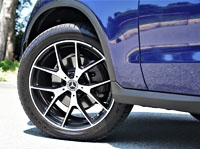 To be clear, it's not the dual-display MBUX system used for most other Mercedes models, but instead the GLC features a separate set of displays. This means its digital gauge cluster was shrouded by a classic hood that ideally shields it from sunrays, while the screen's colourful, graphically stimulating design can be easily modified for personal preference. Default is Classic, which is a simple yet elegant two-dial combination of tachometer and speedometer featuring a cool aqua-blue background, while Sport adds a racier edge and fierier red and yellow colours to the same layout. More minimalized Progressive is for those moments when you just want to cruise in auto-glide while listening to "Chill" on XM satellite radio.
Of course, you can use the thumb-actuated touchpad on the left-side steering wheel spoke (there's one on the right as well, for infotainment functions), together with surrounding buttons, to scroll through a centre-screen pop-up menu that fills its right-side circular "dial" with various graphical features (see all the photos in the gallery), such as service, trip, navigation, audio and media functions.
Older layout still works as well as newer MBUX system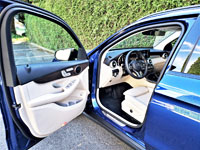 It makes the most of a host of features otherwise found in the infotainment touchscreen to the right, which is an equally colourful, artistically stimulating collage of complementary functions laid out with a simple, straightforward, user-friendliness that few competitors come close to matching. It sits tablet-style, albeit horizontally instead of vertically, and while hardly the largest in its class (that trophy would likely go to the Tesla Model Y), it was big enough for my needs and replete with layers upon layers of usefulness.
Like the driving display, its resolution is imperceptibly fine, almost seeming like I could stick my finger right through it in 3D effect, rather than just touching each prompt. It responds to tap, swipe and pinch inputs rapidly, depending on the feature, and functions as it should. I especially found that its navigation guidance system reacted quickly and performed accurately, which for the latter point, believe it or not, isn't always the case.
Analogue switchgear looks fabulous and aids ease-of-use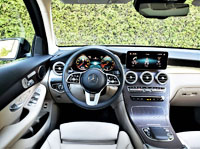 Just below, atop a gorgeous slab of open-pore hardwood, sits a glossy black frame surrounding a neat and narrow row of knurled metallic toggle switches, of which the largest in the centre is used to get you back to square one on the infotainment system above, or rather the menu page. This is a really handy feature that I went to often, as were the smaller surrounding toggles that gave quick access to regularly used heating and ventilation functions. Again, analogue switches for features used all the time are always appreciated in this day of over-the-top digitization.
Speaking of analogue switchgear, an additional row of buttons sits just below the mostly HVAC interface just mentioned, designed for directly engaging the phone, navigation/mapping, and radio/media sections of the infotainment system, on the left, plus the car systems and favourites pages to the right, with the rightmost button being the hazard lights. Again, handy go-to buttons to make living with the GLC simpler.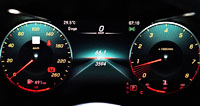 Mercedes includes a lidded wireless phone charger below this, along with a USB-C charging port, ahead of the infotainment system's haptic-feedback touchpad and surrounding switchgear for actuating various functions of the latter, as well as driving features, like Eco, Comfort, Sport and Sport Plus modes. Again, the German brand uses high-quality knurled metal to dress up some key controls, including that drive mode selector and the audio system's handy scrolling volume switch, while the deep, rich wood noted earlier makes everything look sensational.
Best-in-class interior design and finishing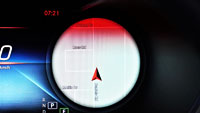 If it wasn't already abundantly clear, should probably take this moment to mention just how well Mercedes does interiors in this class. Most materials are top-level, soft-touch composites or real wood/metal, particularly those above the waste-line, where our eyes and hands are more likely to reside, but Mercedes went the extra mile by covering the entire lower dash facing in premium, pliable, padded leather/leatherette, including the glovebox lid, which is not always the case in this class, while the doors are finished similarly all the way down to their bottommost panels.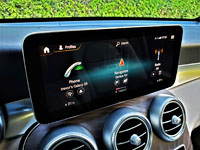 The seat-surface leather is soft and supple, plus perforated for those up front to enjoy three-way forced ventilation on a warm day. Of course, there are three-way heaters to warm the cushions in winter, plus a heated steering wheel rim that warms all the way around.
All roof pillars are wrapped in high-grade woven fabric, which is par for the course in this category, with the same material used for the roof liner that surrounds a massive dual-pane panoramic glass sunroof with the benefit of a powered opaque cloth sunshade and capability of powering half open if you'd rather breathe in fresh air.
Smooth performance is the name of the game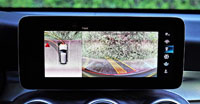 Top on the list of GLC attributes is a very comfortable and smooth ride. In fact, this small SUV feels significantly larger than most competitors, at least when it comes to ride quality and its general sense of solidity. It's a Mercedes, so it promises performance too, with those two Sport modes mentioned earlier, plus its manual mode and steering wheel-mounted paddles, truly helping to get the most out of its 2.0-litre turbocharged four-cylinder engine, which is good for 255 horsepower and 273 lb-ft of torque, plus its quick-shifting nine-speed automatic transmission, and 4Matic all-wheel drive.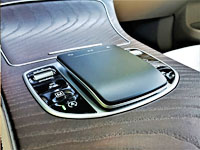 The GLC 300's handling is excellent too, and I'd say comparable to the most recent BMW X3 I drove (a 2021 X3 xDrive3.0i). I pressed for details, I'd give the BMW a slight edge for handling and the Merc a similar nod for ride quality, but without testing them side-by-side on the same roads in identical conditions, it's probably not fair to split hairs. They're both excellent in both respects, so it will come down to personal preferences.
Of course, both Mercedes and BMW, plus other compact luxury SUV competitors, provide upgraded models with much more performance, the GLC also available in 385 horsepower AMG 43 and ultra-potent 503 horsepower AMG 63 S trims.
Fuel economy is a GLC 300 4Matic highlight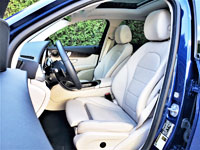 If your priority is fuel economy, however, the GLC 300 4Matic is a better choice. The amount of money going into the tank always depends on how a person drives, of course, and to this end I must say the more pump prices have increased the lighter I've been on the throttle. Therefore, when not testing its performance capabilities, I kept the GLC 300 in Eco or Comfort mode more often than not, which allowed for good power when required, along with decent fuel economy.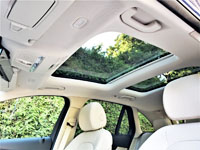 I'm not going to pretend the GLC 300 was best-in-class, but it wasn't far from it at 10.6 L/100km in the city, 8.4 on the highway and 9.6 combined. The thriftiest in the class is Buick's Envision with a combined rating of 8.7 L/100km, but it's must less powerful, whereas Audi's Q5 and BMW's X3 provide slightly less and considerably less power respectively, albeit for combined ratings of 9.3 L/100km. Alfa's base Stelvio tied the GLC at 9.6, while the Cadillac XT4, Genesis' much more powerful GV70, Infiniti's QX50, and Lexus' NX 300 were fractionally thirstier at 9.7.
The worst offenders on the competitive list are Land Rover's Discovery Sport and Porsche's base Macan at 11.3 L/100km combined apiece, so avoid these two if you want to save at the pump. Another point worth remembering, many manufacturers in this class provide hybrid powertrains, dramatically reducing fuel consumption while still providing competitive performance, while full electrics compete in this segment too, including the Tesla Model Y.
Comfort is king in the GLC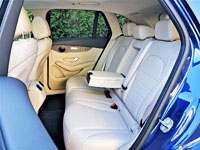 For those larger in stature, I put a 6-foot-2 friend (who's also a bit wide in girth) in the driver's seat, which he found totally comfortable, not only for its ample headroom, but also for its width and legroom. So therefore, if you've found compact vehicles a bit too cramped in the past, the GLC may not be a problem for you.
Improving comfort further, the driver's seat gets four-way powered lumbar support, and one of my favourite features, an extendable lower cushion. This latter feature is done via the power controls on the driver's door panel. There are power controls for moving the headrest up and down as well, plus all the usual adjustments.
The rear seats aren't powered, of course, but they're roomy and comfortable, with excellent lower back support. Each outboard position also provides two-way cushion warmers, and a set of air vents on the backside of the front console, just above a little drawer that opens up to show a 12-volt charger and dual USB-C ports.
Cargo space is generous and luxuriously lined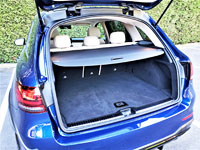 Move around to the backside of the GLC and a powered liftgate opens up to a large and accommodating cargo area, complete with nice stainless steel protection plates and premium carpeting most everywhere else. A really nice, easily removed, lightweight yet well-made retractable cargo cover hovers above it all, while chromed tiedown latches are fixed to each corner, keeping your belongings in place if you choose to add a cargo net or bungie cords. Lifting the load floor reveals everything you'll need to change a tire, including the compact spare, along with a little more space for hiding valuables.
Even better (unless you've got a flat), the GLC comes with 40/20/40-split rear seatbacks, meaning that two rear passengers can enjoy the more comfortable, three-way heated window seats, while longer items such as skis are stowed down the middle. Mercedes includes a set of unpowered releases to lower each side on their respective cargo walls, which is handy while loading larger items with hands full.
GLC 300 value proposition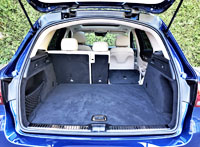 Often, upon returning a given test vehicle and summing up last thoughts in my notes, I ask the question, "Would I buy this vehicle." Having thoroughly enjoyed my time in the GLC 300, I couldn't help but feel positive about it, but as was the case my next mechanical fling was with a new 2022 Genesis G70, a newcomer to the compact luxury SUV class, and filled with a few features not included in my test model, such as three-way front seat coolers. Sure, these are probably available in a package with the GLC, but they're standard on the all-new Korean ride. It offers similar levels of luxury too, plus more power, near identical fuel economy, and a lower price range. Sure, it's missing the three-pointed star, which is no inconsequential omission amongst premium buyers, but it once again reminded me just how competitive the luxury market is, especially in the burgeoning small crossover sector.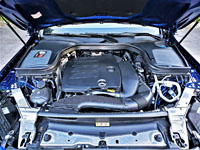 Some as yet unmentioned options to consider in the GLC's specific compact luxury SUV category include the Acura RDX, Jaguar F-Pace, Land Rover Range Rover Velar, Lincoln Corsair, Porsche Macan, Tesla Model Y, Volvo XC60, and soon the Maserati Grecale. Some promise more luxury and others deal out greater performance, while a few on the list might be considered entry-level luxury and therefore cut corners to deliver on price, but none of the above has the long-term credibility in this class, let alone most other market segments, as Mercedes-Benz, and few manage to balance their overall premium experience as well as the GLC when it comes to exterior styling, interior design, materials and build execution, features, performance, and fuel economy.
Review and photos by Trevor Hofmann