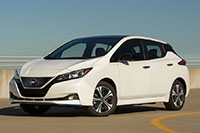 Nissan's Leaf has a permanent place in history for being one of the first modern-day mass-production electric vehicles available anywhere, and arguably the first practical EV (sorry Mitsubishi), so it's no wonder the compact hatchback quickly became the best-selling electric vehicle in the world.
Nevertheless, as good as the first-generation Leaf was in its day, and as important as it was for reducing "range anxiety" with its second-generation model for 2018, plus eliminating such concerns completely when introducing its "Plus" trim level in 2019 that increased range from an EPA rating of 243 km (151 miles) to 364 km (226 miles), it's no longer the coolest, quickest or most capable EV on the block.
Once best-selling Leaf sales are waning due to strong competition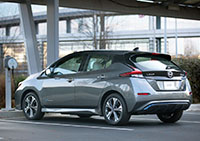 Knowing this, as evidenced by just 14,239 deliveries effectively dropping the Leaf's popularity to sixth in the U.S. last year (fifth in Canada), behind the Tesla Model Y with 172,700 units sold, the Tesla Model 3 with 128,600 new buyers, the Ford Mustang Mach-E with 27,140 sales, the Chevrolet Bolt EV and EUV with 24,803 deliveries, and the new Volkswagen ID.4 with 16,742 unit-sales (Model 3 was first last year in Canada, and Model Y second), plus appreciating that Hyundai's Kona Electric also made the U.S. top-10 EV list with 8,936 units sold, while that Korean brand's new Ioniq5 is just getting started, and its sister brand Kia's EV6 is set to debut next month, not to mention other electric models soon to arrive from nearly every legacy brand, the Japanese automaker understands it's time to build on the past with more models for the future.
Nissan investing half a billion into US EV manufacturing and technology operations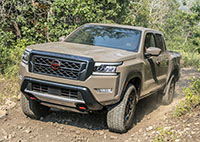 Therefore, Nissan is investing $500 million USD to partially transform its Canton, Mississippi assembly plant into an electric vehicle production facility, so that it will be capable of producing new Nissan and Infiniti EV models by 2025. This will include retraining and upskilling approximately 2,000 workers from the plant's current 5,000 employee total, a process that will result in the Canton plant being Nissan's centre for EV manufacturing and technology.
"Today's announcement is the first of several new investments that will drive the EV revolution in the United States," said Ashwani Gupta, chief operating officer for Nissan Motor Corporation, Ltd. "Nissan is making a strong investment in Canton's future, bringing the latest technology, training and process to create a truly best-in-class EV manufacturing team."
Nissan Ambition 2030 project responds to massive EV growth expectations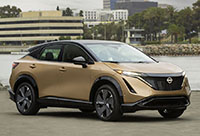 While it's only part of a $13.5-billion overall investment in Nissan's U.S. manufacturing operations to date, of which $4-billion was previously invested in the Canton facility alone, the company is betting on industry estimates that 40 percent of new vehicle purchases will be fully electric by 2030.
There are certain to be even more electrified models sold as hybrids and plug-in hybrid (PHEV) vehicles in the near future too, which is why the "Nissan Ambition 2030" project is targeting 23 electrified models within the Nissan and Infiniti brands globally by 2030, of which 15 will be fully electric.
Two new electric mid-size crossover SUVs are the likely candidates for Canton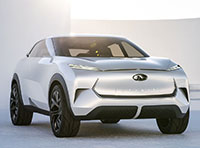 The 19-year-old Canton assembly plant, which currently produces four Nissan models, including the Altima, Frontier, Titan and Titan XD, and has built almost five million vehicles since opening in 2003, will have two entirely new fully electric models in production by 2025.
The Leaf, which is currently built in Smyrna, Tennessee for U.S. consumption (and the Oppama Plant in Yokosuka, Kanagawa, Japan for Asian markets, plus NMUK in Sunderland, UK for European buyers), won't be transferring production to the revised Mississippi plant, so it's likely the two new models will be the upcoming Nissan Ariya and something similar to the Infiniti QX Inspiration, both mid-size crossover SUVs that will target large segments of both mainstream volume-branded and premium markets.
Combining EV and truck production could result in future electrified Frontier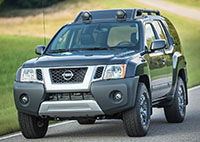 This said, combining EV and truck production could eventually result in electrified off-road models, similar to how Toyota has hybridized its new Tundra, plus Ford and Chevrolet are bringing out fully electric versions of their respective F-Series (Lightning) and Silverado pickup trucks, as is GMC with its renewed Hummer sub-brand.
Following this theme, Hybrid and all-electric versions of the new Frontier make sense, as would electrified Titan trims, if that model (which was recently cancelled in Canada) is permitted to continue in the U.S. Likewise, future 4×4-capable SUVs built on the backs of these pickup trucks, potentially going up against the mid-size Toyota 4Runner and full-size Sequoia (the latter of which has been completely redesigned for 2023), which could potentially bring back the once-popular Xterra nameplate, could be profitable for the Japanese automaker.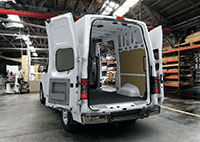 Electrified commercial vans are also a possibility, being that Nissan was selling its full-size NV Cargo and NV Passenger vans, plus its NV200 compact cargo van up until September of 2021, when they were discontinued as part of Nissan's new Business Advantage plan. A fleet of new electric vans could revitalize this segment for the automaker, and simultaneously expand Nissan's important fleet customer base for its "Seamless Autonomous Mobility (SAM)" driving technologies, a more advanced version of its ProPilot Assist system that's already available in many Nissan and Infiniti retail models.
Story credit: Trevor Hofmann
Photo credits: Nissan and Infiniti