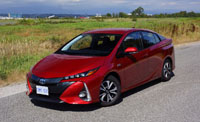 Well, I've done my cursory scan of Toyota Canada dealer websites, and yes in fact there are new 2019 Prius Prime models available in most provinces. This means you can still get some great discounts at the retail level, plus Toyota is offering zero-percent factory leasing and financing for the 2019 model, compared to a best of 2.99 percent for the 2020. 
Like always I found this gem of info at CarCostCanada, where you can also study up on most brands and models available including the car on this page that's found on their 2019 Toyota Prius Prime Canada Prices page, the newer version found on their 2020 Toyota Prius Prime Canada Prices page, or you can search out a key competitor like Hyundai's latest entry found on the 2019 Hyundai IONIQ Electric Plus Canada Prices page or 2020 Hyundai IONIQ Electric Plus Canada Prices page (the former offering zero-percent factory leasing and financing, albeit the latter not quite as good at 3.49 percent). CarCostCanada also provides information about manufacturer rebates as well as dealer invoice pricing, allowing you to arrive at the dealership well equipped to work out the best deal possible.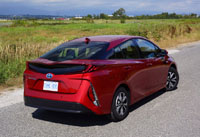 If your lease is expiring amidst the COVID-19 outbreak we're all currently enduring, or you just need a new vehicle, most dealerships are still running with full or partial staff, but the focus these days is more on service than sales. It's not like you can go on a test drive or even sit in a car, but those wanting to take advantage of end-of-model-year deals or special financing/lease rates should try purchasing online, after which your local dealer will prep the vehicle and hand over the keys, while wearing gloves no doubt.
Being that we're so far into the 2020 calendar year, let alone the 2020 model year, let's talk about all the improvements made to the 2020 Prius Prime so you can decide whether to save on a 2019 or pay a little more for a 2020. For a bit of background, Toyota redesigned the regular Prius into this current fourth-generation model for the 2016 model year and added the plug-in hybrid (PHEV) Prime variant for 2017. The standard hybrid version received a fairly extensive refresh for 2019 that cleaned up its styling for more mainstream appeal, which incidentally didn't affect the car being reviewed here, but that said the 2020 Prius Prime has been given some significant updates that we'll overview now.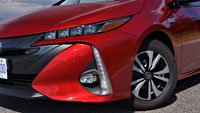 For reasons I can't quite explain, early Prius Primes came standard with gloss white interior trim on the steering wheel and shifter surround, which stood in stark contrast to the glossy black plastic everywhere else. What's more, they fixed a large centre console between the rear outboard seats that reduced seating to four for 2019, a problem now remedied for 2020 so that the new Prime can carry five. Both issues made me wonder whether or not Toyota's design team wasn't initially taking notes on Chevy's first-gen Volt, and by doing so had decided that shiny white interior plastic and a fixed rear centre console were prerequisites for plug-in hybrids. Fortunately, the Volt's design team chose to go all black and remove the rear centre console for its second-generation design (that was much too closely aligned to the Chevy Cruze and has since been discontinued along with its non-electrified gasoline/diesel-fed platform mate), and as it appears the interior design team at Toyota followed Chevy's lead with the same deletions for the updated 2020 Prius Prime.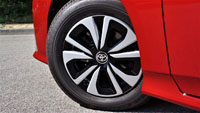 Additional 2020 updates include standard Apple CarPlay, SiriusXM satellite radio, sunvisor extenders, and a new easier-to-access switchgear location for the seat warmer toggles, plus two new standard USB-A ports for rear passengers.
Trims don't change going into 2020, with the base model once again being joined by Upgrade trim, the latter of which can be improved upon by a Technology package. According to CarCostCanada, the base price for both model years is set to $32,990 plus freight and fees, but take note that Toyota now throws in a tonneau/cargo cover for free, something that used to be part of the Technology package, thus reducing the latter package' price from $3,125 to $3,000. This isn't the only price that goes down for 2020, however. In fact, the Upgrade trim's price tag drops $455 from $35,445 to $34,990, for reasons they don't explain.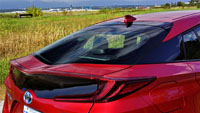 Prius Prime's Upgrade trim adds a 4.6-inch larger 11.6-inch infotainment touchscreen with navigation (that replaces the Scout GPS Link service and its three-year subscription), wireless phone charging, Softex breathable leatherette upholstery, an eight-way power driver's seat (that replaces the six-way manual seat used in the base model), illuminated entry with a step lamp, a special smart charging lid, plus proximity-sensing keyless access for the front passenger's door and rear hatch handle (it comes standard for the driver's door), but take note the move to Upgrade trim deletes the Safety Connect system including its Automatic Collision Notification, Stolen Vehicle Locator, Emergency Assistance button (SOS), and Enhanced Roadside Assistance program (three-year subscription).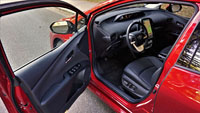 The Technology package included with my tester adds fog lights, rain-sensing wipers, a really handy head-up display, an always welcome auto-dimming rearview mirror, a Homelink remote garage door opener, a great sounding 10-speaker JBL audio system, helpful front clearance parking sensors, semi-self-parking, blindspot monitoring, and rear cross-traffic alert.
It would be low hanging fruit to insert a joke right now about the need for blindspot monitoring and the equal requirement of watching your mirrors in a car that produces a mere 121 net horsepower and an unspecified amount of torque, not to mention an electronic continuously variable automatic (CVT) that's hardly sporty, all of which might cause traffic to zip past as if it was standing still, but like with all hybrids the Prime isn't as slow as its engine specifications suggest. Electric torque is immediate, needing no time to spool up revs like an internal combustion engine, and while all-wheel drive isn't available with this plug-in Prius, the front wheels hook up well off the line for acceleration that's more than adequate when taking off from stoplights, merging onto highways and passing large, slow moving highway trucks.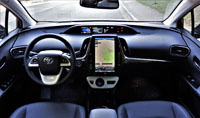 The Prime is also quite capable through the corners, but like it's non-plug-in Prius sibling it's set up more for comfort than speed, with very good ride quality considering its low rolling resistance tires. What's more, its extremely tight turning circle made it manoeuvrable in confined parking spaces. This is exactly the way most Prius owners want their car to behave, because optimizing fuel economy is the end game, after all. To that end the 2019 Prius Prime has an exceptionally good Transport Canada rating of 4.3 L/100km in the city, 4.4 on the highway and 4.3 combined, compared to 4.4 city, 4.6 highway and 4.4 combined for the regular Prius, and 4.5, 4.9 and 4.7 respectively for the AWD version. Of course, the Prime is a plug-in hybrid (PHEV) so you could theoretically drive solely on electric power if you had the patience and practical ability to recharge it every 40 kilometres or so, which is its claimed EV range.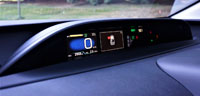 Possibly an even greater asset is the ability to park the Prime at coveted charging stations that are almost always right next to the doors of shopping malls and other facilities. Better yet, with appropriate stickers attached to the rear bumper you can use the much faster HOV lane on your way home during rush hour traffic when alone.
Toyota follows up the Prime's comfort-oriented luxury driving experience with a cabin that's actually quite refined as well. Below and between a set of fabric-wrapped A pillars, the Prime gets a soft-touch dash top and instrument panel, including a sound-absorbing soft-painted composite under the windscreen, plus soft-touch front door uppers, padded door inserts front to back, and nicely furnished armrests. Toyota added some attractive metallic and piano black lacquered detailing across the instrument panel, the latter blending nicely into the extra-large optional 11.6-inch vertical touchscreen display at centre (which as noted replaces the base model's 7.0-inch display in Upgrade trim).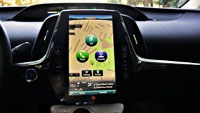 Before I delve into that, each Prius Prime gets an ultra-wide albeit somewhat narrow digital gauge cluster up on the dash top in the centre position, but it's canted towards the driver with most primary functions closer to the driver than passenger, so it feels a little more driver-centric than in past versions, and certainly didn't cause me any problem. In fact, I found it easy to glance at without having to take my eyes fully from the road, and it's a nice gauge cluster to look at too, thanks to attractive graphics with rich colours, deep contrasts, and crisp resolution. When upgrading to the aforementioned Technology package it's complemented by a monochromatic head-up display that can be positioned for driver height. It places key info directly ahead of the driver for optimal visibility.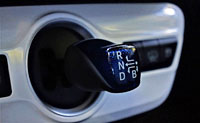 Back to the big vertical centre touchscreen, it really makes a grand statement upon entry, mimicking Tesla in some respects. It was easy to use, and featured a wonderfully large, near full-screen navigation map, while the bottom half of the screen can be temporarily used for other commands via a pop-up interface.
That Softex pleather mentioned a moment ago is actually quite nice, and truly breathes better than most synthetic hides. The driver's seat is extremely comfortable with good lower back support that's enhanced via two-way powered lumbar adjustment, while the side bolsters are really impressive too. The tilt and telescopic steering column also gave me ample reach, so therefore I was able to get comfortable and feel in control of the car, which hasn't always been the case with Toyota products.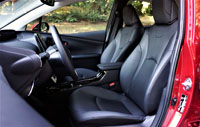 The steering wheel rim is pleather-wrapped too, and wonderfully soft, while it also features a heatable rim that was oh so appreciated during winter testing. The switchgear on the two side spokes was high in quality, which can be said for the rest of the car's buttons, knobs and switches too. The quick access buttons around the outside of the infotainment system are touch-sensitive, which is a nice "touch," sorry for the pun. Speaking of touch, I still love the electric blue digital-style shift knob that's always been part of the Prius experience. All in all, this latest, greatest Prius is a high quality product from front to back.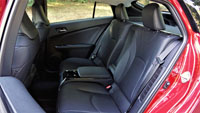 Toyota doesn't go so far as to wrap the rear door uppers in soft-touch synthetic, but the rest of the rear cabin is finished just as nicely as that up front. This even goes for the aforementioned centre console fixed between the two rear seats, which includes some nice piano black lacquer around the cupholders as well as a comfortable centre armrest sitting atop a storage bin below. I noted its removal as a bonus for the 2020 model, but if you don't have kids or grandchildren to shuttle, it's a very nice feature that rear passengers will certainly appreciate. On this note, I was surprised to find individual rear buckets in back, this giving the car a much more premium look and feel than others in the class. There's plenty of space to stretch out back there too, both for legroom and headroom, while thanks to good lower back support I was thoroughly comfortable as well. Additionally, Toyota includes a vent on the sides of each seat, which helps to cool off the rear passenger area nicely.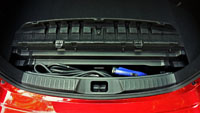 The cargo compartment is wide and spacious, although it's fairly shallow due to the large battery positioned below the load floor. There's also a small covered storage area complete with a portable charging cord hiding below the rearmost portion of that floor. The rear seats fold forward in the usual 60/40 configuration, but they sit quite a bit lower than the cargo floor so it's not a completely flat surface. Such are some compromises often made when choosing a plug-in electric vehicle, although this point in mind the Hyundai Ioniq PHEV, the Prime's closest competitor now that the Volt is gone, didn't have this problem (it's cargo floor sits a bit lower than its folded rear seatbacks, which incline slightly as with most cars in this class).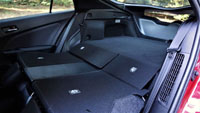 Now that I'm grumbling (although that wasn't much of a complaint), I will never understand why the Prius has always had a beeping signal inside the car when reversing. It can only be heard from within the car, which makes it one of the strangest features ever created for any car, and serves absolutely no purpose. I mean, if you're not aware enough to know that you put your car into reverse then you really shouldn't be behind the wheel. The need for a beeping signal to remind when you're in reverse is absolutely silly, and in fact it audibly interferes with the parking sensor beep, which goes off at the same time. Please, Toyota, rectify this ridiculous feature once and for all. Now that was a decent grumble.
Of course, the annoying reverse beeper hasn't stopped the Prius from becoming the world's best-selling hybrid-electric vehicle, and this latest incarnation fully deserves to wear the coveted blue and silver nameplate, whether in regular, AWD or PHEV form.