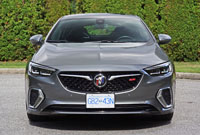 If you like the looks of this stylish mid-size sport sedan you can breathe a sigh of relief in the knowledge that it's not getting cancelled anytime soon. Of course, considering the sheer number of four- and five-door models currently getting axed by General Motors, and the fact that its European Opel and Vauxhall Insignia twins will soon need to disappear due to an August 2017 sale of the two brands to France's Groupe PSA, it's quite possible we'll see this change at some point in the future (our Regal is manufactured in Rüsselsheim, Germany after all), but a 2020 Buick Regal is slated to go on sale shortly, so at the very least we'll enjoy it for another year.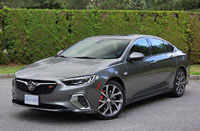 I use the word "enjoy" because this mid-size near-luxury sedan is truly a joy to look at, and possibly even better to drive. It helps that my tester was in top-line GS trim, and therefore is one of the mid-size family sedan segment's sportier cars. It's also not technically a sedan, but rather a five-door hatchback, Buick choosing to call it a Sportback. As a quick side note they make a raised five-door sport wagon/crossover variant (à la Subaru Outback and Volvo V90 Cross Country) for the U.S. (and Euro markets, plus Australia and New Zealand where the two body styles are sold as the Holden Commodore) dubbed TourX, but just like in China where Buick finds its most ardent followers (and builds its Regal at the SAIC-GM assembly plant in Shanghai), we only get this four-door coupe-like sedan.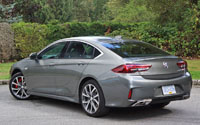 Despite its attractive styling and strong performance, the Regal is either one of the least popular cars from a mainstream volume brand or a fairly strong selling luxury model, depending on how you categorize it. With a base price of $32,045 (plus destination and fees), most competitors start $3,000 to $7,000 more affordably, while similarly priced mid-size sedans from volume brands do about the same or worse when it comes to sales numbers. Still, the Regal doesn't quite measure up to premium status or refinement levels (GM's Cadillac division occupies that space), so the unique model's market exclusivity is understandable (see all 2019 Buick Regal pricing at CarCostCanada, where you can also find out about available rebates and dealer invoice pricing that could save you thousands).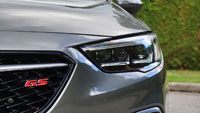 The Regal GS pictured here starts at a cool $44,045 plus freight and fees and goes up to $51,700 with all options (and a couple of cool accessories added), which while a steal compared to a comparatively sized and equipped premium-branded model, is a fair jump up the desirability ladder from a fully loaded Toyota Camry, Honda Accord or Ford Fusion, the top-three sellers in this category, but its fully loaded price is just $205 more than a completely optioned out Kia Stinger and actually $1,880 less than VW's new Arteon with all features added.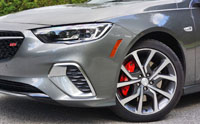 Granted the top-tier Stinger is a 365-horsepower twin-turbo V6-powered AWD super-beast capable of hitting 100 km/h from standstill in just 4.9 seconds, but the 310-horsepower Regal GS' is plenty respectable at 5.6 seconds from zero to 100km/h, which is (believe it or not) better than the legendary Regal Grand National GNX and about the same as the 265-horsepower Arteon, which is 300 kilos (about 660 lbs) lighter. These acceleration times are estimates, of course, with some manufacturers more conservative than others, Buick seeming not to want to set anyone's hopes too high considering the GS' 3.6-litre V6 engine's generous power rating, not to mention its 282 lb-ft of torque.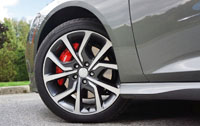 Of course, there's a lot more that makes each of these impressive cars worthy of your attention, and much that sets them apart from their more conventional family sedan peers. I won't turn this review into a full-scale comparison review, despite recently testing all of the above for a week at a time, but rather will concentrate on the Regal GS and occasionally point out strengths and weaknesses compared to its key rivals. 
As far as styling goes, each respectably holds its own. I find the Regal is thoroughly attractive, but admit my appreciation for its classic lines and overall elegance may have something to do with my 50-something age. On looks alone I could understand why someone would fall for it, especially when enhanced with GS trim details.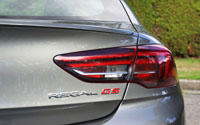 These upgrades start with bold red italicized "GS" block letters on the otherwise glossy black mesh grille insert framed by a gloss-black grille surround that's all underscored by yet more of the shiny, inky brightwork on lower fascia. The same piano black treatment highlights the lower side window trim and rear apron, this sporty look complemented by aluminum-like trim on the grille, corner grillettes, upper window surrounds, and exhaust. A subtle body-colour rear deck spoiler and modified rear bumper finish off the performance-oriented design.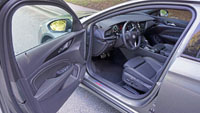 Climb inside and you'd be forgiven for thinking that Buick is channeling the ghost of Pontiac, as you'll immediately be greeted by two of the most aggressive looking sport seats in the Regal's class, not to mention a contrast-stitched, leather-wrapped sport steering wheel to match, complete with a slightly flattened bottom for extra verve. I wouldn't say the latter is as impeccably shaped as the Arteon's superbly crafted wheel, or for that matter the Stinger's paddle shifter-enhanced rim, but they all do much better than average in this family-friendly segment. Like the others (i.e. glossy black plastic is hardly original), Buick adds some additional splashes of piano black lacquer trim here, a bit of carbon weave-like adornment there, plus aluminized and chromed accents elsewhere, and voila, you've got a sport sedan.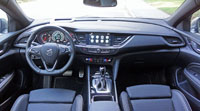 A smart looking partially digital gauge cluster with a red GS insignia emblazoned within the 4.2-inch digitized centre speedometer portion reminds that we're in Buick's quickest car, a graphic than can be swapped with plenty of useful features by flicking the steering wheel controls. 
Over on the centre stack is the latest version of Buick's IntelliLink infotainment interface, residing within a very nice high-resolution 8.0-inch touchscreen. The circular aqua-green on black graphics are attractive and a bit more upscale looking than the bright, colourful Apple-style design in the Regal's Chevy Malibu counterpart, fitting for the Buick's older and slightly wealthier target clientele. It's certainly an easy system to use and once again filled to the brim with helpful features, from a large, clear backup camera with dynamic guidelines, to a navigation system with easy-to-input, accurate route guidance with detailed mapping, plus all the usual audio features including HD/satellite radio and Bluetooth streaming, phone and text message info/readouts, another panel for OnStar, a big interface for the dual-zone automatic climate control system, and more.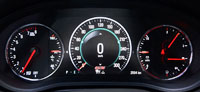 A separate HVAC panel just below provides quicker-access analogue controls for the same, not to mention switchgear for the three-way heated and cooled front seats, while other features not yet mentioned that came with my Regal GS tester included a heatable steering wheel rim, a head-up display atop the dash, adaptive cruise control, an auto-dimming rearview mirror and driver's side mirror, two-way driver's seat memory, leather upholstery, eight-speaker Bose audio, wireless charging, a 4G LTE Wi-Fi hotspot, a powered moonroof, proximity-sensing keyless access, pushbutton ignition, remote engine start, auto-leveling LED headlamps with cornering capability, 19-inch alloy wheels with grey-painted pockets, front and rear parking sensors, and much more.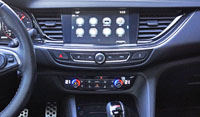 Buick also includes a host of advanced driver assistance and safety features, such as autonomous forward braking with collision alert and pedestrian detection, blindspot monitoring and rear cross traffic alert, lane departure warning with lane keeping assist, plus Buick's first active hood pedestrian safety system that raises the rear portion of the hood by 100 mm (3.9 inches) to lessen impact and help reduce injury. 
The driver's seat is inherently comfortable and benefits further from four-way lumbar support, a feature some premium-branded luxury sedans don't even include, not to mention extendable lower cushions that cup nicely below the knees, and big side bolsters that provide excellent lateral support thanks to powered adjustability. Complemented by extensive reach from the tilt and telescopic steering column, the Regal provided an ideal driving position, which isn't always the case for my long-legged, short-torso frame.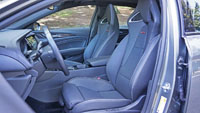 The Regal GS' V6 idles smoothly when it's not shutting off automatically to save fuel and reduce emissions, a good thing in my books. Quick shifts come from a nine-speed automatic transmission, the GS getting one additional forward gear than four-cylinder AWD trims, which like the engine proved smooth and effortless to operate around town, on the highway, or through more entertaining serpentine stretches. Chagrined to learn this sporty sedan didn't include paddle shifters, which would have been a great way to improve on its well sorted transmission and fully capable powerplant, I first put it in Sport mode and then slotted the gear lever to the left for a little old school manual fun.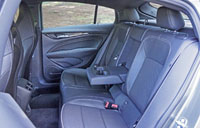 The GS has a lot of punch off the line and the gearbox is a perfect match, shifting quickly yet never harshly, but needing more sport from Sport mode I immediately chose the GS setting, which adds more weight to the steering and feels a lot more engaging overall. Yes I missed having paddles, but I adapted as needed and enjoyed this very well balanced sedan through some tight, twisting two-laners and some open straights as well. The chassis is smooth and comfortable, yet it holds the road very well thanks to active dampers that adjust every two milliseconds. The GS' active twin-clutch all-wheel drive system aids handling further, particularly in wet weather, while its high-performance Brembo brakes perform as brilliantly as they look. Fuel economy is reasonable for its performance and all-wheel drivetrain, with a rating of 12.4 L/100km city, 8.7 highway and 10.7 combined.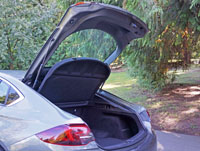 Unfortunately, the GS wasn't perfect. It suffered from one of the cheapest turn signal stalks I've ever experienced, due to flimsy hollow plastic and a loose, sloppy feel, while there's a lot of low rent hard plastic on the lower dash, glove box lid, and mid to lower door panels. To be fair, the aforementioned Arteon isn't much better when it comes to the latter, but the Stinger pulls off luxury more convincingly. Most of the GS' upper surfaces are agreeably soft to the touch, however, and front and rear seat roominess is good, with the rear outboard positions almost as comfortable as the buckets up front, but the moulded black plastic panel covering the backside of the front console looked bulbous, as if it was pulled from a much cheaper vehicle, an issue made worse by its spartan array of twinned air vents up top and dual USB ports below.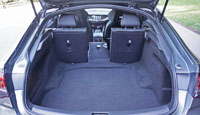 Yes, the Regal GS comes up a bit short on back seat features. It doesn't including rear seat heaters like most $50k-plus competitors, which was a shame as, together with its AWD, its standard 40/20/40-split rear seatbacks and liftback layout, not to mention its strong performance on winding mountainside roads, it would make for an ideal ski shuttle. The cargo cover is weighty, feeling really well made, and seat releases on the cargo walls quickly expand the 892-litre (31.5 cubic-foot) luggage compartment to an accommodating 1,719 litres (60.7 cu ft). 
While missing some key features and not quite measuring up to its peers when it comes to interior fit and finish, the Regal GS is nevertheless an ultra-stylish ride that does some things so well it's worth a closer look. You'll probably like its quick and agile performance, reasonably well-equipped, roomy and comfortable cabin, and overall practicality, and therefore will likely be able to look past its few shortcomings.