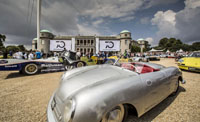 As far as car companies go, Porsche is still youthful and vigorous at 70-years young. Nevertheless it's done a lot with its seven decades, much of which was celebrated at this year's Goodwood Festival of Speed in West Sussex, England. 
The event is best known for the annual Goodwood Hill Climb, which sees a host of historic race cars, modern-day Formula One machinery, World Endurance Car racers, one-off prototypes, supercars, motorbikes, and most everything else powered by a varying array conventional and alternative energy sources perform demonstration runs up a 1.86-kilometre (1.16-mile) road course, with fans cheering them on from either side, after which they're put on show for all to enjoy.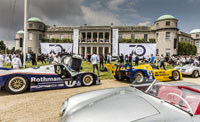 The first Porsche to climb the hill this year was the legendary 356 'No.1' Roadster, the actual car that got the brand off to such a good start in 1948. The 356 'No.1' Roadster was one of seven iconic road-going Porsche models that took part in the event, all of which are normally on display at the Porsche Museum at the brand's headquarters in Stuttgart, Germany. Porsche chose each of these cars to represent a 10-year period, allowing attendees to experience the evolution of the Porsche sports car.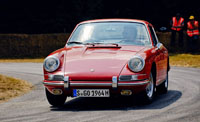 This was the 356 'No.1' Roadster's debut at the Goodwood Festival of Speed, and therefore a very special experience for the brand's many fans. The car is replete with Porsche DNA, from its mid-engine layout to the horizontally opposed "boxer" engine design itself, while its lightweight construction and fuel-efficiency, which helped the 356/1's progeny defeat many more powerful competitors on the track, is still a core ideal behind the development of current road and race models.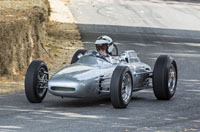 Additional production Porsche models that put on a show at this year's Goodwood Festival include a 1964 911, 1973 911 Carrera RS, 1987 959, 1997 911 Turbo, 2003 Carrera GT, 2015 918 Spyder. 
In addition to these, a dozen Porsche racing cars also took their turn on the hill, including the 1962 804, 1974 911 Carrera RSR Turbo, 1978 935/78 'Moby Dick', 1984 911 SC 'Paris Dakar', 1986 961, 1987 962, 1988 2708 Indycar, 1994 Dauer 962 GT Le Mans, 1998 GT1 '98, 2000 LMP 2000, 2007 RS Spyder, and the 919 Hybrid Tribute Tour.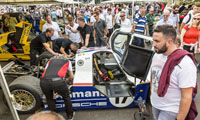 Making clear that Porsche isn't only about celebrating past success, the 919 Hybrid Tribute Tour (the final model noted above) is actually a modified version of Porsche's championship winning WEC LMP1 car otherwise known as the 919 Hybrid Evo, which completely obliterated a 35-year-old Nürburgring-Nordschleife lap record in June of this year, with Porsche factory race driver Timo Bernhard at the wheel, although Neel Jani did driving duties on the Goodwood course.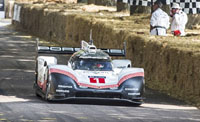 The factory Porsche 911 RSR 'Pink Pig' was also part of the program, taking a sort of victory lap after winning its GTE Pro category at this year's Le Mans 24 Hours. 
Following the competitive sports car theme, the latest 911 GT3 Cup race car from the Porsche Carrera Cup GB was also included in the demonstration run, this model featuring the same 4.0-litre H-6 engine as the 911 GT3 road car. 
Additionally, the 911 Speedster Concept, a one-off prototype inspired by the 356 'No.1' Roadster, took part in the Supercar Run.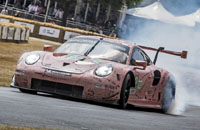 Visitors to Goodwood also had opportunity to see the 911 GT2 RS up close and personal, this 700-horsepower, twin-turbocharged, 3.8-litre flat-six beast having lapped the Nürburgring-Nordschleife in just 6 minutes and 47 seconds to earn fastest production car bragging rights last September. The record has since been beaten, but without doubt Porsche will soon find its way back to the top of the podium again.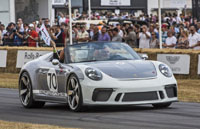 Also on hand at the Porsche Experience Centre stand was the 2015 Mission E concept car, the production version having been recently dubbed Taycan. The beautiful four-door coupe is solely powered by electricity, and therefore is said to represent the future of Porsche performance. 
Quite notably, Porsche has taken part in every Goodwood Festival since the annual event began in 1993. Back then Goodwood only managed to attract 27,500 enthusiasts, but it now brings in more than 200,000 visitors each spring. 
Whether you were able to join in on the festivities at this year's event or weren't able to attend, we're sure you'll enjoy some collected videos, one of which shows the unveiling of a special sculpture that commemorates the marque's 70 years of production road car and motorsport heritage: 
Porsche Central Feature Sculpture reveal at Goodwood Festival of Speed 2018 (1:16): 

Grand Prix legend: the Porsche 804 at Goodwood Festival of Speed 2018 (1:00): 

Future focus. Goodwood Festival of Speed 2018 (1:18):