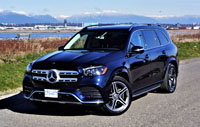 I hate to admit that with each passing year adapting to new things takes more time. This is part of the normal aging process, I know, but I dislike it just the same. Don't get me wrong, as some new designs are so captivating that I'm 100-percent sold as soon as they debut, but others take more time to lure me in. Such has been the case with the 2020 redesign of Mercedes' GLS-Class.
It's good looking, I can see that, but the previous version, which transformed from GL- to GLS-Class in 2016, was good looking too, while the boxier original might still be my favourite. This type of long-term appeal is a Mercedes-Benz hallmark, and partly why the brand's cars and SUVs hold residual values well.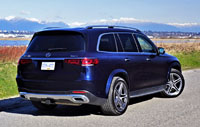 On a more personal note, an affinity for older vehicles pays dividends when purchasing myself, as I can save a lot buying a well-kept, pre-loved 10-plus-year-old "classic" (or for that matter an even older relic, with respect to the '80s-'90s-era Geländewagen W460 LWB Turbo Diesel I'm saving up for). Decades old vehicles aren't practical for most peoples' lifestyles, however, as they can't easily be financed or leased, and certainly don't come with the carefree ownership experience that Mercedes' warranty provides.
This 2020 GLS 450 4Matic does, mind you, and I must say its technology is a lot more advanced and interior finishing even more refined than the GLS and GL models it replaces, not to mention that antiquated G290d/G300d always on my radar. The new GLS' sportier, rounded design is growing on me too, particularly its bolder dual-slat, satin-silver and bright metal grille, sophisticated LED headlamp clusters, and horizontally positioned LED taillights.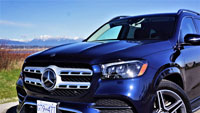 The look is fresh, new, and now visually integrates within Mercedes' latest design language direction, while for 2021 there will even be an ultra-classy Maybach version to do battle with the Range Rover SV Autobiography, Bentley Bentayga and Rolls-Royce Cullinan, albeit the Maybach GLS 600 is a relative bargain thanks to a starting price of just $199,400.
Other than that, 2021 models will likely stay the same, the GLS 450 4Matic remaining the most affordable trim in this body style, with the GLE, incidentally, being the least expensive way to get a third row in a Mercedes model. Of course, the larger, longer GLS is much more accommodating from front to back, this being the ideal three-pointed star car for big families.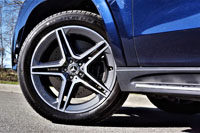 While only five-foot-eight and sized "S" for most clothing items, I still consider myself a full-size adult (add laugh track here), yet I had no problem climbing into the very back once the second-row seats were powered almost completely out of the way, after which I fit inside comfortably. Specifically, I had about four inches left over above my head and ample room for my legs and boots, with my knees just touching the backside of the middle seatbacks. Take note that it was still possible to move the second-row forward, so therefore any average-size person should not need to complain. Both rear seats were comfortable too, plus Mercedes allowed for excellent visibility out the side windows, useful LED reading lights overhead, and two USB-C ports at each side.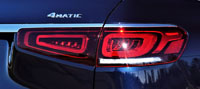 Second-row seating is also comfortable, thanks in part to nice big optional captain's chairs that also provide a convenient walking space in between to reach the back row. Parents should appreciate this setup, as there's no need to power the passenger's side second-row seat forward when accessing the seats behind. This in mind, the driver-side second row seat doesn't move, but most would rather have their kids enter from curbside anyway.
Both of my tester's rear seats were powered and heated, by the way, plus the rear panel of the front centre console was filled with twin air vents, a dual-zone HVAC interface for the GLS' four-zone automatic climate control system, and a pullout drawer-style storage bin complete with two USB-C charge ports and a household-style 115-volt socket.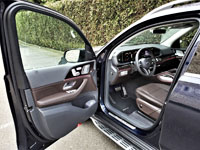 Staying on this pragmatic theme, accessing the cargo compartment comes via a gesture-controlled power liftgate, which includes 355 litres usable space behind the third row, or about the size of a compact car's trunk. The spare tire, tools and a nice set of white gloves (talk about class) are stowed below the removeable load floor, as is a retractable cargo cover that neatly locks into place out of sight. As should be expected in a Mercedes-Benz, even this luggage area is well finished, with a classily ribbed satin-finish metal sill protector, a beautifully detailed bright metal floor latch, chromed tie-down hooks, and high-quality carpeting across the floor, a third of the way up the sidewalls, as well as on the 50/50-split rear seatbacks.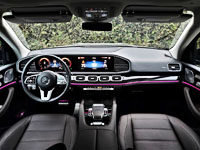 Those seats can be powered down via buttons that anyone should find easy to reach, plus they drop smoothly and surprisingly fast. Oddly, however, the switches for lowering the third and second rows are found on opposite sides of the cargo area—how uncharacteristically inefficient. Still, make sure the neighbours are watching when powering down the second row, as the headrests automatically tuck away while lowering, before both captain's chairs (or the bench seat) powers rearward to close the gap with the cargo floor in one uninterrupted motion, resulting in a near perfectly flat load floor along with 2,400 litres of open space.
Forgive me for going on and on about the GLS' rear passenger and cargo attributes without mentioning a word about its frontal accommodations, but let's just say I left the best for last. Much like the second-row, the forward cabin is exquisitely finished, with the highest quality composite materials, soft perforated leathers, beautifully finished hardwoods, nicely detailed brushed aluminum trim, including drilled speaker grilles, plus knurled metal knobs, buttons, rocker switches and toggles, etcetera.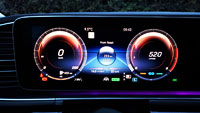 Mercedes didn't include much piano black lacquer, and I say good riddance as the inky surface treatment scratches and collects dust too easily. There's a little around the steering wheel controls, a location that will probably get used often enough to remove the dust and is likely too small of an area to make hairline scratches noticeable, but the same added to the lower console may not fare as well, thus I would've rather seen this location finished with open-pore hardwood, like seen in an E 450 I recently drove.
Just the same, the black lacquered surfacing looks good as it seamlessly melds into the massive MBUX interface that does double-duty as a primary instrument cluster and infotainment touchscreen. The former includes one of the more configurable displays in the auto industry, with multiple graphical styles from sporty or modern to classic and more, plus the ability to cover the entire cluster area with a map featuring navigation guidance, or one of the system's other functions.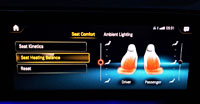 The centre touchscreen can be controlled via smartphone/tablet-like tap, swipe and pinch finger gestures, plus just ahead of a comfortable palm rest on the lower console is a similarly useful touchpad that's a bit easier to reach than the screen itself. Both touch-capacitive surfaces work as advertised (which is unusually welcome for a console-mounted touchpad), as do the surrounding quick-access buttons and knurled metal volume knob.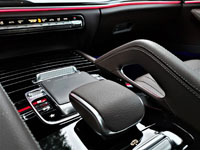 Each connects through to the segment's usual collection of infotainment features, like Apple CarPlay, Android Auto, navigation with route guidance, climate controls, the audio system, phone and Bluetooth functions, vehicle setup, integrated and downloadable apps, backup and overhead parking cameras, etcetera. Mercedes employs an easy-to-use tile layout to scroll between features, with superb graphics as already noted, while the overall system speed is excellent.
Together with all the infotainment switchgear on the lower console is a black lacquered scroll-top lid that exposes twin cupholders actually capable of keeping drinks hot or cool, a very rare feature that I happen to love, plus a much-appreciated wireless charging pad for compatible smartphones, along with two USB-C ports. Those with older phones that can't utilize wireless charging will also be out of luck for wired charging, as old-school USB-A ports aren't offered. Of course, there's always an aftermarket workaround.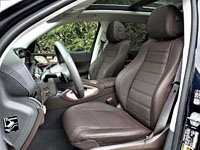 If that's my only complaint, this GLS is doing very well. Like those in back, the driver's seat was wonderfully comfortable and wholly supportive, while the three-way butt warmer was downright therapeutic at its highest level. The ability to cool one's backside in the summer would be welcome too. A third button on the driver's side allows full adjustment of the front passenger seat too, which was helpful when picking up a taller passenger that required more legroom.
The heatable steering wheel button is found in the same place as the E-Class, but instead of twisting the end of the power steering column stalk, it's just a rocker switch that can be pushed fore and aft. This was one of my GLS tester's only problem areas, in that it didn't always work. When pushed, it sometimes switched on, whereas an opposite tug usually turned it off, but other times it did neither. It also can't be set up to turn on automatically. All said it would've been nice to warm my hands on the cold winter mornings that it didn't work, but I'm guessing this was a one-off problem. Just the same, if I were on Mercedes' engineering team, I'd look for one single solution that could be duplicated across the entire product range, plus even better, one that doesn't involve breakable moving parts.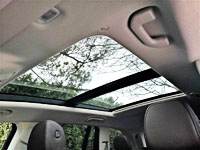 Otherwise, the GLS 450 4Matic is one incredibly comfortable SUV. As you might expect from Mercedes-Benz, it drives very well, with one of the smoothest rides in its three-row category. Even with Dynamic sport mode turn on it felt wholly refined, albeit a much more confidence-inspiring handler than when in default comfort mode. Don't expect it to run away from Mercedes' smaller utilities, however, or for that matter anything wearing the brand's performance-oriented AMG badge, like this model's AMG GLS 63 sibling that makes 603 horsepower and 627 lb-ft of torque, or the 483-hp V8-powered GLS 580 that puts 516 lb-of torque down to all four wheels, but the GLS 450 still moves off the line quickly and is a joy to pilot over curving backroads at fast-paced speeds.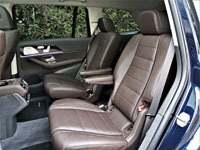 Under this entry-level GLS' hood is a new 3.0-litre inline six-cylinder engine mated to a 48-volt mild hybrid drivetrain. Output is sizeable at 362 net horsepower and 369 combined lb-ft of torque, with the electric power unit responsible for 21 horsepower (16 kW) and 184 lb-ft of this total (although figuring out hybrid output isn't as cut and dry as subtracting one from the other). As with all GLS models, an efficient nine-speed automatic takes care of shifting duties, and is a mighty smooth operator, while all-wheel drive comes standard.
All this complex electrified wizardry results in a claimed fuel economy rating of 12.4 L/100km in the city, 10.2 on the highway and 11.4 combined, which is a big improvement over last year's V6-powered GLS 450 that could only manage an estimated 14.9 city, 11.2 highway and 13.2 combined. Of course, these numbers are only possible with the SUV's Eco mode engaged, which makes sure its auto start/stop system is active, while the roads would have indeed been paved when putting the GLS through its paces, but such impressive mileage is doable just the same.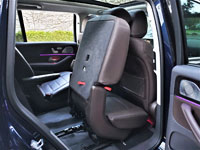 Roads less traveled in mind, when Mercedes first brought the GLS to market as the GL back in 2006, it was designed to replace the aforementioned G-Class, which meant it had to offer a modicum of off-road prowess. As we now know, the G thankfully remained an important icon within the German automaker's SUV lineup, which meant the off-road-oriented model never made it across the Atlantic. The one offered in Europe was nowhere near as 4×4-capable as a G-wagon anyway, but Mercedes nevertheless provides its largest ute with reasonable light-duty off-road chops.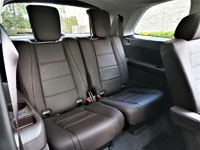 Off-road mode is available from the same lower console-mounted knurled metal rocker switch that selects all the other drive modes, while there's also a separate rocker that raises the air suspension. As tempting as it was, I chose not to take my GLS tester off-roading during my weeklong stint, as it just didn't seem right to muddy up such a beautiful vehicle with rims and tires that were obviously meant for paved surfaces. This said I've enjoyed previous examples in less favourable conditions, and found that the SUV manages light- to medium-duty trails quite well. Just don't expect it to run with a G-Class and you should be more than satisfied.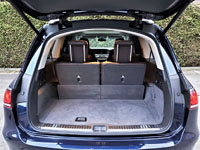 All said, I'm going to guess more people will haul a trailer than try to take their GLS off-road, and as you might expect it's more than up to the task thanks to a 3,500-kilogram (7,716-lb) tow rating. This means it can pull small to medium sized camp trailers, possibly up to an Airstream Classic without anything heavy on board, or average sized power craft and sailboats, but nothing too extreme. When it comes to power craft, you're probably looking at a 2,000-kilo (4,500-lb) boat carrying about 225 kg (500 lbs) of fuel, sitting on a 700- to 900-kg (1,500- to 2,000-lb) trailer. In other words, this side of a full-size body-on-frame SUV or pickup truck, the GLS 450 provides some serious hauling capability.
I don't know about you, but after the crazy year we've had few things sound better than hitting the road with a boat or camper in tow. If you did so at the wheel of a GLS 450 4Matic, I can promise you a speedy, comfortable, cost-efficient trip, while living with this SUV every day would be a personal lifestyle upgrade that I'd certainly be happy to live with.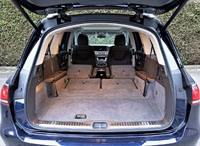 The cost to do so begins at $95,500 plus freight and fees, while extras can add up quickly. At the time of writing, Mercedes was offering factory leasing and financing rates from 2.99 percent, but there's no doubt more cash on the hood for those willing to negotiate. To learn more about such deals, as well as possible manufacturer rebates and always helpful dealer invoice pricing, check out CarCostCanada, where members regularly save thousands on their new vehicle. CarCostCanada provides a free app for your smartphone too, downloadable from the Apple Store or Google Play Store, putting everything you need to get the best deal right at your fingertips.
Review and photos: Trevor Hofmann