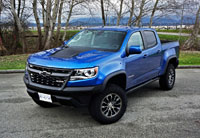 Which would you rather have, one of Chevy's ultra-rugged off-road racing replica Colorado ZR2 pickup trucks with its standard V6 or with its optional diesel? We tested both, using just its default rear-drive 4×2 mode on pavement, across some fast-paced gravel roads in 4WD high, and lastly with its 4WD-low gear-set engaged in the dirt and sloshing through some thick winter mud with a bunch of hip-wader-high puddles thrown into the mix. 
The diesel-powered version was actually last year's truck that we decided to cover in one review now that our V6 gasoline-fueled model arrived, allowing us to tell you about all the changes Chevy has made to this 4×4 beast as part of its 2019 model year changeover. Of course, this is a niche vehicle that won't be to everyone's taste, but the updates affect the majority of Colorado and GMC Canyon models, so it won't matter whether you're choosing one of the General's mid-size pickups for work or for play.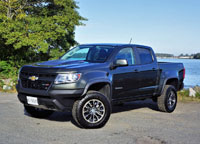 Along with its off-road prowess the 2019 Colorado is better for everyday use too, thanks to a new larger 8.0-inch infotainment touchscreen in all trims except for the base WT (Work Truck) that still does pretty well with a new 7.0-inch main display. The larger of the two boasts beautiful HD graphics and even an HD backup camera, which we'll make sure to comment on in our upcoming road test review.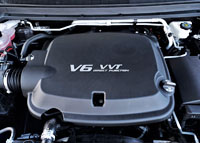 Our ZR2 tester even includes a wireless smartphone charger, this feature standard with Z71 trim and above, while all trims include a new smaller Type-C USB port next to the conventional USB-A connection. These are located on the front centre console, next to an auxiliary input jack and an available SD card reader. Additionally, a second microphone mounted closer to the front passenger improves Bluetooth hands-free voice quality, while we really like the ZR2's heatable steering wheel rim, this now standard on all trims above the LT.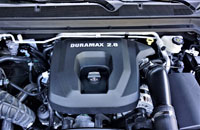 I won't bore you with all the ZR2's comfort and convenience features, which are readily available on Chevy's retail website or at CarCostCanada where I sourced all the 2019 Colorado's pricing information including trims, packages and standalone options, not to mention money-saving rebate info and dealer invoice pricing, but suffice to say it's very well equipped for just $46,100 plus freight and fees, albeit more focused on off-road prowess than pampering one's backside.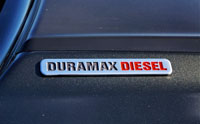 Like the 2017 and 2018 Colorado ZR2, this new one gets a substantial boost in ride height and therefore ground clearance that's up by 50 mm (2.0 inches), while any negatives to high-speed handling are offset by a 90-mm (3.5-inch) increase in front and rear track, new stiffer cast-iron lower front control arms, and special 8- by 17-inch alloy wheels cushioned by 31-inch Goodyear Duratrac off-road rubber. Handling off the beaten path, particularly improving suspension articulation is a new 1.0-inch-diameter solid anti-roll bar replacing the usual 1.5-inch hollow one, while leaving the best for last are special Multimatic shocks designed for cushioning the otherwise jarring impacts of rocks, roots and other obstacles you might find along an ungraded back road or trail.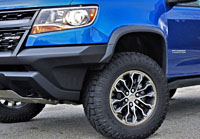 Easier to see are skid plates below and tubular rocker extensions at each side, both designed to protect vulnerable components and bodywork, but the ZR2 is even more noticeable to passersby thanks to its all-business matte black grille and even beefier black hood dome that serve no purpose but looking good, rugged black bumpers that get chopped down a couple of notches to improve approach and departure angles, and muscular black fender flares that make way for those meaty tires just noted.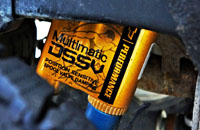 Between the front wheel wells of this $495 optional Kinetic Blue Metallic painted truck is the standard 3.6-litre V6 that's good for 308 horsepower and 275 lb-ft of torque, the latter from 4,000 rpm, driving the rear axle or both via part-time four-wheel drive and an efficient eight-speed automatic transmission. The combination gets a claimed 15.0 L/100km city, 13.0 highway and 14.1 combined fuel economy rating, thanks in part to cylinder deactivation under light loads.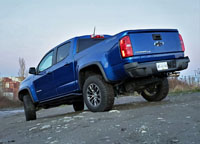 The Deepwood Green Metallic coloured truck (it looks grey), the optional colour discontinued for 2019, mates GM's wonderful 2.8-litre Duramax turbo-diesel four-cylinder, good for 181 horsepower and a best-in-class 369 lb-ft of torque from just 2,000 rpm, to a less advanced yet still very capable and arguably more robust six-speed automatic gearbox, which come together for a much thriftier 12.5 L/100km city, 10.7 highway and 11.7 combined rating, which might not be enough fuel economy gains to justify its considerable $4,090 upgrade unless you happen to put a lot of distance between trade-ins, or require the diesel's much improved efficiency to travel deeper into the woods than gasoline-powered truck owners dare tread.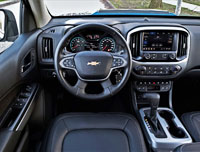 So how does this tall, dark (re lack of chrome) and (arguably) handsome cross between the no-trails-barred Jeep Gladiator and off-road race replica Ford F-150 Raptor drive around town, down the highway and into the wild green yonder? Again, we'll give you a complete buildup and rundown in our upcoming road test review, plus more in-depth details about its Multimatic shocks, suspension upgrades, interior upgrades, etcetera. Until then, enjoy our sizeable photo gallery…