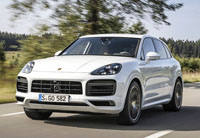 If you're thinking you've read this story on these pages before, you're not losing your mind. We only recently reported on battery output improvements for the new 2021 Porsche Panamera E-Hybrid models, and now we're providing a similar update regarding the upgraded 2021 Cayenne E-Hybrids as well.
The new model year will once again see two body styles with two trims apiece, both the more upright Cayenne sport utility and newer, more rakishly shaped Cayenne Coupe getting E-Hybrid and Turbo S E-Hybrid drivetrains, but better optimized cells that improve energy density has allowed the battery in each model to increase its output by 27 percent from 14.1 to 17.9 kWh, resulting in almost 30 percent more range.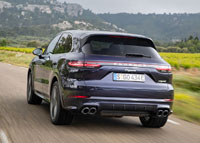 Now, 2021 Cayenne E-Hybrid owners should expect seven to eight kilometres of extra EV mobility, from approximately 22 or 23 km to nearly 30 km, which could provide some owners zero-emission commuting capability during daily commutes. The heavier Cayenne Turbo S E-Hybrid improves its EV range similarly, albeit from 19 or 20 km to about 24 or 25 km.
On top of this, Porsche has changed the way electrified Cayennes use their internal combustion engines (ICE) to charge the battery, now topping it off at just 80 percent instead of 100. While seeming to be making backward progress, the upgrade actually saves fuel and reduces emissions, because the E-Hybrid's various kinetic energy harvesting systems, such as regenerative braking, are always in use. If the battery were to reach 100 percent, there's no longer a need to harvest kinetic power.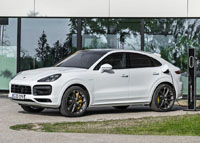 What's more, the new 17.9 kWh battery is able to charge at a faster rate in Sport and Sport Plus performance modes, which results in the drive system always have plenty of boost ready and waiting for quicker acceleration runs and easier passing manoeuvres.
Despite the larger battery, there's no change in net horsepower or combined torque from last year's Cayenne plug-in hybrids, the new 2021 Cayenne E-Hybrid continuing to produce a substantial 455 net horsepower and 516 lb-ft of torque, and the two Cayenne Turbo S E-Hybrid models putting out a staggering 670 net horsepower and 663 lb-ft of torque.
Pricing for the 2021 Cayenne E-Hybrid starts at $93,800 plus freight and fees, whereas the Cayenne E-Hybrid Coupe can be had from $100,400, the Turbo S E-Hybrid from $185,600, and the Turbo S E-Hybrid Coupe from $191,200. Porsche is already offering factory leasing and financing rates from zero percent according to CarCostCanada, so make sure to visit their 2021 Porsche Cayenne Canada Prices page to learn more, plus find out how the CarCostCanada system works so you can access the latest leasing and financing rates from all models, plus rebate information and even dealer invoice pricing that could save you thousands, and remember to download the free CarCostCanada app so you can access all this information exactly when you need it.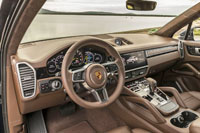 The standard Cayenne E-Hybrid will hit 100 km/h from a standing start in only 5.0 seconds flat when equipped with the Sport Chrono Package, ahead of a top track speed of 253 km/h, while a Sport Chrono Package equipped Cayenne E-Hybrid Coupe needs 0.1 seconds more to reach the same speed, although tops out at the identical terminal velocity. Both regular and coupe Cayenne Turbo S E-Hybrid models achieve the same 3.8-second sprint to 100 km/h, mind you, while their collective top speed is 295 km/h.
The 2021 Cayenne E-Hybrid and 2021 Cayenne Turbo S E-Hybrid are now available to order at a Porsche retailer near you, while deliveries are expected in the spring of 2021.
Story credits: Trevor Hofmann
Photo credits: Porsche