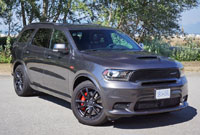 Dodge is the Jolt Cola of the auto sector, or for those not old enough to remember that once revered albeit politically incorrect Coke and Tab alternative that went by the motto, "All the sugar, twice the caffeine!", consider the domestic brand the automotive equivalent of an adrenaline-stoking energy drink (which the resuscitated Jolt Energy now is) amongst healthy, organic, fruity, detoxifying beverages, and then also mull over the thought (this one for the execs that eventually occupy the FCA/PSA boardroom in Amsterdam, London, Turin, Paris, Auburn Hills or wherever else they decide to meet) that if its parent automaker ever strays from this bad boy brand's anti-establishmentarian mission it'll be game over.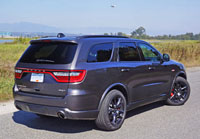 Why the concern? Dodge's current parent, FCA (Fiat Chrysler Automobiles), appears to be merging with France's PSA Group that includes Peugeot, Citroën, DS Automobiles (a relatively new luxury brand that pulls heritage from the highly advanced and iconic 1955–1975 Citroën DS) and even General Motors' recently sold Opel and Vauxhall brands, the twosome currently rebadged versions of North American/Chinese Buick models and vice versa. If this happens it would become one of the largest auto groups in the world, including all the brands FCA currently controls, such as Fiat, Abarth (Fiat's performance-oriented sub-brand), Fiat Professional (the vans sold under the Ram banner here), Lancia (at least what's left of it, this once great Italian marque sadly down to one "fashion" city car now), Alfa Romeo, Maserati, and Ferrari (from a distance), Ram (a.k.a. Dodge trucks for those who missed that spin-off), Chrysler (which is now down to just two models, one of which will soon be discontinued), and lastly the always profitable Jeep line here at home and abroad (that's 16 separate brands, incidentally). Let's just hope Dodge doesn't get pulled into a global homogenization program that waters down its entries to the point of irrelevance (taking advantage of economies of scale being a key driver behind automakers merging).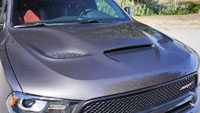 Nothing quite like the big seven-passenger Durango SRT exists outside of Dodge; even Jeep's outrageously quick 707 horsepower Grand Cherokee SRT Trackhawk is a smaller two-row mid-size model. The Durango SRT is motivated by the same comparatively tame 475 horsepower version of FCA's 6.4-litre (392 cubic inch) Hemi V8 that powers the regular Grand Cherokee SRT, but I promise you it's no lightweight performer. Its 470 lb-ft of torque launches the 2,499-kilo (5,510-lb) brute from standstill to 100 km/h in just 4.6 seconds, its SRT Torqueflite eight-speed automatic performing quick shifts whether prompted by steering wheel-mounted paddles, the shift lever, or left to its own devices. It'll continue on with a 12.9-second quarter mile, and tops out at an incredible 290 km/h (180 mph), which is the same top track speed as the Jeep Trackhawk, and otherworldly compared to most SUVs.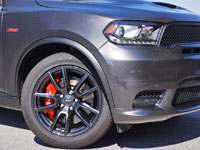 All this from a family hauler that can seat seven actual adults in complete comfort while stowing their gear in a 487-litre (17.2 cubic-foot) dedicated luggage compartment behind the third row, and towing a 3,946-kg (8,700-lb) trailer behind (which is 1,500 lbs more capable than the 5.7-litre V8-powered Durango and 2,500 lbs more than with the V6). The only knock against the Durango SRT is fuel-efficiency, which is thirsty at 18.3 L/100km in the city, 12.2 on the highway, and 15.6 combined, plus a bit less off-road capability due to slightly less ground clearance, but this said who'd want to risk ruining its low-hanging bodywork or black-painted 20-inch twinned five-spoke alloys on rocks or stumps anyway, while the three-season Pirelli Scorpion 295/45 ZRs they're wrapped in are better suited for gripping pavement than anything too slippery.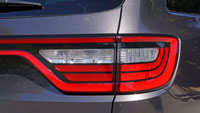 The SRT's frowning black mesh grille, multi-vented hood, more aggressive lower fascia, side skirts, and unique rear bumper with fat chromed tailpipes poking through each side makes a strong visual statement that's hard to ignore, with nothing changing since arriving on the scene in 2017 for the 2018 model year. It carried forward into 2019 unchanged, and will do likewise for 2020, with only some of the Durango's lesser trims getting minor updates.
The current third-generation Durango came along in 2010 for the 2011 model year, by the way, and with the update brought back some of the curves that were missing from the angled second-gen model. More premium-level interior materials quality was reintroduced as well, with all trims that I've tested having been impressively finished. This is especially true of the SRT, which gets a suede-like Alcantara roofliner and A-pillars, plus contrast-stitched leatherette covering the entire dash top and much of the instrument panel, all the way down each side of the centre stack in fact, while the front and rear door uppers are made from a padded leather-like material, and armrests finished in a contrast-stitched leatherette. As you might expect, everything from the waistline down is made from a harder plastic, but it feels very durable and capable of managing punishment.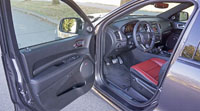 The steering wheel is a mix of perforated and solid wrapped leather with nicely contrasted baseball stitching around its inner ring, while the spokes feature high-quality switchgear and those shift paddles noted earlier, plus Chrysler group's trademark volume control and mode switches on its backside as well. All of the cabin's other switchgear is well done for a mainstream volume-branded vehicle too, with the larger volume, tuning and fan speed knobs on the centre stack being chrome-trimmed and wrapped in grippy rubber.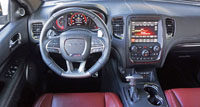 The infotainment system just above incorporates a large 8.4-inch high-resolution touchscreen that works very well for all functions. I like the simplicity and straightforwardness of Chrysler group touchscreens, and I clarify those in Chrysler, Dodge and Jeep vehicles because they're often very different than what you'll find in other FCA brands, like Fiat, Alfa Romeo and Maserati. Screen quality aside, as the premium Italian brands use the latest high-definition displays, I like the Chrysler interfaces best, as they tend to be easier to use and more fully featured.
Along with individual displays for the audio system, auto climate controls including digital switchgear for the heatable/cooled seats and heated steering wheel, navigation with especially good mapping and easy, accurate route guidance, phone hookup and features, plus various apps, the SRT adds another display dubbed Performance Pages featuring power torque history, real-time power and torque, timers for laps etcetera, plus G-force engine and dyno gauges, as well as separate oil temp, oil pressure, coolant temp and battery voltage gauges, much of which is duplicated over on the gauge cluster-mounted multi-information display, giving this SRT a level of digital depth few others in the industry can match.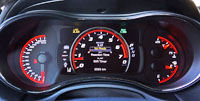 Under the centre stack is a rubberized bin that's big enough for any smartphone. The expected 12-volt charger and AUX plug is in close proximity, plus two even more relevant charge-capable USBs, but unfortunately no wireless charging is available. There's another 12-volt charger as well as a Blu-ray DVD player under the centre armrest, while Dodge includes a great sounding 506-watt Alpine audio system with nine amplified speakers, or an even better $1,995 optional Harman/Kardon system with 825 watts, 19 speakers and a sub.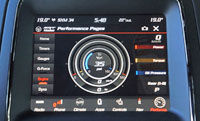 The throaty sound of the SRT's V8 makes any talk about audio equipment seem unimportant, mind you, whether it's chugging away at idle or shaking the world around it at full roar, and the way it responds to right-foot input is dramatic for such a large utility. I wouldn't use the term catapult do describe its takeoff, but it launches without hesitation before eclipsing any remotely legal speeds within seconds. Truly, if you need more there's probably something wrong with the way your brain processes adrenaline, while the eight-speed auto's ability to send its formidable power and torque to all four wheels is commendable. This beefed up gearbox provides quick and purposeful shifts, yet it's impressively smooth even when allowing revs to rise. Its manual mode with paddles provides good hands-on engagement, which was helpful when pushing hard through corners, something the Durango SRT does effectively.
The Durango's fully independent front strut and rear multi-link suspension carries over mostly unchanged from the base SXT to this SRT, but Dodge dubs it "SRT-tuned" and adds a Bilstein adaptive damping suspension (ADS) in place of the regular model's gas-charged, twin-tube coil-over shocks, plus it replaces the solid stabilizer bars with a set of hollow ones, the end result being a wonderfully flat stance through tight curves and good tracking at any speed. Additionally, the electric power steering is performance-tuned and braking power is increased via a set of big Brembos, making stopping power almost as dramatic as acceleration. It's compliant suspension, general comfort, great visibility and easy manoeuvrability makes it an easy SUV to drive around town too, and thanks to not being quite as wide as a true full-size SUV, like Chevy's Tahoe or Ford's Expedition, it's no problem to park in tight spaces.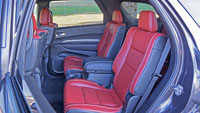 To be clear, the Durango is a considerable 120 mm (4.7 in) narrower than the Tahoe and 104 mm (4.1 in) thinner than the Expedition, but rest assured that it measures up where it matters most from nose to tail. Its 3,045-mm (120.0-in) wheelbase is actually 99 mm (3.9 in) longer than the Tahoe's and just 67 mm (2.6 in) shorter than the Expedition's, which means adults fit comfortable in all seating positions.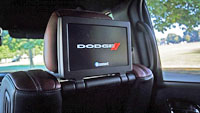 Less width translates into less side-to-side room inside, of course, but it's still plenty wide within, and should be sizeable enough for larger folks. The driver's seat is superb, and like the others (excepting the third row) is finished with an embossed "SRT" logo on its backrest. My tester's seats were covered in a rich looking dark "Demonic Red" with white contrast stitching to match the decorative thread elsewhere, while Dodge included perforated leather inserts to allow breathability for the ventilated seats noted earlier. The leather quality is extremely soft and premium-like, while the seat sides even feel as if they're finished in the same quality of leather, albeit black. The instrument panel and doors are trimmed out with genuine-feeling patterned aluminum inlays for a sporty yet upscale appearance, plus ample chrome highlights brighten the cabin elsewhere. This said you can upgrade this SUV with an SRT Interior Appearance Group that replaces the aluminum inlays with genuine carbon-fibre, plus upgrades the instrument panel with a leather wrap, possibly a good way to spend $3,250.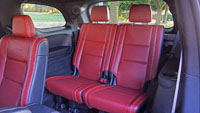 Like those up front, the SRT's standard second-row captain's chairs are ultra comfortable, while Dodge has fixed a nice centre console in the middle featuring two cupholders and a storage bin. Rear passengers can access a panel on the backside of the front console featuring dual charging USB ports, a 115-volt household-style three-prong socket, and switchgear for the two-way seat warmers, while a three-dial interface for controlling the tri-zone automatic climate system's rearmost compartment can be found overhead, along with a separate panel housing an attractive set of dome and reading lights.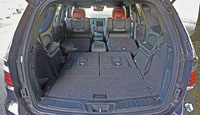 All of this Durango SRT goodness comes for just $73,895 plus freight and fees, incidentally, and right now CarCostCanada members are saving an average of $6,500 on all 2019 Durango trims, with up to $5,000 in incentives alone. You'll need to go to the 2019 Durango page on CarCostCanada to learn more, at which point you can access pricing for trims, packages and individual options, plus money saving rebate info and even dealer invoice pricing that could save you thousands. It's an excellent resource, giving new car shoppers all the info they'll need to secure the best deal possible.
My tester was equipped with a $950 Technology Group that includes adaptive cruise control with stop-and-go, advanced brake assist, forward collision warning with active braking, plus lane departure warning and lane keeping assist, while a $2,150 rear Blu-Ray DVD entertainment system features a monitor on the backside of each front headrest, these folding upward from otherwise protected positions when not in use. A set of RCA plugs and an HDMI input can be found on the inner, upper side of each front seat, allowing external devices such as gaming consoles to be plugged in easily, all of which can turn any Durango SRT into the ultimate road trip companion.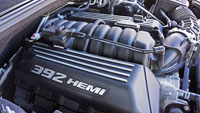 That's the beauty of it. This Durango SRT is one of the strongest performing SUVs available anywhere, yet as noted earlier it seats seven adults comfortably, stows all their gear, hauls trailers and much more. It's the perfect four-season family hauler for speed fanatics, although you'll want to swap out its three-season rubber for some good winter performance tires come late autumn. Other than that, load up the credit card with plenty of gas money, and you'll literally be off to the races.