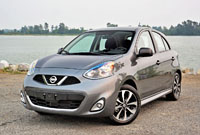 Listen up. Just in case you haven't already heard, there's no better new car for your money than Nissan's Micra. For just $9,988 plus freight and dealer fees, which makes it the least expensive new car in Canada, the 2017 Micra represents the best value in the entire auto industry.
What's more, it's so much fun to drive that Nissan Canada developed a spec racing series dubbed Nissan Micra Cup to tout its performance prowess, a smart way to change common perceptions about life with an entry-level sub-subcompact economy car.
In case you're wondering, the Micra Cup racing-spec car is no more formidable off the line than the stock machine being sold for less than $10k, its DOHC, 16-valve, 1.6-litre four-cylinder engine making an equal 109 horsepower and 107 lb-ft of torque, which is sports car territory when factoring in its scant 1,044-kilo (2,302-lb) curb weight.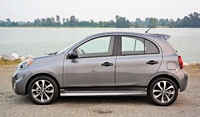 To put that last claim into perspective, the pre-owned 1985 Toyota MR2 mid-engine sports car that I managed to talk my boss into giving me for a daily driver after a particularly good sales month (I sold cars for a Toyota dealer in the late '80s) tipped the scales at a nearly identical 1,035 kilograms (2,282 lbs) and made 112 horsepower and 105 lb-ft of torque from its AE86 Corolla-sourced 1.6-litre four. It was ruddy quick for its era, and while I won't directly compare Toyota's brilliant little "Twin Cam" and its sonorous 7,500-rpm redline to the Micra's more utilitarian 6,600 maximum spin, both cars utilized standard five-speed manuals and optional four-speed automatics.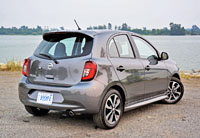 Rather than be forced to respond to all the MR2 faithful's hate mail pointing out the obvious benefits of a short-throw manual gearbox, lower centre of gravity, mid-engine rear-wheel drive chassis layout, etcetera ad nauseum, let's just agree that owning a modern-day subcompact with a similar power-to-weight ratio to a revered classic sports car can result in plenty of smiles at the wheel, whether you have the talent of current 2017 Micra Cup season leader Olivier Bédard, or simply enjoy a spirited drive while commuting back and forth to work, university, or running errands.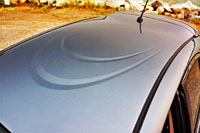 In truth, today's Micra has more in common with Toyota's superb little 2004–2005 Echo Hatchback, which was also a tall, two-box front-drive subcompact, albeit with a 1.5-litre four making 108 horsepower and 105 lb-ft of torque, a five-speed manual or four-speed automatic, and once again a featherlight curb weight of 944 kg (2,081 lbs). It was a cute looking little hatch as well, especially in sportier RS trim, a car I'd love to pick up with its base manual gearbox in good condition. Being that the base Echo Hatch started at $12,995 back in its day, the pricier RS still fetches $4,000 to $5,000 now, which makes the 13-year newer Micra seem all the more appealing.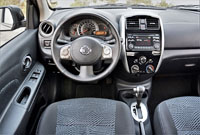 As you can probably tell from the photos, the 2017 Micra SR currently in our garage sells for considerably more than the base S model Nissan woos us down to its dealerships to check out. While the Micra S starts at $9,988, it moves directly up to $13,648 when adding the aforementioned automatic, an upgrade that also bundles in air-conditioning and steering wheel-mounted switchgear complete with cruise controls (the base model's "naked" steering wheel looks a bit odd in a new 2017 model).
I should also mention these features come alongside a standard menu that includes tilt steering, a trip computer, variable intermittent wipers, an intermittent rear wiper, AM/FM/CD audio with speed-sensitive volume control and an aux jack, fabric seat trim, 60/40 split-folding rear seatbacks, vented front disc and rear drum brakes with ABS, electronic brake-force distribution and brake assist, stability and traction control, all the expected airbags, plus more.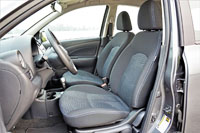 Second-rung SV trim, available from $14,048, makes those last items standard no matter the chosen transmission, while also adding illuminated audio and Bluetooth phone controls to the left spoke of the steering wheel, powered windows and locks, the latter featuring remote keyless entry with a panic alarm, body-colour power-adjustable heated side mirrors, body-colour door handles, two more driver's seat adjustments for a total of six, a flip-down driver's seat armrest, upgraded cloth upholstery, chrome interior door handles, two more stereo speakers totalling four, and more.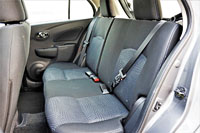 Put beside these two models the top-line Micra SR seems ultra-luxe, thanks to unique sport headlights and taillights, fog lamps, chrome around those fogs as well as the front fascia's lower grille, side sill extensions, a rear rooftop spoiler, a chromed exhaust tip, and machine-finished 16-inch alloys with black painted pockets on 185/55 all-season rubber (instead of 15-inch steel wheels with covers encircled by 185/60 all-seasons) on the outside, plus a leather-wrapped steering wheel rim, a leather-wrapped shift knob (on manual transmission models), sport fabric seat and door insert upholstery, a 4.3-inch colour display audio system with an integrated rearview parking monitor, a USB port, and more for $16,188 plus freight and fees.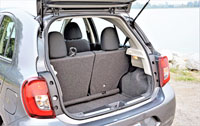 My $17,188 tester, which includes $1,000 for the automatic transmission, adds $135 for Gun Metallic grey paint while boasting a $460 Colour Studio Trend package from the accessories catalogue featuring coloured mirror caps, door handles, and side sport stripes (glossy black the chosen "colour" in this instance), boosting the as-tested price to $17,783. Despite the Micra's fabulous base price, I'd be tempted to choose this very trim and accessories package upgrade because it looks so great and drives so well, minus the autobox for improved performance and a lower price.
I'll go into more detail describing this 2017 Micra SR's driving dynamics in my upcoming review, while also going into more detail about features usability, interior quality, comfort, roominess, and more. I might even talk sales numbers, being that the Micra outsells all of its key competitors by a grand margin, even shaming larger subcompact models when it comes to popularity. Of course all this makes sense, the Micra being a street-legal race car and all. Come back soon for my full review…