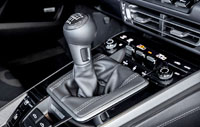 Porsche introduced its 2021 911 Turbo S Coupe and Cabriolet just two months ago, and now we're getting a look at what's in store for 911 Carrera, Carrera S, and Carrera 4S trims.
The latter two S trims will finally be getting a seven-speed manual gearbox, which by 2019 standards would mean these models will be dropping in price by $3,660, being that 2020 models made the new eight-speed dual-clutch automated PDK transmission standard, but European models will merely make the manual a no-cost option, so we'll have to wait until Porsche Canada announces pricing in a few months to find out which direction they've chosen.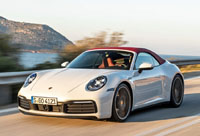 Speaking of PDK-equipped 911s, Porsche will offer 2021 examples InnoDrive adaptive cruise control that, in addition to being able to follow the vehicle ahead without the driver needing to manually modulate speed, can also maintain set speed limits automatically and slow down autonomously when approaching corners.
A tire temperature readout gauge for the Sport Chrono Package is also new for 2021, as is Smartlift, an available front axle-lift feature that will raise the 911's front end in order to clear large speed bumps and steep driveways. Better yet, Smartlift gets its intelligent name from having a memory feature capable of storing a location where the front end has been lifted and then remembering to do so again automatically next time you arrive.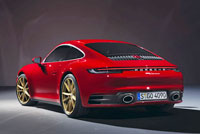 Additionally, just in case you weren't quite sure whether Porsche was still a purist's sports car brand and not just another luxury carmaker, you can now order your 2021 911 Carrera with a lightweight glass package that reduces mass up higher in the car and therefore lowers its centre of gravity to improve handling. This said you could choose thicker insulated glass instead, which has been designed to reduce interior noise for a more comfortable drive.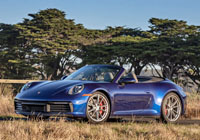 A new retrospective leather upholstery upgrade package should also be popular for both Coupe and Cabriolet body styles, as it pulls styling cues from the now classic 930-era 911 Turbo. Porsche introduced it as standard equipment for the aforementioned 2021 Turbo S.
To make the ordering process easier to understand, Porsche renamed its seven-colour Light Design Package to the more self-explanatory Ambient Lighting Package, while Python Green has joined the Carrera's exterior paint palette for 2021, this colour previously available for the 911 Turbo S and 718 Cayman GTS 4.0.
Story credit: Trevor Hofmann
Photo credits: Porsche