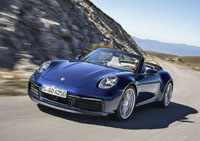 The 911 Cabriolet has been with us so long it seems as if it's always been part of Porsche's lineup, but it took almost 20 years of 911 production before the completely exposed model arrived in 1982. Ahead of this, going topless required the complete removal of a metal roof panel, the 911 Targa having arrived on the scene in 1966 with either a fixed glass or foldaway plastic rear window. 
Brief history lesson completed, Porsche introduced its all-new 2020 911 Cabriolet on Monday, January 8, with a promised arrival in the third quarter of this year and the ability to place your order now, the latter point being the same as with the new 911 coupe that was introduced last month and is slated to go on sale this summer.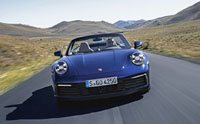 Also like the new coupe, the first new 2020 Cabriolets we'll be able to get our hands on will be in rear-wheel drive Carrera S (C2S) and all-wheel drive Carrera 4S (C4S) guise, featuring a more formidable redesigned 3.0-litre turbocharged boxer engine that's good for 443 horsepower and 390 lb-ft of torque, an increase of 23 horsepower and 22 lb-ft of torque respectively, and fitted with Porsche's all-new eight-speed automated dual-clutch PDK gearbox. Once again, seven-speed manual variants will show up later, as will less potent Carrera and Carrera 4 models sporting a revised 385 horsepower 3.0-litre turbo six behind the rear axle, this engine 15 horsepower more capable. Likewise, Turbo versions will enter the fray later, although Porsche has yet to provide a time frame for these.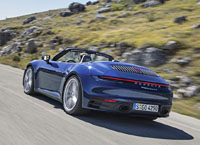 Porsche has only provided performance specs for the C2S and C4S shown, with standstill to 100km/h achieved in just 3.9 and 3.8 seconds apiece, while those numbers improve to 3.7 and 3.6 seconds respectively when the Sport Chrono Package is added, the greater traction of the all-wheel drive model allowing for a slight advantage at takeoff. 
Amazingly, thanks to magnesium surface elements dubbed "bows" that are integrated within the redesigned fabric roof's structure and prevent "ballooning" at high speeds, new 911 drop-top models are only 2 km/h slower than their hardtop siblings when factoring in terminal velocities, their top speeds set to 306 km/h (190 mph) for the C2S and 304 km/h (189 mph) for the C4S.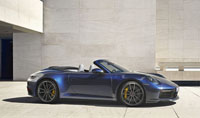 Additionally, that soft top, which is now larger to fit over the more accommodating cabin, can open and close on the fly at speeds of up to 50 km/h (30 mph), and takes a scant 12 seconds to fully perform this function due to revised hydraulics, a process that also powers an electrically extendable wind deflector to keep gusts of air from discomforting the driver and front passenger. 
As you might expect, the 2020 911's interior is much the same as the new coupe's, highlighted by a new horizontal design theme inspired by early '60s through '90s models, but now the primary gauge cluster is mostly digital with twin LCD panels surrounding the usual mechanical centre tachometer, while above a completely reworked centre stack and console is a 10.9-inch Porsche Communication Management (PCM) infotainment touchscreen, literally a big improvement over its 7.0-inch predecessor.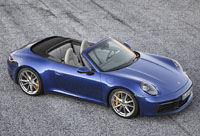 Back in front of the driver, a new steering wheel incorporates an adaptation of the same rotating steering wheel-mounted driving mode selector found in the outgoing 911 Cabriolet, but now a standard Wet mode gets added to the mix, capable of maintaining better control over water-soaked road surfaces when activated. Safety in mind, the new 911 Cab will also get standard autonomous emergency braking with moving object detection, while a backup camera and rear parking sensors will also be standard.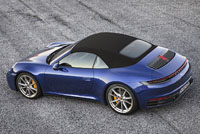 Porsche promises increased comfort and support from its new available 18-way powered front seats, while other options include adaptive cruise control with stop and go, a 360-degree surround parking camera that should be extremely helpful on the new widescreen display, plus new Night Vision Assist that will provide visual assistance for steering clear of pedestrians or animals in the dark via a heat-sensing thermal imaging camera. 
On a more mechanical note, for the first time 911 Cabriolet customers will be able to choose the Porsche Active Suspension Management (PASM) adaptive sport suspension from the options list, which provides stiffer, shorter spring sets for a 10-mm lower ride height, and more rigid anti-roll bars, allowing improved weight distribution for a more neutral feel.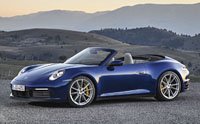 As for style, the new 911 Cabriolet pulls over most of the coupe's new design cues below the waistline, including an all-new rectangular lower front grille/fascia that creates a wider more planted appearance, a completely reshaped hood that squares off near the front and incorporates a classic tapering indentation at centre, wider front and rear fenders that flow over larger 20- and 21-inch front to rear staggered alloy wheels, new side mirrors and new flush door handles that pop out when touched, and a new body-wide LED taillight hovering over a 718-style 3D "PORSCHE" graphic bookended with totally unique corner lights, while its bulging rear deck lid panels are similar to the outgoing model yet redesigned for a smoother, more fluid result, the latter incorporating a new integrated dynamic spoiler that's completely hidden when retracted yet much wider and more capable than the rear spoiler on the outgoing model when open. Likewise, no one should complain about the new larger fabric roof's shape and fitment, as it's once again beautifully contoured and ideally proportioned.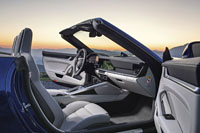 Also like the 2020 911 coupe, the redesigned Cabriolet makes greater use of lightweight aluminum both outside and within, its new front fenders eliminating steel from the body panel equation altogether, and its suspension now much more aluminum-intensive. 
The new 2020 Porsche Carrera S Cabriolet will arrive this fall for a base price of $143,700, along with the 2020 Carrera 4S Cabriolet that starts at $152,100. 
Remember to contact your local Porsche dealer if you want to put one on order, and after you've done that make sure to check out our photo gallery above and these two Porsche-supplied videos below: 
The new 911 Cabriolet: First Driving Footage (1:08):

The new Porsche 911 Cabriolet – All set for open-top season (1:09):