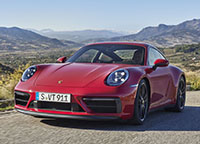 The fabulous 911 GTS is back, and just like in 2019, the last time Porsche offered the performance-first model with the car's previous seventh-generation 991 body style, it comes in five distinct variations.
Now based on the 911's eighth-generation 992 model (see our first story about the 922 model here), the 2022 version is available as the $150,700 Carrera GTS coupe, $165,300 Carrera GTS Cabriolet, $159,100 Carrera 4 GTS, $173,700 Carrera 4 GTS Cabriolet, and lastly the $173,700 Targa 4 GTS (see all other 2022 Porsche 911 models here).
The 3.0-litre flat-six engine's displacement is unchanged as well, as is its twin-turbo forced induction system, but a new sport exhaust, together with reduced interior insulation, provides louder, more exhilarating sounds, while the GTS' engine output has been pumped up by 23 horsepower to 473, while torque has increased by 15 lb-ft to 420, both thanks to 2.3 psi of additional boost.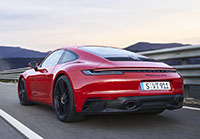 The massaged powerplant slices 3/10ths from the old GTS' launch time when utilizing its eight-speed PDK dual-clutch gearbox together with the standard Sport Chrono Package (which includes dynamic engine mounts, launch control, and Sport Plus mode), combining for standstill to 100 km/h sprint time of just 3.4 seconds in base Carrera GTS coupe trim, all before a 1-km/h-faster 311 km/h top track speed.
The AWD-enhanced Carrera 4 GTS is even quicker off the line, launching from zero to 100 km/h a mere 3.3 seconds, but its terminal velocity is a hair slower at 309 km/h. The Carrera GTS Cabriolet can achieve the same top track speed as the Carrera 4 GTS, although at 3.6 seconds to 100 km/h it's the slowest of the five. This said, the Carrera 4 GTS Cabriolet and Targa 4 GTS coupe each shave a 10th from the most affordable GTS convertible, with 0-100 km/h sprints only requiring 3.5 seconds, and their top speeds maxxing out at 307 km/h.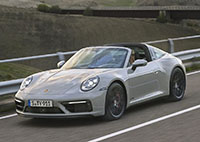 Of note, those wanting a DIY transmission can opt for Porsche's seven-speed manual, at no difference in price from the PDK. The short-throw shifter is a full 10 mm stubbier than the gear lever in the regular 911, but this isn't the drivetrain to get if drag racing is your thing, as straight-line acceleration is down some 0.7 to 0.8 seconds (depending on the model) compared to the PDK. Instead, the manual is best for those who enjoy the art of driving.
The best of such moments can often be found when a given road starts to wind, and to that end the new GTS includes a Porsche Active Suspension Management (PASM) system that was pinched from the newest 911 Turbo, while coupe and convertible models now roll on a 10-mm lower sport suspension that to improves aerodynamics and provides enhanced transitional response.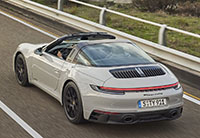 The GTS' 20-inch front and 21-inch rear Satin Black alloys were pulled from the 911 Turbo S, however, as were their 245/35R20 front and 305/30R21 rear summer performance tires, while the high-performance brakes hiding behind the spokes were initially developed for the regular 911 Turbo. These boast red-painted six- and four-piston aluminum monobloc fixed calipers, with 408- and 380-mm cross-drilled and internally vented rotors front to back.
Additionally, a new Lightweight Design package, that chops up to 25 kilograms from the model's curb weight, can be had for the first time on a GTS, featuring a set of carbon fibre-reinforced plastic (CFRP) full bucket seats, lightweight side and rear window glass, deleted rear seats, plus more.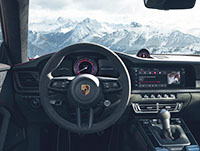 As far as aesthetics go, the SportDesign package is standard on all GTS models, so therefore the front fascia, side sills, and rear styling is unique when put side-by-side with other 911 models. Additionally, black is once again the theme from the outside in, most noticeable with the cars' tail lamps that feature darkened lenses, while the Targa features a darker roll hoop with black lettering on both sides.
Inside, black suede-like Race-Tex microfibre surfaces the steering wheel rim, shift knob, centre seat panels, door handles, armrests, and the centre storage compartment lid/armrest, aiding grip and adding plush style. What's more, buyers can opt for optional red stitching in key areas, or just keep it black on black.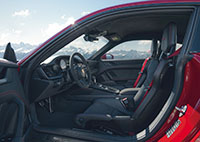 Being based on the new eighth-gen 911, the new GTS features the upgraded Porsche Communication Management (PCM) 6.0 infotainment system, that features a more user-friendly interface design, faster response to inputs, plus Android Auto smartphone integration (joining Apple CarPlay that was already available).
Porsche improved the PCM's voice assistant as well, which can now recognize natural speech more easily. All a user needs to do to activate the upgraded system is say, "Hey Porsche," and then follow the prompts. Another PCM 6.0 bonus is the Porsche Track Precision app that lets track driver's time laps and much more, plus a tire temperature display is also part of the standard package when choosing a GTS.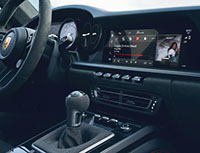 You can order a new 2022 Porsche 911 GTS now, and likely qualify for factory leasing and financing rates from zero percent. Check out CarCostCanada's 2022 Porsche 911 Canada Prices page to learn more, and while you're at it find out how dealer invoice pricing can save you thousands off your next new car. You can also download the free CarCostCanada app from the Google Play Store or Apple Store, to guarantee you'll have all the information you need to get the best deal possible on your next new vehicle.
The new 911 Carrera GTS: More of What You Love (2:41):

The new 911 Carrera GTS: Drone POV (1:00):

Story credits: Trevor Hofmann
Photo credits: Porsche