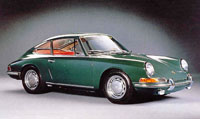 Looking at today's Porsche 911 makes it hard to believe its predecessors once used no-draft windows to ventilate, but such was the case right up until the water-cooled 996 arrived in 1998. Now, however, Porsche has become a leader in climate control.
Multi-zone automatic climate control systems only exist because all us feel temperatures differently. Porsche has long offered such individualized HVAC systems in its sports car and SUV lineup, but they've taken the concept to new levels when it comes to the new 911 Cabriolet, by developing a cabin temperature sensor capable of detecting when the fabric top is being opened and then immediately making necessary adjustments to maintain chosen temperatures.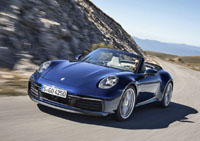 The sophisticated system uses 20 external and 20 internal interfaces that continuously process about 350 signals in half-second intervals, including outlet, exterior, and coolant temperatures, as well as engine speed, insolation, and vehicle speeds. Now, after factoring in retractable roof, door and seating information, it has the ability to slowly suppress one of these sensors when the convertible top is opened. The result is optimal air temperature, air ventilation volume and air distribution to each occupant for ideal temperature comfort.
"Even in the searing summer heat of the city, 911 Cabriolet drivers are surrounded by a pleasant freshness," claims Porsche in a press release.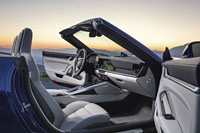 The German brand points out that its intelligent climate control system is particularly effective at low speeds and in cooler weather that normally results in warm feet and a cool head while driving with the top down. The system is now able to distribute more warm air to the driver and front passenger through the centre vents, which provides "a cozy veil of heat without having the unpleasant sensation of air being blown in their faces," adds Porsche. The 911 Cabriolet's driver will also benefit from "blissfully warm hands on the steering wheel," making the need for warm gloves and winter jackets unnecessary.
Story credit: Trevor Hofmann
Photo credits: Porsche