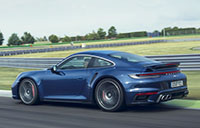 Porsche wowed performance car fans with its shockingly quick 2021 911 Turbo S back in April, and we made a point of covering every one of its 640 horsepower. Now it's time for the slightly less outrageous 911 Turbo to share the limelight, and we think that its 572 horsepower 3.8-litre flat-six will be enough to create a buzz of its own.
After all, the regular Turbo provides 32 additional horsepower over the previous 2019 911 Turbo, which is enough to shoot it from zero to 100km/h in a mere 2.8 seconds when upgraded with the Sport Chrono Package and mounted to the 911's lighter Coupe body style. Then again, you can go al fresco and still manage 2.9 seconds from standstill to 100km/h, both times 0.2 seconds less than each models' predecessor.
The 911's acclaimed "boxer" engine makes a robust 553 lb-ft of torque in its newest generation, which is 30 lb-ft more than previously. That makes it more potent than the previous 911 Turbo S, upping torque, horsepower and acceleration times, due in part to new symmetrical variable turbine geometry (VTG) turbochargers that feature electrically controlled bypass valves, a redesigned charge air cooling system, and piezo fuel injectors. This results in faster throttle response, freer revving, better torque delivery, and sportier overall performance.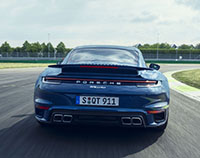 The new 911 Turbo incorporates the same standard eight-speed dual-clutch PDK automated gearbox as the 911 Turbo S, while both cars also feature Porsche Traction Management (PTM) all-wheel drive as standard equipment too. It's all about high-speed stability, necessary with a top track speed of 320 km/h (198 mph).
Additionally, the new 911 Turbo gets similarly muscular sheet metal as the Turbo S, its width greater than the regular Carrera by 46 mm (1.8 in) up front and 20 mm (0.8 in) between its rear fenders. This allows for wider, grippier performance tires that measure 10 mm (0.4 in) more at each end. The front brake rotors are 28 mm (1.1 in) wider than those on the previous 911 Turbo too, while the same 10-piston caliper-enhanced ceramic brakes offered with the Turbo S can also be had with the less potent 911 Turbo. Yet more options include the previously noted Sport Chrono Package, as well as a Sport suspension, Porsche Active Suspension Management, and rear-wheel steering.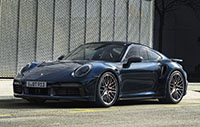 Porsche has upgraded the 911 Turbo's cabin over the Carrera with some performance goodies too, including standard 14-way powered Sport seats and standard Bose audio, while a Lightweight package removes the rear jump seats and swaps out the standard front Sport seats for a unique set of lightweight buckets, while also taking out some sound deadening material for a total weight-savings diet of 30 kilos (66 lbs).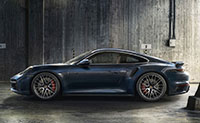 Also available, the 911 Turbo Sport package includes a number of SportDesign enhancements such as black and carbon-fibre exterior trim as well as clear taillights, while a Sport exhaust system can also be had. The options menu continues with Lane keep assist, adaptive cruise control, night vision assist, a 360-degree surround parking camera, Burmester audio, and more.
The 2021 Turbo Coupe and 2021 Turbo Cabriolet will arrive at Canadian Porsche dealers later this year for $194,400 and $209,000 respectively, but take note you can order from your local Porsche retailer now.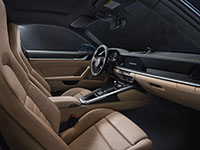 Before you make that call, however, check out the 2021 Porsche 911 Canada Prices page at CarCostCanada, because you'll learn how to access factory leasing and financing rates from zero percent. You can also find out about possible rebates and dealer invoice pricing that could save you thousands. See how it works now, and remember to download the free CarCostCanada app from the Apple Store or Google Android Store, so you can access all the most important car shopping information from the convenience of your phone when at the dealership or anywhere else.
Story credits: Trevor Hofmann
Photo credits: Porsche