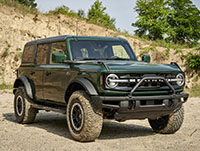 Ford has been on a roll lately, winning two of last year's North American Car, Truck and Utility Vehicle of the Year (NACTOY) awards, with its redesigned F-150 winning best truck and Mustang-Mach-E earning top marks in the utility sector, and now it's done the same for 2022. This time the blue-oval winners of both categories include the all-new Ford Bronco SUV, and the even fresher Ford Maverick compact pickup truck.
"We're thrilled and honored to earn both Truck and Utility of the Year from the NACTOY jury for the Ford Maverick and Bronco, especially among such a strong field of competitors," stated Kumar Galhotra, president, Americas & International Markets Group, Ford Motor Company. "But we're also proud because these awards are well-deserved recognition for the tremendous amount of work, focus and energy our teams have invested in designing, engineering and building exciting vehicles for our customers. This also reflects the overwhelming reception we've had from our Maverick and Bronco customers alike."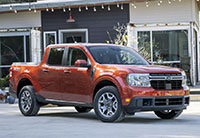 The Dearborn, Michigan-based automaker doesn't have much opportunity to earn a best car of the year award, being that it only offers the Mustang fastback and convertible to those not interested in SUVs and trucks, which leaves the door wide open for those that do cars better. Last year, the Hyundai Elantra earned top spot in the car category, whereas the new Honda Civic just took first place for 2022.
To earn this highest honour, the Civic edged out the redesigned Volkswagen Golf GTI and Golf R, which are basically the same car in different trims (there's no longer a regular Golf for 2022), plus the stunning new Lucid Air electric luxury sedan, a recent competitor to the Tesla Model S and Porsche Taycan.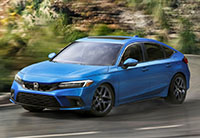 "The Honda Civic has long set the standard by which other compact cars are measured and this all-new Civic raised that bar in every conceivable way," said Michael Kistemaker, assistant vice president of Honda national sales, American Honda Motor Co., Inc. "We're especially proud for the Civic development team in Japan and our production associates at our plants in Greensburg, Indiana and Alliston, Ontario where the 2022 Civic Sedan, Hatchback and Si are built."
Where the new Civic gets a dramatic styling update, its other changes are more evolutionary than revolutionary, which was a smart choice for a car that outsells every competitor most months, but the two new Fords are completely new additions to the domestic brand's lineup, and necessary considering they no longer sell many cars. The Bronco goes head-to-head with the Jeep Wrangler as a serious 4×4-capable off-roader, while the Maverick is forging into an entirely new car-based compact pickup truck segment, only shared with Hyundai's new Santa Cruz.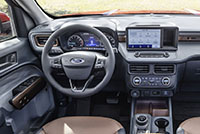 The Maverick beat the Santa Cruz in the final NACTOY showdown, as well as the larger Rivian R1T electric truck. It comes standard with a hybrid drivetrain, is available with a potent turbo, decent fuel economy, and features some smart cargo carrying innovations.
The Bronco didn't have an easy fight in its SUV category either, with the all-new Genesis GV70 and pure-electric Hyundai Ioniq 5 challenging. While none of these specifically compete against each other in real life, they all excel in the sport utility sector, and only one could be the winner.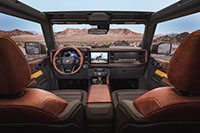 "This year's group of semi-finalists includes some of the most interesting and innovative cars, trucks and utility vehicle candidates in recent memory," said NACTOY President Gary Witzenburg, "and a larger number of new trucks than we've seen in many years. And it features more electric vehicles than we've ever seen, all of which our jurors will continue to test and evaluate prior to our next vote."
More than 50 automotive journalists from the U.S. and Canada took part as jurors in this year's NACTOY awards. To qualify, a vehicle needs to be completely new or significantly updated for the current model year. All finalist evaluations are based on design, driver satisfaction, innovation, performance, safety, technology, and value.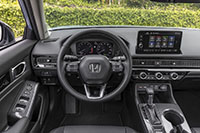 The new 2022 Civic starts at $24,465, but Honda is currently offering up to $1,000 in additional incentives, while CarCostCanada members are saving an average of $1,837. The 2022 Ford Bronco, on the other hand, can be had for a base of $41,299, while additional automaker incentives are up to $1,000 and CCC membership savings are averaging $1,000. Lastly, the new 2022 Ford Maverick starts at $25,900, but the manufacturer is also offering up to $1,000 in incentives and CCC members are once again saving an average of $1,000. Find out how a CarCostCanada membership can save you money on your next new vehicle purchase, and remember to download their free app from the Google Play Store or Apple Store.
Story credits: Trevor Hofmann
Photo credits: Honda and Ford