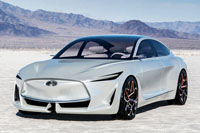 Don't get too excited. While last year's sensational QX50 Concept was a definitive firsthand view at the future QX50 production model, Infiniti made sure to clearly state in the opening lines of its press release that "the Q Inspiration Concept is meant to demonstrate future technologies and will not be available for sale."
We car enthusiasts love to dream, and concepts like the Q Inspiration are purely designed for this purpose, plus providing a glimpse at tomorrow's technologies integrated within a feasible luxury car, of course.
"The new Infiniti concept car will take the traditional sedan architecture to its next stage of evolution," said Karim Habib, Infiniti Executive Design Director. "A shift towards smarter, more compact and less intrusive powertrains; we were able to create an alternative form with flowing gestures, more engaging in character and more enriching in experience. With its long cabin, balanced proportions and muscular stance, the concept heralds in a new era for Infiniti models."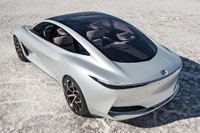 We'll get to that powertrain in a moment, but the Q Inspiration's styling might be the most talked about of its many noteworthy attributes just the same. Unique above all, a body-colour grille insert is filled with fine vertical slats that mimic baleen hair, as if their sole purpose were to extract floating krill from the atmosphere, yet as unimposing as that might sound to any creature more than a couple of centimetres long its surrounding "double-arch" maw and myriad ducts appear anything but passive.
The deeply grooved hood line seems pulled from a Formula One car's fuselage, as does the lower front fascia's intricate latticework of aero-formed wings. Even the headlamp clusters appear sliced into the composite, while deeply carved front brake vents are duplicated on the opposite side of the wheel cutouts, this time to allow that air to escape rearward via heavily sculpted door and fender panels.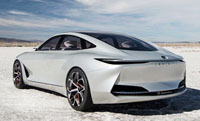 "The premium sedan segment has become rather conservative," said Christian Meunier, Infiniti Global Division Vice President. "The Infiniti Q Inspiration previews something that could appeal to a younger audience, who seek modern design and new technologies to inspire and empower them."
Innovative lighting elements prove how LEDs can be minimized to the point they don't overpower a car's overall design, yet at the same time highlight specific details when daylight turns to dusk. Those up front are hardly noticeable under the sun's rays yet encircle the entire grille cutout at night, while the headlamps get a narrow horizontal beam backed by multiple angled strips of bright light, whereas the single body-wide taillight design is used to broaden the car's overall visual appeal from behind. Front and back emblems, plus the rear deck lid's "INFINITI" branding light up in the dark as well, while a scripted "Q Inspiration" nameplate seems to hover on its own within a dual-plane integrated rear diffuser. If this is the future of Infiniti, we're in for some pretty artistic rolling lightshows.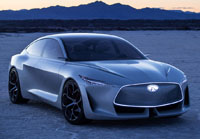 As should be the case with all luxury cars, Infiniti's left the best to those inside. Wedged between open-pore birch hardwood planks is a full-width digital display that houses primary driving instrumentation as well as a multi-information display and infotainment interface, whereas a second tier of digitization floats above the lower centre console, featuring touch-sensitive access to the audio system, HVAC controls, and more.
Infiniti provides a two-tone leather-wrapped rectangle of a steering wheel who's shape suggests inspiration from F1 as well, although its controls are an exercise in touch-sensitive minimalism compared to the motorsport series' master of hub complications. Likewise for the cabin-length cream, black and orange decorated leather-covered centre console that merely houses an infotainment controller up front and a T-shaped ultra-widescreen monitor for two in back—so much for cupholders.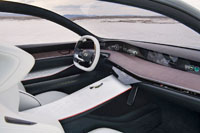 These touchscreens are specified as "human-machine interfaces" in Infiniti's press information, with each passenger getting their own display filled with the expected infotainment, plus a special "meditation-regeneration mode" that minimizes displayed info while providing a guided meditation designed to "leave any stress behind when they start a journey." The system can also monitor occupant biometrics, or rather the measurement and statistical analysis of each individual's unique physical and behavioural characteristics. Hopefully it only uses this highly private information to keep the driver relaxed yet alert and further unwind passengers.
According to Infiniti, the Q Inspiration's unique design and the materials used maximize cabin space while minimizing exterior noise and absorbing the din within, the result being a calming, thoroughly comfortable environment.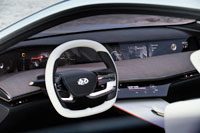 Further diminishing noise, vibration and harshness levels, the door inserts are finished in the same padded cream leather as the centre console, also enhanced by black and orange detailing plus birch woodwork for a cohesive look that's rich yet mid-century modern chic, as if the entire interior were penned by Ludwig Mies van der Rohe and Lilly Reich.
In actual fact it was the work of Infiniti's in-house design department under the watchful eye of Mr. Habib, introduced earlier, as well as Alfonso Albaisa, SVP Global Design.
"As a new wave of technologies begins to take shape, our Detroit concept car heralds a new generation of Infiniti," said Albaisa. "A seamless and stunning new design philosophy demonstrating Infiniti artistry in the new age of autonomy and breakthrough drivetrains. In Detroit, shown alongside Prototype 9, Infiniti aims to showcase a new elegance, one that strikes harmony and simplicity in a complex world."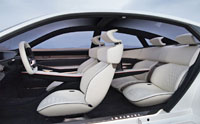 It certainly lives up to Albaisa's claim of harmony and simplicity, not to mention luxury. The seat upholstery, also finished in cream leather, appears craftily stitched into tufted golf ball dimples at centre with black piping around their edges, the seats themselves on raised pedestals and shaped like they were pulled from some futuristic airline's first class section.
"The Q Inspiration interior is reduced to a minimalist expression of wellbeing and comfort, and strives to create a warm and uncompromisingly modern atmosphere, like one so often finds in Tokyo residential architecture," added Habib. "The purpose being to enable users in a new era of connectivity, while simultaneously enriching the driving experience with materials of the best quality, crafted by the hands of the artist."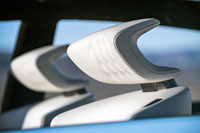 Despite its resplendent luxury and shapely form, the kilowatt-infused era we live in as well as the Q Inspiration's pure-as-the-driven-snow paint scheme and shapely albeit chrome-less styling causes a person to scan its body panels for somewhere to plug it into an EV charger, but Nissan Leaf fans hoping for a premium version of their zero-emissions ride will have to wait a bit longer. Instead, this new concept is powered by Infiniti's formidable yet efficient new VC-Turbo engine that was first introduced at last year's Los Angeles auto show in the all-new 2019 QX50.
VC stands for variable compression, an industry-first technology capable of varying compression from 8:1 for high performance to 14:1 for best efficiency. While VC should work in any type of turbocharged internal combustion engine size or configuration, for this application a single-scroll turbocharged 2.0-litre four-cylinder is used, and while Infiniti chose not to disclose output numbers for the Q Inspiration, it makes a considerable 268 horsepower at 5,600 rpm and 280 lb-ft of torque at 4,400 rpm in the upcoming QX50.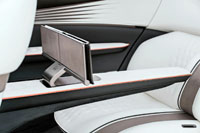 "As a brand with technological innovation at its core, the wider introduction of our advanced VC-Turbo powertrain is a natural next step for Infiniti," said François Bancon, Vice President, Product and Programs. "After the recently launched QX50, the Q Inspiration proposes an alternative application for VC-Turbo technology in a potential new product."
As you might expect, straight-line performance isn't the only VC-Turbo attribute, with fuel-efficiency factoring into its design just as critically. Infiniti claims city/highway combined mileage of 27 mpg (8.7 L/100km) with the front-wheel drive QX50, or 26 mpg (9.0 L/100km) with the all-wheel drive variant, which is a 35- and 30-percent improvement over the outgoing V6-powered QX50 respectively.
"The beauty of the VC-Turbo powertrain is that it is a global technology," added Bancon. "While we have plans to electrify our product portfolio in future, drivers all around the world are still reliant on internal combustion engines for their transport needs. This revolutionary engine offers a compelling blend of turbocharged performance and high efficiency. These qualities need not be unique to hybrids and diesels."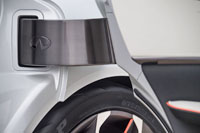 Yes, Infiniti promises the immediate torque and responsiveness of a hybrid or turbodiesel powertrain, while its all-wheel drivetrain means it should get off the line with minimal slippage no matter the weather or road conditions. The powertrain is compact for such a sizeable sedan too, which helped Infiniti make the most of available passenger space so occupants can stretch out and relax.
This is where a fully autonomous drive system would be ideal, and to that end the Q Inspiration includes the next best thing, Nissan/Infiniti's semi-autonomous ProPilot system.
"The Infiniti Q Inspiration reveals the next stage of development for the brand's ProPilot autonomous drive technologies," added Bancon. "The new, near-future technologies previewed here seek to both empower and liberate drivers."
ProPilot responds to the road ahead and surrounding vehicles via camera and radar technology, plus it can drive you to your destination effortlessly via the navigation system's route guidance.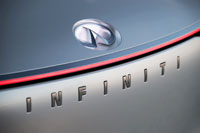 "ProPilot empowers drivers with end-to-end autonomous driving, providing autonomous multi-lane highway driving and intersection auto-navigation functionalities," says Infiniti. "These near-future technologies work alongside existing ProPilot Assist technologies, such as the capability to navigate stop-start highway traffic and monitor the positions of surrounding vehicles."
As noted earlier, don't expect to see the Q Inspiration piloting itself around your neighbourhood anytime soon. It's a concept that's been designed to inspire future styling directions, interior materials usage, and leading-edge technologies. To that effect it does a commendable job, although we'll have to wait a few years to see how impactful it becomes to future generations of Infiniti vehicles.
For now, check out these videos of the Infiniti Q Inspiration concept:
"The next step in Infiniti design" (0:40 minutes)::

"Power beyond convention" (0:44 minutes):

Quick tech video (1:23 minutes):

Detailed overview (6:16 minutes):