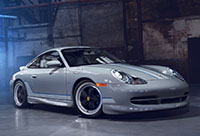 Not everyone's favourite 911, but nevertheless the 1997 to 2006 996 is now the most affordable iteration available, yet it was one of the more notable for ushering in Porsche's first water-cooled flat-six, riding on the first updated chassis platform since the original 911 came on scene in 1963, improving interior refinement, and completely changing the face of the world's most iconic sports car.
The latter was almost as traumatic to Porschephiles as reformulating New Coke was to cola fans, hence the quick return from "fried egg" shaped headlights to more classic ovoid lenses, but the notorious L-shaped clusters, initially introduced on the first-generation Boxster that, being codeveloped alongside the 996, also shared much of its frontal underpinnings, have a charm of their own when combined with bespoke bodywork and a cool retro-modern paint scheme.
How to make a 996 look a whole lot better in only 30 months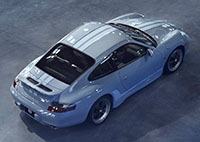 The 996' more raked windshield and overall sleeker body reduced wind resistance while aiding downforce and interior quietness, but that didn't stop the in-house Porsche Classic workshop from tweaking the front spoiler, modifying the side skirts, adding a double-bubble roof, and completely reworking the rear deck lid with an ultra-cool 1972 911 Carrera RS 2.7-inspired ducktail.
Many of those changes paid tribute to a special 911 that came before, albeit not before this 1998 996, which incidentally was found in rough shape on a dealer lot in Colombia, Virginia. Vu Nguyen, executive director of the Porsche Club of America (PCA) spotted it, and then contacted Porsche with his idea of modding it to levels way beyond its original stealth Carrera ways.
The task took the Porsche Classic team 30 months to complete, and we think it was well worth the effort. First off, we doubt anyone has ever seen a better looking 996, GT3 and Turbo trims included. Speaking of GT3, Porsche located an original 3.6-litre engine from a later model 996 GT3, good for 381 tuned horsepower, not to mention suspension and brake components to make sure this lowly Carrera responded similarly to the much-vaunted track racer.
Beautiful 2009 911 Sport Classic was used for design inspiration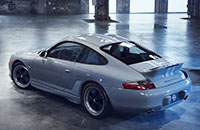 As for the design, much of the aforementioned aerodynamic bodywork was visually inspired by the fabulous 911 Sport Classic (997) of 2009, including the roof bulges, awesome rear wing, which were honed in Porsche's wind tunnel, and much of the paint scheme. The latter a remix of Porsche's Sport Grey Metallic, although a lighter Sport Grey was used for the twinned centre stripes, that run the entire length of the car, as well as the rocker stripes down below.
The big differentiator are the Club Blue pinstripes highlighting the outer edges of the lighter Sport Grey stripes, which just happens to be PCA's official livery. Finishing off the look is a sweet set of 18-inch Fuchs black-painted alloy rims, designed in classic '70s Carrera style. The stick fitted rubber no doubt helped keep it locked onto the track at the Porsche Development Centre in Weissach, Germany, where it underwent testing prior to being released to PCA.
Where the 2009 911 Sport Classic benefited from a limited run of 250 units going to Porsche customers, the new Classic Club Coupe is a one-off for one customer only, albeit one very big customer. PCA is Porsche's oldest and largest ownership club, so while very few members will be able to drive it, all will adore it during club meets.
Porsche Classic updated the interior too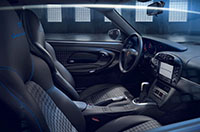 No doubt these members will appreciate the level of detail the Porsche Classic team went into when designing and executing the interior, which also features PCA's signature Club Blue colouring in key areas, such as the stitching on the leather key fob, and even more noticeable blue thread on the upholstery. The seats even sport embroidered "911 Classic Club Coupe" script on the front headrests, while the centre panels of the front and rear seats, plus each door panel, feature a classic Pepita houndstooth pattern woven from slate grey and black leather. The special car also gets a new steering wheel, an updated Porsche Communication Management (PCM) system, and last but hardly least, a plaque on the dashboard that reads, "911 Classic Club Coupe No. 001/001".
Will this new one-off cause the prices of 996 models to rise? Porsche might want to consider making some of the new body panels available through its parts division, not to mention a few of the interior upgrades, because we could imagine that owners of this particular model might be eager to make them look prettier. Kits have long been available to convert their headlights from fried eggs to ovals (which are arguably more fried egg-shaped as it is), but we think a kit that actually celebrates the oddity of the 996 would be an even more welcome option.
Presenting the exclusive Porsche 911 Classic Club Coupe (1:13):

Story credits: Trevor Hofmann
Photo credits: Porsche