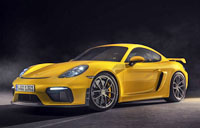 Porsche has been criticized, possibly unfairly, for not allowing its entry-level models to measure up to the mighty 911 in decades past, pointing to the now 50-year-old 1969-1976 mid-engine 914 (a collaborative effort with VW) and 1976–1988 front-engine 924 (this time jointly developed with VW/Audi) as blemishes in its storied history, but naysayers haven't been anywhere near as loud since the Boxster and Cayman arrived. 
This said, some have knocked the brand's new lineup of horizontally opposed four-cylinder turbocharged powerplants found in the fourth-generation 718 series, yet while their barks haven't been quite as ferocious as the six-cylinder 911's growl, their bite has certainly silenced said critics, especially when tuned to S and GTS levels. 
The Cayman and Boxster were ideal performers from onset due to their relatively light curb weights and inherently well-balanced mid-engine designs, and every new iteration becomes even more capable of high-speed road and track performance no matter the trim.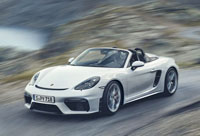 Like with the previous generation, the many more fans of the latest 718 Boxster and Cayman will also be pleased to learn that 2020 models will receive their most potent production trims yet, now even capable of outpacing plenty of 911 models. 
To give you some background info, the 718 Cayman, which is currently available from $63,700, can be had in base 300-horsepower Cayman trim that's good for a zero to 100km/h sprint of only 5.1 seconds, or alternatively 4.9 seconds with its paddle shift-actuated automatic PDK double-clutch transmission, or a scant 4.7 seconds with the PDK and an available Sport Chrono Package, while it can optimally reach a top speed of 275 km/h. Additional Cayman trims include the $78,600 350-horsepower S, which can scamper from standstill to 100km/h in just 4.6, 4.4 and 4.2 seconds respectively, plus is capable of achieving a top speed of 285 km/h, and finally the $92,600 365-horsepower GTS that can run from zero to 100km/h in 4.6, 4.3 and 4.1 seconds respectively, plus can hit a 290-km/h track speed.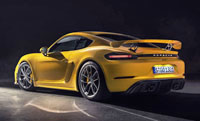 For 2020, the just-noted 718 Cayman triple-threat is once again joined by the top-tier GT4, a previous version having initially been introduced in 2015 for the 2016 model year. The new GT4 replaces the aforementioned lesser trims' 2.0- and 2.5-litre turbocharged H-4 engines with a downgraded albeit still brilliantly formidable version of the 911 GT3's naturally-aspirated 4.0-litre H-6, which produces a stellar 414 horsepower and 309 lb-ft of torque, resulting in a 29-horsepower advantage over its GT4 predecessor thanks in part to a stratospheric 8,000-rpm redline, while it's mated to a six-speed manual gearbox just like the 911 GT3, all resulting in sprint time from standstill to 100km/h of 4.4 seconds, as well as a best-ever top speed of 304 km/h. 
The 718 Spyder, which also updates a previous 2016 model, shares all of the Cayman GT4's mechanical upgrades (and is therefore 39 hp more powerful than the previous Spyder) resulting in an identical 4.4-second sprint from standstill to 100km/h, albeit a slightly slower 301-km/h top speed, but unlike the coupe this roadster is a standalone model that doesn't use the Boxster name despite being formed from its basic architecture; the Boxster notably available in all the same trims as the 718 Cayman, albeit starting at $66,100 due to its convertible top.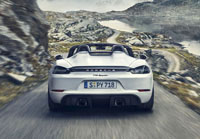 Additionally, the two cars' six-speed manual transmissions include a downshift rev-matching "Auto Blip" function that automatically syncs a given gear to engine-speed when dropping a cog, a feature Porsche intelligently allows drivers to individually activate or deactivate by pressing a button, while both models incorporate completely new exclusively designed sport exhaust systems that work their way around complex rear aero upgrades while underscoring the "exciting flat-six sound of the engine," said Porsche in a press release. 
With respect to styling, some of the new 718 Spyder's key visuals look as if they were inspired by the 918 Spyder, as well as the recently introduced 2019 911 Speedster, the now legendary supercar helping to influence its lower front fascia and similar albeit much more pronounced double-bubble buttress-like rear deck lid, and the limited edition 911 inspiring the 718 Spyder's sportier GT-style frontal treatment and double-humped rear deck "streamliners", plus the new model's horizontal black hood vent, "Spyder" lettering on the blunt B-pillars instead of "Speedster", a similarly shaped auto-deploying rear spoiler, and an aerodynamically-engineered rear diffuser.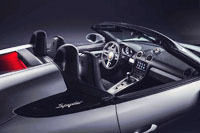 The 718 Cayman GT4 carries forward some similar styling and aero treatments to its 2016 forebear, including an aggressively shaped front fascia, a black hood vent of its own, a massive fixed rear wing, a wind-harnessing rear diffuser, and a special alloy wheel design, all created to minimize weight while maximizing downforce, with Porsche even painting both GT4 launch cars in what appears to be an identical yellow, just like they once again used white for the new 718 Spyder launch model. 
Focusing back on aerodynamics, all of the 718 Cayman GT4 exterior upgrades combine for a 50-percent increase in downforce, yet no negative impact on drag. Most of this aero effect can be attributed to its new diffuser and rear wing, the latter item producing 20-percent more aero-efficiency than the previous wing. On the GT4's other end, a big front lip spoiler is bookended by a set of air curtains, which help to channel air around each front wheel. 
As for the new 718 Spyder's aerodynamics, its active rear wing automatically powers upward at 120 km/h, although unlike the regular 718 Boxster's cloth roof, the Spyder's gets no electrified assistance at all, but rather needs manual attention to remove and stow under the rear deck lid. When put back in place, Porsche claims the roof effectively manages high speeds, providing protection from wind, rain and other outside elements.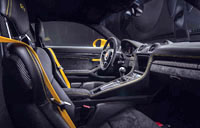 As you might expect, Porsche has provided a high-performance lightweight chassis equal to both cars' aero and engine performance, having turned to the brand's extensive motorsport experience to get the balance just right. To this end the rear axle was specifically designed for new Spyder and GT4 application, although the front axle was pulled from the race-bred 2018 911 GT3. 
Additionally, Porsche Active Suspension Management (PASM) was added as standard equipment, as was a 30-millimetre reduction in ride height when sidled up beside regular 718 Boxster and 718 Cayman models, which provides a lower centre of gravity and therefore aids handling, but keep in mind that both new models let owners manually adjust camber, toe, ride height and anti-roll bar settings. 
The revered 911 GT3 noted a moment ago contributed its braking system to the new top-tier 718s as well, including their larger-diameter 380-mm cast iron discs and fixed aluminum calipers, while Spyder and GT4 buyers can also upgrade to Porsche's 50-percent lighter ceramic composite brakes if desired, these boasting 410-mm rotors in front and 390-mm discs at back. Also, the two cars' ABS, electronic stability (ESC) and traction (TC) control systems are specifically tuned to enhance performance, while typical of the German brand's GT models, ESC and TC can be switched off in a two-stage process.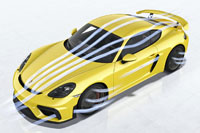 Other upgrades include a standard mechanical limited-slip differential with Porsche Torque Vectoring (PTV), and unique sets of 20-inch alloys encircled by 245/35ZR20 front and 295/30ZR20 rear UHP tires. 
Although the various performance upgrades mentioned don't necessarily make the 718 Spyder or its 718 Cayman GT4 sibling quicker from a standing start than GTS versions of their Boxster or Cayman counterparts, they're both more capable on the track and therefore should perform better on the road as well. Notably, the new 718 Cayman GT4 can lap the Nürburgring Nordschleife "more than ten seconds faster than its predecessor," stated Porsche. 
Adding to the two new models' overall goodness is an improved interior that features a new GT Sport steering wheel measuring 360 mm across and sporting a yellow top centre marker stripe in GT4 trim. What's more, both new cars get a shift lever that's 20 mm shorter than on regular 718 models, which provides a "more direct and crisp feel" during gear changes. Additionally, new Sport Seats Plus come standard, featuring bigger side bolsters to improve lateral support, and suede-like Alcantara centres to aid grip. Alcantara is also added to the lower section of the dash, the shift knob and skirt, as well as the previously noted steering wheel's rim.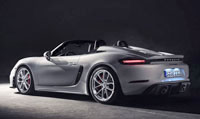 Some additional cabin accents include body-colour trim elements for the 718 Spyder and brushed aluminum detailing for the 718 Cayman GT4, while Porsche has no shortage of optional décor upgrades like usual. You can also choose a set of full bucket seats or the 18-way powered Adaptive Sport Seats Plus package, but you won't need to pay more for air conditioning or the latest Porsche Communication Management (PCM) system featuring Sound Package Plus. This said, navigation and Porsche Connect with Apple CarPlay are on the options menu. 
Also of interest, the 718 Spyder can be ordered with a Spyder Classic Interior Package including two-tone Bordeaux Red and Black leather, extended Alcantara upholstery, GT silver metallic interior accents, and best of all a two-tone black and red cloth top, the latter especially "reminiscent of historic Porsche racing cars," said Porsche. Instead, you can order either model with red, silver, or yellow contrast stitching. 
No matter how you want to dress one of these cars up, expect Canada's allotment to be spoken for soon as they're already available to order, with pricing starting at $110,500 for the 718 Spyder and $113,800 for the 718 Cayman GT, and while you're waiting for your personal ride to arrive, be sure to check out our comprehensive photo gallery above (we've got all the images and pictographs that Porsche provided), while take a look below for all four videos available at the time of publishing: 
The new Porsche 718 Spyder. Perfectly irrational. (1:03):

The new Porsche 718 Spyder. Product highlights. (2:25):

The new Porsche 718 Cayman GT4. Product highlights. (2:13):

The new Porsche 718 GT4. Perfectly irrational. (1:01):