Acura is smartly bringing back one of its most revered nameplates for 2023, and simultaneously ditching a three-letter moniker that never managed to garner as much devoted loyalty.
The ILX has long been a very impressiv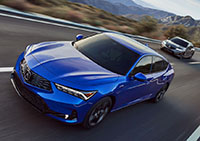 e compact sedan capable of running alongside the smallest offerings from Europe's, Asia's and the U.S.' biggest luxury players, thanks to a combination of the previous ninth-generation (2012–2015) Honda Civic Si underpinnings and 2.4-litre engine with a much more sophisticated eight-speed dual-clutch automated gearbox. Certainly, the compact four-door has needed a redesign for years, so therefore sales have waned, but along with a significant update for 2023, Acura has blessed it with a much more endearing name.
Along with the new designation, a much-needed restyling, and a host of other improvements, the new 2023 Integra receives a base price of $34,350 (plus freight and PDI) that's closer to upper trims of the outgoing ILX, which currently ranges from $31,400 to $36,800.
Integra roots go back 37 years
The ILX has already been with us for a decade, although it was given two facelifts in 2016 and 2019, the first one upgrading the drivetrain to its current iteration, and last one being a more dramatic visual departure, in that it received the brand's latest "Diamond Pentagon" grille. Plenty of additional upgrades were made to each iteration as well, including the model's sportiest A-Spec trim added to the latter.
Before the ILX, Canadians wanting an entry-level Acura had the option of the 2006–2011 CSX, which was exclusive to our market, albeit with styling shared with the Honda's domestic-market Civic, while once again it shared plenty of parts with Honda's Civic Si, albeit only in Type-S trim (beginning in 2007).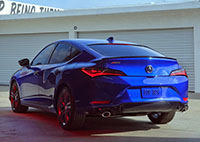 The CLX replaced the Canadian-exclusive 1997–2005 EL, which was more of a gussied up Civic in that it offered no performance option, yet nevertheless managed to accumulate 51-percent of Acura Canada's sales in its first year and remain the Canadian division's best-selling model from 1997 to 2003.
Up until 1996 the point of entry into the Acura brand was this article's subject namesake Integra, or at least the inspiration for the name, which started life in 1986 and therefore joined the mid-size Accord-based Legend as one of the Japanese luxury brand's initial two launch models.
Following Acura tradition by riding on affordable Honda Civic underpinnings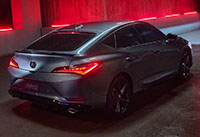 Like that original Integra, the renewed 2023 version is based on Honda's ultra-popular Civic, although back in the mid '80s Acura had a Civic Coupe (and hatchback) to utilize for two-door hard-points, whereas the most recent 11th-generation Civic is only available in four-door sedan and five-door hatchback body styles.
Understandably, fans of the original Integra were disappointed when the new 2023 model showed up as a five-door hatchback in prototype form and once again in production trim, despite early first-, second- and third-generation Integras being sold as four-door sedans (plus four-door pillared hardtops) and five-door liftbacks, not only as three-door liftbacks, often referred to coupes (the fourth-gen Integra, which only came in three-door liftback form, was known as the RSX here).
Five-door Integra makes sense in today's market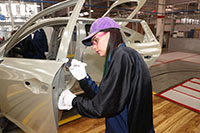 Old Integras are most collectable in sportier looking three-door form, which, by the hubbub of controversy surrounding the new Integra's initial announcement, must have been how many fans initially imagined the majorly-hyped new version before it came out. Looking across the auto mall at Ford, disgruntled Acura enthusiasts might just want to be grateful the new Integra isn't a crossover SUV (looking at your Mustang Mach-E).
With no three-door model in the Civic lineup, and the need to base the Integra on an existing body style, it makes sense Acura chose the liftback option to pay tribute to the luxury brand's past. Doing so also results in the sportiest of its two Civic donor platforms, plus better access to the cargo area than the outgoing ILX' trunk.
High-revving Honda Si engine making way for more efficient 1.5-litre turbo-four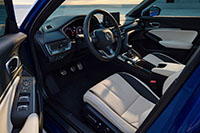 Those who love the high-revving 2.4-litre ILX engine might be disappointed that its replacement loses 900 cubic centimetres, but take heart because the new Civic-sourced 1.5-litre unit is much more efficient (which matters these days) and utilizes a turbo to produce more output overall at 200 horsepower and 192 lb-ft of torque, compared to 201 horsepower and 180 lb-ft for the ILX.
Where the outgoing engine has been both lauded and criticized for its quick-spinning, peaky performance, with serious enthusiasts loving its mechanical audio track and intense accelerative VTEC forces in the upper rev-range, it was always a bit too sporting for some. After all, the current ILX, and soon this new Integra, need to serve as Acura's entry-level product for all.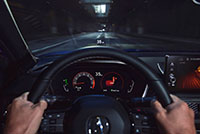 Therefore, the new model's more subdued engine note and broader, more automatic-friendly torque band, which ranges from 1,800 to 5,000 rpm, should make it much more enjoyable with the eight-speed dual-clutch automated gearbox, not to mention easier to drive casually around town, while max power can still be found at a lofty 6,000 rpm, or 800 rpm lower than the ILX, meaning that those wanting to rev the engine out will still have an adrenaline inducing, VTEC-enhanced soundtrack to draw upon. That this engine is also used in today's Civic Si is just another nod to both the ILX' past and previous Integra's, et al.
Acura incorporates fabulous six-speed manual transmission from Civic Si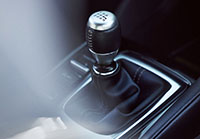 Where the outgoing ILX was not available with a manual transmission (odd considering the Civic Si that donated its 2.4-litre four only was offered with a six-speed manual), the new Integra can now be had with a six-speed DIY gearbox in top-line Elite A-Spec trim at no extra charge, with both the manual and automatic models starting at $42,550, while positioned between base and Elite A-Spec trims is the regular A-Spec at $37,050. According to Acura, the six-speed manual is a "segment-exclusive" feature (sad, but true), which could cause plenty of traditional performance enthusiasts to flock to this front-wheel drive model, despite rear-wheel drive normally being the configuration of choice for the go-fast crowd.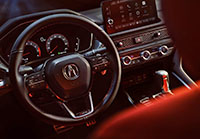 Then again, Honda's Civic is quite possibly the best-handling front-driver ever created, in 306-horsepower 10th-generation Type R trim at least (the new one is expected later this year as a 2023 model, incidentally), so the automaker knows a thing or two about maximizing handling prowess in this less-than-optimal layout.
Making the most of its dynamic chassis design is a standard sport-tuned suspension, plus the Elite A-Spec adds an Adaptive Damper System that provides even more control of the road below. Likewise, the Elite A-Spec model features a customizable Individual mode for its Integrated Dynamics System, with the rest of the Integra's trim lines coming standard with the usual Comfort, Normal, and Sport driving modes.
Impressive top-level technologies included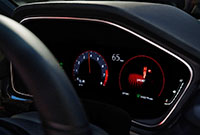 So far, no Tech trim (currently top-of-the-line with the ILX) will be offered, which kind of makes sense being that all 2023 Integras will feature a standard configurable 10.2-inch digital driver's display, dubbed Acura Precision Cockpit. Then again, a head-up display unit is optional with the Elite A-Spec package, as is a higher-end 9.0-inch infotainment touchscreen featuring wireless Apple CarPlay and Android Auto smartphone integration. The just-noted wireless capability of its smartphone integration will once again make this package's Qi-compatible wireless charging pad something useful (it isn't when forced to plug-in for smartphone integration), while this top-tier upgrade also includes a 16-speaker ELS STUDIO 3D audio system.
Back to standard kit, the Integra's advanced safety features include a special set of driver and passenger airbags that were "designed to control head rotation in a crash," says Acura, while rear seat airbags are also included. What's more, a new single-camera AcuraWatch system boasts enhanced Traffic Jam Assist (TJA) and Traffic Sign Recognition (TSR). Lastly, a one-year free trial of AcuraLink services will also be included across the line, also incorporating the brand's Security and Remote packages at no extra cost.
All Integra trims come standard with best-in-class roominess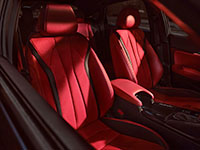 According to Acura, the Integra also promises class-leading rear legroom and cargo volume (the latter partially due to its convenient hatchback design), which are two bonuses the ILX couldn't boast of.
After all is said and done, it's difficult to criticize Acura for making a much better ILX and then rebranding it with a legendary name. Calling this five-door model an Integra brought it much more press than merely making it the second-generation ILX, while badging it with a memorable moniker also pulls on the heartstrings while making it easier to bring up in conversation with friends. Just ask anyone not seriously into cars what an ILX is, and you'll get a stunned look. Do the same for the new Integra, and while you might get a quizzical, doe-eyed gaze, you're also more likely to receive a curious response. A name like Integra is more easily embedded in one's memory too, aiding Acura's marketing efforts, while reducing its spend. Overall, it just makes sense.
Introducing the Next-Gen Integra (0:30):

Next Generation 2023 Acura Integra Debut Featuring Pierre Gasly (1:02):

2023 Acura Integra Production Model Walkaround (6:02):

Story credits: Trevor Hofmann
Photo credits: Acura