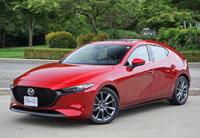 After first driving the all-new 2019 Mazda3, I would've immediately said it was by far the best car in its compact segment. Then the new 2020 Toyota Corolla arrived, and while the Mazda3 might still nudge it out of the way for tops in class in my books, it no longer holds such an obvious lead.
Of course, sales numbers and what I find most appealing don't always correlate, the Honda Civic leading this category in deliveries by a country mile. In fact, the Civic is the best-selling car in Canada and has been for years. Even after losing 12.8 percent in year-over-year 2019 sales it still managed to top 60,000 (60,139 to be exact) units, while the Corolla was second after a 2.5 percent year-over-year loss with 47,596 sales, the Hyundai Elantra was third after a 5.5 percent downturn resulting in 39,463 deliveries, and the Mazda3 you see on this page, along with its four-door sibling, was fourth after a surprising 20.4 percent drop to 21,276 units.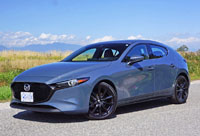 There are many others in this class too, Volkswagen's Golf coming close to beating the 3 with 19,668 unit sales after an 8.4 percent dip, but to be fair to VW we need to lump its 17,260 Jetta deliveries into the mix after a gain of 14.1 percent, for a total of 36,928 VeeDub units and an effective fourth place, while Kia's Forte also gained 8.0 percent for 15,549 unit sales. I won't go into detail about the segment's sub-10k competitors, but will say some, including Chevy's Cruze and Ford's Focus, have called it quits whereas Nissan's Sentra, with just 7,719 units sold, probably should (although I haven't driven the new one yet so we'll need to wait and see if it's got what it takes to break away from the bottom-feeder crowd).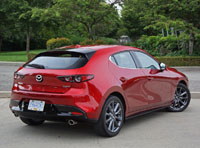 Pulling the outgoing Sentra up beside any recent Mazda3 makes the Nissan look rather dowdy, but such is the case for comparing a car that hadn't been significantly updated for seven years with one that's been regularly redesigned, the last time being this very model year. I don't want to make this review a hatchet job on the past Nissan Sentra, however, because a new one is coming and we'll see how well it stacks up after testing. Still, I can't believe Nissan will make the massive leap forward necessary in a single generation for the Sentra to measure up to the best in this class, which in my opinion is the Mazda3.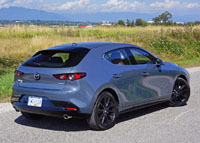 So why am I writing a review about a 2019 model so far into the 2020 calendar year? That's easy, as there are plenty of new 2019s still available throughout Canada in every trim. I don't specifically know why this is the case. Possibly Mazda Canada didn't expect the 20-plus percent downturn in sales last calendar year and therefore overestimated their allocation, but you should take advantage of any savings nonetheless, because the 2020 Mazda3 hasn't changed very much in either four-door sedan or hatchback body style. I'm covering the five-door Sport model in this review and will write another review of the sedan shortly. For this review I've tested two top-line GT trims in both front- and all-wheel drive, so I'll cover most of the important issues, particularly what it's like to drive the new i-Activ AWD system.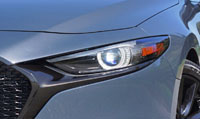 Regarding potential discounts for a 2019 Mazda3 Sport, CarCostCanada is reporting up to $1,000 in additional incentives without haggling, compared to $750 with the 2020. That's not a lot, but I'm guessing you'll be able to negotiate a larger discount if you have all the information you need to do so. This in mind, a CarCostCanada membership will provide access to dealer invoice pricing, so you'll know exactly how much the dealer paid for the car you're negotiating on. This could save you thousands with or without a trade, plus CarCostCanada also provides info about the latest manufacturer rebates. Make sure to check them out before you visit the dealership.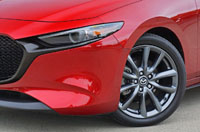 Back to the car in question, the five-door Sport model is mechanically identical to the Mazda3 sedan despite its performance-oriented name, which gives it both 2.0-litre and 2.5-litre SkyActiv engines, the first good for 155 horsepower and 150 lb-ft of torque and the upgrade making 186 horsepower and 186 lb-ft of torque, with six-speed manual and automatic transmissions standard and optional across the entire lineup (even in top-line GT trim, which is a bonus for performance fans), the former a slick-shifting relatively short-throw gearbox with a nice, easy, evenly weighted clutch take-up, and the latter providing manual-shift capabilities including paddle shifters in GT trim, while both transmissions come with a drive mode selector featuring a very responsive Sport setting. i-Activ AWD is only available with the automatic, incidentally.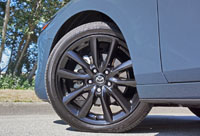 For 2020, the Mazda3 Sport GT comes standard with proximity-sensing keyless entry, which was previously part of the optional Premium package that my 2019 test car includes. The Premium package adds a more stylish frameless rearview mirror for 2020, plus satin chrome trim throughout the cabin, although this 2019 model certainly wasn't devoid of the latter.
For 2019, trims include the base GX starting at $21,300 plus freight and fees, the mid-range GS from $24,000, and the top-line GT from $25,900, with the 2.0-litre engine found only in the base model and 2.5 standard in GS and GT trims. The automatic transmission costs an extra $1,300 across the line, while i-Activ AWD adds $1,700 over and above the price of automatic-equipped models.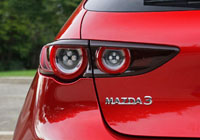 Both direct-injection, 16-valve, dual-overhead cam engines are given Mazda's trademark SkyActiv name, but only the larger mill features segment-exclusive cylinder deactivation, while both can run on regular fuel, the former claimed to achieve a Transport Canada five-cycle rating of 8.7 L/100km city, 6.6 highway and 7.8 combined with its most efficient 2.0-litre four connected to the base manual transmission, or 8.6 city, 6.7 highway and 7.7 combined when the same engine is mated to the automatic. Alternatively, the 2.5-litre four is said to be capable of 9.2 L/100km in the city, 6.6 on the highway and 8.1 combined with its manual gearbox, 9.0 city, 6.8 highway and 8.0 combined with its automatic, or 9.8, 7.4 and 8.7 with its auto when mated to AWD.
Considering the power advantage, the top-line engine doesn't give up much in economy. Of course, if you choose to use most of its power all the time you won't be able to meet the claimed numbers, but I only flogged my two weeklong loaners for short testing purposes despite the spirited performance offered by the 2.5-litre four. As luck would have it, the red FWD model with the black interior came with the six-speed manual, and the grey AWD car with the red interior featured its standard six-speed auto with paddles, allowing me a nearly complete driving experience when it comes to the GT model.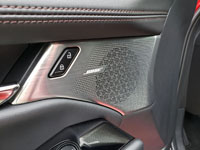 First off, both models provide excellent driver ergonomics, which isn't always the case in this compact class or higher. The driver's seat, which is 10-way-powered including lumbar support in GS and GT trims when their respective Luxury and Premium packages are added, is wholly comfortable with decent lateral support and very good lower back support. Even more important for me is a tilt and telescopic steering column that provides excellent reach, due to my longer legs and shorter torso. Fortunately the Mazda3's wheel can actually be pulled rearward more than necessary, which allows for ideal driver positioning regarding comfort and control.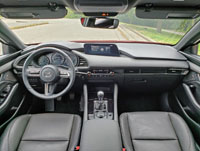 The rear seating area is comfortable and spacious too. Headroom is good, with about three and a half inches of airspace left above my head, about four ahead of my knees, and plenty of space to put my feet underneath the driver seat when it was set up for my five-foot-eight frame. Likewise, I had about four inches between my left hip and shoulder to the door panel, which was certainly enough, plus there's enough room to seat three average-sized adults in back, but I'd rather not have someone larger than a child in the middle on a longer trip.
Speaking of three being a crowd, Mazda includes a wide folding centre armrest with dual integrated cupholders too, but the 3 Sport doesn't include a lot of extras in the rear seating area, such as overhead reading lights, vents on the backside of the centre console or anywhere else, USB charging ports or any other type of device charger, or for that matter heated seats.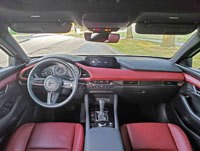 The cargo compartment was definitely spacious enough for my needs. It's nicely carpeted all the way up the sidewalls and of course the backs of each 60/40 folding seat, which unfortunately don't offer a centre pass-through (as is the case with most competitors). The hard shell carpeted cargo cover is easy to remove, and needs to be flipped upside down on the cargo floor or shoved behind the front seats to store, while the 3 provides 569 litres of dedicated storage behind the rear seatbacks or 1,334 when they're fully folded.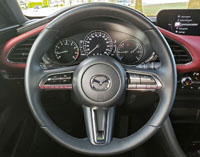 While we're inside, I should talk about some key Mazda3 attributes, interior quality and refinement. The theme is minimalist, albeit impressively finished for the class. In fact, few mainstream volume-branded compact models come as close to delivering a premium product. The 3's entire dash top and all door uppers are finished in a higher grade of padded composite than usual, while the instrument panel and door panels just below are covered in an even plusher stitched leatherette, one of my testers' interiors even dyed in a rich crimson red to match its perforated leather upholstery.
I've liked the newest Mazda3 since first testing it in the aforementioned sedan body style, particularly the horizontal dash design theme that's visually strengthened by a bright metal strip of trim spanning the entire instrument panel from door to door. It cuts right through the dual-zone automatic climate control interface, and provides a clean and tidy lower framing of the vents both left and right. This top-line model adds more brushed metal, including beautifully drilled aluminum speaker grilles plus plenty of satin-aluminized trim elsewhere. Mazda continues its near-premium look and feel by wrapping the front door uppers in the same high-quality cloth as the roofliner.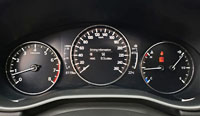 Framed by a lovely leather-clad sport steering wheel, the rim held in place by stylishly thin spokes endowed with high-quality metallic and composite switchgear, the primary instrument cluster is a mix of outer analogue dials and inner digital functionality, organized into Mazda's traditional three-gauge layout. The speedometer is at centre, and therefore part of the larger 7.0-inch screen that doubles as a multi-information display. It's not as fully featured as some in the industry, but it certainly serves its purpose well.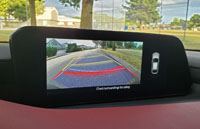 The 8.8-inch centre display is a tablet-style design sitting wide and low, yet due to a narrow profile it makes for a relatively small screen compared to most currently on the market. This will either be a positive or a negative depending on how much you like big screen infotainment, or not, and only required some extra attention paid to the backup camera when reversing. The camera is nice and clear with a high resolution, while active guidelines are provided, but it's a bit on the small side.
The rest of its functions work very well, with Mazda once again going with a white on black background for the majority of interface panels, except of course navigation which is bright and colourful, as is the satellite radio display that shows attractive station graphics. The system is solely controlled by a rotating dial on the lower console, which once again gives the car a more premium look and feel than the mainstream segment's usual touchscreen centre display, but I would've appreciated the ability to also tap, swipe and pinch the screen for various functions. Nevertheless, I was able to do most things easily with this infotainment system, including connecting my smartphone via Android Auto (Apple CarPlay is also included).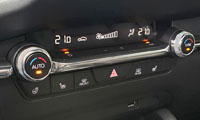 I should probably itemize everything in the previously-noted upgrade packages, the GS trim's Luxury package featuring the 10-way power-adjustable driver's seat with memory mentioned earlier, plus leatherette upholstery, an auto-dimming rearview mirror, and a powered glass moonroof with a manual-sliding sunshade, whereas the GT comes standard with the auto-dimming centre mirror and moonroof while being available with a Premium package that exchanges the faux leather upholstery for real hides and including the power/memory driver's seat, plus it links the exterior mirrors to the memory seat while adding auto-dimming to the driver's side.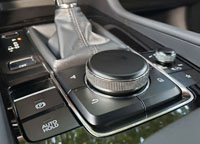 Additional GT Premium package features include 18-inch alloy wheels in a black metallic finish, a windshield wiper de-icer, proximity-sensing keyless entry, a windshield-projected colour Active Driving Display (ADD) (a.k.a. head-up display), rear parking sensors, a HomeLink wireless garage door opener, SiriusXM Satellite Radio (with a complimentary three-month trial subscription), SiriusXM Traffic Plus and Travel Link services (with a complimentary five-year trial subscription), the aforementioned navigation system, Traffic Sign Recognition (TSR), and a bevy of advanced driver assistance systems including Smart Brake Support Rear (SBS-R) that automatically stops the car if it detects something in the way (like a curb, wall or lighting standard), and Smart Brake Support Rear Crossing (SBS-RC) that does the same albeit after detecting a car or (hopefully) a pedestrian, these last two features complementing the Smart Brake Support (SBS) and Smart City Brake Support (SCBS) automatic emergency braking from the GS, plus that mid-range model's Distance Recognition Support System (DRSS), Forward Obstruction Warning (FOW), forward-sensing Pedestrian Detection, Lane Departure Warning System (LDWS), Lane-keep Assist System (LAS), Driver Attention Alert (DAA), High Beam Control System (HBC), and last but hardly least, Radar Cruise Control with Stop & Go. Incidentally, the base GX model features standard Advanced Blind Spot Monitoring (ABSM) with Rear Cross Traffic Alert (RCTA), meaning the occupants of a Mazda3 GT with its Premium package are as wholly protected as in any luxury branded alternative.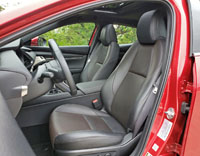 I could go on and on talking about GX, GS and GT features, such as the GX trim's standard LED headlamps, LED taillights, LED interior lighting front and rear, pushbutton ignition, electromechanical parking brake, three-way heatable front seats, Bluetooth connectivity, SMS text message reading/responding capability, and more, plus I really appreciated the sunglasses holder in the overhead console that comes standard in the GS, which protected the lenses of my Ray-Bans thanks to its soft felt lining, not to mention the GS model's auto on/off headlights (the base model only shuts them off), rain-sensing wipers, heated side mirrors, two-zone auto HVAC, and heatable leather-wrapped steering wheel rim (I love this feature in the depths of winter).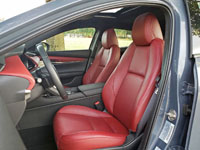 The GT's standard Adaptive (cornering) Front-lighting System (AFS) with automatic levelling and signature highlights front and back made for clear night vision, plus its upgraded 12-speaker Bose audio system provided excellent sound quality, and the 18-inch alloys on 215/45 all-season rubber were no doubt an improvement through the corners when compared to the GX and GS models' 205/60R16 all-season tires on 16-inch alloys, the fact that Mazda doesn't offer steel wheels with covers like most of its rivals being a bonus nevertheless.
Speaking of wheels and tires, the sportier Mazda3 GT produces a slightly firmer ride than the two lesser trims, but it certainly never felt rough. On the positive it handles sublimely, always feeling stable and in control despite its rather remedial front strut and rear torsion beam suspension setup, the aforementioned 2020 Corolla, the Civic and others coming standard with fully independent chassis designs.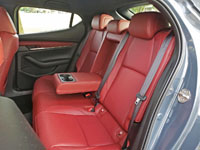 Additionally, the more potent 2.5-litre engine provided a lot of get-up-and-go, while its Sport mode made a significant difference in performance off the line and during passing manoeuvres. The automatic's manual mode only requires the flick of the shift lever to engage, while as previously noted Mazda provides the GT with shift paddles on the steering wheel that work best when manual mode is chosen, but they're not needed in order to change gears. Then again, the manual shifts so nicely you may want to save $1,300 and swap cogs on your own, which would be my preference being that I don't commute daily.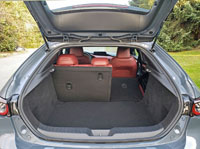 The AWD system, incidentally, makes response off the line immediate with zero to very little front wheel slip, which isn't the case with the FWD version, particularly in wet weather. I also noted more high-speed control in both wet and dry conditions with the AWD car around corners, although I must say that my manual-equipped FWD tester provided its own level of control that an automatic simply can't match when really pushing hard. I'd personally go with AWD, however, just to save me the hassle of chaining up on my way to the ski hill or when traveling up country mid-winter, as I'm sure this feature would turn the Mazda3 into a little mountain goat when matched with a good set of winter tires.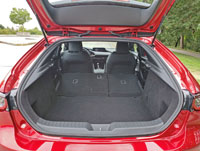 All in all the Mazda3 is a great driver's car, as well constructed as many luxury-branded compacts, more than adequately filled with features, popular enough so that its resale value remains high, impressively reliable, and safe according to the IIHS that gave the U.S. version a Top Safety Pick award for 2019. Added to all this it's one of the best looking models in the compact segment, once again providing a premium appearance that seems pricier than its reasonable window sticker proves. I can't help but recommend the Mazda3 to anyone wanting an excellent compact car at a great value.