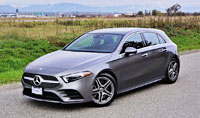 Mercedes was a forerunner in the subcompact luxury class with its B-Class MPV back in 2005. The practical little runabout provided a higher level of interior quality and better overall solidity than more mainstream volume-branded small cars of the era, and therefore quickly became a hit here in Canada. No doubt many miss that intelligently designed people mover, but this said far fewer seem saddened by its loss than are now buying into its replacement, the much more universally appealing A-Class.
Mercedes brought its stylish four-door A 220 sedan and A 250 Hatch to market three years ago for the 2019 model year, and it quickly became the entry-level luxury sector's most popular model, unless we're including Mini's Cooper (that edged the A out by 67 units in 2019) as a true premium-level car. Nevertheless, the A-Class, together with its sportier CLA sibling, dominate the subcompact luxury car segment, and believe me it's not difficult to understand why.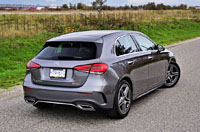 I've driven all of the above, and therefore can attest to the many improvements Mercedes has brought to the fledgeling entry-level luxury sector. I say fledgeling because most premium brands continue to ignore it completely, instead focusing on entry-level crossover SUVs. Including the upright Mini hatchback and comparatively long, low and sleek CLA, only seven models occupy this smaller subcompact arena, the Cooper and A-Class followed by Audi's A3 (and derivatives), BMW's 2 Series, Acura's ILX, and BMW's i3, the latter of which probably fits more ideally into a separate entry-level electric luxury car category that doesn't really exist yet.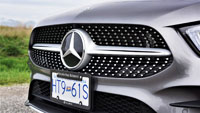 The latter list is based on their sales volume in calendar year 2020, by the way, and on that note, I expected the much less expensive four-door Gran Coupé body-style would give BMW's 2 Series line a solid leg up the segment's sales chart order last year, but it didn't even manage to outpace the aging Audi A3, which never even received a 2021 version to boost sales at the end of last year, due to soon being replaced for 2022.
That last car in mind makes me wonder why Audi doesn't believe it can sell the hatchback version of its A3 in North America, while Mercedes obviously can. Sedans have long done better in the U.S. market, but there's a place for arguably sportier looking and definitely more practical liftbacks, that is unless trunk security is a big issue in your city. Property crime is rampant in my town, especially from cars, but I'd still prefer a hatch over a sedan for general convenience' sake, especially when loading it full of gear.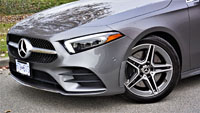 Fortunately, I was able to test the A 220 4Matic late last year, plus this slightly quicker A 250 4Matic Hatch, and AMG versions of both (those two reviews are shortly forthcoming), and while I might find it difficult to choose from the four, opting for Mercedes over the others wouldn't be as difficult a decision. After all, along with their good looks, fabulous interior design, and impressive all-round performance, they scored highest amongst their Compact Luxury Car classmates in AutoPacific's latest 2021 Vehicle Satisfaction Award (VSA), after doing the same in that third-party analytical firm's 2020 Ideal Vehicle Awards (IVA) study.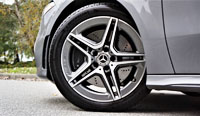 Likewise, Vincentric (another third-party analytical firm) awarded the A 220 4Matic with the Best Fleet Value in Canada in its Luxury Compact segment, and they even include larger compacts within this category, such as Mercedes' own C-Class and BMW's 3 Series. Speaking of holding value, the Canadian Black Book gave similar accolades to the just-noted C-Class in their 2020 "Best Retained Value" Award (2021 hasn't been revealed yet) that, like Vincentric, includes subcompacts as well, so that honour should rub off a bit on its little A-Class brother's shoulders, but then again BMW's 2 Series is said to have held onto most of its "investment" in the Premium Compact Car category of J.D. Power's 2021 Canada ALG Residual Value Awards, while that firm's 2021 Vehicle Dependability Study (VDS) puts the most affordable Bimmer on top of its Small Premium Car segment too.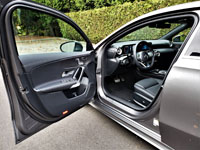 I obviously need to call BMW in order to book a test drive, hopefully in the newish Gran Coupé, which I must admit is one great looking sport sedan, plus if it drives anywhere near as well as the M2 I tested previously, it has to be a serious contender in this class. Of course, BMW has yet to offer anything so practical in the entry-level sector with its sportiest M badge, something Mercedes has been doing with its AMG division for as long as its CLA has been in existence (model year 2014), so kudos to the F1-inspired mega-luxury brand for bestowing power on the masses so early. Audi followed shortly thereafter with its S3 for 2015 and RS 3 for 2018, while it took BMW until model year 2016 to arrive with its M2, which to this day remains available in two-door Coupe form only.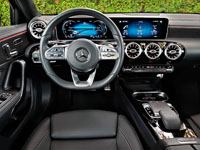 Just how I fell down this subcompact luxury/performance car rabbit hole and remained trapped inside for so long, says a lot about my undisciplined personality, but suffice to say Mercedes' go-fast attitude trickles down to its more fuel-conscious trim lines. Before delving into the exact A 250 Hatch shown on this page, it might interest you to know about the various trims and how they all fit together to form the most diverse lineup in the subcompact luxury car segment.
For starters, the A 220 sedan receives a 188-horsepower version of Mercedes' 2.0-litre turbocharged four-cylinder engine that's good for 221 lb-ft of torque, driving all four wheels through a quick-shifting yet smooth-operating seven-speed dual-clutch automated gearbox. The A 250 Hatch ups the ante with a much more potent spin on the same engine, enhanced with 221 horsepower and 258 lb-ft of torque, which just happens to be the same output as found in the base CLA 250 4Matic.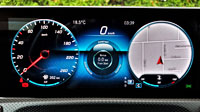 While all this sounds great, take note of the AMG A 35's claimed output of 302 horsepower and 295 lb-ft of torque, regardless of sedan or hatchback body styles, while the AMG CLA 45 puts out a staggering 382 horsepower and 354 lb-ft of torque. That one I must drive, as it comes mighty close to the M2's 405 horsepower and 406 lb-ft of torque, yet as already noted does so in a much more livable four-door package.
Coming back to earth, the A 250 Hatch is a very spirited daily driver, that not only puts fun back into the weekly commute, but combines that with a bit of thrifty pragmatism at the pump thanks to an estimated fuel economy rating of 9.4 L/100km in the city, 6.8 on the highway, and 8.2 combined when driving modestly in Eco mode. Surprisingly, that rating makes it more efficient than the less powerful A 220, which nevertheless sips fuel at the fairly easy rate of 9.6 L/100km city, 6.9 highway and 8.4 combined, which either means the A 250 Hatch provides a best-of-all-world's performance/efficiency scenario, or Canada's five-cycle testing method is somehow out of whack.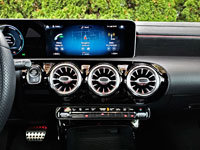 The two AMG-powered A-Class models are pretty stingy on fuel too, by the way, with identical ratings of 9.5 combined, while the quickest CLA isn't much thirstier at 10.3 combined, that latter giving some buyers reason enough to choose the Merc over the comparatively gluttonous M2, which slurps up 12.6 L/100km of pricey premium. Don't get me wrong, because I absolutely love the M2, but something more practical as a daily driver would be a necessity in my life.
Enter the A 250 4Matic Hatch, what I think is the ideal balance of luxury, spaciousness, and performance in this class, all for a reasonable price. It sneaks under the $40k threshold at $39,900, albeit before adding freight and fees (plus options you'll definitely want), yet after subtracting up to $1,000 in additional factory incentives, according to CarCostCanada's 2021 Mercedes-Benz A-Class Canada Prices page.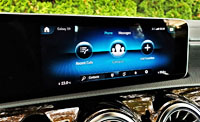 The A 220 4Matic sedan, incidentally, is available for $2,100 less at a price of $37,800, plus identical fees and minus the same discounts, although an affordable CarCostCanada membership will provide you with dealer invoice pricing that you can use to negotiate a better price, as proven by its members' A-Class savings that currently average $3,350. Check out how membership benefits work, and be sure to download their free app from the Google Play Store or Apple Store so you can have all their info on your device when needed.
While we're talking pricing, both AMG A 35 models start at $49,800, also fair for all the added performance, features and styling upgrades, so don't count this one out before doing the requires maths to see if you can fit one into your budget. This said, I would totally understand if someone chose an A 250 hatch instead, being that its straight-line performance is more than adequate, handling prowess excellent, and overall refinement easily up to premium standards.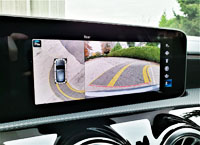 I'll let you decide how you feel about its exterior styling, as it's a personal taste issue, but for what it's worth I love the way this car, and the rest of the A-Class lineup looks. Its sport grille pulls on classic Mercedes design cues going all the way back to "Silver Arrows" race cars of the 1950s, the W196 Streamliner a personal favourite, which, along with an open-wheel variant, helped the three-pointed star brand sweep the Formula One World Championships in 1954 and '55 by claiming victory at the old high-speed Monza, Italy track (with its fabulous high-banked curves) in Streamlined Type Monza bodywork (they had more flexible regulations back then), with two legends, Juan Manuel Fangio and Stirling Moss, at the wheel.
I love Mercedes' storied history, something you really can't put a price on. Sure, Asian luxury brands provide some nice premium alternatives, but few marques come close to offering up what Mercedes has in store, no matter the premium segment they're competing in. For an example, Porsche's brilliant 911 GT2 RS (991.2) only recently unseated the phenomenal AMG GT Black Series' fastest production car lap record on the famed Nürburgring Nordschleife race track, and I'm willing to bet Mercedes will be back to once again contest single-lap bragging rights at some point in the near future, while it should also be noted the German automaker (with help from Brackley) has owned the top spot in F1 for seven consecutive years running.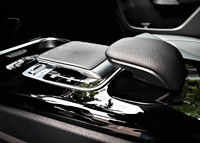 Back at the Nürburgring, a current A 45 S 4Matic+ (W177) was piloted around the 20.8-km course in October of 2019, managing a respectable time of 7:48.80 minutes, which while not quite as quick as the GT Black Series that ran the 'Ring in just 6:43.616 in order to earn fastest production car status back in November of 2020, makes me ponder how much fun this A 250 4Matic would be on a closed course.
Alas, no opportunity arose for me to take this little liftback to my local raceway, not that the 2-km, nine-turn road course is anything to get particularly excited about, especially when considering all the circuitous mountainside roads located throughout my area. Thus, my weeklong test of this A 250 4Matic Hatch, which included a dedicated day-trip, was most enjoyable, which of course included a few stints that hovered slightly over posted speeds for short durations.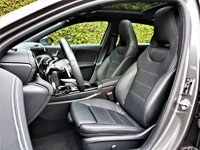 The engine's aforementioned output gives the A 250 good power off the line, resulting in a claimed zero to 100 km/h time of 6.2 seconds (which is 1.5 seconds slower than the A 35 Hatch, in case you were wondering), while its dual-clutch gearbox, complete with steering wheel paddles and a very engaging Dynamic Sport mode, shortens input reaction times to make the most of the drivetrain and nicely sorted chassis setup.
To be clear, Sport mode doesn't make any changes to the front strut and rear multi-link suspension's pre-set characteristics, which is already lowered slightly from the A 220 sedan. My tester, which rode on 225/45R18 Michelin Primacy MXM4 all-season rubber encircling four gorgeous AMG-branded five-spoke alloys, was noticeably sharper in most every other way, which certainly seemed to enhance its overall performance through corners. Braking is strong too, and totally controllable, even when clamping down hard from high speeds, something I was able to do repeatedly with very little fade.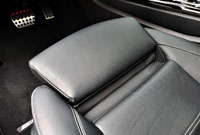 The other three modes are Eco, Comfort, and Individual, the first one being where I left it more often than not in order to minimize fuel consumption, the second a default mode it automatically reverted to at start up, and the final fourth setting allowing some personal choice between performance parameters. Eco and Comfort modes transform the compact hatch into a fairly refined city commuter and highway cruiser, although to be frank this isn't the most cosseting of suspensions in the class. You will feel the road below, something Mercedes drivers openly appreciate, but I didn't find it as firm as a similarly optioned 2 Series.
Driving more casually gives opportunity to appreciate the A 250's beautiful interior. I know BMW does a good job with quality, as does Audi, all the Germans being leaps and bounds ahead of the sole Japanese contender in this class, but Mercedes is the absolute king of bling inside. The A-Class has a drop-dead gorgeous cabin, starting with its two-in-one MBUX digital gauge cluster/infotainment touchscreen that provides such brilliantly crisp and sensationally colourful graphics it'll take your breath away.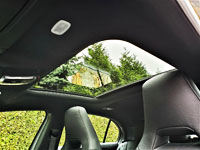 The driver's display allows each user to choose a design that suits their personal style, all of which are more vibrant than anything I've seen from the competition. The integrated multi-information display is as full of functions as anything in this class too, providing loads of discoverable options to keep the love alive long after the initial excitement of purchase might otherwise subside.
The attached infotainment display is a touchscreen, as noted, and therefore fully capable of tablet-like tap, swipe and pinch gesture controls, depending on the function being used. I should also note that Mercedes provides a redundant infotainment controller on the lower console that's easier to reach when sitting back in the driver's seat. It includes a touchpad that works identically to the touchscreen, other than providing haptic feedback, plus is surrounded by a number of quick-access switchgear for immediate access to regularly used functions. Yet more infotainment redundancy can be found on the steering wheel spokes, so Mercedes has you covered no matter how you want to integrate with the MBUX system.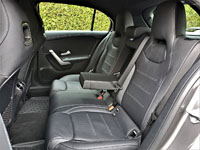 The infotainment monitor is just as high in definition as the driver's display, by the way, and includes all the expected features when moving up through Mercedes' checklist of options. What this means is you'll need to spend more to get features that might come standard in cars from the Asian brands, such as Android Auto and Apple CarPlay smartphone integration which, believe it or not, come as part of the $2,950 Premium Package.
There's a lot more in that package that you'll most likely want, including a wireless device charger, proximity-sensing keyless access, ambient lighting, an auto-dimming centre mirror and driver's side mirror, power-folding exterior mirrors, blind spot assist, vehicle exit warning, live traffic info, a Connect 20 Mid audio upgrade, and get this, a digital instrument cluster, 10.25-inch central media display, and MBUX extended functions, such as an automatic front camera that warns of stationary obstacles (even cars ahead when pulling up to a stoplight), or a similar feature that does the same thing when a pedestrian is walking across a crosswalk. This said, the ultra-wide combined displays I made such a fuss about earlier, are not standard.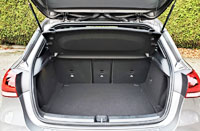 This I didn't know before writing this review, because I've never seen the alternative. In fact, just try to look through online images for a photo of a base model with analogue gauges and a separate display screen and you probably won't be able to locate anything, something I did at length in multiple search tools. Even Mercedes doesn't show this interior when configuring an A 250 on their retail website, this base car always showing the upgraded instrument panel photo in its interior gallery. It's as if it didn't exist at all. I'm guessing the Premium Package is chosen by each and every dealer, because who'd want an A-Class without it? It's a smart way to get the advertised retail price below $40k, but probably not reflective of anything you're going to find on the lot. I suppose you could order one if you really wanted to remain analogue.
Navigation is optional too, which is normal for this class. The $1,000 augmented reality-enhanced upgrade provides live traffic information as well, plus traffic sign assist, while a $1,600 Technology Package adds active Multibeam LED headlights with adaptive high beams, and Distronic active distance assist.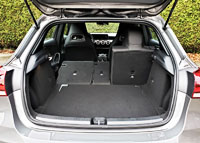 Advanced driver aids and safety equipment in mind, a $1,900 Intelligent Drive Package adds Distronic active distance assist separately, plus active speed limit assist, map-based speed adaptation, enhanced automated stop-and-go, active brake assist with cross-traffic function, active emergency stop assist, active blind spot assist, active steering assist, evasive steering assist, active lane change assist, and active lane keeping assist.
Should I go on? Maybe it's better if you go to Mercedes' retail site to build this car yourself, or for that matter over to the CarCostCanada page I mentioned earlier, where you can configure it similarly, right down to the wide array of $890 to $2,500 optional paint colours.
Before departing completely from the options menu, I should probably point out that the AMG-style wheels noted before are in fact part of a $1,500 Sport Package that also changes up the grille with a chromed diamond-block insert, plus it modifies the lower front fascia with a more aggressive AMG design featuring attractive metallic accents. Inside, your feet will rest upon special AMG floor mats when they're not pressing down on a set of AMG brushed stainless steel sport pedals, while your backside settles in to upgraded sport front seats and your hands grip a much nicer sport steering wheel wrapped in fine Nappa leather, the aluminum shift paddles on its backside part of this package as well. A bit more ($2,000) will swap the Sport Package out for an all-black Night Package, if a more menacing look is your thing.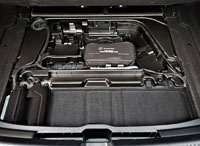 The steering wheel rim can be heatable for an additional $250, or for $1,200 more the just-noted front seats can be climate cooled to reduce perspiration during hot summer months. Other extras include a $450 powered front passenger seat with memory, a $300 universal remote, a $650 overhead parking camera, a $1,500 head-up display, a $900 active parking assist system, a $700 Burmester audio upgrade with 12 speakers and 450 watts of power (that would be high on my list, despite the regular audio system sounding just fine), $450 for satellite radio, and more. A car with all of these options and a simple metallic paint will add about $17,000 to the base model's list price, resulting in about $57k before any discount, which is more or less the level of top-tier pricing you'll find with most of the A 250 Hatch's rivals.
What you won't find with any of these are the interior details hinted at earlier, the dual-display MBUX system only part of the car's wow factor. The stunning five circular HVAC vents on the dash are eye-arresting enough, their brushed aluminum finish looking like a quintet of retro jet engines. Likewise, knurled metal trim bits adorn some of the key buttons, knobs and toggles, while plenty of other interior accents are finished in aluminum or aluminized composite. If the little A 250's interior doesn't titillate your senses, I'm afraid you've lost your love for cars, or at least modern, tech-filled conveyances.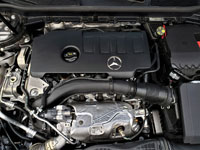 If you're more into taller SUVs than classically shaped cars, most everything that makes the A 250 4Matic great can be had in the GLA 250 4Matic, so keep that in mind while shopping. Likewise, the A-Class' general styling, on the outside and inside, is much like its larger brethren, although the C-Class never received Mercedes' dual MBUX display, and will soon skip right past that infotainment era for the 2022 model year, which introduces a new version of the system featuring individual driving and media interfaces, the latter a lot larger and closer to the driver, thus negating the redundant lower console-mounted touchpad and controls that come as part of an upgraded A-Class and so many other models in Mercedes' lineup.
Eventually we'll see how this next chapter in interior design plays out in future A-Class models, but until then, today's A remains the most advanced subcompact luxury car on the planet (when so equipped). So, if you're in the market for an entry-level premium car, you've really got to check the A-Class out in person.
Review and photos by Trevor Hofmann