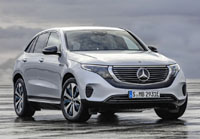 With Tesla hemorrhaging from its inability to hit Model 3 build targets (have you noticed the 53,239-unit third quarter number TSLA bulls are currently celebrating is less than the 5,000 units per week we were all told was the key must-do target in Q2? It was actually about 4,100 per week); the latter numbers partially impacted by Tesla's operations having "gone from production hell to delivery logistics hell", as per a tweet by Musk, followed up by another tweet citing "an extreme shortage of car carrier trailers. Started building our own car carriers this weekend to alleviate load.", which was refuted by Guy Young, general manager of the Auto Haulers Association of America, who would know, as well as Antti Lindstrom, a trucking analyst for IHS Markit, saying, "I have never heard of a situation like that…"; the fallout from CEO Elon Musk's inane "Am considering taking Tesla private at $420. Funding secured." tweet that opened up a second Securities Exchange Commission (SEC) investigation into the irresponsible way the public company conducts business and caused Musk to personally dole out a $20 million USD fine, resign as chairman, and ordered the board to add two unrelated (to Musk) impartial members (who knows what "best practices" issues they'll uncover?).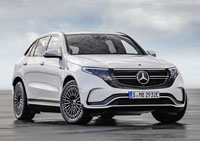 More Tesla executives (just two of many who have recently left) leaving after a video of Musk smoking marijuana and drinking whisky on a popular podcast went viral on social media; the even more insane "pedo guy" tweetstorm initiated by this obviously unhinged social media (and who knows what else) addict, which has resulted in an ongoing defamation suit; plus let's not forget about the initial SEC/Justice Department investigation into reported production numbers compared to actual numbers, which may also end up implicating the company, the board, as well as Musk; and the list goes on and on about the mismanaged, unprofitable, overvalued California company, and all the while luxury auto industry stalwarts have been quietly reinventing themselves with enticing electric vehicles of their own.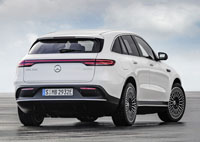 Certainly Tesla enjoys a fervent cult following, many of which would never consider switching to a more established, stable luxury brand, even if that carmaker offered better built cars with greater EV range, more features, greater practicality, and arguably more prestige (cults are like that), but then again others have been waiting for something competitive from more mainstream premium marques before taking the plunge into electrification. Many of these buyers smartly want to know their carmaker of choice will still be in business in order to allow for a strong resale valuation, fulfill their warranty, provide parts and software upgrades, support dealerships for service requirements, etcetera.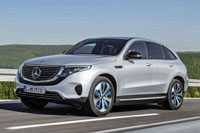 The first of these heritage rich legacy luxury brands to arrive on the EV scene was BMW with its i sub-brand, particularly the compact i3 that showed up in May of 2014, but that, and the i8 plug-in hybrid that followed in August of that year, was merely dipping a toe into the water for the Bavarian powerhouse, there's much more to come. Porsche has long been teasing us with its Mission E four-door coupe that arrived earlier this year in production trim along with a new Taycan nameplate, while more recently we've seen Jaguar raise eyebrows with its ultra-quick and very stylish full-production I-Pace crossover. Likewise, Audi just pulled the cover off its new E-Tron electric SUV, and not to be outdone by its European peers Mercedes-Benz recently unveiled its new EQC 400 crossover SUV.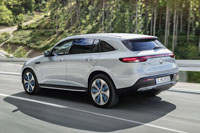 Those keen on things green have been patiently waiting to learn more about Mercedes-Benz' new EQ sub-brand, and now with the introduction of this EQC 400, such anticipatory angst can be released. The new plug-in electric SUV appears similar in shape to the current Mercedes GLC, but don't let its looks fool you into believing it's merely a rebadged version of that compact luxury SUV, as the EQC 400 rides on a completely unique chassis architecture designed from the ground up to be an electric vehicle, while it also receives frontal styling that's unlike anything ever offered by the Stuttgart-based brand.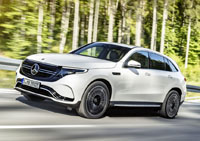 Before delving into design, the EQC 400's new underpinnings support an all-new powertrain that's can only be called a radical departure from previous Mercedes-Benz models, or at least anything offered here. South of the border our American friends have benefited from the B-Class Electric Drive for the past four years, an EV that actually sourced its Lithium-ion battery pack from Tesla after using the same company's electric motor for prototype development (TSLA's technology is respected even if its business acumen may be suspect), but the new EQC 400 is a wholly modernized Mercedes-powered EV with an in-house developed and produced battery and drivetrain to boot.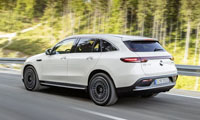 While we're on the subject of past Mercedes plug-ins, the German automaker has long been electrifying versions of its C-Class, E-Class and S-Class sedans, plus two of its more popular sport utilities. The GLC 350e 4MATIC compact luxury SUV and the GLE 550e 4MATIC mid-size luxury SUV are still available in Canada, but the new EQ sub-brand will soon be the sole face of EVs for Mercedes-Benz, an automaker that actually claims its first hybrid hit the road back in 1906 (they should seriously consider bringing back that car's "Mixte" nameplate for future M-B EQ hybrids as it's a great moniker).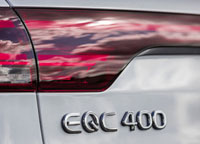 As it stands, the new EQC 400 continues to wear a big, bold, chromed Mercedes-Benz three-pointed star on its front grille and rear liftgate, not to mention each wheel cap, while making a large semicircle below its grille is a big black moustache shaped panel, formalizing the look so to speak. 
The EQC 400's frontal appearance gets slightly augmented depending on trim, the classier Electric Art version modified with a thinner moustache and a more aggressive lower apron in the sportier AMG Line, and despite being a zero-emissions vehicle with environmental stewardship high on its agenda, sporty is the predominant theme. Keep in mind this is a five-person luxury crossover SUV, yet it can sprint from standstill to 100km/h in 5.0 seconds, or alternatively if attempting to go farther on a single charge can manage up to 450 kilometres (279 miles) of EV range on the NEDC test cycle (although we shouldn't expect such optimistic Transport Canada or EPA numbers).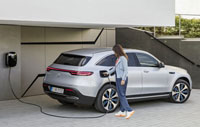 You'll be able to monitor range, performance and other parameters via two massive tablet-style 10.25-inch media displays, which are uniquely placed ahead of louvred panels that look like high-end stereo amplifier heatsinks. It's not uncommon for an automaker to pull styling cues from audio design, like Porsche's previous ultra-techy button-overload Nakamichi Dragon-like centre console design, but in alignment with modern tastes and sentiments the EQC maintains a minimalist approach to switchgear, with a centre stack made up of a long horizontal line of aluminized rockers that's complemented by another row of glossy black buttons below.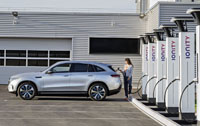 That's not to say it's understated to the point of boredom, the EQC's big centre vents stylishly eye-catching for their unique shape as well as some oh-so trendy rose gold accenting, and while the colourful metal decorates other key points through the cabin take heed that it's specific to the aforementioned Electric Art trim, with the AMG Line getting a decidedly sportier motif in its place. Motive power source aside, the "Electric" part of the equation gets its name from plentiful blue accent lighting, which looks like an appealing combination.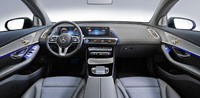 Speaking of colourful, the Stuttgart brand's MBUX (Mercedes-Benz User Experience) infotainment system features some EQ-specific functions such as range, charge status and energy flow information, plus a navigation system that optimizes route guidance to maximum that range via an Eco Assist feature, directs you to a charging facility when required, while the MBUX system manages charging current and departure time and more.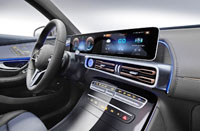 Additionally, the EQC gets its own Alexa-inspired personality that only needs a "Hey Mercedes" prompt to call up most any request your heart desires. For instance, if you say, "Hey Mercedes, I'm cold" it will increase the automatic climate control system's temperature by one degree, but this capability raises the question of data mining and who might be listening in on all of your personal conversations. After all, the "Hey Mercedes" system utilizes a remote server via internet connection for most requests, and only relies solely on its onboard computer if outside help can't be found. 
While performance and range was mentioned earlier, exactly how Mercedes makes all the electrics keep pace is mostly straightforward as far as modern-day EVs go. It's a two-motor drivetrain, with the unspecified frontal unit providing the EQC's most economical operation, meaning that it takes over motive force when cruising and/or under lighter loads. The motor in back, also unspecified, is primarily for performance, supposedly allowing for traditional Mercedes rear-biased get-up-and-go. Combined, the two make a substantial 402 horsepower and a staggering 564 lb-ft of immediate torque.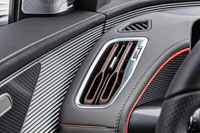 A lithium-ion battery pack is separated into two modules that contain 48 cells apiece, with the other four packs consisting of 72 cells each, resulting in a total of 384 cells and an 80-kWh capacity. This places the EQC about middle of the road amongst key rivals, with Audi's new e-tron SUV good for 95 kWh, Jaguar's i-Pace already offering 90 kWh, and the upcoming BMW iX3 slated for more than 70 kWh when it debuts in production form.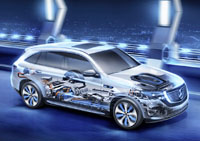 In order to move away from stoplights quickest you'll need to set the EQC's Dynamic Select driving mode selector from Max Range, Eco or Comfort to Sport, or Individual if you've got this setting optimized for performance. 
Stopping power won't be an issue thanks to sizeable discs at each corner and a bevy of advanced driver assistance systems such as Active Brake Assist, while a Driver Assistance Package improves the brake assist and adds Evasive Steering Assist, Pre-Safe Plus, and Exit Warning Assist to a suite of convenience and safety features like Active Distance Assist Distronic and traffic jam following. 
We can expect the new EQC to arrive in Canada by 2020, but we'll have to wait until that time draws near before we'll get an idea about pricing, trims and market-specific features. 
Until then, enjoy the videos Mercedes has provided below…
Electric now has a Mercedes: The all-new EQC (0:48): 
Electric now has a Mercedes: The all-new EQC | Trailer (1:56): 
Mercedes-Benz EQC world premiere in Stockholm | Highlights (2:48): 
Mercedes-Benz EQC world premiere in Stockholm | Re-Live (19:20):