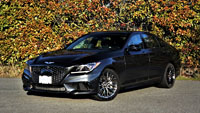 If you were smart enough to purchase a 2015-2016 Hyundai Genesis Sedan back when it was new you got an amazing deal. I remember testing a fully loaded 2015 example when it first came out, complete with its fabulous 420 horsepower 5.0-litre Tau V8 in top-tier Ultimate trim and couldn't believe the level of performance and premium quality available for just $62,000. Neither could my friend that managed Canada's number one BMW dealership, who was shocked by its styling, interior quality, features and engine specs, stating at the time that he had nothing that could compete with it dollar for dollar.
As it was, you could acquire most everything just noted minus some top-level features and the potent eight-cylinder engine for a mere $43,000 back then, which made the base Genesis Sedan the best luxury car value for its time bar none. When the Hyundai variant was laid to rest and the new Genesis G80 appeared unchanged for the 2017 model year the price went up, but not significantly with all features added. In fact, the top-line G80 5.0 AWD Ultimate example I tested at the time was only $3,000 more than the previous Hyundai-badged version, and came with the benefit of concierge purchasing and servicing for a more premium ownership experience.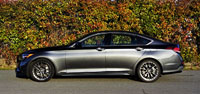 This said, base 2017 G80 Luxury trim saw a price increase of $5,400 from the previous 2016 Genesis Sedan Luxury trim's $48,600 MSRP, while the previous $43k entry-level model was eliminated from the lineup. Hence, the 2017 G80 saw a significant base price hike of $11,000, resulting in sales plunging from the Hyundai-branded Genesis Sedan's high of 1,513 units in 2014, and subsequently more modest results of 1,377 deliveries in 2015 and 961 during the 2017 calendar year (these last ones being discontinued 2016 model-year cars), to 433 examples of the Genesis-branded G80 throughout its first full year of 2017, plus 393 units for 2018, and 324 for all of last year.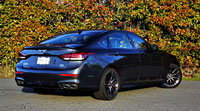 Of course, these final numbers coincide with a general decline in four-door sedan deliveries (and cars overall), although when comparing sales results of the Genesis Sedan/G80 to the segment best-selling Mercedes-Benz E-Class (that also includes the E-Class sedan, coupe and convertible, plus the CLS four-door coupe), which only saw its deliveries drop from 3,789 units in 2014 to 3,452 in 2019, it's a night and day situation.
Hyundai's choice to create the Genesis brand certainly appears rosier when comparing the G80's sales results the BMW 5 Series' much more dramatic decline over the same six-year timespan, its 2,337 unit sales in 2014 falling to just 1,621 deliveries last year (not including a smattering of 6 and 8 Series models that also compete with the E-Class in this segment, these staying about even at just above 400 units), while Audi's A6 went from 1,113 examples to 687 respectively (not including 876 to 608 A7s).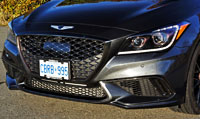 Of note, 1,119 G70 sales made 2019 somewhat brighter for the Genesis brand, albeit these rays of hope weren't enough to cast off the shadow of just 82 G90 deliveries (the latter better than the mere 65 Equus models sold in 2014, however, and only slightly down on the Hyundai flagship's 2012 high of 116 units).
Anyone with some business acumen knows that sales don't necessarily translate into profits, but only the South Korean brand's parent company, or a very skilled analyst with time to delve into the intricacies of the publicly trading automaker's balance sheet, will be able to deduce whether Genesis' price increases have added to the automaker's overall bottom line, or if their reductions in volume posed any negative impact.
Suffice to say the Genesis brand is a long-term project, with the aforementioned GV80 mid-size luxury SUV and additional future crossover models expected to find many more buyers, but it's interesting to note that Hyundai Motor Corporation's share value (see HYMTF on the KRX) has weathered a fairly steady decline from 167,000 KRW ($138 USD; $188 CAD) in October of 2015 to 110,000 KRW ($91 USD; $124 CAD) as of July 16, 2020, a 34 percent downturn.
This is the sort of boring business fodder you may want to peruse while relaxing in the comfortable rear seat of a chauffeured G90, instead of cluttering your mind when at the wheel of the sportier G80. Hard numbers aside, all Genesis models are superb examples of modern engineering excellence that can easily keep up with their Teutonic and Japanese competitors, while they're also very easy on the eyes, highly refined with impressively finished materials, stocked full of the latest tech, convenience and luxury amenities, and fully deserving of being ranked alongside comparative Mercedes, BMW, Audi, Lexus and other premium-branded models, heritage aside. Truly, the only negative thing I can say about today's G80 is its six-plus-year-old design, although being particularly attractive and somewhat exclusive it still looks surprisingly fresh.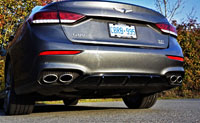 That's a good thing, because the only change from 2019 to 2020 is the removal of the CD changer, which by perusing our photo gallery can be seen on my test model's centre stack. The rest of the car is identical in every way, which is no bad thing. This said the G80 will undergo a complete redesign for 2021 with styling that more closely resembles the new G90 up front (particularly the grille) with plenty of GV80 details thrown in all-round for good measure, while its sweptback rear window and deck lid remind me a bit of the Audi A7. In other words, it looks great.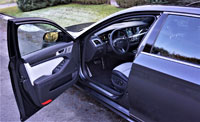 As it is, there are plenty of good reasons to purchase a 2019 or 2020 G80 while you still can, with possibly the most notable being the ability to acquire factory leasing and financing rates from zero percent. A quick scan of the 2019 Genesis G80 Canada Prices page or 2020 Genesis G80 Canada Prices page at CarCostCanada will inform you of this deal, while you can also choose any trim and build your G80 right there, while opting for a CarCostCanada membership will give you info on leasing and financing deals for the majority of vehicles currently sold new in Canada, as well as other manufacturer incentives such as rebates, while CarCostCanada also provides dealer invoice pricing that could save you thousands when negotiating your deal. Find out how it works now and while you're at it, download the free CarCostCanada app from the Apple Store or Google Play Store.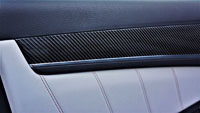 Speaking of Apple and Google, CarPlay and Android Auto come standard in every 2019 and 2020 G80, but before I delve into more of the model's standard and available features I should mention that trims and prices stayed the same in 2018, although Genesis added a new 365 horsepower 3.3-litre twin-turbocharged V6 engine to the G80 line, along with a new $62,000 Sport trim level sold exclusively with this high-output engine, while base Luxury trim was dropped for 2019, making the 311 horsepower 3.8-litre V6-powered Technology the new base G80 model at $58,000. The same three-model lineup is available once again for 2020, with pricing for the V8-powered Ultimate trim still unchanged at $65,000.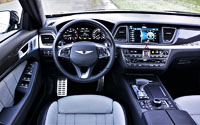 If you're considering a move up to the Genesis brand from a Hyundai model like the Elantra or Sonata, its feature set probably won't impress you all that much. After all, Hyundai has long made a name for providing a lot more functionality than its peers for similar if not better pricing, but nevertheless the base G80's menu does kick things up a notch.
Standard items include LED daytime running lights and taillights, 18-inch alloy wheels, proximity-sensing keyless entry with a hands-free power opening/closing trunk lid, open-pore genuine hardwood interior inlays, a heated steering wheel rim, a power-adjustable steering column, a 7.0-inch colour multi-information display/digital gauge cluster, a head-up display, a 9.2-inch centre touchscreen with navigation, a 17-speaker audio system, an auto-dimming rearview mirror, LED cabin lighting, a panoramic sunroof, a 16-way powered driver's seat, a 12-way powered front passenger's seat, Nappa leather upholstery, heatable front and rear outboard seats, ventilated front seats, and a host of advanced driver assistive systems such as automatic emergency braking with pedestrian detection, blind spot detection, lane change assist, lane keeping assist, lane departure warning, rear cross traffic alert, adaptive cruise control, and driver attention alert.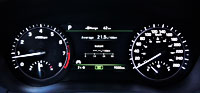 Both Sport and Ultimate trims replace the base model's bi-xenon headlights with full LEDs, plus add 19-inch alloy wheels, a microsuede headliner, and a slim credit card-like proximity key fob, while the Sport also includes a special set of 16-way powered front Sport seats that were oh-so comfortable and plenty supportive at the lower back and below the knees thanks to four-way power-adjustable lumbar support and a power-extendable lower cushion.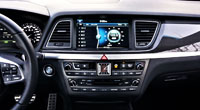 The two-tone light grey and charcoal black interior colour-way is truly attractive, the two shades separated by gorgeous gloss carbon fibre trim on each upper door panel and across the dash, while plenty of brushed aluminum accents brightened key areas throughout the cabin, some of the Lexicon speaker grilles even drilled out in a stylish geometric pattern. All switchgear exudes a feeling of quality too, while soft, pliable composites join up with a generous supply of Nappa leather for a plush, refined inner sanctum.
Really. Just go ahead and try to find any hard plastic. There is some, but it's very difficult to locate, only including a few small pieces below the dash, which otherwise is covered in premium materials all the way down to the nether regions above the knees, including the glove box lid, while the inner doors are skinned with the very best soft synthetics and leathers from top to bottom, as are the top edges of the lower centre console. That console's lower sides are made from harder plastic, but this is common amongst the majority of competitors so it's not an issue. In fact, if you were to compare the G80 side-by-side against a new E-Class, for instance, which actually uses hard plastic on the lower door panels, you'd come away thinking that Genesis does a pretty good job of pampering its new owners.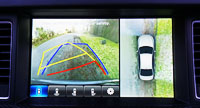 This said Mercedes leads in digital wizardry, its latest E having been first in its family of updated models to incorporate the brand's now trademark dual-display instrument cluster/infotainment touchscreen, a fully customizable design that makes most rivals seem antiquated at best. This is where the upcoming 2021 G80 will make the biggest gains over this outgoing model, the current car's mostly analogue gauge cluster being bright, clear and easy to read, but not providing the wow factor of some competitors.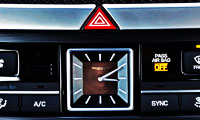 Likewise, for the infotainment system that's fully functional and then some. It provides a nice graphical interface for the impressive Lexicon audio system noted earlier, its parking camera not only offers a rear view with active guidelines, but also a 360-surround overhead vantage point and multiple closeups as needed, while the climate control interface even shows each occupant's cabin temperature setting on a lifelike interior graphic.
An elegantly square analogue clock is flanked by twinned panels of HVAC buttons and knobs just below on the centre stack, while a similarly useful audio interface rests under that, complete with the optical drive noted earlier. Additionally, USB and aux ports are housed in a lidded compartment in the lower console, right beside a wireless device charger that conveniently tilts towards front seat occupants.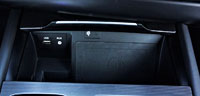 Lastly, a nicely finished overhead console features a felt-lined sunglasses holder, LED reading and overhead lights, plus controls for the powered panoramic sunroof, which can be covered by a plush suede-like fabric shade that opens via a separate powered switch. On that note, the roof liner and all the pillars are finished in the same luxurious psuede material, as are the two front sun visors.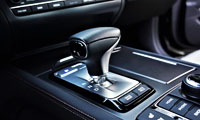 The G80's driving position is excellent, made even better by the aforementioned sport seats, while the rear seating area's spaciousness is about average for the class. When the driver's seat was set up for my somewhat long-legged, short-torso five-foot-eight frame I had about eight inches room ahead of my knees, lots of legroom to stretch out my lower extremities, plus about four inches to the door panel next to my hips and shoulders, and approximately three inches of airspace over my head. This should allow comfort for most body types.
I wouldn't say the rear compartment is overly generous with features, but your outboard passengers will get LED reading lights just below the grab handles situated just above the side windows, plus separate vents with scrolling heater controls emanating from within the backside of the front centre console. There are also some very nice pop-out magazine holders on the front seatbacks, and those seatbacks are beautifully finished with what looks like leather all the way down to their bases. This in mind, the rear door skins are as nice as those up front, while a folding centre armrest features the usual dual cupholders as well as controls for the three-way outboard seat warmers noted earlier. Lastly, classy metal clothes hooks on the backside of the B pillars are nice additions.
The trunk is also large at 433 litres (15 cubic feet), but take note the rear seats don't fold for longer cargo, with items like skis needing to alternatively fit within a relatively small and narrow pass-through down the centre or not at all.
Back up front, along with a fresh set of headlights, a revised lower front grille, reworked front and rear facias, new standard 18-inch wheels, a fresh set of primary instruments, the analogue clock noted earlier, and new premium speaker grilles, one of the big changes for last year's G80 was a redesigned shifter knob, which is now a slicker looking leather-wrapped, metal-surrounded design that merely moves rearward into drive and forward into reverse, plus into the centre for neutral.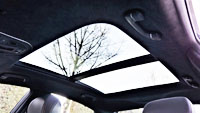 This is due to a new eight-speed automatic below the surface, and I must say that it's much easier to find neutral with the G80 than with electronic shifters used in some other cars, such as with Chrysler's 300. One of the benefits of an electronic shifter is a button for Park, or you can simply turn the ignition off and it will go into Park automatically, while Genesis includes a drive mode indicator includes Normal, Eco and Sport selections, with Eco noticeably subduing the G80s performance and therefore enhancing fuel economy, which is fairly good considering all the power available at 13.8 L/100km in the city, 9.7 on the highway and 11.9 combined as tested (the base engine is good for a claimed 13.4 city, 9.6 highway and 11.7 combined, while the V8 manages a projected 15.6, 10.4 and 13.2 respectively), and Sport mode sharpening its drivetrain and tightening its suspension for much more engaging performance.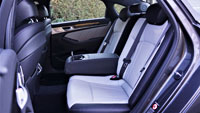 With 365 horsepower on tap the G80 Sport uses the much-lauded powertrain as found in the new Kia Stinger, and while this is great because the latter has become a performance icon amongst import fans, keep in mind the Genesis weighs 100 to 200 kilos more depending on features, so its pull isn't quite as dramatic off the line. It's still impressive, however, with all four of my tester's 245/40R19 Continental's immediately biting into the tarmac below thanks to Genesis' HTRAC all-wheel drive, allowing for wonderfully quick launches from standstill and seemingly never-ending highway passing power. I certainly wouldn't have reason to upgrade to the Tau V8, the turbo-six making a satisfying growl at full throttle, if not the eight's sonorous bellow and lovely burble at idle.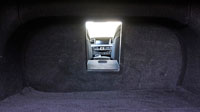 There's a little less weight over the front wheels of the V6-powered example, which is always helpful amid tight, fast-paced corners, which the G80 Sport manages very well, incidentally. In fact, despite this car's 2,120-kg (4,674-lb) curb weight it feels rather really light on its feet, so to speak, and surprisingly agile no matter how it's thrown into a curve, within reason. It was also one of the nicest, easiest cars I drove around town in all year, so much so it would be ideal for a novice wanting to improve their skills. Its ride quality is smooth, its cabin is quiet and cocoon-like, and just plain comfortable all the time.
Yes, the G80 Sport truly is a superb car. Genesis has been fine-tuning it for years, which likely means it'll be one of the more dependable mid-size luxury sedans currently available, but just in case something goes wrong it's backed much longer than any luxury competitor at five years or 100,000 kilometres, which means you get almost comprehensive coverage for mechanical problems or any other issue, plus complimentary scheduled maintenance as well as the convenience of home or office (or these days home office) car pickup via their valet service. That's one of the best reasons to choose a new Genesis.
Story and photo credits: Trevor Hofmann
Photo editing: Karen Tuggay