No sports car brand is more respected than Porsche, and no model in the entire industry more revered than the mighty 911. It's been in constant production for more than 50 years, having celebrated quinquagenarian status in 2013. Now just four years later it has achieved yet another milestone, the production of its one-millionth car.
On May 11, 2017, Porsche rolled a special Irish Green coloured 911 Carrera S Coupe off of its Zuffenhausen plant assembly line as part of its million-unit celebration, the car featuring exclusive details in homage of the 1963 original.
While no longer the bestselling vehicle in the German brand's lineup, the 911 remains its most popular car as well as its most important model due to its heritage and performance credentials. The 911 is "key in helping Porsche maintain its position as one of the most prestigious car manufacturers in the world," said Porsche in an associated press release.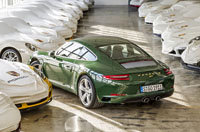 Unlike the 911's competitors, many of which have come and gone since 1963, the 911 is a car that can be driven comfortably and reliably each and every day, no matter the weather conditions, quality of road surface, traffic congestion, or any other external circumstance, yet despite its daily ease of use it can be taken to the track on the weekend and put through its paces without any modification.
In fact, more 911s have won races than any other roadworthy sports car, by professionals and amateurs alike. What's more, Porsche credits the 911 with more than half of its own race wins, which says a lot when considering the many formidable models the brand has contested over the past five and a half decades, many of which were designed purely for motorsport.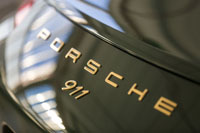 Performance in mind, Porsche has never deviated from the original 911 concept, although according to Oliver Blume, Chairman of the Executive Board of Porsche AG, "…. we have continued to enhance the technology of the 911, refining and perfecting the sports car. That's why it remains a state-of-the-art and technically innovative vehicle. We have also been able to expand the model line very successfully through derivatives."
Today, Canadian sports car enthusiasts can purchase a 911 in three separate body styles and no less than 22 unique variants, the former including the Coupe, Cabriolet and Targa, while the latter is replete with names like Carrera, Carrera 4, S, GTS, Turbo, Turbo S, Exclusive Series, GT3, GT2 RS, and various permutations of each.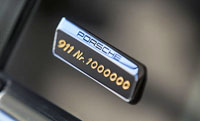 One of the reasons Porsche is able to build so many different 911s is its advanced production facility in Zuffenhausen, which has been the home of 911 assembly since day one. Now the storied factory incorporates all two-door Porsche models, including the 718 Cayman and 718 Boxster, which are all built on the same line "thanks to a sophisticated production approach" that includes workers who "are experts in up to 200 different tasks," says Porsche.
"I cannot imagine the success story of the 911 without our unique Porsche employees," said Uwe Hück, Chair of the Group Works Council of Porsche. "Today, we have the one-millionth 911. The good thing about it is that our colleagues still make them with the same devotion as the first car. The construction of the Mission E at the Zuffenhausen site is ringing in a new era at Porsche. And it is clear that if we are to make it a success, we will need our highly qualified and motivated employees. They will make sure that the Mission E is an emotional experience just like our 911 has always been – and always will be."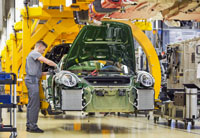 On hand for the one-millionth line-off celebration was Dr. Wolfgang Porsche, Chairman of the Supervisory Board of Porsche AG, who has been a part of the development of the 911 since job one (or rather job 901).
"54 years ago, I was able to take my first trips over the Grossglockner High Alpine Road with my father," said Dr. Porsche. "The feeling of being in a 911 is just as enjoyable now as it was then. That's because the 911 has ensured that the core values of our brand are as visionary today as they were in the first Porsche 356/1 from 1948."
To call Porsche's 911 a success would be an understatement of major proportion, and the car's popularity is hardly slowing down. Last year Porsche delivered 32,365 911s worldwide, which resulted in the model's best annual sales tally ever. Still, while it enjoys strong sales for a premium sports car, the 911 remains relatively exclusive and therefore holds its value very well. In fact, many 911 models have become coveted collector's cars, with values that have escalated far higher than their original list prices.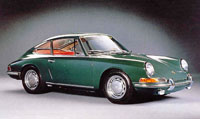 Also impressive, over 70 percent of all Porsche cars ever produced are still on the road. One of the key reasons for their longevity is dependable operation, Porsche consistently found on top of third-party quality rankings, including J.D. Power's Initial Quality and Vehicle Dependability studies.
If you were thinking of purchasing the one-millionth 911, consider one-million-and-one as this milestone car won't be up for sale. You may be able to see it in person, however, as Porsche will soon be sending it on a world tour of road trips to include the Scottish Highlands, Germany's famed Nürburgring, the U.S., China, and beyond.
Alternatively you can visit your local Porsche retailer and order a 2017 911 Carrera S in custom Irish Green with gold painted "PORSCHE" and "911" emblems, satin-silver mirror caps, 20-inch Carrera Sport alloy wheels, circular tailpipes, a leather interior with Sport-Tex seat centres in black and dark silver, a special plaque with your car's build number, etcetera. No matter how you decide to have it built, a car collection is not complete without a Porsche 911.