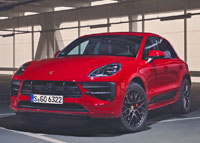 Porsche has been an automotive innovator since inception, and continues to show plenty of creativity with each passing year.
After decades of four- and six-cylinder, horizontally opposed, rear-engine sports cars, plus front-engine, rear-drive, inline-four- and V8-powered GTs, Porsche became the first dedicated sports car maker to introduce a volume production sport utility in 2003, with that wholly successful Cayenne followed up by the smaller Macan in 2014.
The Macan has become Porsche's global sales leader with 86,031 units delivered last year compared to the Cayenne's 71,458 deliveries, these two models making up the bulk of the Stuttgart, Germany automaker's best-ever 256,255 worldwide sales (next in line was the Panamera with 38,443 sales after ultra-strong 38-percent year-over-year growth, while 911 deliveries grew to 35,573 units sold. The remaining 24,750 unit sales came from Porsche's entry-level mid-engine 718 Cayman and 718 Boxster sports cars, while the new all-electric Taycan four-door coupe, plus a completely redesigned range of 911 models and the new Macan should help boost sales for calendar year 2020.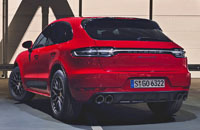 Porsche's new 2019 Macan went into production in August of 2018 and became available in base and S trims toward the end of that year, the entry model sporting 248 horsepower and the S making 100 horsepower more for a total of 348 (see Refreshed 2019 Porsche Macan S to receive new 348-hp single-turbo V6). Just as the carryover 2020 Macan was hitting dealer showrooms this fall a new 440-horsepower 2020 Macan Turbo was introduced (see New 440 hp 2020 Porsche Macan Turbo faster than ever), this model slated to arrive early next year (2020). Of course, anyone who follows things Porsche will know which trim comes next, and so, just like clockwork, the Macan is now available to order as a 2021 GTS (check out CarCostCanada for up-to-date 2019 and 2020 Macan trim, package and option prices, plus manufacturing rebate info, factory financing deals, and dealer invoice pricing that could save you thousands).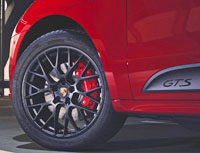 For $77,100 (plus freight and fees), which is exactly $4,000 more than the last GTS sold for back in model year 2017, the new 2021 Macan GTS slots in between mid-range S and top-tier Turbo trims, albeit with its own even sportier flavour. Engine output is up by 15 horsepower over the previous model, and its new 261-km/h top speed is commensurately 5 km/h faster.
A 2.9-litre twin-turbocharged V6 makes an energetic 375 horsepower plus 383 lb-ft of torque, ahead of sending it to all four wheels via a seven-speed automated dual-clutch transmission with steering wheel-mounted paddles. Zero to 100 km/h takes just 4.9 seconds, or 4.7 seconds with the available Sport Chrono package, which makes it 0.3 seconds quicker than the previous Macan GTS was off the line. Standard sport exhaust reportedly makes the Macan GTS sound just as good as it drives.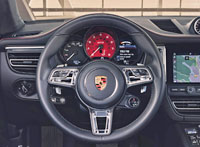 Just like the original GTS, the new version has been lowered by 15 millimetres to improve handling, while its standard Porsche Active Suspension Management (PASM) damping control system was specially tuned for heightened performance all around. High-speed control can be further improved by opting for an adaptive air suspension that drops the GTS by an additional 10 mm.
Standard red brake calipers bite into 360 by 36 mm front and 330 by 22 mm rear cast iron rotors, but braking performance can be improved yet further with the Porsche Surface Coated Brake (PSCB) upgrade that features a tungsten carbide coating, while the Porsche Ceramic Composite Brake (PCCB) option is also available.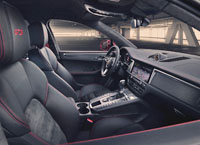 Without detailing out all the 2019 Macan styling changes that were covered in a previous story (see Porsche refreshes its best-selling Macan for 2019), some highlights including standard LED headlamps as well as Porsche's now trademark LED light bar-infused three-dimensional taillights, the new Macan GTS incorporates darkened lenses front and back, plus adds an exterior Sport Design package that includes a revised front fascia with new grille inserts, and a completely redesigned lower front section, while changes moving rearward include special body-coloured side sill extensions below thick matte-grey/black side trim sections featuring "GTS" script. Porsche adds more body-colour paint to the lower rear bumper, while high-gloss black accents are added elsewhere from nose to tail. Lastly, satin-gloss black-painted 20-inch RS Spyder Design alloy rims frame the sporty red brake calipers noted a moment ago.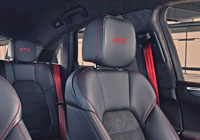 Porsche continues the GTS' sporty red theme inside where the primary gauge cluster includes a red facing for its centre-mounted tachometer, totally setting it apart from any other Macan model and anything within the compact luxury SUV segment, while Carmine Red or Chalk stitching can be added to spice up the dash, door panels and seats.
Those eight-way adjustable sport seats are upholstered with leather bolsters and grippy suede-like Alcantara inserts, all four of embroidered with GTS logos on their headrests. Alcantara covers the door panel inserts too, as well as the side and centre armrests, not to mention the roofliner and pillars, while genuine brushed aluminum accents brighten up key areas around the interior, the exclusive GTS steering wheel a particularly good example of metal craftsmanship.
The 2021 Macan GTS is now available to order from your local Porsche retailer, with deliveries expected to arrive during the summer of 2020.
Until we see get to test one for ourselves or even see this impressive new Macan on the street, enjoy this video provided by Porsche: 
The new Macan GTS. More of what you love. (1:34):