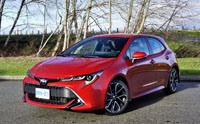 Toyota may have said sayonara to its Scion line a few years ago, but the youth-oriented brand's spirit continues to live on in cars like the impressive new Corolla Hatchback.
The Corolla Hatchback takes over from the Corolla iM, which was previously the Scion iM, one of the industry's best compact five-door hatchbacks from model years 2016 through 2018. It was finished to a higher level than most rivals, partly because it was actually a rebadged second-generation Auris from Europe, where they generally finish cars to higher levels than we get here. In Australasian markets this model was long dubbed Corolla Hatchback, so it only made sense to adopt the simpler, more familiar name when this new model arrived on North American shores for 2019.
While this five-door Corolla isn't as popular as its four-door sibling, you may recognize the redesigned Hatchback's snazzy new LED headlight-enhanced face now that the 2020 Corolla sedan is starting to show up everywhere. Both new models are high on style and big on substance, and while they're not going to give the mighty Honda Civic a run for its money, the Corolla line will once again finish 2019 well ahead of every other compact competitor.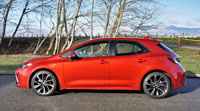 No matter the angle, the new Corolla Hatchback looks good, something I can't say for Honda's five-door rival. While the Toyota has plenty of sharp angles in keeping with today's styling preferences, its basic shape is organically flowing, something I'll hazard to guess will stand the test of time more easily. No doubt outward design influences the Corolla's high resale value, its second-place standing in the 2019 Canadian Black Book's Best Retained Value Awards only beaten in the compact car class by Toyota's own Prius, although this impressive result will also be due to the Corolla Hatchback's superb value proposition, Vincentric having also honoured the car with its 2019 Best Value In Canada Award in the Compact Hatchback category.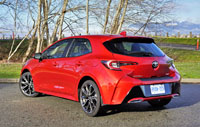 A quick visit to CarCostCanada (where you can also find the latest rebate info and dealer invoice pricing that could save you thousands, plus factory leasing and financing rates that started from 0.49 percent at the time of writing) will show 2019 Corolla Hatchback pricing starting at just $20,980 plus freight and fees, which is actually $1,770 less than the old 2018 Corolla iM mentioned earlier, and believe me the redesigned model is a much better car.
Its standard auto on/off headlamps are full LEDs, compared to halogen projectors in the outgoing model, while the new taillights continue with standard LEDs. The old car's remote entry has been upgraded with standard proximity-sensing keyless access plus pushbutton ignition, this not even available before, its classic handbrake replaced by an electric parking brake, while the compact Toyota's advanced driver assistive systems have been upgraded from just including auto-dimming high beams, autonomous emergency braking, and lane departure alert, to now featuring frontal pedestrian and bicycle detection, lane and road departure steering assist, plus adaptive cruise control.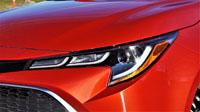 Items like LED daytime running lights, LED turn signals integrated within the side mirror housings, a rear spoiler, fabric-wrapped A-pillars (another sign this car comes out of Toyota's European division), piano black lacquer and metallic interior accents, a tilt and telescopic multifunction steering wheel, a 4.2-inch colour TFT multi-information display, variable intermittent wipers, an intermittent rear wiper, power windows with auto up/down all around, and cloth sport seats continue forward, as does a touchscreen infotainment system atop the centre stack with a backup camera, Bluetooth phone connectivity and audio streaming, voice recognition, and six-speaker AM/FM/USB/AUX audio, but the new 8.0-inch centre display is now a full inch larger than its predecessor and features Apple CarPlay and Android Auto smartphone integration plus Toyota's proprietary Entune system that also comes with Entune App Suite Connect featuring traffic, weather, sports, stocks, a fuel station locator, Slacker, Yelp, and NPR One, making the new Corolla Hatchback much more modern.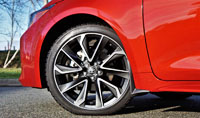 That said the old iM's standard 17-inch alloys are now replaced with a comparatively rudimentary set of 15-inch steel rims with covers in base trim, while its leather-wrapped steering wheel rim and shift knob is now urethane, dual-zone auto climate control system now single-zone, albeit still automatic, heated front seats now optional, and the list goes on, all of these reminders that Scion (and the Corolla iM that followed) was mostly a single-trim, no options, one-size-fits-all brand, which meant its cars were always nicely equipped in "base" trim, albeit with entry-level pricing that was often a bit higher than some rivals, and there was no opportunity to add higher end features, such as larger wheels, fog lamps, upgraded instrumentation, navigation, leather upholstery, heated rear seats, etcetera.
This is not a problem for the new Corolla Hatchback, as is immediately noticeable from its front fog lamps and stunning machine-finish 18-inch alloy wheels with black painted pockets. These come standard in my tester's top-line XSE trim, but before I delve into its details I should take you on a short tour through some of the 2019 Corolla Hatchback's other trim packages.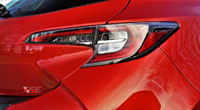 For instance, a reasonable $1,000 replaces the rev-matching six-speed manual gearbox with a Direct-Shift continuously variable transmission (CVT) featuring sequential shift mode, while its completely automated shifting also allows for an automatic upgrade to full-speed adaptive cruise control and lane tracing assist.
Both manual and CVT models can be had with one of three packages above base, including the $1,600 SE, $3,000 SE Upgrade, and the as-tested $6,000 XSE. The SE, which pushes the Corolla Hatchback's price up to $22,580 for the manual or $23,160 with the CVT, adds 16-inch alloy wheels, some additional chrome exterior trim, a leather-wrapped steering wheel rim, a power-adjustable driver's seat with two-way powered lumbar support, heatable front seats, a theft deterrent system, and steering wheel-mounted paddle shifters with the CVT, while the SE Upgrade package, increasing the price to $23,980 for the manual or $24,160 with the CVT, provides some heat for that steering wheel, plus adds convenient wireless device charging, blindspot monitoring, and those 18-inch alloys noted a moment ago.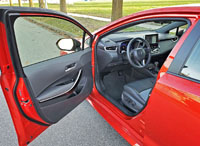 As for my tester's XSE trim that starts at $26,980 with the manual and $27,980 for the CVT, and I've got to point out how fabulous it is that Toyota combines its sportiest, highest end trim with its most performance-oriented gearbox, it includes the LED fog lights mentioned before, a 7.0-inch TFT digital driver's display, plus special Sport fabric upholstery with leatherette trim, dual-zone auto HVAC, Entune 3.0 Premium Audio that adds embedded navigation/route guidance to the centre touchscreen (with automatic map updates for three years), plus traffic and weather info, Entune Destination Assist (with a six-month subscription), Entune Safety Connect featuring automatic collision notification, a stolen vehicle locator, an emergency assistance (SOS) button, and enhanced roadside assistance, plus satellite radio.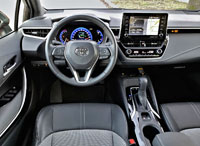 A few dealer-added accessories worth getting include a dash camera for $650, a cargo liner for $155, a cargo net for $80, and doorsill plates for $250, while the Corolla Hatchback's exterior can be dressed up with an ultra-sporty extended rear rooftop spoiler for $535.
The Corolla Hatchback's cabin is as attractive and nicely put together as the car's exterior, with plenty of soft-touch composites covering the dash top, the inside portion of the lower console, the front door uppers, plus the armrests side and centre. The mostly black interior motif gets highlighted by cream/grey-coloured contrast stitching in key areas, while the aforementioned sport seats feature the same thread along with a unique two-tone colour treatment thanks to a lighter grey used for their fabric inserts. The seats' two-way warmers heat up quickly, and can be set to do so automatically each time the car is restarted, as can the heatable steering wheel that makes better equipped Corolla Hatchbacks a lot more pleasurable to live with year round.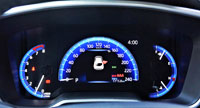 The contrast stitching doesn't transfer over that steering wheel, but its meaty, nicely shaped sport rim feels good in the hands no matter the temperature, and the telescoping steering column provides a lot more reach than the iM's did, allowing me to set up the driver's seat more ideally for my long-legged, short torso body. Comfort in mind, the two-way powered lumbar support did a reasonably good job of applying pressure to the small of my back, although slightly lower would've been better.
Set up and ready to go, the upper half of the sport steering wheel frames a brightly lit primary instrument cluster featuring the usual array of tachometer, speedometer, fuel and temperature gauges, with the first one set up in a semicircle to the very left, the second dominating the middle position, and the latter two combined in another semicircle to the right. At the centre of the arching speedometer is the multi-info display, providing the usual types of functions a driver might need, from trip information to fuel economy, phone info to cruise control details, etcetera, all accessible via a really nice set of steering wheel controls.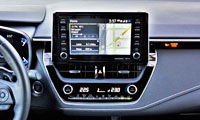 The big centre display hovers above the dash like a fixed tablet, and features quick-access buttons down both sides, plus rotating power/volume and tune/scroll knobs at the bottom of each row. The touchscreen responds to tap, swipe and pinch gesture inputs quickly, this especially useful for the navigation system's map, while screen resolution is good, aiding the clarity of the backup camera, the colours are attractive with reasonably deep contrast, and the graphics are more functionally straightforward than outright good looking. In other words, Toyota's Entune interface looks as if a team of engineers designed it rather than a graphic artist, but it certainly works well.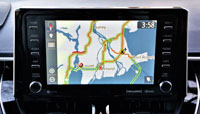 Another carryover feature from Corolla iM to Hatchback is the independent multi-link rear suspension (IRS), something now also provided by the 2020 Corolla sedan, albeit for the first time. The two new Corollas ride on the completely different Toyota New Global Architecture (TNGA) platform architecture, so it's not exactly the same IRS, but it nevertheless improves the Corolla's ride and handling more than if set up with this segment's usual torsion beam rear suspension design, while the new TNGA platform increases torsional rigidity by 60 percent, again aiding handling while also making the body and all occupants safer from impact.
The stiffer construction can certainly be felt on the road, more structural strength allowing for greater compliance from the suspension and therefore the better ride quality just noted, while the IRS also prevents secondary jarring from the rear when pushing it a bit harder over bumpy roads. This kept my tester's 225/40R18 Bridgestones in better contact with the road below, and the more often a tire's contact patch is touching pavement the more chance it has of making a given corner, the Corolla Hatchback much more stable through fast-paced curves than some of its peers that don't yet offer such sophisticated rear suspension setups.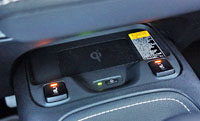 I honestly had no complaints about the old Corolla iM's 16-valve, DOHC, 1.8-litre four-cylinder that put out just 137 horsepower and 126 lb-ft of torque, as it was a free-revving engine that was plenty of fun to row through the gears, although the six-speed manual was more fun to play with than the easier-to-live-with CVT-S automatic, the "S" referring to Sport. Every aspect of new Corolla Hatchback's drivetrain is a great deal more enthusiastic, however, so I'm not lamenting the loss of the iM one whit, its direct-injection 2.0-litre four-cylinder making 168 horsepower and 151 lb-ft of torque, which is 31 horsepower and 25 lb-ft of torque more than the iM, and therefore more than enough to offset the new Hatchback's 118-kg (260-lb) gain in curb weight, to 1,388 kg (3,060 lbs).
Of course, nothing increases output better than cubic centimetres, and 200 is roughly 10 percent of added displacement, but Toyota replaces its old Valvematic system with much more sophisticated VVT-iE (Variable Valve Timing – intelligent by Electric motor), a Lexus development now trickling down to Toyota's offerings. Basically it's the same dual VVT-i system used in other applications, albeit with an electrically operated actuator adjusting and maintaining intake of the camshaft timing. Exhaust camshaft timing remains controlled via a hydraulic actuator. In other words, the new engine is much stronger and maintains its energy over a wider rev range.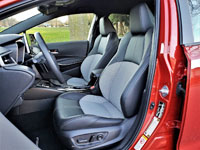 As for the upgraded continuously variable transmission, usually the Achilles heel of any car attempting to be sporty, the old iM's was good and the new Corolla Hatchback's is ruddy brilliant. Truly, this is one of the best CVTs I've ever tested, with really quick, snappy shift increments when in Sport mode. What's more, Toyota's Direct-Shift CVT includes a whopping 10 gear ratios, which is more than any other I've experienced. Of course, they're pseudo gears, but they nevertheless feel very realistic and are plenty of fun to actuate via the paddles noted earlier. Left to its own devices it's a smooth, linear shifting CVT that most should appreciate, while it really helps to lower fuel economy.
Despite all the extra engine output and added mass noted a moment ago, the new Corolla Hatchback more than edges the old Corolla iM out when it comes to fuel economy, the new model's claimed 7.5 L/100km city, 5.8 highway and 6.7 combined rating much thriftier than the iM's 8.3 city, 6.5 highway and 7.5 combined rating. The new car's manual is better on fuel too, with a rating of 8.4 L/100km in the city, 6.3 on the highway and 7.5 combined, compared to 8.8 city, 6.8 highway and 7.9 combined for the old model.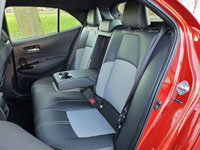 I love it when automakers provide us with a "have your cake and eat it too" experience, and for the most part that pretty well sums up this car. It's faster and more fun to drive yet saves money at the pump, and improves most every other aspect of car ownership too, but nevertheless all that mass noted earlier, which was partially acquired by making the Corolla Hatchback 100 millimetres (3.9 inches) longer than its predecessor with a 40-mm (1.6-in) longer wheelbase, plus 30 mm (1.2 in) wider, albeit a slight 25 mm (1.0 in) lower to the ground, doesn't add up to inches inside. In fact, while front legroom, rear headroom and rear shoulder room have been increased fractionally by 7 mm (0.3 in), 2 mm (0.1 in) and 10 mm (0.4 in) respectively, front headroom is less accommodating by 33 mm (1.3 in), front shoulder room is narrower by 10 mm (0.4 in), and rear legroom is shorter by 71 mm (2.8 in), while the dedicated cargo compartment is 14 percent smaller, shrinking from 588 litres (20.8 cubic feet) to just 504 litres (17.8 cubic feet).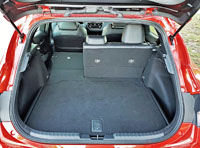 Nevertheless, I found it roomy enough and comfortable in all outboard positions, although take into consideration that I might be long-legged but only measure five-foot-eight on a particularly elevated day, so taller folk may feel more confined. Like the iM, the Corolla Hatchback's cargo area gets a removable carpeted load floor with a compact spare and tiny bit of stowage space below, while 60/40 split-folding rear seatbacks can be laid flat to expand its cargo capacity, although Toyota makes the size of the Hatchback's maximum gear-hauling capability a secret, just as it did with its predecessor.
I can't for the life of me comprehend how an automaker makes a car larger in almost every respect, yet loses interior room, unless they've taken a car that had already some of the highest safety accreditation it could have and made it better, and to its credit the new model achieves best-possible "Good" ratings in all IIHS categories, except for "Crash avoidance & mitigation" in which the headlights merely achieve "Acceptable" or "Marginal" ratings depending on trim or option, although it should be noted this is a U.S. agency and the U.S.-spec Corolla Hatchback isn't identical to ours. The Corolla Hatchback actually gets a rare "G+" rating for its child seat "LATCH ease of use," while the NHTSA gives it a 5 star safety rating.
I give the new Corolla Hatchback four stars for being a superb little compact hatch that's big on style, build quality, features and performance, yet a bit smaller than expected on interior roominess. This said it should be high on your list if you're considering a compact hatchback.