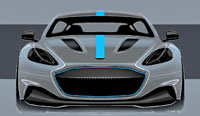 If you've ever witnessed one of Aston Martin's V8 or V12 engines blast past at full song or even better, experienced the soul stirring sound from within the cockpit, hopefully from behind the wheel, word of an all-electric model about to be born from the storied Gaydon, Warwick, UK manufacturer might not elicit the same kind of enthusiasm that the second-generation Tesla Roadster did to the comparatively startup Palo Alto, California firm's legions of EV zealots attending last month's Hawthorne, CA semi truck launch program.
Truth be told, the good folks at Aston will have to work very hard to beat the Elon Musk dream car's claimed 2.0-second sprint from standstill to 100km/h, but of course the RapideE won't be competing directly with Tesla's tiny sports car when it arrives on the market. Instead, Aston is projecting its 800-horsepower EV will achieve a 4.0-second sprint from standstill to 100km/h, a 250 km/h (155 mph) top speed, and an ambitious range of 400 km (250 miles) without de-rating, a technical term for reducing power in order to extend range.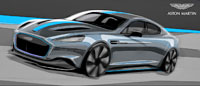 The details planned to achieve such performance haven't been disclosed, but it's thought a battery of at least 80kW should fit within the current car's prop shaft torque tube, ideal for its low, central location, and helpful in keeping the Rapide's passenger and cargo compartments as unaffected by the transition as possible. On this note, it's undetermined whether the final RapidE will utilize the current single electric motor, like the test mule concept, or house two smaller motors at each rear wheel, being that both have advantages. The latter might allow for some extra frontal cargo space, which is always a bonus with grand touring cars like the Rapide. Aston is sharply focused on keeping the RapidE's weight as close to the current gasoline-powered model as possible, which will be important to achieving the EV's performance targets.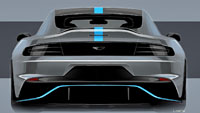 As it is, the Rapide S is a long, low and very lean four-door coupe, capable of whisking four adults from nil to 100km/h 4.4 seconds, and then on to a 327 km/h (203 mph) top speed, much thanks to a front mid-mounted 552 horsepower 6.0-litre V12 with 465 lb-ft of torque, plus a Touchtronic III ZF eight-speed automatic gearbox capable of shift increments of just 130 milliseconds, which drives the limited-slip diff-enhanced rear wheels via a lightweight, quick spinning carbon-fibre prop shaft. Proposing to potentially shelve all this mechanical wonderment for something purely electrified is the equivalent of getting hyped up about an ETA quartz powered movement replacing the ébauche, escapement, balance spring, etcetera in a Jaeger-LeCoultre Master Control Chronograph.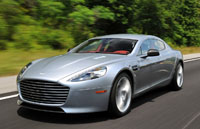 Still, anyone in business and/or finance knows you should never bet against the market, and these days the car market is certainly turning toward things electric. On that note, the RapidE was originally a concept developed in conjunction with the equally legendary performance car marque Williams, albeit the Grove, Oxfordshire, UK-company's heritage is in motorsport, specifically Formula 1 in which it's earned 16 championship titles by the likes of Alan Jones, Keke Rosberg (last year's F1 champion Nico Rosberg's father), Nelson Piquet, Nigel Mansell, Alain Prost, Damon Hill, and Canada's own Jacques Villeneuve. It also has a less known engineering division.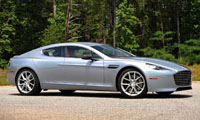 Williams Advanced Engineering, which is also working to develop models for Nissan's performance division Nismo, the sub-brand behind specially-tuned models including the GT-R, and previously partnered with Jaguar to create the esteemed C-X75 hybrid supercar, while also having designed and assembled the first battery system for the fully-electric open-wheel FIA-sanctioned Formula E championship, has been partially responsible for the RapidE's development, the EV's full-scale production initially planned for right about now. Unfortunately the previous production partner, China's LeEco, a cellphone and streaming firm, pulled out due to financial problems resulting from its work with floundering EV car builder Faraday Future, so instead Williams will take over engineering integration of a small 155-unit RapideE run set to arrive in 2019.
"Williams Advanced Engineering has always endeavoured to work collaboratively with its customers to meet their sustainability challenges and find energy efficient solutions," said Paul McNamara, Technical Director at Williams Advanced Engineering. "For today's car manufacturers, this is particularly important as legislation demands more energy efficient vehicles. This project with Aston Martin will draw on the extensive battery and EV experience we have accumulated and we are extremely pleased to be supporting this prestigious British company with their future electrification strategy."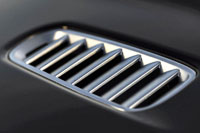 The upcoming RapidE, which appears based upon the Rapide AMR concept, looks much like a regular Rapide in its current test mule phase, other than blue accents and unique RapidE badging with a stylized plug forming from the final E's middle prong. Inside, the RapidE's instrument panel gets battery life and regenerative braking indicators, replacing some of the now redundant gasoline engine's gauges. So far there aren't any changes planned for the interior, trim aside.
Likewise, the RapidE's suspension should carry forward mostly unchanged. The prototype rides on an identical setup to the current V12-powered road car, and while the former is hardly ready for primetime (with those having driven it complaining of truck-like handling) Aston will need to keep RapidE production costs within reason. So far the prototype doesn't include any electronic driver assistance systems such as stability-control software, while its even missing a finished cooling package to keep the battery from overheating, the old radiator now unnecessary. Reportedly, straight-line performance and range are test mule weak points too, the British brand still having plenty of work to do before the production RapidE is ready.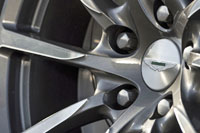 Aston and Williams are charging ahead to solve such issues, all of which are necessary hurdles for any manufacturer to overcome when transforming a gasoline-powered vehicle to fully electric, and the finished product should coincide with the launch of Aston's new DBX crossover SUV and Lagonda luxury sedan. We'll have to wait to see if EV versions of these latter two models materialize in production form (the DBX concept used four wheel-mounted electric motors), but it only makes sense being that some of the British brand's most important markets are planning to eradicate internal combustion engines in the not too distant future. In fact, it's quite likely that delays of these models coming to market stem from a need to make sure they've been inherently designed to accept electrification, something the Rapide was not, which has caused greater challenges and compromises in the transformation.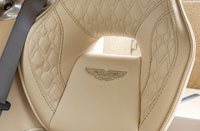 "Having unveiled the RapidE Concept back in October 2015 we reach another milestone with the confirmation that we are now putting the first all-electric Aston Martin into production," said Dr. Andy Palmer, Aston Martin's President and CEO. "RapidE represents a sustainable future in which Aston Martin's values of seductive style and supreme performance don't merely co-exist alongside a new zero-emission powertrain, but are enhanced by it. The internal combustion engine has been at the heart of Aston Martin for more than a century, and will continue to be for years to come. RapidE will showcase Aston Martin's vision, desire and capability to successfully embrace radical change, delivering a new breed of car that stays true to our ethos and delights our customers."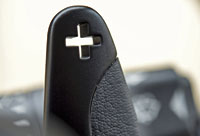 It's good to hear Mr. Palmer confirm that internal combustion engines won't disappear from the automaker's lineup entirely, although their future availability will hardly matter in jurisdictions planning to totally eradicated them, such as Aston's own Britain that's promised to ban diesel and gasoline-powered engines by 2040, following a similar position across the English Channel in France, and since followed up by comparable sentiments in important premium car markets such as California and China, the latter already a leader in electric car development and production.
Such steps are arguably important for the greenification of the world, depending on how the electricity is sourced, but for performance car enthusiasts the thought of never again hearing the glorious mechanical machinations of an Aston Martin's internal combustion engine are just too sad to contemplate. Still, being how important electric powertrains are to Aston's low- and zero-emission Second Century Plan strategy, the RapideE is just the beginning. In fact, electric propulsion will be part of every Aston Martin by the mid-2020s, whether in the form of full electric power or hybrid, and EVs are expected to make up 25 percent of A-M sales by 2030.