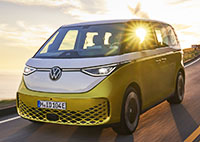 Good news! The VW van is actually coming back, and it looks like this visual blast from the past design might also be one of the most practical competitors in the all-electric space. But before delving into the details, some history.
The original 1949–2013 Volkswagen Van, as it was simply called in our market (specifically the old-school version with the rounded edges, otherwise known as the T1 and T2), was also dubbed the Kombi in Brazil, where it was produced from 1957 until finally being put to rest in 2013. Additionally, it was called the Bulli at home in Germany, where it ruled the family roost until the larger, squarer Vanagon (T3) arrived in 1979, and has been on the comeback trail at least as long as this journalist has been covering the automotive sector.
The Transporter wasn't just a Jason Statham movie franchise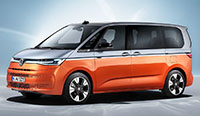 Before too much confusion transpires, Volkswagen didn't stop building its T (Transporter) series of vans when the T3 departed. After that incredibly accommodating model enjoyed a reasonably popular run as a family conveyance here in North America, it was replaced by the front-engine, water-cooled T4 in 1990, which also graced our roads with the Eurovan nameplate. After a fairly long stint on our side of the Atlantic, VW Canada discontinued the Eurovan in place of the embarrassingly rebadged Dodge Caravan dubbed Routan (2009–2014) that the automaker probably hopes we'll forever forget (sorry, VW).
No doubt, many T series-faithful, that never accepted DaimlerChrysler's watered-down facsimile of the real deal, would love to get their hands on the all-new 2022 Multivan T7 that debuted last June, but we most likely won't see that sizeable model unless Volkswagen decides to enter something larger in our commercial sector (can you imagine how the RV aftermarket would go wild with this near full-size family hauler?).
VW microbus has been the comeback kid for decades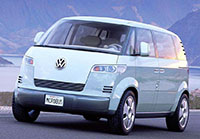 Back to the comeback, a very enticing Microbus concept debuted in 2001, causing everyone already in love with the New Beetle to salivate over the possibility of a much more accommodating retro alternative, but alas it never materialized. A decade later the 2011 Bulli electric concept arrived to less fanfare. It probably would've hit the EV market too soon to have had any serious sales success if produced anyway, although the all-electric BUDD-e van that showed up in 2016 might've found more traction. None of that matters now that the ID. Buzz, introduced last month, has been slated for production this year as a 2023 model, in Europe at least.
The ID. Buzz looks more like that 2001 Microbus than any concept since, although it houses front lighting elements similar to those found on the current all-electric ID.4 compact SUV, even including a thin LED light strip that connects the two headlamps. The taillight cluster is one single unit too, but the circular "VW" badge isn't integrated within the centre reflector strip on the Buzz like with the 4, instead positioned on its own just below in traditional microvan fashion.
Only one 201 hp rear-drive version has been shown so far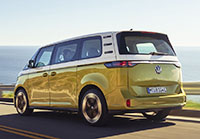 This said, the ID. Buzz we're looking at is a European version, so our variant may see some slight changes. The 82 kWh (net) base battery pack, which doesn't use cobalt, and the entry-level power unit shouldn't change, however, as its 201 horsepower and 229 lb-ft of torque should be enough for budget-conscious families, although it's possible VW will leave this powertrain in Europe where an EV's ability to travel long distances isn't quite as critical. On that note, VW hasn't announced any range estimates for this new power unit, only saying it'll propel the ID. Buzz up to an electronically limited top speed of 145 km/h (90 mph). Fortunately, Volkswagen promises powertrain upgrades for both markets, which will likely include all-wheel drive. That model should be popular here, so stay tuned.
As for underpinnings, the ID. Buzz utilizes the same MEB platform architecture as the ID.4. In its Buzz application, it will be offered with two wheelbases, the longer for a seven-seat option, although VW only shared wheelbase measurements of the standard model that spans 2,988 mm (117.6 in). This makes the Buzz' shortest wheelbase a significant 223 mm (8.8 in) longer than the ID.4's wheelbase, while the new van stretches 4,712 mm (185.5 in) from nose to tail no matter which wheelbase is chosen, which is 128 mm (5.0 in) greater than VW's crossover EV.
ID. Buzz Cargo van might make an ideal camper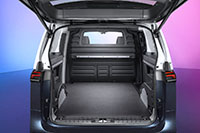 Additionally, both ID. Buzz body styles measure 1,985 mm (78.1 in) wide without the side mirrors, while the new van is also 1,937 mm (76.3 in) tall. Of note, just like T series vans, an ID. Buzz Cargo van will be offered as well. It will be fractionally taller at 1,938 mm, thanks to a heavier duty chassis.
Volkswagen claims up to 1,121 litres (39.5 cu ft) of cargo capacity behind the rear seats of the two-row version, or 3,900 litres (137.7 cu ft) behind the first row with the passenger van's rear seats removed, or you're filling up the cargo van. The latter, incidentally, gets a front bench seat for up to three abreast, just like the original.
Could a modern-day VW "Westfalia" be in the cards? We can only hope. The ability to tread softly into the woods or desert with AWD via an all-electric powertrain is tantalizing, although we'd recommend a potent solar charging unit on top.
ID. Buzz interior looks positively appetizing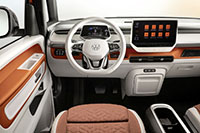 Inside, the ID. Buzz cargo van is more business-like, with mostly muted grey tones other than the very colourful and large digital displays (the standard digital cockpit measures 10 inches diagonally, while the centre-mounted infotainment system is 10 inches in base trim and up to 12 inches, with navigation, optionally), whereas the passenger van carries the exterior's "organically based" colour scheme into the cabin.
Yummy looking lemony Lime Yellow and downright festive Energetic Orange interiors were chosen for the press photos, with both looked totally "fab" thanks in part to all the cream-coloured surfaces surrounding the body-colour dash and door trim. Bay Leaf Green and Candy White (the only non-metallic base colour) are on the "menu" too, as are Mono Silver and Starlight Blue (also available in two-tone) amongst metallics, plus Deep Black featuring a pearl effect.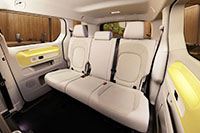 The colourful door panels continue rearward to the side-sliders, while the seat upholstery is shown in a cream recycled leatherette, in the yellow model, and burnt orange cloth made from reclaimed and recycled plastics in the orange model.
Gear selection in the original vans was done from a classic stick on the floor, but the new model utilizes a column shifter in order to free up space on the modular centre console. In the ID. Buzz' press release, VW expends a lot of ink describing the various USB ports and cupholders, which are aplenty due to its family orientation, but safety is a key selling point in this sector as well.
Safety and convenience are key in the family class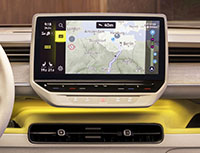 To that end, VW promises all the usual driver assist and safety systems, of course, including an updated version of the brand's Travel Assist, now featuring automated lane changes at highway speed, plus the ability to manage autonomous driving on country roads without centre markings.
Both ID. Buzz and ID. Buzz Cargo models will be built by Volkswagen Commercial Vehicles in Hanover, German, with production on target to start during the first half of 2022, advanced sales taking place in May, and European deliveries beginning in the third quarter of this year. The North American debut of the long-wheelbase Buzz will occur sometime next year, with sales following in 2024. The long-wheelbase van will also be offered in Europe, but so far VW has said nothing about offering the regular-wheelbase, five- (and also six-) person model here.
Now, check out the World Premiere of the ID. Buzz, with actor Ewan McGregor sharing his love of the Beetle and impressions of the new ID. Buzz:
Story credits: Trevor Hofmann
Photo credits: Volkswagen