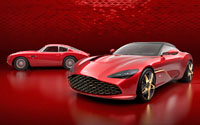 Two cars in one, or at least that's the arrangement you'll need to accept if you want to get your hands on a new 2020 Aston Martin DBS GT Zagato, shown here in its best renderings yet. 
You'll also need to shell out $9.8 million CAD (£6 million GBP), which is a bargain when factoring in that a classic 1962 DB4/GT Zagato sold for a cool $15.4 million CAD (£9.45 million) a few years ago. 
Of course, rare classics with racing pedigree are almost always worth more than a new car, even one as hard to come by, as visually stunning, and as brilliantly fast as the new DBS GT Zagato. Still, there's another reason I referenced a classic Aston Martin Zagato. 
All 19 2020 DBS GT Zagato customers (the same number of original 1960-1963 DB4 GT Zagatos built) will also be taking home a continuation DB4 GT Zagato, which is a true classic '60s era Aston, albeit produced new from old chassis number allocations.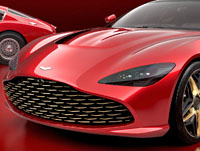 The two cars make up Aston's "DBZ Centenary Collection", the more modern of the pair based on Aston Martin's already fabulous DBS Superleggera, which stuffs a big twin-turbocharged 5.2-litre V12 behind its gaping maw of a front grille, capable of churning out a formidable 715 horsepower and 664 pound-feet of torque. The powers that be at the company's Gaydon, UK headquarters haven't made mention about any straight-line performance increase in the upcoming DBS GT Zagato, despite the original '60s car making significantly more than a conventional DB4, but it has other attributes that nevertheless make it very special. 
Any similarities to the now three-year old Vanquish Zagato were intentional, with Aston even painting the launch model shown here in what appears to be a near identical deep Volcano Red metallic (or something close) with rich gold trim highlights (the DB4 Zagato in behind wears a more fitting Rosso Maja red), the glittering secondary Au hue even embellishing the twinned five-spoke 20-inch alloy wheels.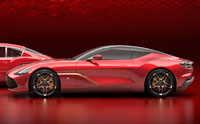 Other design details pulled forward from the Vanquish Zagato include its gigantic front grille, double-bubble floating black roof panel, pronounced rear fenders, and rocket booster taillights, but that's not to say this new Zagato-badged Aston is merely a redo of a past model. Of course, the DBS Superleggera under the skin influences its design much more than any previous model could, its longer, lower and leaner body featuring more creases and sharp-angled folds than the earlier Aston, which was decidedly more rounded and curvaceous. 
Ultra distinctive is a gold-coloured active grille insert that's actually comprised of 108 individual segments of carbon fibre. When the new DBS GT Zagato is not in use, these tiny pieces come together to form what appears to be a solid, flush panel, although when the ignition is turned on these little pieces reposition in order to allow front ventilation, a process that makes the grille "flutter", says Aston.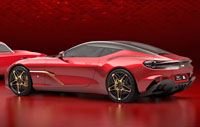 Other unique details include extremely long and deeply sculpted side vents, these also adorned in gold, while the side sills don't feature this supercar segment's usual carbon fibre extensions, but rather tuck rounded rocker panels under the body as in days of yore. Of course the headlights are much more in line with modern Aston Martin design than anything from the Vanquish' era, while those intricately detailed aforementioned taillights get fitted neatly within a sizeable horizontal black panel that hovers above an even larger wing-like rear diffuser. 
Everything black is open-weave carbon fibre, of course, even the roof that's actually a single piece stretching from the windshield's edge to the base of the rear deck lid, with its noted twin-hump design followed by a complete lack of rear visibility. This car was made for Franco "What's-a behind me is not important" Bertollini (Raúl Juliá – The Gumball Rally, 1976), although while there's no rear window, nor even louvres to see out the back, Aston did include a rearview camera for backing up, mounted in a centre mirror-style monitor similar to General Motor's Rear Camera Mirror.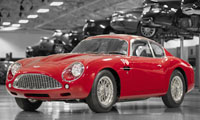 As for the beautiful DB4 GT Zagato, which made its debut at the 24 Hours of Le Mans last month (we've expanded on this story's gallery with 20 detailed solo photos of this breathtaking classic in its most modern production trim), it's the latest in Aston Martin's line of continuation cars, which began with 25 DB4 GT Continuation models that sold for $2.4 million CAD (£1.5 million) each in 2017, and (it doesn't get much better than this) 25 recreations of the classic movie car from the 1964 James Bond (Sean Connery) film Goldfinger, complete with all the cool offensive weaponry and defensive armour that made the eccentric Q (Desmond Llewelyn) a hero to gadget freaks everywhere. The Goldfinger DB5 Continuation will arrive in 2020, just like the two new Zagato models featured here, but for only $4.5 million CAD (£2.75 million) each.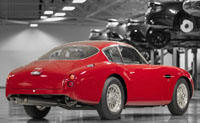 If you're still scratching your head about the stratospheric price of the two combined Zagato models featured in this story, consider for a moment the original 1962 DB4/GT Zagato's price noted earlier wasn't even the most expensive DB4 GT Zagato to be auctioned off. After the original 19 examples were created from 1960 to 1963, Aston Martin built four more on unused chassis allocation numbers in 1988, all of which were dubbed "Sanction II" models, while in 2000 the automaker created another two cars to "Sanction II" specification (which meant they received a larger 352-horsepower 4.2-litre engine), albeit renamed them "Sanction III", these latter examples fetching $18.6 million CAD ($14,300,000 USD) in 2015 and $16.5 million CAD (£10,081,500) in 2018, making them some of the most valuable cars ever sold. 
Of course, it would be unwise to invest as if these 19 new DB4 GT Zagatos will grow in value like their earlier siblings, but then again if past success is any reflection on future prospects, the lucky new owners should be sitting rather pretty in a few years, if not immediately after taking delivery, while they might even end up receiving their all-new 2020 DBS GT Zagatos for free.