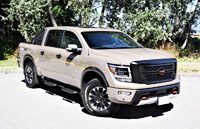 It's true, Nissan is walking away from the full-size pickup truck segment in Canada. The Titan before you, as impressive as it is, will no longer be available north of the 49th, aside from Anchorage or Fairbanks.
As with most cancellations, it came down to a lack of sales. Nissan sold a mere 1,218 units last year and just 2,807 in 2019, while even at its peak of 2017 the Japanese automaker found just 5,692 Canadian buyers. This is actually bad news for Toyota, because its Tundra will now inherit lowest sales status, despite managing to push out a respectable 11,053 units last year (it's high of 11,738 was in 2018). Although the Tundra's numbers may appear lofty when shown next to the Titan's, even mighty Toyota's full-size offering hardly matches Ram's 83,673 full-size pickup truck sales in 2020, or GM's collective Chevy/GMC Silverado/Sierra deliveries of 104,279 units during the same 12 months, while Ford once again topped them all last year with 128,650 F-Series down the road.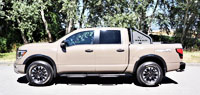 The sad reality is, Nissan's failure to launch the Titan as a serious full-size pickup truck contender has nothing to do with the vehicle's quality and capability. It's one rugged, well-built half-ton, or rather two tough trucks when factoring in its larger Titan XD heavy-half sibling, with its only serious weaknesses being fewer cab/bed options and just one, lone V8 engine and eight-speed automatic transmission combination.
Currently, the Titan is just available as a Crew Cab in Canada, having dropped its smaller King Cab variant for 2020. Both cabs remain in the US, although American buyers can no longer purchase the Single Cab work truck.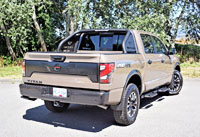 The Titan's sole V8 displaces 5.6 litres and makes 400 horsepower plus 413 lb-ft of torque; the XD's turbo-diesel was discontinued for 2020. Part-time four-wheel drive is standard in Canada, with no lower priced rear-drive alternative, but it must be said the Titan's nine-speed automatic transmission certainly gives it an edge compared to some competitors, Toyota's Tundra only offering six forward speeds. Still, Ford uses a 10-speed automatic in all of its full-size trucks, while GM offers the same transmission (literally) in some of its large pickups.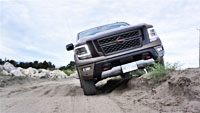 Notably, Nissan Canada's retail site never bothered updating its Titan page with a 2021 model (clearly displaying the 2020 truck instead), even though the brand's dealers continue to advertise the newer model year, plus third-party car sites, such as CarCostCanada, have integrated all 2021 specs along with the elimination of base S trim, which was $50,498 before, and addition of a new base 2021 SV trim for $63,698. Now (June 30, 2021), Nissan isn't even showing trucks as an option on its side pull-down menu, strangely hoping would-be 2022 Frontier customers manage find the redesigned model in its "Future & Concept" section.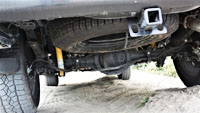 The just-mentioned 2021 base price doesn't come anywhere near to matching the entry prices of the Titan's domestic rivals, by the way, with the class-dominating F-150 starting at just $34,079, which isn't even as affordable as the base Chevy Silverado 1500's $32,048 entry point, or for that matter the Sierra 1500's lowest window sticker of $33,248. The least expensive Ram 1500 Classic is priced just a bit higher at $36,890, and the aforementioned Tundra significantly more at $47,010. Compare those numbers to the Titan's $63,698 base price, and it's easy to understand how it might be difficult to get someone's attention, unless they clearly understood that similar equipment and trim levels sold by all of the above cost around the same.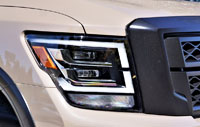 Unfortunately, that's not how we tend to buy vehicles. There's a reason that dealers advertise a vehicle's base price, after all. We might initially become interested in a Silverado because it's the lowest priced truck on the market, but after we get sold on one with more features, we quickly forget about the initial "loss leader" that motivated us to come down to that particular dealer in the first place. Soon it's all about how much you can afford each month, and the sales team turns you over to the finance department.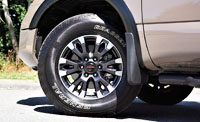 To be clear, the domestic trucks' lower prices are mostly due to their inclusion of regular cab body styles, multiple engine choices, and a whole lot of additional trims, with the cheapest of each U.S. brand's truck focused more on attracting high-volume commercial fleet buyers. The sheer volume of such trucks sold actually allows for the seemingly endless cab, bed, engine, drivetrain and trim combinations to exist, making it possible for a buyer to configure a truck exactly the way they want. Most pickup truck consumers, however, would rather buy a well-equipped four-door pickup, which is the key reason Nissan and Toyota only offer such variants.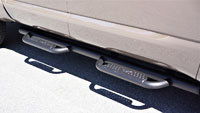 The Titan I most recently tested was a Crew Cab Pro-4X optimized for off-road work and pleasure. So equipped, it's priced at $66,998, which is right in the realm of pricing acceptability for this class of truck. As stated earlier, the sales leads enjoyed by Nissan's rivals have nothing to do with any specific competencies over the Titan. It's a tough, capable on- and off-roader with better than average expected reliability, beefy towing and payload capacities of 9,270 lbs and 1,580 lbs respectively, plus no shortage of style. I think the Titan's recently refreshed design, and particularly my Pro-4X-trimmed test model's upgrades, look great, while Nissan's interior finishing was even a bit more refined than some of its competitors.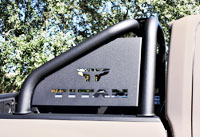 In detail, the Pro-4X's dash top was completely covered in a padded soft leather-like synthetic with cool orange contrast stitching, while others only apply hard plastic to this area. This said, Nissan only uses hard-shell composites for the Titan's door uppers, which makes them uncomfortable for those who like to rest their elbow next to the side window. The Titan does provide nicely padded leatherette door inserts above even more comfortable armrests, also featuring contrasting thread work, while the Japanese model gets even more pampering with a soft, padded bolster ahead of the front passenger.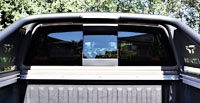 The Titan Pro-4X' seats also include contrast stitching, complete with the model's "PRO-4X" logo embroidered into their backsides, but their wide, flat shape didn't allow much side support for my smaller body type. The driver's seat was multi-adjustable, however, providing good positioning, but its two-way powered lumbar support never met up with the small of my back as well as others do in this class. At least it was roomy and accommodating.
Rear occupants get limousine-like legroom, while seat comfort in back is decent enough. An airy panoramic sunroof made my tester feel even more spacious, while rear outboard passengers get the comfort of a warmer behind thanks a set of seat heaters.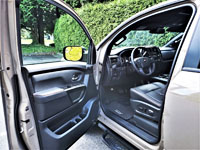 Back up front, the Titan Pro-4X' steering wheel is leather-wrapped with sporty thumb indentations for optimizing comfort and control, plus yet more contrast stitching gave it plenty of style to go along with its heatable rim (not available with every rival), while Nissan's multi-information display is also larger and filled with more features than some others in the class, but is missing some useful ancillary dials within a primary gauge cluster that's otherwise analogue.
The Titan's centre touchscreen is fairly large and plenty colourful too (the permanent blemishes to my test model's display were due to a previous journalist's ammonia-infused wipe down), with no shortage of functions either. High-quality switchgear could be found through the cabin as well.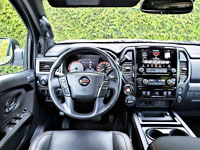 I learned how to drive using column-shifters, so naturally didn't mind swapping cogs next to the Titan's steering wheel. The arrangement (also used by Mercedes for most of its cars) frees space up on the lower console as well. The aforementioned nine-speed auto was updated by two forward gears for 2020, and delivers smooth, positive shifts via fast kickdowns when needing to take off quickly. And yes, the Titan sprints away from stoplights with little hesitation, blasts past slower moving highway traffic with only a hint of provocation, and provides a soul-stirring V8 snarl while doing so.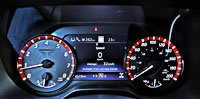 Like most trucks in this segment, the Titan rides on a fully-boxed frame and uses an independent suspension up front plus traditional leaf springs in back, which provide good composure over the majority of surfaces. The Ram 1500 is the only large truck that utilizes coil springs all-round, while all trucks in this class use steel for their cabs and boxes, other than the F-150 that's significantly lighter due to an aluminum out shell.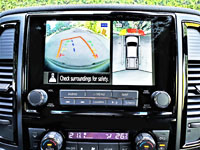 Nissan has an enviable 4×4 heritage, which left me with no concerns about going off-road with the Titan. It features a dial for engaging two- and four-wheel drive high, plus four-low when the going got tough, while its electronic and mechanical driving aids not only aid handling during slippery condition on pavement, but help overcome challenges on the trail as well. Therefore, it was easy to crawl over rocks and logs before swamping through ruts and mud-soaked pits, not to mention plenty of deep sandy spits, while generous suspension travel helped make the Titan's ride comfortable at all times.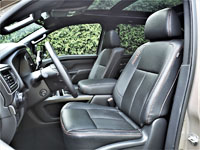 When it comes to reliability, plus resale value, the Titan should fare well over time. Yes, I know it's being discontinued, which never helps when trying to predict the latter, but Nissan has a great reputation for holding values overall, and trucks tend to do better than cars in today's market. There are even some models that start going up in value, something we've seen with well-cared-for examples of the Xterra and earlier off-road capable versions of the Pathfinder in recent years. The Armada may experience similar depreciation resilience if the overland trend continues, so it makes sense that trucks like this Titan will also hold onto their value in the used market.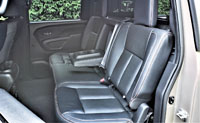 After everything is done and said, the Titan isn't perfect, but it scores high in all the categories it needs to, particularly its better than average expected reliability, impressive refinement, well-stocked features, thoughtful design, solid construction, and potent powertrain. It's not even that bad on fuel with a claimed combined city/highway rating of 13.3 L/100km, so you might just want to snatch one up before all the new ones are forever gone from this country.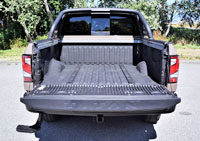 Nissan is currently offering up to $6,500 in additional incentives when purchasing a new 2021 Titan or Titan XD, with CarCostCanada members saving an average of $8,500 thanks to dealer invoice pricing, which gives them an edge when negotiating. Find out how this advantage will benefit you when buying your next new vehicle, and also be sure to download the free CarCostCanada app from the Apple Store or Google Play Store now, so you can have all of this vital information at your fingertips when you need it most.
Review and photos by Trevor Hofmann