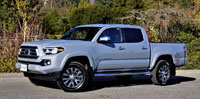 To say that Toyota's Tacoma is merely king of the mid-size pickup truck hill is a complete understatement. In reality, it's king of every single hill it climbs up on, from sales success and dependability dominance, to repeated residual value prowess, the Tacoma sits on top of pretty well every metric is competes in. Above that, it's easily one of the best-looking trucks in the segment, at least equal in interior and driving refinement to its peers, legendarily capable off-road, supported by more aftermarket suppliers than any competitor, as well as a deep well of OEM TRD parts, backed up by more years of truck heritage than any Japanese rival, and thanks to all of the above the "Taco", as owners like to call it, is beloved by a massive diehard fanbase the world over.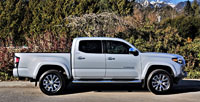 Such street and trail cred could cause an automaker to merely ride on the coattails of a model's good name, but fortunately for the Tacoma, Toyota has steadily improved it over the 25 years it's been available, or 52 years if we also count its predecessor that was simply named "Pickup". Toyota's truck heritage goes further back than that, however, its 1935 G1 even predating the Toyota brand name, due to being developed under a then-new automotive division established within the Toyoda Automatic Loom company, while its first compact pickup was the Toyopet SB produced in 1947. The earliest Toyota truck you'll likely find in North America is the Stout that arrived here in 1964, but most enthusiasts will only be familiar with the first five generations of the now classic Pickup, along with the following three generations of Tacoma.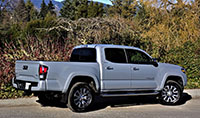 Enough history, what matters is the Tacoma we have here and now. Until 2024 rolls around, when the current model is expected to arrive in redesigned form, today's 2020 Tacoma is as attractive as mid-size trucks get. The model tested was dressed up in Limited trim, which is as premium as this model gets at $50,750 (plus freight and fees). You won't be in the cheap seats with the base Tacoma 4×4 Access Cab SR either, thanks to a starting price of $37,450, with the same standard trim in the full four-door Double Cab body style costing just $1,000 more at $38,450.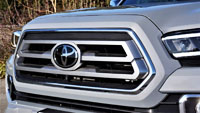 That's how Toyota delivered mine, although my Tacoma 4×4 Double Cab V6 Limited trimmed version came with the one-foot stubbier five-foot short bed in back, which is how most owners buy this truck. I have to say, as classy as this Limited model is, I prefer the tougher looking TRD Pro I spent a week with last year, although instead of a trim line in that latter truck, it's actually a $13,495 package that gets added on top of the $43,240 TRD Off-Road trim line, meaning it actually was thousands more than the more luxurious Limited I'm reviewing here.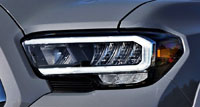 While all that's interesting (at least to me), what matters more right now are changes made to the 2020 Tacoma, such as the integration of a new infotainment system that measures 8.0 inches in all trims and package upgrades other than in the base SR that's 7.0 inches, while featuring Apple CarPlay, Android Auto and Amazon Alexa, not to mention new optional multi-terrain and bird's-eye view cameras for off-roading. The Toyota Safety Sense P (TSS-P) suite of active safety features was made standard across the entire range too, not that this would affect this top-line Limited model, which previously standard with features like Pre-Collision System with Pedestrian Detection, Lane Departure Alert with Sway Warning System, Automatic High Beams and High-Speed Dynamic Radar Cruise Control (DRCC).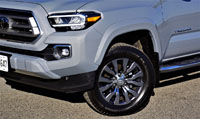 For folks who want a smaller luxury truck, this Tacoma Limited is ideal. Along with standard LED headlights, LED DRLs and fog lamps, plus a tasteful assortment of bright metal bits on the outside, including a classy new grille design, chrome taillamp inserts, and a fresh set of silver-finish 18-inch alloys, access to the Limited model's interior now includes an upgraded proximity-sensing Smart Key system for the passenger door, which leads to more premium-like materials as well as a new standard Panoramic View Monitor (PVM) for the driver.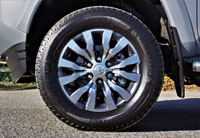 Some of those materials include a leather-wrapped steering wheel and shift knob, leather seat surfaces, pushbutton ignition, really helpful front and rear parking sensors, an equally useful overhead parking camera, a great sounding seven-speaker JBL audio setup, and a somewhat awkwardly named "Connected Services by Toyota Premium Audio with Remote" system that includes embedded navigation with Destination Assist, Remote Connect, plus Service and Connect.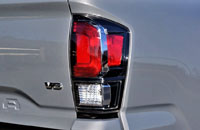 The new Limited's finishings are nicer than I remember previous iterations being. It features an attractive padded leatherette bolster ahead of the front passenger, plus padded leatherette half-door uppers that flow downward to become inserts overtop comfortable armrests front and back. This was never supposed to be a luxurious truck, but the Limited's leather seat upholstery is plenty nice, with a sharp-looking square pattern embossed into each cushion's centre panel. Additionally, the leather on the steering wheel includes grippy, perforated hides to each side, plus regular smooth skins on the top and bottom. There's a good assortment of satin-finish metallic accents too, brightening key details, resulting in a truck that's a cut above every other Tacoma trim as well as many rivals, without losing any of this pickup's legendary rugged, purposeful, tool-like status.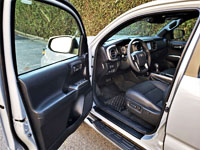 As mentioned a moment ago, the biggest improvement for 2020 is the infotainment system, which now looks as thoroughly modern as anything else in Toyota's lineup. I like that it still includes rotating dials for power/volume and tuning/scrolling, plus a row of analogue buttons down each side that provide quick access to key features. The interface itself shows Toyota's latest Entune design, which is mostly made up of grey tones with splashes of colour when highlighting important info or audio graphics. It's a totally understated design, but I have to say I like it a lot more now, after many weeks of testing in other Toyota models, than I initially did. It reliably responds to prompts quickly, its route guidance is easy to set up and accurate, and it just works well all-round. I also love that this truck has wireless device charging, Toyota having been ahead of the curve with this ultra-convenient feature.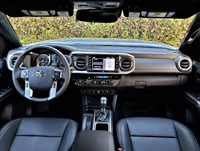 Then again, I don't understand why Toyota advertises telescopic steering and only allows about an inch worth of reach extension. Fortunately, Toyota has recognized this problem and therefore started extending the telescopic reach of its steering wheels to fit more body types, so we'll need to see how they do with future Tacomas. At least the leather-wrapped rim is nicely finished, and the switchgear on each spoke highly functional, as are the buttons, knobs, toggles and rocker switches throughout the rest of the cabin.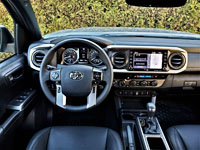 Other than the steering column's telescopic shortcomings, the eight-way power-adjustable driver's seat is comfortable and the overall layout of cockpit controls is very good, as is the rear seating area as far as roominess goes, where I found plenty of leg and foot room, good space overhead and from side-to-side, plus good back support from the outboard seats. Leather seat surfaces aside, there's not much in back to give rear passengers a "Limited" experience, due to Toyota missing the opportunity to install a rear centre armrest as well as rear HVAC vents, let alone any USB charging ports or heatable outboard seats, resulting in fairly stark accommodations.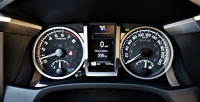 The lower rear cushions flip forward to expose handy lidded cargo compartments, however, plus they fold down for securely stowing larger items on top, a process that unveils yet more storage space in behind. Of course, the Tacoma's outer box is best for heavier hauling. It's spray-on lined bed is capable of carrying between 1,095 and 1,285 lbs (497 and 583 kilos) of payload, depending on trim, although its usefulness is somewhat negated by not providing standard corner steps like GM's trucks include, to help older guys like me rise the occasion (although your dealer can bolt on a retractable one from the TRD catalogue), but Toyota does provide this model with a standard cab-mounted bed lamp to assist during nighttime loading, while a 400-watt (120V) cargo bed power outlet is really helpful when using the tailgate as a makeshift outdoor workbench.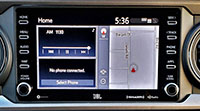 I should also mention the Tacoma is an excellent hauler, thanks to an available hitch that can help it trailer up to 6,500 lbs (2,950 kg) when upgraded with its aforementioned tow package. That's not quite as strong as some in this class, the Gladiator capable of up to 7,650 lbs (3,469 kg) on its hitch, but it should be sufficient for most owners' needs.
Load or not, the Tacoma Limited rides nicely for a midsize pickup truck, especially one with rear leaf springs, with on-pavement handling about average for the class. Honda's Ridgeline is the clear winner of the latter, but its slowest-in-class sales clearly show this isn't a critical factor amongst mid-size truck buyers, a much more important one being off-road prowess.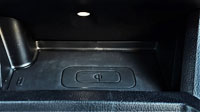 In this regard, the Tacoma is legend, evidenced by the sheer number of in-house TRD and aftermarket 4×4 parts available to enthusiasts, not to mention the countless Taco off-roading clubs, desert race truck entries, etcetera. Chevy's 4×4-focused Colorado ZR2 or Jeep's new Wrangler-based Gladiator (especially in Rubicon, desert-rated Mojave or mountain-focused High Altitude trims) probably put up the most serious off-road challenge against Toyota's Tacoma TRD Pro, at least until the Raptor-ized Ford Ranger arrives in a few years, or for that matter the ZR2-version of GMC's Canyon that's rumoured to be due around the same time, and of course, we'll need to see how the expected updated Nissan Frontier does in the wild when in shows up a bit sooner than the last two, outfitted in its sportiest PRO-4X guise no doubt, but this Limited-trimmed Tacoma is no slouch off the beaten path either.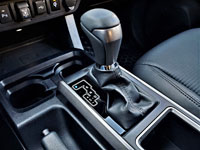 While I've tested the current Frontier over gravel and rock, through mud, sand and water, and plenty of other obstacles years back, it's now so old that only diehard Nissan fans would even consider it against a modern-day Tacoma, and even then, it would probably be a financially-based decision, but instead the hardly freshly minted Taco provides superb 4×4 chops with many more advancements than its once arch-rival. It made easy work of a favourite off-road course, although to be clear my local town's government had since closed down the best part, another sliver of fun-loving nature turned over to developers for yet more waterfront condos. Nevertheless, I drove it over what remained, and while there were no deeply rutted mud trenches to dig itself out of, or miniature lakes to drive through, there was plenty of gravel, sand and other opportunities to get unstuck. Of course, it was a cakewalk for the Tacoma, even in plusher Limited trim, only requiring me to get out for photos (instead of testing the depth of those just-noted lakes, like I was forced to do on previous excursions).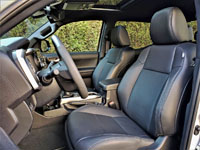 I'm comfortable letting the Tacoma's reputation fend for itself for this review, not to mention the many opportunities I've previously taken to test out the model's mettle in its backcountry element. Similarly, I'm willing to let third-party analytical firms toot Toyota's horn when it comes to dependability, all of which place the Japanese company at or near the top of the auto industry, while as importantly the Tacoma regularly hovers above its peers where it can matter most, resale and residual values that truly tell how much you end up paying for a vehicle over time.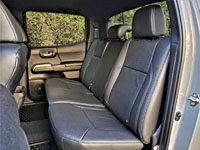 To be specific, the Tacoma earned top marks in Vincentric's Best Value in Canada Awards for its "Small/Mid-Size Pickup" class in the Consumer category, the number one choice in the "Midsize Pickup" segment of J.D. Power's 2021 Canada ALG Residual Value Awards, and the highest possible ranking in the "Small Pick-up" category of Canadian Black Book's (CBB) 2020 Best Retained Value Awards.
One of the reasons the Tacoma holds its value so strongly throughout the years, the just-noted reliability of its well-proven powertrain. My tester's top-line trim starts with Toyota's venerable 3.5-litre DOHC V6 featuring VVT-I technology, which does a pretty good job of balancing performance and fuel economy with the dependability that fans of the Japanese brand appreciate. It makes a formidable 278-horsepower and 265 lb-ft of torque, up 119 hp and 85 lb-ft of twist over the truck's base 2.7-litre DOHC four-cylinder, while both come mated to an electronically controlled six-speed automatic transmission (ECT-i) as standard equipment. Depending on trim, a six-speed manual can be optioned for six-cylinder models, while part-time four-wheel drive is standard on all trims above the base truck that offers rear-wheel drive in its most affordable form.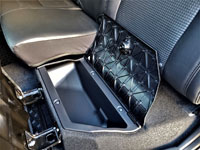 The Tacoma's fuel economy rated at a claimed 12.1 L/100km city, 10.1 highway and 11.2 combined in the latter 2WD trim, while the same truck in 4WD gets a 12.7 L/100km city, 10.6 highway and 11.7 combined rating. Lastly, larger, heavier Double Cab variants like my tester are said to be capable of 13.8 L/100km in the city, 11.7 on the highway and 12.9 combined, with my Limited model measuring up to these estimates when driving modestly. While these numbers are not best-in-class, no doubt due in part to the just-mentioned six-speed autobox, that component's verifiable reliability, as well as the build quality of the entire drivetrain, makes a little more fuel used over the duration of its lifecycle worth it to most buyers.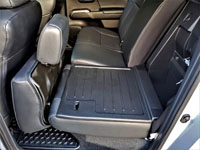 To put that last point into perspective, 12,536 Canadians purchased a new Tacoma in 2019, while 2020 has been looking like it will be even stronger for Toyota's entry-level pickup. The only automaker to beat Toyota in this segment last year was General Motors that managed a cool 14,067 collective units from both its Chevy and GMC brands, although if we're measuring individual models against each other the Colorado only managed second with 8,531 examples sold throughout 2019, and the Canyon a mere fourth with 5,536 buyers to its name. As you might have guessed, the Ranger was third with 6,603 sales last year, the Frontier fifth with 3,723, the Ridgeline sixth with 3,405, and finally the Gladiator was seventh and last with 3,050 deliveries, although that rather pricey newbie only entered the market last year, so it wasn't available for the entire 12 months.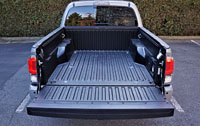 Despite Toyota having some strong competitors in this market, which will only become fiercer once updated rivals arrive, I believe the Tacoma will become even more popular in the coming years, while others in the class struggle to win over new buyers. Market share is critical in the pickup truck sector, something Toyota has learned in reverse when it comes to selling its full-size Tundra, and the Taco has earned faithful fans like no other. For that reason, it's my best bet in the class over the long haul, and reason enough for you to either maintain your loyalty or choose it over one of its challengers.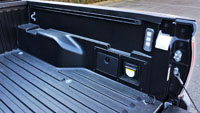 To find out more about all Tacoma trim levels, including pricing (with a complete configurator to build out all available features) check out CarCostCanada's 2020 Toyota Tacoma Canada Prices page, plus make sure to click on any of the links above to check out all of the Tacoma's competitors along with other vehicles mentioned in this review. A CarCostCanada membership can help you save thousands off of your next new vehicle purchase thanks to accessing dealer invoice pricing before you start negotiating, plus members can gain additional valuable information. Find out how the CarCostCanada system works, and be sure to download their free app from the Google Play Store or Apple Store while you're at it.
Review and photos by Trevor Hofmann