After thirteen months of service and over 22,000 kilometres our Kona Blue 2016 Ford Focus Electric continues to provide very quiet, trouble free, and emissions-less service. Life with the Focus has been extremely pleasant, almost without compromise.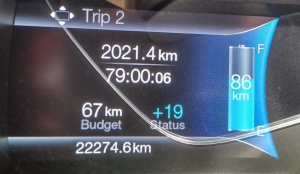 Typical days involve about 80 kilometres of mixed city traffic and high-speed travel. Here in Ontario, the High Occupancy Vehicle lane allows electric vehicles to utilize these lanes, which tends to save about 15 minutes of commuting time each way to the office.
On some days the Focus has been pressed into service to carry hockey bags and sticks as far as 65 kilometers each way. During the winter months, when the use of the heater cuts into the available range, these trips need to be carefully planned. Such is life with a generation-one electric car.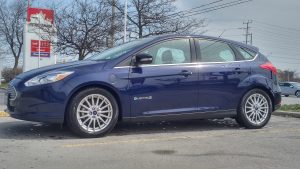 As you can imagine, the driver of a gasoline-powered Focus would not have to plan quite so carefully. But with the cost of regular no-lead fuel approaching $1.20 per litre, the economic benefit of an electric vehicle is becoming more evident each month.
Check out our detailed story after the Focus achieves her one year anniversary next month.