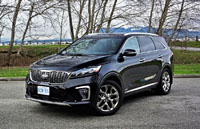 Back when first driving a 2016 Sorento, I found myself reveling in its sumptuous supply of soft-touch cabin surfaces including Nappa leather, wowed by the mainstream volume-branded rarity of finding fabric-wrapped roof pillars all around, impressed by its large full-colour high-resolution infotainment touchscreen, surprised by its small but potent 240-horsepower 2.0-litre turbocharged four-cylinder powertrain, and buoyed by its general goodness overall.
You'd think with not much changing since then, plus an even more potent V6 on the menu, it would remain high on my list of praiseworthy mid-size crossovers, and indeed it does except for one important detail, since testing the latest 2019 Sorento I've also spent a week with the all-new 2020 Telluride, so I'm no longer recommending the Sorento quite as highly for three-row crossover SUV shoppers.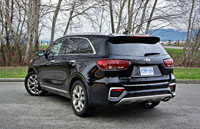 Granted the optional seven-seat Sorento's price range slots in much further down Kia's model hierarchy, starting at $32,795 for the EX 2.4 and topping off with this as-tested 3.3-litre V6-powered $49,165 SXL for 2019, compared to a new premium-level base of $44,995 and considerably higher climb up to $53,995 for the larger Telluride's SX Limited with Nappa. As one would expect, the advent of the Telluride and expected arrival of a completely redesigned 2021 Sorento sometime next year has already resulted in Kia reshuffling the carryover 2020 Sorento's trim lines, with the base LX FWD and this top-line SXL being axed from the lineup, so you'd better get a move on if you want either.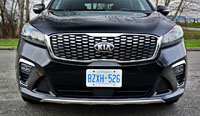 As for what we should expect from the upcoming 2021 Sorento, it will likely follow the current-generation Hyundai Santa Fe that shares its underpinnings, the latter model now only available with two rows and a maximum of five occupants, because Kia's parent brand has introduced its own version of the Telluride this year as well, dubbed Palisade. That new seven-passenger Hyundai starts more affordably than the Telluride, in fact, with a base price of just $38,499, so it's likely next year's Telluride will gain a lower-end SX trim to slot under the current base Palisade in order to provide a three-row SUV option for less affluent Kia buyers once this seven-occupant Sorento is gone. Got that?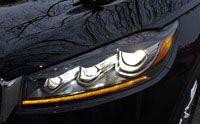 I said earlier that not much had changed since the Sorento's 2016 redesign, but in fact it received a mid-cycle update for 2019, featuring an ever-so subtle restyling, a new eight-speed automatic transmission for its optional 3.3-litre V6, and unfortunately the discontinuation of the 2.0-litre turbo-four that I paid tribute to at the beginning of this review (a strange move, being that most rivals are replacing their top-line six-cylinder engines with turbo fours to improve fuel economy, but likely a stopgap measure before the next-generation Sorento arrives).
Specifically, the 2.4, which makes 185 horsepower and 178 lb-ft of torque, is now used for LX FWD, LX and EX 2.4 trims, while the 3.3, good for 290 horsepower and 252 lb-ft of torque, adds strength to the LX V6, EX, EX Premium, SX, and SXL models. The six-speed automatic carries over for four-cylinder powered Sorentos, with the new eight-speed only benefiting the V6, while you may have already guessed that all trims but the LX FWD incorporate Kia's all-wheel drive system.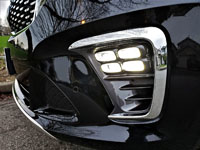 The eight-speed auto was added for its fuel economy advantages, although its ability to stay within the engine's most formidable rev range due to shorter shift increments helps performance as well, still Kia will be touting its claimed rating of 12.5 L/100km city, 9.7 highway and 11.2 combined, which compares favourably against the 2018 Sorento V6 AWD in the city, its rating of 13.2 L/100km obviously thirstier, yet oddly doesn't do anywhere near as well on the highway, the outgoing model achieving a more advantageous 9.3 L/100km rating. So what exactly did Kia use the new eight-speed transmission's two final gears for? The V6 eight-speed combo is better for those that spend most of their driving time in town, and promises a 0.2 L/100km advantage in combined city/highway travel, but from a fuel economy standpoint the upgrade hardly seems worth the effort.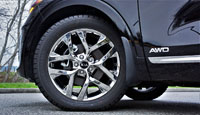 Just in case you were questioning how well the old 2.0-litre turbo-four compared, it managed a rating of 12.3 L/100km city, 9.4 highway and 11.0 combined, whereas this engine combined with the new eight-speed automatic in the totally redesigned 2019 Hyundai Santa Fe (which rides on the same all-new platform architecture the 2021 Sorento will adopt) is rated at 12.3 city, 9.8 highway and 11.2 combined—yah, go figure.
As for the base 2.4, it manages 10.7 L/100km city, 8.2 highway and 9.5 combined with its FWD driveline, which represents a significant improvement in the city over last year's Sorento with the same powertrain that could only muster 11.2 L/100km city, 8.3 highway and 9.9 combined despite no stated changes (so it must come down to gear ratio modifications), while the 2019 Sorento 2.4 AWD gets a claimed 11.2 L/100km city, 9.0 highway and 10.2 combined rating, compared to 11.5, 9.3 and 10.5 last year.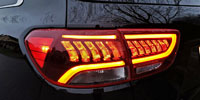 Speaking of claims, Kia says this 2019 Sorento includes a new grille, but I certainly can't see any difference from the outgoing one, although the hood and lower front fascia have changed, the latter particularly noticeable at each corner where top-tier SX and SXL trims' trademark quad of LED fog lamps have been halved in size and now combine with what appear to be slatted brake vents just below, not to mention they're now surrounded by taller, more V-shaped chromed bezels.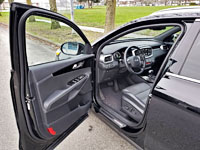 The chrome door handles, side window surrounds and silver roof rails were part of my 2016 SX model too, but the chrome rocker mouldings, 19-inch chrome alloy wheels, and totally reworked rear bumper filled with metal brightwork too, are new. The update makes the Sorento a bit classier than the outgoing model's sportier look, chrome often having this effect.
Also part of the 2019 makeover, revised headlamps and taillights include full LEDs at both ends in SX and SXL trims, plus LED daytime running lights embedded within the headlights and the aforementioned LED fogs. Lesser trims utilize new projector beam headlamps with LED positioning lights, projector beam fog lamps (on LX V6 trim to EX Premium), and conventional taillights in an attractive new design. Additional outer changes include new alloy wheels ranging from 17, 18 and 19 inches and shod with 235/65R17, 235/60R18 and 235/55R19 all-season tires depending on trim, plus new colours.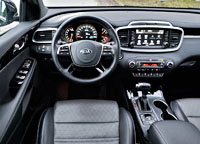 Inside, the 2019 Sorento features a new steering wheel, a mostly digital primary gauge cluster filled with electroluminescent dials to each side of a TFT speedometer that doubles as a fully functional colour multi-information display, plus improvements to the centre stack and infotainment system, the latter now including standard Apple CarPlay and Android Auto. New optional wireless smartphone charging adds a level of convenience I happen to really appreciate, while newly available advanced driver assistance systems include lane keeping assist and driver attention warning.
The latter two safety features are only part of the top-line SXL trim line, that model also the only trim to provide forward collision-avoidance assist, which is unusual in a market that's now starting to offer automatic emergency braking in base models, but it's not out of the ordinary to require a move up to a mid-range trim for blind spot detection with rear cross-traffic alert, these two features standard with the Sorento's EX model. The rest of the Sorento's safety equipment is the usual standard fare, included right across the board.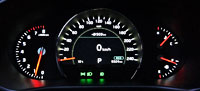 The aforementioned base LX FWD starts at just $28,295 and is therefore quite the value proposition when compared to the rest of the mid-size field that are all priced higher, especially when considering it comes standard with 17-inch alloy wheels, auto on/off headlamps, chrome door handles, a leather-wrapped multifunction heatable steering wheel, Drive Mode Select with default Comfort, Eco, Sport and Smart settings, three-way heated front seats, a 7.0-inch infotainment display with aforementioned Apple and Android smartphone integration and a backup camera, plus six-speaker audio, and the list goes on and on.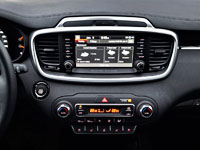 Adding AWD to the base LX increases the price by $2,300 to $30,595 yet also provides roof rails, proximity-sensing access with pushbutton ignition and a wireless phone charger, while the same trim with the V6 and AWD increases the base price by $4,500 to $35,095 and ups content to include fog lamps, a sound-reducing windshield, turn signals integrated within the side mirror caps, an auto-dimming rearview mirror, dual-zone automatic climate control with auto-defog and separate third-row fan speed/air-con adjusters, UVO Intelligence connected car services, satellite radio, an eight-way power-adjustable driver's seat with two-way powered lumbar support, a third row for seven-occupant seating, trailer pre-wiring, plus more.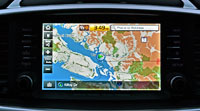 For $2,300 less than the LX V6 AWD and $2,200 more than the LX AWD, four-cylinder-powered $32,795 EX 2.4 trim includes the just noted fog lights, powered driver's seat, and seven-passenger capacity of the six-cylinder model while adding a glossy grille insert and leather upholstery, whereas the $38,665 EX with the V6 and AWD builds on both the LX V6 AWD and EX 2.4 with 18-inch machined-finish alloy wheels, an upgraded Supervision LCD/TFT instrument cluster, express up/down powered windows with obstacle detection all-round, and a household-style 110-volt power inverter, while EX Premium trim starts $2,500 higher at $41,165, yet adds such luxuries as front and rear parking sensors, power-folding side mirrors, LED interior lighting, an eight-way powered front passenger's seat, a panoramic glass sunroof, rear door sunshades, and a powered liftgate with smart access.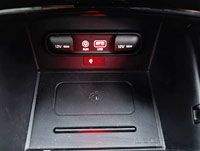 Those wanting to step up to a true luxury experience that rivals some premium brands can opt for the Sorento SX that, for $4,000 more than the EX Premium at $45,165, provides most everything already mentioned plus 19-inch alloys, a chrome grille, stainless steel skid plates front and back, a stainless steel exhaust tip, chromed roof rails, dynamic directionally-adaptive full LED headlights, upgraded LED fog lamps, bar type LED taillights, sound-reducing front side glass, illuminated stainless steel front door scuff plates, perforated premium leather upholstery, and a larger 8.0-inch infotainment touchscreen endowed with rich colours and deep contrast, plus crisp resolution and quick reaction to tap, pinch and swipe finger gestures. The included navigation gets nicely detailed maps and accurate route guidance, while SX trim also features superb 10-speaker Harman/Kardon premium audio, three-way ventilated front seats, heatable rear window seats, and more.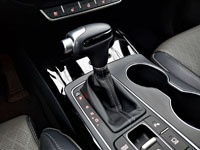 Lastly, the as-tested Sorento SXL costs another $4,000 for an asking price of $49,165 before freight and fees, which incidentally is still quite a bit less than most fully loaded rivals, some of which don't even offer the level of high-grade equipment included in the previous trim, but over and above everything noted earlier this SXL adds softer Nappa leather upholstery, an electromechanical parking brake, a 360-degree surround parking camera with a split screen featuring a conventional rear view with dynamic guidelines on the left side and an overhead bird's-eye view on the right, plus high beam assist headlights, adaptive cruise control, and more.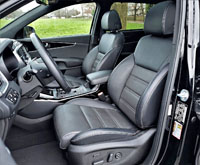 I sourced pricing for all 2019 Sorento trims, packages and standalone options from CarCostCanada, where you can also find money-saving rebate information as well as dealer invoice pricing that could save you thousands. In fact, there are up to $6,000 in additional incentives available to you on the 2019 Sorento right now, so make sure to check it out.
You'll need to head down to your local dealership to drive the Sorento, and when you do I'm guessing you'll be impressed. The V6 is ultra-smooth, as is the new eight-speed automatic that shifts almost seamlessly and quickly no matter the driving mode it's set in. I left it in default Comfort mode most of the time, but Eco mode was smooth as well and ideal for saving fuel, while Sport mode allowed the engine to rev higher and the gearbox to shift quicker, while Smart mode is a best of both world's scenario that takes note of how you're driving, the terrain and other parameters before automatically choosing the ideal mode.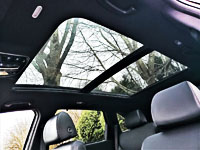 The suspension is wonderfully smooth, yet when pushed through tight corners it handles well for such a large SUV. Overall it's on the sportier side of seven-passenger competitors, yet it's excellent seats, pampering soft surfaces and other near-luxury qualities make it one of the more comfortable in its class.
With respect to the driver's seat, EX trims and above get four-way powered lumbar support that will ideally apply pressure to the small of your back no matter your stature, while the LX V6 and EX 2.4 trims' two-way lumbar is more of a hit-and-miss scenario. Interestingly, four-way lumbar isn't even a given in the upper-crust luxury-branded mid-size SUV class, with the industry's best-selling Lexus RX 350 only making it available with its $63,950 Luxury or $69,850 Executive packages, and not available at all if you want the model's even pricier two F Sport upgrades, while four-way powered lumbar isn't even available with Infiniti's QX60. Another bonus for the Sorento is a lower driver's seat cushion that extends outward to comfortably cup below the knees for an extra measure of support. The Nappa leather is also impressive, and in fact some of the nicest you'll find in the mainstream volume sector.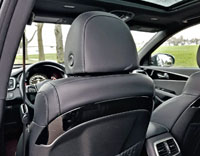 While the second-row is very roomy and nearly as comfortable as that up front, the Sorento's rearmost seats are best for smaller to medium-sized kids, with the Telluride your better option if needing to transport larger teens or adults in the very back. 
Some details that are especially nice include the piano black lacquered trim pieces on the backsides of the front seats, that are rarely seen on anything this side of a Bentley or Rolls-Royce. It's an old English luxury look not used much these days, but a quick look back at my 2019 Genesis G90 review (a car that shares underpinnings with the now discontinued—in Canada—Kia K900) where hardwood is used in the same way, helps us realize where Kia came up with the idea (you'll need to scroll through the photos until you get to the back seat). The Sorento SXL also includes black lacquered trim on the steering wheel, dash and centre console, plus across each door, but as nice as it looks when new I'm concerned it will scratch easily as it ages.
Anyone regularly loading long cargo like skis into the very back will no doubt appreciate how Kia split up the second row. Instead of the usual 60/40 divide, while takes one of the window seats out of action when the smaller portion is laid flat, the Sorento incorporates what I believe to be the best 40/20/40-split solution, which allows both rear passengers to enjoy the more comfortable and visually optimal window positions, plus the previously noted heatable rear cushions if so equipped. This feature, normally only offered by pricier European SUV makers, is a major dealmaker for me, and should be considered by those choosing an SUV for practicality.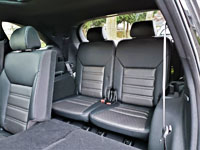 I also appreciated the folding seat release levers attached to the cargo wall, which lower each side automatically. To be clear, the 20-percent centre portion needs to be done manually, this portion only dropping automatically as part of the 60-percent portion on the driver's side, whereas some vehicles actually include three levers so each portion can drop individually, but this is still a much better system than any competitor in this class offers.
The seats drop right down and lock securely into place, resulting in a spacious, flat-loading floor that measures 2,082 litres (73.5 cu ft) behind the first row in the lowest two trims or 2,066 litres (73.0 cu ft) in the LX V6 and above, 1,099 litres (38.8 cu ft) and 1,077 litres (38.0 cu ft) respectively behind the second row, and 320 litres (11.3 cu ft) behind the third row. There's a bit of extra storage space under the removable cargo floor, which even allows the retractable cargo cover to be securely stowed away when not in use.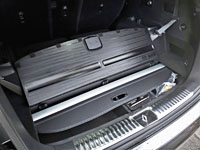 It's these types of details that make the Sorento such a cut above most competitors. This is true for many of Kia's models, the new Telluride noted earlier especially impressive. The Korean brand often goes above and beyond its competitors, clearly setting itself apart, which is necessary for one of Canada's newest brands. They lack the luxury of resting on their laurels, and even this well-proven Sorento, a model that's served Canadian buyers mostly unchanged for years, proves this point as well today as it did in 2015 when generation-three arrived.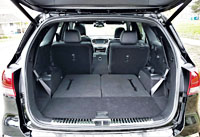 No wonder the Sorento has maintained sales leadership amongst its three-row mid-size SUV peers, its year-to-date Q3 sales of 12,997 units well ahead of every seven-row competitor, with the next most popular Toyota Highlander at just 10,205 deliveries, Dodge Durango with 8,082, the Ford Explorer at just 6,955 (although it's changing over to a new 2020 design this year, so we'll cut it some slack), VW Atlas with 6,682, Honda Pilot with 5,886, Chevy Traverse with 4,669, Nissan Pathfinder with 4,564, GMC Acadia with 3,589, Mazda CX-9 with 3,166, Subaru Ascent with 3,027, and now discontinued Ford Flex with 2,418. By the way, the new 2020 Telluride has only been with us since March yet found 2,386 new buyers, while the Palisade, introduced in June, has already earned 2,369 new sales.
Count them up. That's 15,383 (mostly) three-row mid-size sales for Kia, which is a 50-percent advantage over next-best Toyota. Not bad for a comparative upstart, and proof that combining good looking design with sound engineering and lots of bang for consumers' bucks results in success.