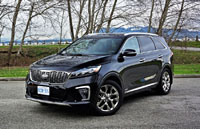 I don't have the statistics outside of the auto industry to back it up, but I'm pretty sure Canadians are less brand sensitive than Americans. 
Take Kia, a brand that celebrated its 74th birthday in December of 2018 yet has only been part of the Canadian automotive landscape since 1999, and the U.S. market since 1994. Yet despite a five-year advantage south of the 49th, and having invested in research and design centres in Ann Arbor, Michigan, California City and Irvine, California, plus a assembly plant in West Point, Georgia where the very Sorento that's now in our garage has been produced alongside the Optima mid-size sedan, and the Hyundai Santa Fe, since 2010, the just noted made-in-America SUV ranked a mere 10th in popularity amongst U.S.-market mid-size SUVs at the close of 2018, compared to fourth place here in Canada as of Q3 2018.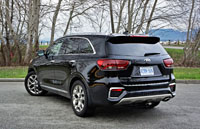 What's more, the Sorento is second most popular amongst SUVs that can seat seven, second amongst import brands (the other being the aforementioned Santa Fe that rides on the same platform architecture, which means it sells better than every Japanese nameplate), and first amongst three-row imports. Canadians roughly bought 60 percent more Sorentos in Canada per capita, and where the Santa Fe is number one here it sits ninth there. Similar stories can be found with other models in this category, which all go to corroborate my theory that Canadians are less brand-motivated than Americans, and appear to be driven more by quality and value.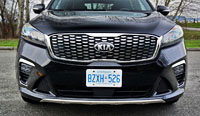 Feel free to assume this has something to do with a collective integrity-based ethos or some other positive attribute naturally bestowed upon Canadians, but it likely has more to do with being overtaxed at all levels of government, the latter which are even run more poorly than those in the U.S., especially with respect to fiscal management, leaving us with much less spending power than our friends to the south. More expendable income means they have the luxury of wasting some on higher priced brands, where in contrast we Canadians need to make sure our more highly depreciated dollars are spent as wisely as possible. Enter the Kia Sorento.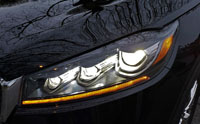 If you think by this intro the Sorento somehow offers less luxury than its contemporaries, let me set the record straight. Since 2002, when the first Sorento hit the market, it's been a driving force behind mainstream volume-branded crossover SUV improvement. This could be said for most every Kia, but it's especially true in this priciest category, which allows all participants to dress up their entries near premium levels in top-line trims. 
It just so happens the 2019 Sorento sitting in our driveway this week is outfitted in top-tier SXL trim, meaning that it not only comes with soft-touch surfacing in all the expected places, but boasts fabric-wrapped roof pillars from front to back. Such refinements are normally kept privy to the luxury class, but Kia breaks the rules in this respect and others in order to pamper Sorento occupants to a greater degree.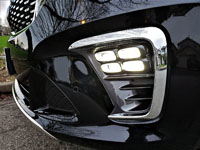 This being an "In Our Garage" story, any detail about comfort, quality and usability will be left for a full road test review, but suffice to say the Sorento still measures up to some of its newest mid-size SUV challengers despite hardly being the freshest entry in its class, this third-generation Sorento introduced to North Americans at the beginning of 2015 as a 2016 model, making it five calendar years and four model years into its run. That it receives a subtle facelift this year makes us believe this current generation will be around for another year or two before a complete redesign arrives.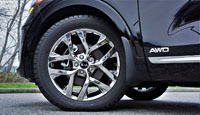 The changes include some styling tweaks to the grille, hood, headlights and rest of the front fascia, plus the taillights, rear bumper and of course its various wheels, while inside it gets a new steering wheel, reworked gauge cluster, updates to the centre stack and infotainment system, the latter now including standard Apple CarPlay and Android Auto, new optional wireless smartphone charging, plus more, while newly available advanced driver assistance system features now include lane keeping assist and driver attention warning. 
The lower console appears carryover as does its shift lever, but just below is an all-new eight-speed automatic in upgraded 3.3-litre V6 equipped Sorentos, this engine/transmission combination available in base LX and mid-grade EX trims, or standard with the EX Premium, SX and as-tested SXL. The base 2.4-litre four-cylinder engine and its six-speed automatic remain unchanged, but take note that last year's 2.0-litre turbocharged four-cylinder has been dropped, as has Kia's promise to provide a diesel, the latter following a trend away from oil burners and toward plug-in hybrid electric or full EVs for alternative powertrains, and the former going against current trends that sees smaller displacement turbocharged engines replacing V6 power.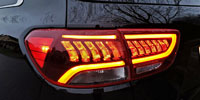 In fact, the all-new 2019 Hyundai Santa Fe, which rides on a new architecture the next-gen Sorento will eventually adopt, uses the same 2.4-litre four-cylinder base engine, making an identical 185 horsepower and 178 lb-ft of torque, and sporting the same 3.3-litre V6 with 290 horsepower and 252 lb-ft of torque in its larger three-row Santa Fe XL model, but the latter SUV hasn't changed one iota from the previous generation, even keeping its comparatively archaic six-speed autobox, so it's old tech in an old model. The 2.0-litre turbo is the top-line engine in the five-passenger Santa Fe, and interestingly makes 5 fewer horsepower than in last year's Sorento at 235, yet identical torque at 260 lb-ft. The elimination of Kia's 2.0-litre turbo is therefore a strange move, but a move up to a more efficient eight-speed automatic for the optional V6 is certainly welcome.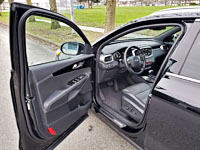 No doubt Sorento buyers helped make the choice for Kia, being that the V6 provides plentiful power and doesn't overly tax fuel economy with a new claimed rating of 12.5 L/100km in the city, 9.7 on the highway and 11.2 combined, which compares reasonably well to last year's V6/AWD Sorento in city yet oddly loses ground on the highway, which makes a personal ask exactly what Kia used the new eight-speed's two final gears for? The outgoing Sorento V6/AWD managed 13.2 L/100km in the city, 9.3 on the highway and 11.4 combined, incidentally.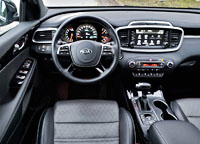 In case you were wondering how well the old 2.0-litre turbo did in comparison, it managed an estimated 12.3 city, 9.4 highway and 11.0 combined, whereas that engine mated up to an eight-speed auto in the new 2019 Santa Fe is good for 12.3, 9.8 and 11.2 respectively—yes, go figure. 
How about the base 2.4? With its base FWD driveline (that few will buy) it manages 10.7 city, 8.2 highway and 9.5 combined, which despite no changes represents a massive improvement to city mileage over last year's Sorento with the same powertrain that could only muster 11.2 L/100km city, 8.3 highway and 9.9 combined—it must come down to modifications to gear ratios—while the 2019 Sorento with its 2.4 AWD combination is claimed to be good for 11.2 city, 9.0 highway and 10.2 combined now, compared to 11.5, 9.3 and 10.5 last year.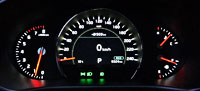 As noted, most won't choose front-wheel drive in Canada despite few needing it on the urban West Coast and most FWD sales occurring in snowbound Quebec, this latter choice reportedly due to Quebecois family budgetary challenges, that really shouldn't be as tight due to free daycare services, but nothing much makes sense in Canada these days. For the rest of Canadians, as mentioned before, AWD comes standard on trims above the base LX and mid-range EX.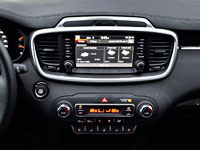 As tempting as it would be to rattle off every standard and optional feature available to 2019 Sorento buyers, because it would clearly show the model's value proposition over comparatively sized competitors that are all priced higher, a shorter list of unusually impressive features would tax minds and memories less, so for starters the base LX comes standard at just $27,995 (an identical MSRP to last year) with 17-inch alloy wheels, auto on/off projector headlamps, chromed door handles, a leather-wrapped multifunction heatable steering wheel, Drive Mode Select with default Comfort, Eco, Sport and Smart settings, three-way heated front seats, a 7.0-inch infotainment display with aforementioned Apple CarPlay, Android Auto and a backup camera, six-speaker audio, and more.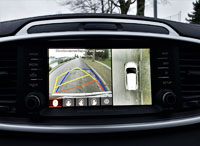 Adding AWD to the base LX increases the price by $2,300 to $30,295 yet also provides roof rails, proximity-sensing access with pushbutton ignition and a wireless phone charger, while the same trim with the V6 and AWD increases the base price by $4,500 to $34,795 and increases content to include fog lamps, a sound-reducing windshield, turn signals integrated within the side mirror caps, an auto-dimming rearview mirror, dual-zone automatic climate control with auto-defog, UVO Intelligence connected car services, satellite radio, an eight-way power-adjustable driver's seat with two-way powered lumbar support, a third row for seven-occupant seating, trailer pre-wiring, and more.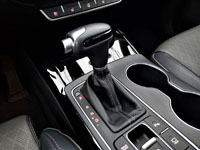 For $2,300 less than the LX V6 AWD and $2,200 more than the LX AWD, four-cylinder-powered $32,495 EX 2.4L trim includes the just noted fog lamps, powered driver's seat, and seven-passenger capacity of the six-cylinder model while adding a glossy grille insert and leather upholstery, whereas the $38,365 EX with the V6 and AWD builds on the both the LX V6 AWD and EX 2.4 with 18-inch machined-finish alloy wheels, an upgraded Supervision LCD/TFT instrument cluster, express up/down powered windows with obstacle detection all-round, a household-style 110-volt power inverter, and blindspot detection with rear cross-traffic alert, while EX Premium trim starts $2,500 higher at $40,865, yet adds such luxuries as front and rear parking sensors, power-folding side mirrors, LED interior lighting, an eight-way powered front passenger's seat, a panoramic glass sunroof, rear door sunshades, a powered liftgate with smart access.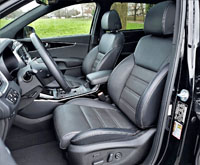 Those wanting to step up to a true luxury experience that rivals some premium brands can opt for the Sorento SX that, for $4,000 more than the EX Premium at $44,865, provides most everything already mentioned plus 19-inch alloys, a chrome grille, stainless steel skid plates front and back, a stainless steel exhaust tip, chromed roof rails, dynamic directionally-adaptive full LED headlights, upgraded LED fog lamps, bar type LED taillights, sound-reducing front side glass, illuminated stainless steel front door scuff plates, perforated premium leather upholstery, a larger 8.0-inch infotainment touchscreen with navigation, 10-speaker Harman/Kardon premium audio, ventilated front seats, heated rear outboard seats, and more.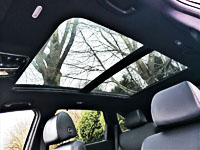 Lastly, the Sorento SXL in our garage adds another $4,000 for an asking price of $48,865 before freight and fees, which incidentally is still quite a bit less than most fully loaded rivals, some of which don't even offer the level of high-grade equipment included in the previous trim, but this SXL grade adds unique 19-inch chrome alloy wheels, softer Nappa leather upholstery, chrome side sill accents, an electromechanical parking brake, a 360-degree surround parking camera, and a host of advanced driver assist systems such as high beam assist headlights, adaptive cruise control, forward collision-avoidance assist, plus aforementioned lane keeping assist and driver attention alert. 
For all trims, options packages, standalone upgrades, available colours and more, plus otherwise difficult to find rebate information and dealer invoice pricing that could save you thousands, visit CarCostCanada now. 
And remember to come back soon for our upcoming road test review where you'll find out how all of these advanced electronics, luxury features and three rows of SUV spaciousness come together in one cohesive whole, or don't, not to mention how the new eight-speed automatic transmission affects the performance of the V6, if there are any improvements in ride quality and/or handling, plus more, while we'll also provide a larger more comprehensive photo gallery so you can see additional 2019 Sorento SXL details. Until then, enjoy all the photos provided above…