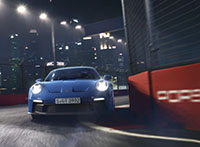 If anyone was expecting the new 2022 GT3 to somehow fly under the radar, think again. It's an eyeball puller for sure. Not as supercar-like snazzy as the old (and most likely next) GT2, but it's immediately clear this is no ordinary 911.
Porsche just pulled back the digital curtain on its latest heartthrob, and now this brilliant blue missile is the talk of the town. A new twin vented carbon-fibre hood will give those in the know a hint that it's time to move out of the fast lane, at which point they'll quickly see the new GT3's backside, gigantic swan-neck carbon-fibre wing and CFRP rear diffuser included. All of these aero aids add 50-percent more downforce than a regular 911 in their default setup, or up to 150 percent more downforce at 200 km/h when some adjustments are made.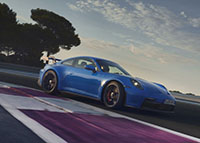 Yes, as exciting as the GT3 is to gaze upon, it's no doubt much more fun to drive. For 2022, Porsche has improved the car's 4.0-litre flat-six for a considerable 10-horsepower gain resulting in 502 ponies, while torque remains 346 lb-ft. It's all done sans turbocharging, the GT3 the only 911 offered without exhaust boost. Instead, the 4.0-litre engine relies on cubic centimeters, plenty of trick technology like the six throttle butterflies added to extract that extra 10 horsepower just mentioned, and an incredibly high rev limiter of 9,000 rpm. That's stratospheric for a horizontally opposed engine, incidentally, this configuration normally ideal for low-end twist albeit not that great for spinning in the lofty zone, but Porsche continues to work its magic and GT3 owners are the benefactors.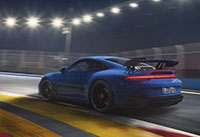 The lack of a turbo isn't the only absent component putting the GT3 at odds with all other 911 models, incidentally, the other missing link being a seventh gear in its manual transmission option. As is the norm with all 911s, the GT3 can be had with a seven-speed dual-clutch automated PDK for paddle enthusiasts, but unusually it's a no-cost option and not wholly related to updated version introduced last year, but instead is sourced from the previous 2019 GT3 thanks to that transmission's 18-kg mass reduction and extremely quick response to input.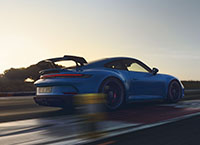 Likewise, the just-noted six-speed manual gets pulled forward from the past, although this unit is the same as used in the fabulous 718 Spyder and 718 Cayman GT4, unlike every other 911 that uses Porsche's seven-speed manual. The six-speed is lightweight as well, features rev-matching capability to make novices sound like heel-toe pros, and is lauded by all critics for its sublime operation. So good is the six-speed manual, that 68.7 percent of Canadian GT3 buyers previously went with the DIY option. This also speaks well for the type of performance enthusiast the GT3 attracts, one that appreciates the classic thrill of a mechanical masterpiece over speed for the sake of speed. The PDK is quicker, needing just 3.4 seconds to reach 100 km/h from standstill, while 200 km/h requires a mere 10.8 seconds.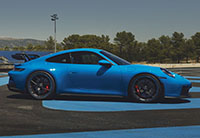 Whether you choose the manual or PDK option, both come standard with an entirely new double-wishbone front suspension. As is appropriate for the GT3, the new front suspension design was developed by Porsche's sports car racing team for the Le Mans-winning 911 RSR. The GT3 is its first application in a 911 production car, allowing a more rigid spring setup and greater camber stiffness that does a better job of isolating the dampers from transverse forces that might otherwise upset the apple cart, so to speak. Porsche promises better handling overall, which is what matters to us.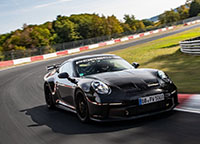 The GT3's five-arm rear suspension is upgraded too, now including more ball joints for the lower wishbones as well as spherical bushings, and special shocks. This means the new GT3 is a much better track car, but it also translates into a better every day commuter and a much more capable companion when straight lines start to wind in the outskirts of your city.
With this in mind, the quicker responding front and rear shocks are joined by standard rear-wheel steering, the latter capable of turning the rear wheels up to two degrees in the same or opposite direction, depending on whether they're improving high-speed stability or aiding parking manoeuvres.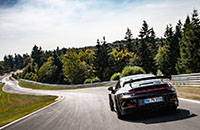 What's more, the old GT3's already large 380 mm front brake rotors are now upsized to 408 mm, while also weighing 17 percent less, and just like the upgraded brakes can potentially save the GT3's owner from misjudging the rate of closing speed before a corner, Porsche has included a front axle lift system for saving the carbon fibre front lip spoiler from scraping the pavement below when overcoming large speed bumps are steep driveways.
The lip spoiler, new hood, massive wing and rear spoiler aren't the only exterior components made from carbon fibre reinforced plastic, by the way. Additional body panels include the rear fenders and, optionally, the roof. Porsche also makes "road-approved circuit rubber" available, while buyers can even add a rear roll cage via a Clubsport package (not available in all markets). There's no extra charge for the all-new battery, mind you, which is 10 kilos lighter than the one used for the outgoing GT3. When reduced mass is combined with all the engine grunt noted earlier, the new manually-shifted GT3 has an impressive power-to-weight ratio of 2.8 kg/PS.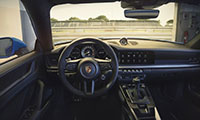 That weight can be reduced more, although most buyers probably won't want to delete the rear wing. If you find it a bit over the top for your liking, however, a Touring package will swap it out for the power-adjustable spoiler used in the regular 911.
You can bet Porsche left the rear wing intact for its timed lap of the Nürburgring Nordschleife, which at 6:59.927 minutes leaves it just outside of making the famed racetrack's top-10 best production cars ever list. To be fair to the GT3, four of the 10 cars that beat its time are Porsche products, including the mighty 911 GT2 RS that managed a shocking 6:47.25-minute lap, plus a previous-generation GT3 RS that ran the ring in just 6:56.4 minutes. Nobody should expect a turbo-less 911 to beat Porsche's renowned 918 Spyder either, and it didn't, but it was certainly close to the supercar's 6:57-minute time, while another GT2 RS managed a respectable 6:58.28 minutes. More importantly, the new GT3 lapped the punishing road course faster than every Ferrari and McLaren that ever attempted a run, not to mention every Chevy Corvette or Nissan GT-R. Only Radical SR8s (if you've never heard of this barely street-legal track car, you're not alone), two Lamborghini Aventador SVJ LP770-4s, and a Mercedes-AMG's GT Black Series managed to lay down faster laps, with the Merc being quickest of all comers.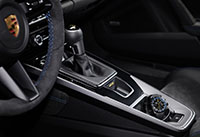 If you ask most sports car buyers, 911s are more comfortable for daily use than any mid-engine exotic, and therefore easier to live with than all of the above, except for maybe the Mercedes. As you might expect, all of the new 911s improvements are included with the GT3, plus the model's usual mega dose of suede-like Alcantara on the steering wheel rim, seats, etcetera. Those seats were designed with performance in mind, but they're still suitable for day-to-day use.
Now comes the time to decide. There will be no fence-sitting with this car, because every last one will be snapped up quickly. Added to the rarity of any GT3, looms an era that may soon make its naturally aspirated 4.0-litre engine a much-lamented thing of the past, so make your mind up quickly and then immediately talk to your local Porsche Canada dealer. The new GT3 will be available to order soon, with cars being delivered in the fall.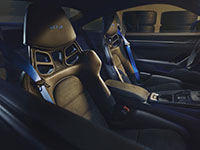 For those still unsure or not in a tax bracket that makes such decisions possible, we recommend to the full allotment of images in our photo gallery above, plus the trio of great videos that follow, while others that just can't wait until the fall to get their hands on a new 911 may want to know that Porsche is currently offering factory leasing and financing rates on 2021 models from zero percent. To find out more, check out CarCostCanada, where members save an average of $2,875 on their new 2021 911 purchases, by getting access to manufacturer rebate information and otherwise hard to get dealer invoice pricing. Learn how the CarCostCanada system works, and make sure to download their free mobile app at the Google Play Store or Apple Store now.
The new 911 GT3: Time is Precious (2:35):

The New 911 GT3 at the Nürburgring (1:33):

The New 911 GT3: Onboard at the Nordschleife (7:33):

Story credits: Trevor Hofmann
Photo credits: Porsche