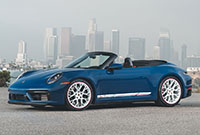 Only slightly ahead of the U.S.' annual of 4th July 4th celebrations (not to mention our Canada Day on July 1), Porsche unveiled its new 911 Carrera GTS Cabriolet America Edition. Of course, the new limited model also celebrates the red, white and blue market, with exclusive paint, badges, and interior detailing.
Being that we're talking Porsche, the current naming convention would be Guards Red with Pure White for the special 911's exterior accents, which include a thick set of rocker stripes boasting classic "America" script on the front portion of each door panel, as well as white nameplate lettering on the rear deck lid, while white-painted RS Spyder Design alloy wheels feature red pin-striping on the edges of their rims. The exterior paint is Azure Blue, incidentally, completing the look.
America Edition has become a Porsche sports car tradition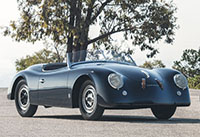 Just in case you were thinking the America Edition is something new, the market targeted tradition goes back 70 years. Porsche initially designed a special 356 America Roadster to interest American sports car buyers in 1952, and then did something similar with the 911 (964) Cabriolet back in 1992 as the 964 America Roadster. Once again, the now classic America Edition gets applied to a 2023 911, and while no red and white edition will be available to Canadians north of the 49th, we do have the opportunity to purchase this red, white and blue variant.
"The brand celebrates its heritage with this exclusive 911 model that brings us back to roots of the legendary 356 America Roadster from 70 years ago," said Marc Ouayoun, president and CEO Porsche Cars Canada, Ltd. "We are delighted to be able to also extend the offer to our Canadian clientele, even if in very limited numbers."
The "very limited numbers" Ouayoun mentioned total 130 units overall, divided into 115 examples sold into the U.S., and just 15 made available in Canada.
Special America Edition based on super-quick 911 Carrera GTS Cabriolet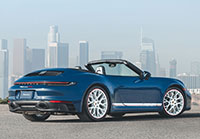 The new America Edition, which was unveiled at the 2022 Porsche Parade in Poconos, PA, is based on the brilliantly fast 911 Carrera GTS Cabriolet, which means its twin-turbo 3.0-litre horizontally opposed six-cylinder engine makes a robust 473 horsepower and 420 lb-ft of torque. All of that grunt goes down to the rear wheels via Porsche's seven-speed manual gearbox, while helper springs were added to the rear axle before the standard upgrade to Porsche Active Suspension Management (PASM) Sport lowered the ride height by 10 mm (0.4 in), enhancing handling further.
The standard menu grows to include the Sport Chrono Package as well, plus a sport exhaust system, while rear axle steering and Porsche Ceramic Composite Brakes (PCCB) are offered as options, the latter increasing stopping performance over the regular cast iron brakes, which are comprised of 408/380 mm front/rear rotors with six- and four-piston black-painted aluminium calipers respectively.
Unique interior highlights make America Edition stand out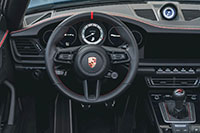 Once you step over exclusive "1952 – 1992 – 2022 – 70 Years America Roadster" scuff plates, your eyes will likely notice a bright red vertical stripe at the top centre of the leather-wrapped sport steering wheel. Additional interior upgrades include baseball-style Guards Red and light Pebble Grey two-tone cross-stitched thread running across the dash top and door uppers, as well as two-tone French-stitched detailing to each side of the shifter, which fasten the boot into place. The latter also garnishes each side of the centre armrest, plus there's a custom leather key fob holster for sliding the upgraded Azure Blue key into.
A special set of ribbed sport seats also gets the red and white treatment, albeit with twinned rows of alternating colours. Porsche follows the stylish theme over to the rear jump seat cushions, while back up front, bold red "911" block letters are embroidered into the front headrests. As if that weren't enough, red stitching binds the leather of the steering wheel rim together around the inside, plus the seatbelts and webbed seatback releases are also done out in bring red. Notably, some of these the above features come as part of an optional extended interior package, but I wouldn't lose any sleep about which features are standard or optional, because we can't imagine Porsche Canada would import any 911 Carrera GTS Cabriolet America units being shipped without this option package.
North American driving passion is why America Edition exists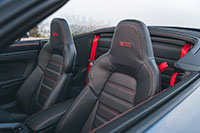 "Passion for driving a Porsche runs deep in the United States," stated Kjell Gruner, Porsche Cars North America President and CEO. "In particular, there is something special about hitting the road in an open top 911 with a manual transmission that fits perfectly here. This is also the perfect time to add another 'America' model to our story as we look back on 70 years since the 356 America Roadster and 30 years since the 964 America Roadster."
Canadians wanting a new 2023 911 Carrera GTS Cabriolet America Edition might find that the "very limited" order book is filled already, despite the special model's $206,190 base price (214,750 with the extended interior package), although it never hurts to contact your local Porsche retailer to make sure. Who knows? Maybe someone cancelled their order due to a sudden shortage of Bitcoin.
If not, check out all the 2022 Porsche 911 models currently available at the CarCostCanada 2022 Porsche 911 Canada Prices page, where members are saving an average of $2,333 on a new 911! CarCostCanada provides many other member benefits too, so find out more about their service and be sure to download their free app from the Apple Store or Google Play Store.
Lastly, make sure to check out the full gallery of 2023 Porsche 911 Carrera GTS Cabriolet America Edition images (with close-ups) by clicking the top photo!
Story credits: Trevor Hofmann
Photo credits: Porsche