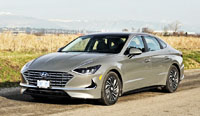 The mid-size sedan might be a dying breed, especially in Canada where they've never been as popular as compact four-doors and hatchbacks, but Hyundai hasn't given up on it like some others in this class. In fact, the Sonata was given a complete eighth-generation redesign for the 2020 model year, so therefore its seriously menacing new face carried forward unchanged into 2021, and will so once again for 2022.
Menacing yes, but that's not to say I don't like the look. As seen on this as-tested Sonata Hybrid Ultimate, which gets more chrome than some other Sonata trims, such as the sporty new N Line variant, and particularly when that grille is surrounded by Hampton Grey paint that comes across as more of a champagne-taupe in some lighting conditions, the snarly look is almost soft and approachable. Whether you find it intensely angry or just purposefully intent, the new Sonata does appear consequential, and when push comes to shove it should be, because it's doing the serious work of minimizing its eco-footprint while maximizing range and performance.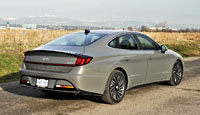 The Sonata Hybrid's fuel economy is superb at 5.3 L/100km in the city, 4.6 on the highway and 5.0 even combined. It's even a smidge better than similarly-equipped Toyota Camry Hybrids that come rated at 5.3 L/100km city, 5.0 highway and 5.1 combined (the Camry Hybrid's base LE trim does better at 4.9, 4.8 and 4.9 respectively), and considerably more efficient than the Honda Accord Hybrid that gets a 5.3 city, 5.7 highway and 5.5 combined rating.
Even more surprising was the Sonata Hybrid's acceleration and all-round performance, especially when the net numbers showed just 192 horsepower and 139 lb-ft of torque. It certainly felt more potent off the line than these figures suggest, plus thanks to steering wheel-mounted paddle shifters, its six-speed automatic transmission was quite engaging as well.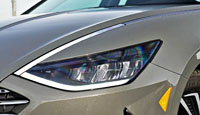 The Sonata Hybrid responds eagerly when pushed hard through corners too, plus it tracks confidently at high speeds in any condition, including on wet, slippery roads. It even remained stable when yanked aggressively toward the centre median by a large puddle, something much-needed and often appreciated in my city's mostly wet winter weather.
Additionally, the button-operated gear selector is one of the best electronic transmission controllers I've tested, as it's laid out intuitively and can all be actuated without moving the hand very far. Unlike some others (I'm speaking to you Honda/Acura), Hyundai's quickly became second-nature, never leaving me mentally stranded in dumbfounded, panic-stricken overwhelm when coming up short of a turning circle-deprived U-turn with traffic approaching.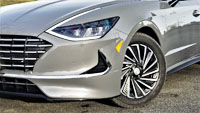 Interestingly, the electromechanical parking brake doesn't automatically release when skipping a step and simply putting the car into Drive ahead of hitting the throttle, which is normally how these things work. I guess Hyundai felt it was best to err on e-brake safety, so be prepared to flick the switch manually each time you set out.
A two-way memory driver's seat will automatically adjust you or your significant other back into your chosen position at the press of a single button, mind you, and I must say the driver's positioning was superb overall. It comes complete with plenty of reach from the manually-operated tilt-and-telescopic steering column, while the seat itself was blissfully comfortable, despite only providing two-way lumbar support.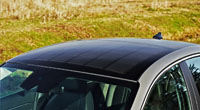 Both front seats get amped up with three-way heating and/or cooling, however, while the heated steering wheel rim put out near finger-scorching warmth—Hyundai may want to consider allowing drivers to tone it down a bit by adding a dual-mode temperature setting. Speaking of warmth, a dual-zone automatic climate control system made it easy to maintain an ideal level of cabin air comfort, while the centre stack-mounted interface was easy to sort out.
Now that I'm on the subject of instrument panel interfaces, there's no shortage of digital displays inside this top-tier Hyundai. For starters, the only hint to things analogue about the gauge cluster is the nicely designed graphical nod to yesteryear's circular speedometer and tachometer dials, with the division between both comes filled with a multi-information display-style assortment of functions. The display quality is very high in definition, while its reaction to inputs is instantaneous, and its feature set good for the class.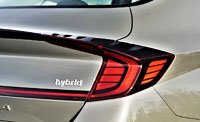 Being a hybrid, my tester included an animated energy-flow graphic at centre when the car was set to Eco mode, with surrounding colours being a mix of aqua-green and blues when so set, but everything glowed red in Sport mode, not that choosing the fiery hue was a particularly original thing for Hyundai to do (hey designers, how about orange or yellow just to separate your cars from the masses?). This said, Hyundai leaves a version of its Eco metre on the right-side dial no matter which drive mode the car is set to, with the Smart setting a personal favourite, being that it feels ready and waiting to either drive as frugally as possible more often than not, or as quickly as possible when called upon.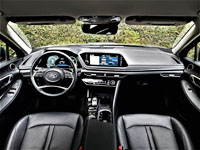 Hyundai added rear-facing cameras below the Sonata's side mirrors last year, which project a live image onto the left- or right-side primary gauge cluster dials when engaging either turn signal. This is an absolutely brilliant feature that more competitors should adopt, but so far Hyundai, plus its Kia and Genesis sibling brands, are the only ones to offer it simultaneously with advanced driver technologies such as blind-spot monitoring, or lane change warning and intervention.
Of note, Honda was actually first with a turn signal-activated rear camera system dubbed LaneWatch, which I raved about when more readily available, but recently the Japanese brand has been phasing it out in favour of blind-spot monitoring. Kudos to Hyundai for created an even better dual-sided camera system (Honda's was only added to their cars' passenger-side blind-spot), and then making it available alongside all of its advanced driver assistance and safety features.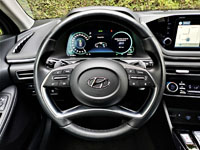 A glance to the right shows a centre display that's as high in definition as the digital gauge cluster, which means it's impressive as well. It's about the same size too, and utilizes a touchscreen-controlled scrolling tile system that features three large tiles at startup. These can be organised as per preferences, with the stock setup including a navigation map on the left, audio functions in the middle, and fuel economy readouts to the right. Hyundai also includes some touch-sensitive buttons down each side of the display, plus a volume knob. I would've appreciated a tuning/scrolling knob (usually on the right) as well, and considering this car is probably targeting a more mature crowd than most others in Hyundai's lineup, I'm guessing an analogue dial for tuning in radio stations or changing tracks would be appreciated by more folks than just me.
The navigation system worked faultlessly during my multiple-week test, and the audio system impressed even more, not only filling the car with streaming media and satellite radio, both of which I use all the time, but its sound quality was very good for this class.
I was also happy to see a wireless charging pad at the base of the centre stack, plus USB charge points for the wired crowd, not to mention the availability of Android Auto or Apple CarPlay, the former having become my go-to smartphone connectivity tool as of late. The charging pad wasn't working when I first got the car, but I was able to set it up easily via the infotainment system's settings page, where I found countless cool personalization possibilities as well.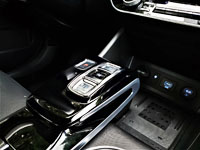 Looking upward, there's an attractive overhead console, but no moonroof. That's an unusual site in this class, but maybe more fitting in a car that's partially powered by a motive battery, Hyundai replaced the traditional moonroof with a non-translucent glass solar roof. That's right, the cool glass section on the front half of the Sonata Hybrid's outer roof is only visible when outside of the vehicle, and while the lack of a sunroof wasn't much of an issue for me, it was a very strange omission after 20-plus years of testing cars, and one I can imagine some may be totally put off by. After all, the only cars without sunroofs have long been cheap, base models, which this Sonata Hybrid Ultimate is not.
Along with the aforementioned comfortable front seats that included all the usual adjustments in this class, the cabin provided very impressive finishing. The dash top was mostly softish composite, except for the shroud overtop the instrument cluster and the very front portion of the dash under the windshield (some might call this the back portion), which alternatively gets a textured, soft-painted composite.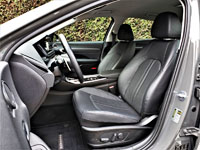 Even better, to the left and right of the dash top's sloping section, plus around the centre display, nicely stitched and padded leatherette added an element of luxury. There's more of this highfalutin stuff elsewhere too, particularly on the door panels front and back, plus the just-noted soft-painted surfacing gets used for additional touchpoints as well. Lastly, some of the mainstream sector's usual hard-shell plastic can be found in the interior's lower regions, but it's nicely textured and seems well put together, as does everything else in the cabin.
Rear seat legroom is excellent, while the backrests and lower cushions are very comfortable. A large, wide armrest folds down from centre, featuring the usual dual integrated cupholders, plus outboard rear passengers also get two-way heatable seats, with switchgear next to each power window controller on the door armrests. Lastly, a USB-A charging port can be found on the backside of the front centre console, just below a set of heat/air vents.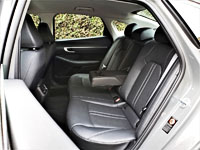 The Sonata Hybrid's trunk is identically sized to the regular Sonata's cargo area too, this not having always been the case with hybrid models due to rear-bulkhead-mounted battery packs (the old Ford Fusion Hybrid's battery was quite intrusive). It's therefore quite spacious at 453 litres (16.0 cu ft), while the trunk's usefulness can be expanded upon with the usual 60/40 split rear seatbacks.
At the time of publishing, Hyundai had yet to update its retail site with 2022 Sonata Hybrid information, which probably means 2021 models are still available. Either way, CarCostCanada had and still has 2022 and 2021 model year details, so suffice to say the 2022 is pretty well identical to its predecessor, other than the addition of new Shimmering Silver optional paint to go along with the same five upgraded hues that were also available last year. All six optional colours add $200 to the bottom line, whereas Hyper White is the only standard shade, and therefore the only way you can get a 2022 Sonata Hybrid for $40,649 (plus freight and fees), before negotiating a discount that is.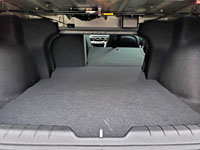 When putting pen to paper, so to speak, Hyundai was offering up to $2,000 in additional incentives, although most CarCostCanada members were saving an average of $1,500, thanks to knowledge of these incentives as well as having dealer invoice pricing info on hand when negotiating. All said, the 2022 Sonata Hybrid is $450 pricier than the 2021, the latter still starting at $40,199. Both model years are only available in one Ultimate trim, which means there are no options other than just-noted colours.
So, if you're looking for a luxuriously appointed mid-size sedan with an impressive balance of efficiency and performance, you should seriously consider Hyundai's Sonata Hybrid. If you don't mind being greeted by a menacing frown each morning, I can promise it'll deliver plenty of smiles throughout the rest of each day.
by Trevor Hofmann