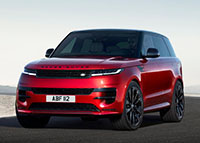 Land Rover has just pulled the wraps off its third-generation Range Rover Sport (compare it to the current Range Rover Sport here), and while its styling is purely evolutionary to the point that nobody could possibly mistake it for anything other than a more aerodynamically refined Range Rover, it certainly looks good, while exterior improvements, including flush glazing and powered pop-out door handles, a hidden waist rail finisher, and a laser-welded roof, help deliver a slick drag coefficient of just 0.29.
"The exceptional New Range Rover Sport sets new standards as the ultimate sporting luxury SUV, building on seventeen years of unique customer appeal," said Thierry Bolloré, Chief Executive Officer, Jaguar Land Rover. "It is the latest embodiment of our vision to create the world's most desirable modern luxury vehicles, effortlessly blending new levels of sustainability with the signature qualities that have made Range Rover Sport so popular."
New mixed-metal platform architecture makes body structure 35 percent stiffer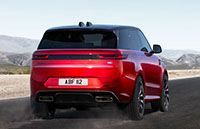 Under the Sport's sleek skin is an all-new rear-wheel drive-biased MLA-Flex mixed-metal platform architecture that provides up to 35 percent more torsional rigidity than the previous model.
"Land Rover's pioneering flexible MLA architecture and the latest chassis systems come together to deliver the highest levels of dynamism we've ever seen on Range Rover Sport," said Nick Collins, Executive Director Vehicle Programmes, Jaguar Land Rover. "Integrated Chassis Control governs the comprehensive suite of innovations, co-ordinating everything from the latest switchable-volume air suspension system to our Dynamic Response Pro electronic active roll control. The result is the most engaging and thrilling Range Rover Sport ever."
Upgraded air suspension joins all-wheel steering for best-ever handling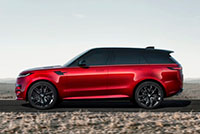 The new platform aids cornering capability, high-speed stability and overall handling feel, plus all trims feature Dynamic Response Pro, which minimizes roll thanks to a 48-volt electronic active roll control system that's capable of applying up to 1,400 Nm of torque across each axle, whereas the standard Dynamic Air Suspension system, with switchable volume air springs, provides twin-valve active dampers for "ultimate agility, control and composure," says Land Rover in their press release.
What's more, a Stormer Handling Pack combines Dynamic Response Pro, All-Wheel Steering, and an Electronic Active Differential with Torque Vectoring by Braking and Configurable Programs. Thanks to as much as 7.3 degrees of rear-wheel steering, the all-wheel steering system promises a compact car-like turning circle as well as the type of on-road agility normally found in a much smaller vehicle.
No shortage of conventional and hybrid power units available globally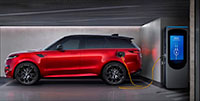 Such agility and stability will be important considering all the power available in top-tier trims, but Land Rover has yet to announce exactly which powertrains will be available to the Canadian market.
Globally, the Sport will be offered with a 3.0-litre inline six-cylinder Ingenium engine in four states of tune. Both entry-level versions, dubbed P360 and P400, boast 48-volt mild-hybrid designs, and while we can't be sure if either will make it across the Atlantic to our port of entry, we can be certain that all three mild-hybrid six-cylinder diesel engines, named D250, D300 and D350, won't be sold here.
Two plug-in hybrid drivetrains provide up to 113 km of EV range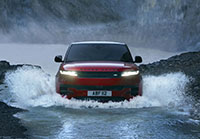 A more likely base engine in our market is the P440e, which incorporates an electric motor powered by a 38.2-kWh battery for a total of 434 net horsepower and a claimed zero to 100 km/h acceleration time of 5.8 seconds. Alternatively, or possibly offered as an option, a higher output version of the same engine gets the P510e moniker due to its larger 105kW electric motor, which along with the same 38.2-kWh battery provides net output of 503 horsepower and a standstill to 100 km/h sprint time of 5.4 seconds.
Both full-hybrid power units provide up to 113 kilometres (70 miles) of zero local emissions EV range in optimal conditions, or an expected real-world range of 88 km (54 miles), which, says Land Rover, is "enough for most owners to complete up to 75 percent of journeys on electric power." Additionally, the two plug-in hybrid power units allow for up to 740 km (460 miles) of combined gasoline and electric range, making long uninterrupted road trips easier, plus you'll be doing less damage to the environment than the previous model (and many competitors) thanks to CO2 emissions rated at just 18g per km.
Ultimate performance is still available by opting for a twin-turbo V8 or upcoming EV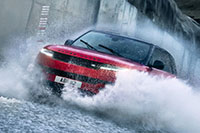 If you like your Range Rover Sport with unadulterated V8 power, rest assured the redesigned gen-3 version won't disappoint. This said the current model's 5.0-litre supercharged V8 will not be available any longer, instead replaced by a new 4.4-litre twin-turbocharged mill that promises even stronger performance in non-SVR trim.
As it is, Land Rover's press release gave no mention of the Sport's SVR upgrade package, so it will most likely be a late arrival. Instead, the only V8 mentioned makes 523 horsepower, which is up 5 hp from the current blown V8's 518 ponies, and capable of a spirited 4.3-second dash from standstill to 100 km/h when launch control is engaged.
Of course, these output and performance numbers are still shy of the SVR's 575-horsepower engine, so only time will tell if a more potent version of the twin-turbo V8 makes the cut for the top-line SVR variant, or possibly if the all-electric model, set to arrive for model-year 2024, receives the revered designation.
Range Rover Sport's off-road capability second to none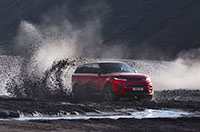 All powertrains come standard with an eight-speed ZF automatic transmission and Intelligent All-Wheel Drive featuring Land Rover's award-winning Terrain Response, the latter now incorporating a road-focused Dynamic Mode alongside an updated Configurable Terrain Response system designed to tackle all types of off-road conditions, plus an innovative new Adaptive Off-Road Cruise Control system designed to improve off-road capability while reducing driver fatigue when on the trail.
"New Range Rover Sport's advanced chassis dynamics feed into its immense capability away from the tarmac, utilizing its hardware and software to full effect," said Rory O'Murchu, Vehicle Line Director, Jaguar Land Rover. "It is the first vehicle to feature our new Adaptive Off-Road Cruise Control, which has been engineered to help drivers focus on steering the vehicle by providing consistent and comfortable progress across rough terrain."
New Range Rover Sport to improve interior beyond the current model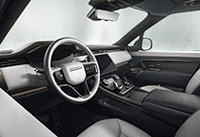 While some might find it hard to fathom a higher quality, more refined mid-size luxury utility than today's Range Rover Sport, Land Rover promises improvements at every level.
While materials are said to upgraded, the focus has been more toward environmental friendliness than perceived quality. Its sustainable alternatives to leather, for instance, are dubbed Ultrafabrics and made from recycled polyurethane, plus finished in new Duo Tone colourways. Land Rover also makes available a unique textile trim option, which extends to the dashboard and door detailing. This said, Premium grained Windsor or even more supple Semi-Aniline leathers will still be on the menu, as will hardwoods, aluminum accents and more, but special Moonlight Chrome interior trim is new.
Land Rover goes big with digital displays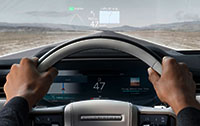 Ahead of the driver is a very sizeable 13.7-inch digital driver's display, while the similarly large and curved Pivi Pro infotainment system incorporates standard wireless Android Auto and Apple CarPlay, plus a 3D surround overhead camera. Both systems also come with standard Software Over The Air updates, while Alexa is now part of the standard setup in all Land Rover vehicles.
"Living with the New Range Rover Sport couldn't be easier thanks to its suite of connected technologies," said Alex Heslop, Director of Electrical Engineering, Jaguar Land Rover. "Our award-winning Pivi Pro infotainment is at the heart of the experience and its haptic, curved floating touchscreen provides intuitive control of the vehicle systems. To help drivers maintain their focus, embedded Amazon Alexa voice AI is on hand, so customers can keep their eyes on the road and hands on the wheel while doing anything from setting the navigation and placing calls to selecting media sources."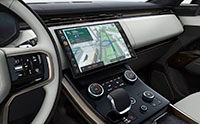 Additional standard Range Rover Sport features include a new set of high-performance Digital LED Headlights with Adaptive Front Lighting for seeing around corners, while new Low Speed Manoeuvring Lights improve visibility in parking lots and other closed, confined areas.
All Range Rover Sports also include deployable door handles with proximity sensing, soft door close and the ability to unlock when approaching, while Automated Walkaway Lock is also part of the standard package.
Plenty of features set the Range Rover Sport apart from competitors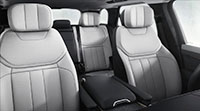 Back inside, unique Range Rover Sport highlights include a Cabin Air Purification Pro system to clean the cabin environment, featuring PM2.5 filtration and nanoe X technology that goes so far as to reduce odours, bacteria and allergens, even airborne viruses as small as SARS-CoV-2. Additionally, a separate nanoe X unit gets fitted to the second row to provide more consistent air quality in both seating areas. An advanced CO2 Management function lets occupants purify the cabin ahead of a journey too, or alternatively while on the way.
The new Range Rover Sport's Meridian Signature Sound System, on the other hand, incorporates the latest in Active Noise Cancellation technologies, plus up to 29 integrated audio speakers provide superb sound quality, some of which are hidden behind the textile of the rear doors and four others cloaked within the headrests to allow for "personal sound zones," says Land Rover. The system incorporates a new subwoofer too, powered by a 1,430-watt amp.
Advanced driver safety also includes off-roading features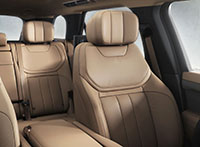 Standard advanced driver safety and convenience features include automatic emergency braking, lane keep assist, traffic sign recognition, a driver-attention monitor and adaptive cruise control, while front and rear parking sensors are also included. Unique to Land Rover, a special Wade Sensing feature helps when fording rivers, plus ClearSight Ground View and Manoeuvring Lights further enhance the Range Rover Sport's off-road experience.
On the options list are 22-way power-adjustable, heatable and ventilated memory seats up front, featuring massage function and winged headrests. These flagship seats also provide a 31-mm increase in legroom and 20 mm of extra knee clearance, improving comfort and support whether on the road or trail.
Later this year, Land Rover will start producing the new 2023 Range Rover Sport at its Solihull manufacturing plant in the UK. By that time, or shortly before, we can expect an announcement about Canadian-market features, trims and pricing information, plus the ability to pre-order.
Globally, the new Range Rover Sport will be available in S, SE, HSE and Autobiography trims, plus a First Edition trim will be offered through its first year of production, boasting a "specially curated specification," said Land Rover.
New Range Rover Sport Revealed (0:59):

New Range Rover Sport (15:14):

New Range Rover Sport Challenge with Jessica Hawkins (1:57):

Story credits: Trevor Hofmann
Photo credits: Land Rover