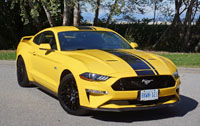 If you haven't driven a Mustang for a while, I highly recommend you take one out for a spin. Not literally, the spin I mean, but then again it's a lot more difficult to get the rear end sideways now that Ford has fitted a highly stable independent rear suspension (IRS) between the rear wheels. 
That change came as part of an exhaustive 2015 model year redesign, and the move caused a great deal of controversy amongst diehard Mustang fans that loved the lighter weight live rear axle and its benefit to drag racing, but for the majority of sports car fans, who'd rather go fast around corners instead of just in a straight line, it was a gift from the mechanical gods, or at least a bunch of blue-oval engineers.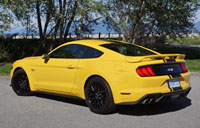 Rather than delve into just how good the Mustang's handling became four years ago and how much better it drives since its most recent 2018 update in this "In Our Garage" segment, I'll admit that it's easily the best hooked up Mustang in history and, until my full road test review comes out, I'll point you to an old road test of the 2015 Mustang GT Premium Convertible to learn how I felt about it when the IRS initially arrived, or you can reread my reviews of the 2016 Mustang Ecoboost Fastback, 2016 Mustang GT Convertible, and 2017 Mustang GT Convertible).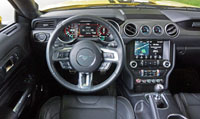 Take note the 2018 model sees a new optional 10-speed automatic in both turbocharged 2.3-litre Ecoboost four-cylinder trims and 5.0-litre V8-powered GTs, the former of which I recently tested in Premium Fastback guise (review coming soon), while this GT, priced from $47,288, and the base Mustang, which starts at just $28,988, come with a six-speed manual gearbox (check CarCostCanada.com for all the trim, pricing and options details, plus rebate info and dealer invoice pricing).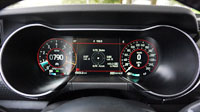 Other 2018 updates include a meaner looking new grille that melds ideally with a more aggressive new hood, while stylish LED headlights are now standard across the entire line Mustang lineup. New LED taillights provide a fresh take on the Mustang's classic triple vertical lens design, these underscored by a new bumper and lower fascia. 
A number of small changes improve the Mustang's interior, highlighted by upgraded materials quality and a new optional fully digital TFT primary gauge cluster.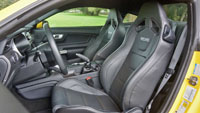 The aforementioned base engine makes a substantive 310 horsepower and 320 lb-ft of torque, so there's no need for the long gone V6 anymore, while this GT's V8 puts out a sensational 435 horsepower and 400 lb-ft of torque, not to mention a soul-soothing gurgle from the twin tailpipes that'll make your adrenaline surge. 
I've said too much, so make sure you join me back here in short order for a full review of this fabulous 2018 Mustang GT Premium Fastback…