You'd think for a car available non-stop since 1965 there'd be more than six generations to the legendary Mustang's credit, but Ford ran the first generation (the many iterations of which any genuine car enthusiast equally loves and lusts after) for eight years and made even better use of the 1979–1993 third-gen Fox bodied model. I don't think you'd get much argument from all but drag racing fans that the current rear independent suspension-enhanced sixth-gen model, available since 2015, is the best Mustang ever.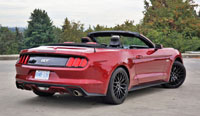 It takes little coaxing for us to accept a week in any of its trims, the first of this type being a 2015 Mustang GT Premium Convertible, which was followed by the new 2.3-litre turbo four-cylinder 2016 Ecoboost Fastback and a 2016 GT Convertible, the latter much like our most recent tester other than its eye-searing Triple Yellow paintjob.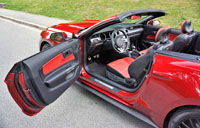 Actually, this 2017 GT Convertible Premium is coated in the same Ruby Red exterior paintwork and its seats covered in identical Red Line leather as the 2015 example (the Ecoboost Fastback was finished in Oxford White on black, if you must know), these two cars appearing near identical if it weren't for the same GT Performance Package as added to the Ecoboost Fastback, that upgrade beefing up the wheels to glossy black 19s, plus a whole lot more.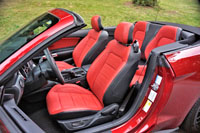 At the heart of the GT is a 435 horsepower 5.0-litre V8 with 400 lb-ft of torque, capable of sling-shooting the 1,756-kilo (3,863-lb) ragtop to 100km/h in less than five seconds with standard launch control engaged. Ford was kind enough to include its six-speed manual transmission in this tester, which is the best way to go if you don't mind a lot of DIY activity in city traffic.
I'll comment on its refinement and all of the car's other driving dynamic details in my upcoming review, plus remind you of the many improvements Ford made to this model when introduced as a 2015 model, while filling you in on specific 2017 upgrades (and downgrades) as well…