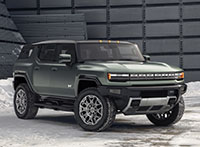 It was fewer than six months ago that General Motors revealed its upcoming Hummer EV pickup truck to much fanfare, a move that simultaneously reintroduced the US military's SUV brand into the civilian market, and gave GMC its first electric vehicle. Now the General's truck and SUV division has followed their EV Supertruck up with an electrified SUV that will do its part in repairing the once-maligned Hummer name.
Yes, Hummer, which was previously stigmatized as a gas-guzzling, anti-environmental brand, will no longer be a standalone marque within the General's ranks. This makes a great deal of sense from a retail distribution perspective, being that GM needs to maintain its simpler four-brand stance in order to reduce marketing costs, compared to the high price of promoting the multitude of brands it once oversaw.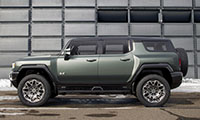 The new GMC-controlled sub-brand will take advantage of Hummer's strong name recognition within the 4×4 overland community, and the emissions-free EV powertrain means that its brand image will no longer be plagued by its supposedly polluting predecessors.
To be fair to the Hummer brand's original four models, the flagship H1 was mostly turbo-diesel powered and therefore fairly efficient for a military-spec off-roader, while the H2 (and H2T pickup) was based on the full-size Chevrolet/GMC Tahoe/Yukon, which were actually friendlier on fuel than some other full-size 4x4s of the era. The fact they remain popular models within GM's SUV lineup shows GM may have made a mistake in letting the Hummer brand go as part of their restructuring.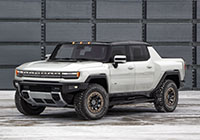 Likewise, the mid-size H3 and H3T (pickup truck) were based on the previous-generation Chevrolet/GMC Colorado/Canyon trucks, so therefore the brand didn't suffer as much from gasoline gluttony as it did from being targeted by environmental activists using it as a sacrificial mechanical scapegoat.
Now, however, GMC's upcoming Hummer sub-brand could very well become an icon of zero-emissions righteousness. Then again, with zero-to-100 km/h taking just over 3.5 seconds, putting it neck-to-neck with Jeep's outrageously potent 707-horsepower Grand Cherokee Trackhawk, not to mention dwarfing Land Rover's new wilderness-conquering Defender (that it's not stylistically dissimilar to) when it comes to exterior width, the new Hummer SUV wasn't exactly designed to go up against Nissan's Leaf for kilowatt cost per kilometer.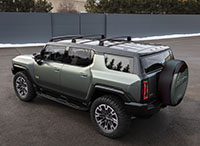 Tesla has proven that it's ok to produce ridiculously fast cars, as long as the power unit is electric. Hummer will ride on Tesla's bandwagon, the latter brand already making a couple of crossover SUVs and soon adding a pickup truck, so far dubbed Cybertruck and about as whacky looking as automotive designs get (we expect the production model to appear a bit more mainstream).
The Tesla and Hummer trucks will be joined by rival electric pickup truck (and SUV) makers including upstarts Alpha, Bollinger, Canoo, Fisker, Hercules, Lordstown, Nikola, and Rivian, while the upcoming Ford F-150 EV should eventually do epic battle against GM's own Chevrolet BET (Battery Electric Truck—we hope they come up with a more engaging name), leaving Nissan's Titan Electric Truck to pick up the scraps. Who knows how many of these will ever see the light of day, but some certainly will.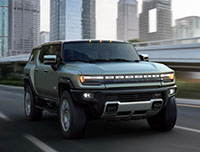 Barring an economic meltdown, GMC's new Hummer pickup will be one of the survivors, as will the just-released SUV. The two models' performance won't be detuned in production form either, with the truck's top-line "3X" powertrain making a mind-blowing 1,000 horsepower that results in sprints from standstill to 100 km/h of just over 3 seconds. That's Corvette territory performance from a truck that probably carries twice the curb weight, the speedy acceleration partially due to 11,500 lb-ft of instantaneous torque from its three electric motors.
You heard that right, both Hummer models' top-line "3X" powertrain option are three times more fun than electric vehicles with just one motor. The SUV is "only" good for up to 830 horsepower, albeit the same 11,500 lb-ft of torque. The mid-range "2X" engine utilizes two electric motors for up to 625 horsepower and 740 lb-ft of torque, resulting in a zero to 100 km/h sprint time of roughly 5 seconds, incidentally, which will no doubt be enough for most buyers. Lastly, a base model merely dubbed EV2, featuring 400 volts of charging capability compared to the 2X and 3X models' 800-volt/300kW charging systems, will be the entry-level gatekeeper.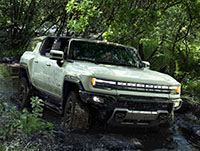 "GMC's HUMMER EV SUV offers an exceptional balance of on-road performance and off-road capability, enhanced by a unique structure that allows for our signature open-air experience," said Al Oppenheiser, Hummer EV chief engineer. "New features debuting on the SUV reinforce its role as a tactical tool in almost any situation."
When the truck arrives in the fall of 2022 as a 2023 model, it will come in special "Edition 1" trim with its strongest performance setup, as will the SUV when it shows up in early 2023. Base SUV trims will arrive in the spring of 2024, probably for the 2025 model year, with other trims spaced out in between.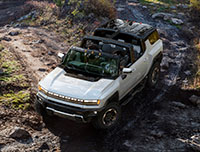 Range, the all-important question most EV buyers ask of their new ride, is 482 km for the SUV and 560 km for the truck, the difference due to four additional Ultium battery modules (24 compared to 20) fitting within the span of the latter vehicle's 3,444-mm wheelbase—the SUV's wheelbase is 226 mm shorter at 3,218 mm. A less potent base SUV, stocked with just 16 modules, should be good for more than 400 km of range in optimal circumstances. All trims feature GM's new double-stacked battery pack, which comes as part of an interdependent body/battery structure to enhance the vehicles' rigidity.
"The HUMMER EV's body protects the battery, while the battery supports the structure," added Oppenheiser. "That means the battery pack itself is a structural element, which enables a truly open-air experience and a rare combination of extreme off-road capability and smooth on-road performance in a body-frame integral platform."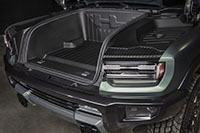 GM Canada is promising a base price of $88,898 (plus freight and fees) for that 16-module base EV2 model, but it'll be the only Hummer SUV to slip below the six-figure price threshold. The 2X, alternatively, will be priced at $104,898 and 3X from a minimum of $119,398, with the Edition 1 setting early adaptors back $125,898.
Once near flagship Range Rover price levels, however, why not go for the gusto by opting for an Edition 1 with its Extreme Off-Road package, a mere $131,898 being the price of entry for underbelly skid plates that GMC actually calls "armour", plus rock sliders, front eLocker and rear virtual locking differentials, HD ball-spline half-shafts, and 22-inch alloys wrapped in 35-inch-OD Goodyear Wrangler Territory MT rubber, not to mention front- and rear-facing UltraVision underbody cameras (with a wash system) to help you skirt over untoward obstacles.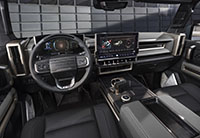 Such extras should work wonders with the SUV's already standard Crab Walk technology, which adjusts the standard four-wheel steering system so that all wheels are pointing in the same direction for diagonal mobility, while its air suspension with Extract Mode actually increases ground clearance to a maximum of 406 mm (16.0 inches) on the fly, helping the Hummer walk up and over tall rocks, roots, mud holes, etcetera.
For those willing to potentially scratch up their Hummer EV, it should at least be equal to its diesel and gasoline predecessors when off-road. The e4WD system's ability to power a single wheel at a time should prove very helpful in slippery conditions, as should its 330 mm (13 inches) of suspension travel, ability to climb 60-percent grades while going forward or reversing, capability of scaling 457 mm (18-inch) vertical obstacles, and skills at fording more than 600 mm (two feet) of water.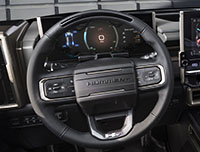 Some noteworthy options will include a "multisensory, interactive experience" called Watts To Freedom, which provides special audio from the Bose sound system, plus kinesthetic sensations via the haptic driver's seat, and visuals through custom displays that show the SUV's performance mode as "armed and ready." It's all customizable in GMC's My Mode, which lets drivers personalize driving features such as steering and suspension settings, as well as the SUV's acceleration response and even the sound the motors make.
An Infinity Roof, along with modular Sky Panels come standard, creating the open-air experience chief engineer Oppenheiser described earlier. This will be ideal when trekking through the wild on a sunny day, whether actually enjoying the wilderness or navigating the urban jungle.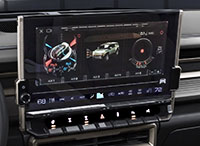 The five-occupant SUV should be plenty practical, with its spare tire hanging on a powered side-swinging tailgate that opens up "wider than the vehicle itself." GMC promises "an unimpeded 48-inch opening" and up to 2,316 litres (81.8 cubic feet) of cargo space when the rear seats are lowered. Additionally, more storage space can be found below the load floor, plus another compartment is integrated within the cargo area's sidewall.
Speaking of wide, a large 12.3-inch digital gauge cluster gets joined by an even bigger 13.4-inch infotainment touchscreen at centre. Integrated within, the "In-vehicle Energy App" both monitors energy usage and can be used to set up charging schedules, condition the battery temperature, and more.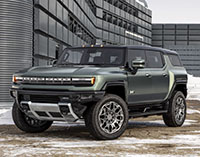 Tech in mind, a Digital Key lets owners use their smartphone as the key fob, while the SUV's HD Surround Vision parking camera provides up to 14 camera views. The previously noted UltraVision underbody camera system offers up to 176 camera views, incidentally, plus a bevy of Off-Road Widgets provide performance readouts for off-road driving scenarios such as "ride height and eLocker engagement, compass headings, pitch/roll status," and more.
All Hummer EV models can also be had with an updated version of Super Cruise, GM's much-lauded semi-autonomous driver assistance technology that allows for hands-free driving on compatible highways. The updated system even includes new automatic lane changing.
If that wasn't techie enough, DIY folks and campers will love the new optional Power Station generator that provides 19.2 kW of AC charging/generator functionality for accessories (120V/25A/3kW) and the ability to charge other EVs (240V/25A/6kW).
More detailed option pricing will be available closer to launch, as will the ability to configure the new Hummer EV models online. The SUV's special Moonshot Green Matte paint will no doubt be on offer, as will a diverse palette of standard and optional metallic colours.
GMC HUMMER EV SUV | EXTRACT MODE | GMC (0:15):

GMC HUMMER EV SUV | "Another Revolution" | GMC (3:30):

GMC HUMMER EV SUV | THE NEXT ALL-ELECTRIC SUPERTRUCK | GMC (1:31):

GMC HUMMER EV SUV | WHAT TWO CAN DO: TEASER SIX | GMC (0:30):

GMC HUMMER EV SUV | ARRIVAL: TEASER FIVE | GMC (0:15):

GMC HUMMER EV SUV | ANTICIPATION: TEASER FOUR | GMC (0:15):

GMC HUMMER EV SUV | WITNESS: TEASER THREE | GMC (0:30):

GMC HUMMER EV SUV | IMAGINE: TEASER TWO | GMC (0:15):

GMC HUMMER EV SUV | COUNTDOWN: TEASER ONE | GMC (0:15):

Story credits: Trevor Hofmann
Photo credits: General Motors