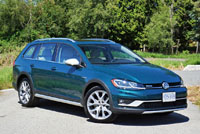 News flash! Volkswagen has a lot of 2019s still available, including the fabulous Golf Alltrack.
Okay, I let the cat out of the proverbial bag and now without having to read any further you know how I feel about this impressive little crossover wagon. This said you may also now realize how disappointed I am that it was discontinued last year, with the remaining 2019s all that's left of new inventory.
In case you're wondering how much you can currently save on this fashionable European, CarCostCanada is reporting up to $1,500 in additional incentives, but I'm guessing you can get more off than that. Sign up for a CarCostCanada membership and you can access the 2019 Golf Alltrack's dealer invoice price, so when you call the dealership or go online to negotiate (I wouldn't recommend showing up at the dealership right now), you'll know exactly how much they paid VW for it, plus you'll know about any manufacturer rebates and financing/lease rates currently available. I seriously don't understand why someone would consider buying a new car without first arming themselves with this treasure trove of knowledge.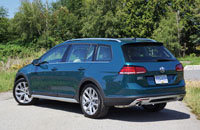 The Golf Alltrack is a car I'd consider owning, because it suits my personal taste and lifestyle to a tee. I find it great looking, even more so than the Golf SportWagen it's based upon, which is also cancelled for 2020, the Alltrack's raised height and tastefully beefy body cladding working perfectly with its long, chiseled fuselage, while all of its aluminum-like detailing, including the side mirror caps, make it look downright rich.
Like with all Golf models, the Alltrack's most impressive attribute is its interior. Premium-like details abound, such as fabric-wrapped A-pillars, a soft-touch dash top that extends down to the midpoint of the instrument panel, the same pliable composite used for the front door uppers, an impeccably detailed leather-wrapped flat-bottom sport steering wheel with fabulously thin spokes filled with high-quality switchgear, cool grey carbon fibre-style dash and door inlays, glossy piano black surfacing in key areas, and a tasteful assortment of satin-finish aluminum accents throughout.
The Alltrack's monochromatic multi-information display (MID), which sits between the otherwise highly-legible primary instrument cluster, wasn't up to standards when I last tested this car in 2017 and still isn't. This is particularly true from a manufacturer that offers a wholly impressive full digital display in some of its other models, while most of its compact rivals provide high-resolution full-colour TFT MIDs loaded with features.
On the positive, my as-tested top-tier Alltrack Execline's infotainment system was superb, this model and the base Highline trim replacing the old outdated 6.5-inch centre touchscreen with a state-of-the-art 8.0-inch display this year, once again filled with Apple CarPlay, Android Auto and MirrorLink smartphone integration, and a nice clear backup camera (albeit without active guidelines), while exclusive to the Execline is nicely detailed navigation mapping with very accurate GPS guidance. Additional infotainment features include voice recognition, Bluetooth phone and audio streaming connectivity, the latter controlled via an easy-to-use audio interface connecting through to a standard six-speaker audio system with satellite radio in the base Highline trim, albeit a much more expressive nine-speaker Fender system in the Execline, while additional digital panels provide access to apps, car system functions, etcetera. The display even uses proximity-sensing technology that pops hidden digital buttons up from its base when your fingers get near.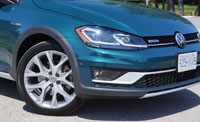 Now that I've mentioned changes from the previous 2017 model I tested and this 2019, I should also give you a bit of history and fill you in on some additional updates made along the way. The Golf Alltrack actually came into existence for the 2017 model year, and surprisingly was updated for 2018 with new LED signature lights inside its base halogen and optional LED headlamps (depending on trim), redesigned LED taillights with their own signature look, plus other subtle changes to the front and rear fascias.
This 2019 model carried over everything from 2018, including the updated transmission choices that now consist of a base six-speed manual (VW's six-speed DSG dual-clutch automatic with manual mode was standard initially) as well as paddle-shifters for the now optional six-speed DSG auto in Execline trim, so therefore it's now more engaging to drive in most trims (the Highline DSG forgoes the paddles).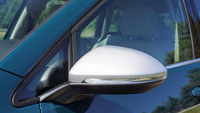 The 2018 model received two new colours as well, growing from seven in 2017 to nine the following year, all of which are available in both trim levels for 2019. The test model featured on this page wears one of those new colours, Peacock Green Metallic, while White Silver Metallic will likely be the more popular choice considering most everyone's love affair with white and VW's traditional allegiance to its Germanic silver heritage racing livery. Inside, no-cost optional Shetland beige offsets the green nicely, while Titan Black is standard.
To clarify, the previously single-trimmed model now has two trims, Highline and Execline, the former starting at $31,200 (plus freight and fees) with its manual or $1,400 more for the DSG automatic, while my tester's Execline trim can be had for $35,270 with the manual or $36,670 as-tested, less the aforementioned incentives and any other discounts you can negotiate after learning about its dealer invoice price from CarCostCanada.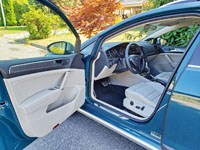 The Execline includes one-inch larger 18-inch alloys on 225/40 all-seasons as standard equipment, plus standard LED headlights with active cornering, paddle shifters with the automatic transmission, navigation, an SD card slot, the aforementioned Fender audio system with a subwoofer (which produces great sound for the class), front sport seats, a 12-way powered driver's seat with two-way powered lumbar (that's superb, by the way, with excellent side bolstering), and leather upholstery.
VW also added its only optional upgrade with my tester, a $1,750 Driver Assistance Plus package that includes autonomous emergency braking with pedestrian monitoring, blindspot detection with rear cross-traffic assist, lane assist, automatic high beam control, adaptive cruise control with stop and go, plus park assist with park distance control.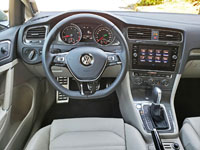 Features pulled up to Execline trim from the base Highline include standard 4Motion all-wheel drive, automatic on/off headlights with coming and leaving functions, fog lamps, silver finished side mirror caps, silver roof rails, proximity-sensing keyless access with pushbutton start/stop, rain-sensing wipers, power windows, the aforementioned leather-wrapped multifunction steering wheel, a leather-clad shift knob and handbrake lever, simulated carbon fibre decorative inlays, brushed stainless steel foot pedals, dual-zone automatic climate control, a USB port, three-way heatable front seats, a two-way powered front passenger seat (it's eight-way manually adjustable), an auto-dimming rearview mirror, ambient lighting, LED reading lamps, illuminated vanity mirrors, a large powered panoramic sunroof with a powered sunshade made from an opaque fabric, a scrolling rear cargo cover, 12- and 115-volt charging outlets in the cargo area, 60/40 split-folding rear seatbacks with a centre pass-through, and the list goes on and on, although considering its mid-'30k price point a heated steering and heated rear seats would be nice.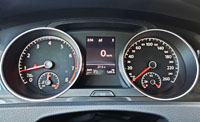 Mechanically, the Alltrack is identical to previous model years, utilizing Volkswagen's well-proven turbocharged 1.8-litre four-cylinder engine that's good for 170 horsepower and 199 lb-ft of torque. It provides strong, smooth, linear power resulting in reasonably quick takeoff and good highway passing power for this fairly light, relatively compact car, and while the all-wheel drive system doesn't offer a low gearing range or even a locking differential, it's excellent on rain-soaked roads, packed snow, and can even manage some lighter duty off-road situations.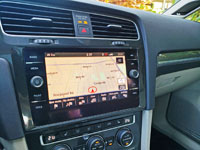 Transport Canada rates the Alltrack's fuel economy at 11.1 L/100km in the city, 7.8 on the highway and 9.6 combined for the manual, and 10.7, 8.0 and 9.4 respectively for the automatic, so it's pretty good as far as compact crossover utilities go.
The entire car rides on Volkswagen's usual front strut and rear multi-link suspension setup, which means that its ride is very good and handling even better, this even despite a one-inch higher centre of gravity over its Golf SportWagen donor car. The ride-height lift comes from exclusive springs and shocks, while the power steering is speed-sensitive to improve feel, and it's nicely weighted with good response and reasonably good connectivity to the road, unusual for this class, while the vented front and solid rear brake discs provide good stopping power thanks to 286 and 272 mm diameters respectively.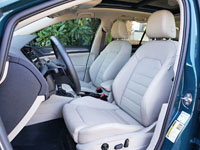 All of these attributes could be applied to the regular Golf hatchback too, but the big difference with the Alltrack or its just-noted SportWagen sibling when compared to shorter wheelbase VW alternatives is cargo space, with the two elongated models getting 368 additional litres (13.0 cubic feet) of volume behind the 60/40-split rear seatbacks and 362 (12.8 cu ft) more when they're folded flat, the larger car's cargo capacity measuring 861 and 1,883 litres (30.4 and 66.5 cu ft) respectively.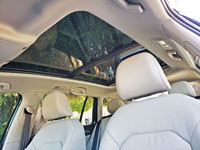 Just like the regular Golf, the rear centre pass-through provides useful storage for longer cargo such as skis, allowing two rear passengers to enjoy the more comfortable window seats. I also like that Volkswagen includes levers on the side of the cargo walls for dropping the seats, and they fully fold down automatically. Another positive is the quality of the cargo cover, which is by far the best in this class. It's a solid chunk of metal mated to high quality plastic the clicks into place like a precision instrument, and it weighs a fair bit when pulling it out too.
Volkswagen includes a shallow area under the load floor along with a space saver spare tire. There's no powered rear hatch to make access easier when hands are full, but it was never an issue during my weeklong test. The roof rack on top is also useful too, providing you get the necessary add-ons to make the most of it. And speaking of loads, the Alltrack receives 14 additional kilograms (31 lbs) of payload capacity to go along with the added space over the regular Golf, resulting in a 459-kg (1,012-lb) maximum.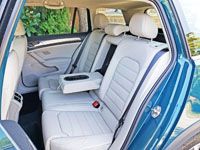 In case you're wondering how it stacks up against VW's Tiguan, the Golf Alltrack is just 73 litres (2.6 cu ft) smaller behind its rear row and actually 23 litres (0.8 litres) roomier when its rear seatbacks are laid flat, so it's a good compact SUV alternative if you'd rather be closer to the ground to experience more traditional road car handling.
On that note I prefer driving this Golf Alltrack when compared to the new Tiguan, and find its interior more refined as well, but of course I'm well aware my personal taste doesn't always flow in the mainstream, something made obvious by this model being discontinued while the Tiguan is becoming VW's shining star.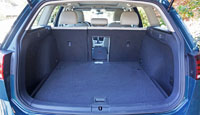 Tiguan sales were up 42.7 percent in calendar year 2018 to 21,449 units in Canada, but its upward surge still wasn't enough to upstage the Golf that beat it by 28 deliveries. This said Volkswagen needs six different Golf models to achieve that number, including the regular Golf hatchback, Golf GTI, Golf R, e-Golf, Golf SportWagen, and this Golf Alltrack. Last year saw the Tiguan lose 10.2 percent to 19,250 units from its previous high, while the Golf only lost 8.4 percent to 19,668 units in 2019. Now with the Golf Alltrack and SportWagen gone from the lineup, the Tiguan has an opportunity to overtake the Golf, although the current realities of COVID-19 mean that 2020 will be far from a banner year.
Just the same, if the Golf Alltrack sounds like your idea of the perfect car/SUV compromise, I recommend first doing some research at CarCostCanada for any manufacturer rebates, financing/leasing deals, and of course dealer invoice pricing that could save you thousands, and then contacting your dealer via phone or online. Most retailers are providing home road tests of fully sanitized cars these days, so as long as you've prepared ahead of time, you'll get the best deal possible. As for the Golf Alltrack, I'm quite certain you'll love it.
Photos by Trevor Hofmann