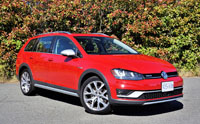 And the winner of the 2017 Auto Journalist Association of Canada's (AJAC) Canadian Car of the Year award is (insert drumroll here)… the 2017 Volkswagen Golf AllTrack!
Well that one caught me by surprise, as did the selection of the 2017 Subaru Forester for the Canadian Utility Vehicle of the Year. Not that these two compact crossovers aren't worthy, but the Subie was merely a mid-cycle refresh, and a mild one at that, and the COTY winner was (as just stated) more of a crossover SUV than a car (or at least that's how VW classifies it on their retail site).
Yes, I'm aware that it's actually Golf SportWagen and therefore kind of qualifies, but it's adequately raised and moderately pumped up on Var (Anavar or oxandrolone for those not familiar with one of the milder and therefore more popular anabolic steroids) thanks to plenty of matte black body cladding including a quad of flared fenders, slick looking aluminized front and rear undertrays and rocker moulding trim, a set of aluminum roof rails up top, plus some trick aluminum-finish mirror caps to each side, not that these have anything to do with SUVs. No matter how you slice it, VW was trying to turn its wagon into a compact crossover SUV and did such a good job they won AJAC's Car of the Year title.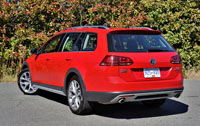 This wasn't the first time a Volkswagen Golf won AJAC's Car of the Year, the GTI deservedly taking top honours in 2010, but it's the first time sport utilities won both the COTY and the CUVOTY. The rugged looking VeeDub first won the "Best New Large Car" title last fall, which is certainly a big title for a compact wagon, but hey. As long as automakers are bending categories to suit their current lineup of rolling stock, why not bend a few rules about what actually constitutes a "large car".
Of course, I'm having a bit of fun with my esteemed auto journo colleagues (a number of which are highly intelligent, incredibly hard working, very dedicated, wholly professional, and damn nice… the others we won't mention) and the results of what is no doubt a mind-numbingly complicated rating process that's horribly challenging to organize and then vote upon, so I hope they don't take offence. They were certainly right in choosing two great crossover SUVs as their topmost winners, this new 2017 Volkswagen Golf AllTrack combining almost everything I've always loved about the Golf SportWagen with a certain cool factor that non-wagon lovers might say was missing.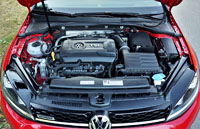 Almost? Yah, it would've been better with if TDI were stamped on the back and the awesome 2.0-litre turbo-diesel still bolted into its engine bay. I know the dirty little devil isn't exactly on good terms with the world right now, but those of us who love modern-day oil burners are lamenting their loss from VW's lineup and most other Euro brands.
As it is this beefy little five-door gets VW's still impressive gasoline-powered 1.8-litre direct-injection four-cylinder that puts out 170 horsepower and 200 lb-ft of torque, which is plenty to propel its "large car" mass forward in lickety–split quickness no matter the slipperiness of tarmac or alternative road surface underneath, thanks in part to standard 4Motion all-wheel drive.
The AllTrack's increased ground clearance combines with an "Off Road" driving mode that is claimed to optimize "traction on uneven surfaces," says VW, so this week we'll just have to find out firsthand. I can't say its all-season rubber or 18-inch Canyon alloys fill me with rock-crawling confidence, but a little summer beach sand might be a fun in the absence of any knee-deep powder.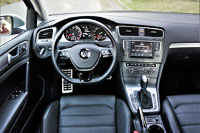 I think Volkswagen had the latter in mind when creating the Golf AllTrack, along with weekend jaunts to the cottage, weeklong road trips with a tiny Boler or Scamp in tow (I wonder if you can get one of those in Tornado Red?), or any other light duty use for strong torque and four-wheel traction.
I don't have either so I'll likely keep my upcoming road test comments to driving sans camp trailer, not to mention the usual laurels I laud on any Golf's superb interior, which in this case includes VW's excellent 6.5-inch proximity sensing, Apple CarPlay, Android Auto and MirrorLink infused touchscreen infotainment system.
All Golf SportWagens benefit from an outrageously roomy interior, especially in the very back for cargo, not to mention a centre pass-through that makes the 60/40 split-folding rear seatbacks more flexible, so being that this new AllTrack is no different from the wagon in this respect it should work well for the heavy hauling I've scheduled.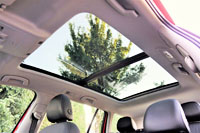 I won't go into too much detail about features, but suffice to say that exterior colours are your only options, with the base 2017 Golf AllTrack packed full of everything already mentioned as well as a six-speed automatic with manual mode, auto on/off headlamps with static cornering capability, fog lights, powered and heated side mirrors with integrated LED turn signals, proximity keyless access with pushbutton ignition, ambient LED interior lighting, a leather-wrapped steering wheel, shift knob and handbrake lever, rain-sensing wipers, cruise control, an auto-dimming rearview mirror, Bluetooth phone connectivity with audio streaming, voice activation, two SD card slots, navigation, a rearview camera, satellite radio, dual-zone auto climate control, leather upholstery, a 12-way powered driver's seat, heatable front seats, a really nice panoramic powered sunroof, variable cargo load floor, a 115-volt household-style power outlet in the cargo area, etcetera.
I'll come back and report on how all this stuff works very soon…