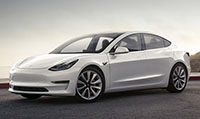 Car sales have been slip-sliding away when compared to crossover SUV deliveries lately, with BMW selling less than half of its 3 and 4 Series models than it did a decade ago, and Mercedes-Benz' C-Class down to a third of its 2010 numbers. Tesla's all-electric Model 3 is bucking the trend, however, with a total of 12,800 Canadian deliveries in 2021, compared to just 4,348 for the 3 Series, and 3,010 sales of the C-Class.
The Model 3 outsold every other D-segment competitor last year in the U.S. market too, with 121,610 deliveries compared to 49,461 BMW 3 Series (or 72,398 including the 4 Series) and just 30,815 Mercedes C-Class models (which include three body styles).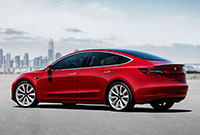 If the Model 3's clean sweep of its category in North American markets wasn't enough, last year it outsold the 3 Series in 28 European countries as well. In fact, with 141,429 deliveries under throughout 2021, Tesla's entry-level car sold more units in Europe than the Canadian and U.S. markets combined, according to JATO Dynamics. Comparatively, the 3 Series only found 116,250 European buyers during the same period,
Back to Canada, the Tesla Model Y compact luxury crossover SUV didn't fare as well as the Model 3 last year, both in total sales and when compared to rivals, due to just 6,400 examples sold for a sixth-place ranking in the compact luxury crossover SUV segment. Ahead of the Model Y was the Audi Q5 in first with 9,968 deliveries, while the Acura RDX came in second with 7,976 unit-sales. Third was the BMW X3 with 7,506 deliveries, while fourth was taken by Lexus' NX with 7,283 new Canadian buyers, and finally Mercedes-Benz' GLC-Class took fifth with 6,887 units sold.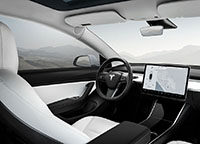 In the U.S., mind you, the Model Y was far and away number one in its class thanks to 161,529 deliveries compared to 86,478 combined BMW X3 and X4 sales (made up of 75,858 X3s and 10,620 X4s), so being that Canada often mirrors American sales in this category, albeit by approximately 10 percent of the volume, it's likely that Tesla's compact crossover would have placed much higher if enough units were made available (allocation is often the culprit). Whether or not calendar year 2022 will see a Canadian adoption of this U.S. market trend won't be known until Tesla's quarterly numbers start arriving in early April, and even if it's not on top after Q1, it would be unwise to bet against Tesla being number one in Canada's compact luxury crossover SUV class by the close of this year.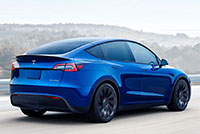 Currently, Tesla has factory leasing and financing rates on the Model 3 and Model Y from zero percent, so be sure to check out CarCostCanada to find out all the details. You can also configure your Model 3, Model Y, Model S and Model X within the CarCostCanada site or via their free app.
Notably, BMW is fighting back to reclaim some market share with its new 4 Series-based i4, while also targeting Tesla's Model X mid-size crossover SUV (and Audi's E-tron) with its similarly sized iX. Find out more about the two Bavarian electrics by clicking here…
Model 3 at Tesla winter proving grounds (0:15):

Snow laps in a Model 3 (0:15):

Model 3 Surprise (1:53):

Model 3 Guide | Navigate on Autopilot (1:16):

Model 3 Guide | Gear Selection (0:42):

Model 3 Guide | Mobile App (0:33):

Model 3 Guide | Phone Key (0:24):

Model 3 Guide | Key Card (0:25):

Model 3 Guide | Enhanced AutoPilot (0:49):

Model 3 Guide | AutoPark (0:45):

Model 3 Guide | Charging (0:38):

Model 3 Guide | Charging Adapters (0:35):

Model 3 Guide | Front Trunk (0:28):

First Model 3 Handovers (14:45):

Tesla Unveils Model 3 (22:43):

Story credit: Trevor Hofmann
Photo credits: Tesla