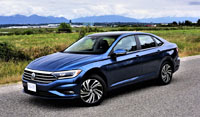 For many in Canada, Volkswagen is more of an afterthought when considering a new vehicle. Last year it sat 12th amongst mainstream volume brands in sales volume, with the lion's share of new deliveries going to Ford (at 232,194 units), Toyota (196,882), Honda (146,582), Hyundai (133,059) and Chevrolet (111,741), although only the Asian brands offer anything in the compact car class, so therefore this segment's sales hierarchy looks a lot different when comparing both brand popularity and individual model success.
Last year, Volkswagen was the fourth best-selling brand in this category (at 23,665 units) when combining Golf (13,113), Jetta (10,552) and Beetle (460) deliveries, with the Golf placing sixth amongst individual models, the Jetta seventh, and the Beetle way down in 17th, which incidentally was second to last being that it wasn't the only car being discontinued (Chevy's Volt found its last nine buyers in 2020 too).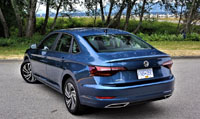 As for the first two quarters of 2021, the Beetle was dead last after just three units were shuffled off to future collectors, while the placement of the Golf and Jetta remained the same with 5,707 and 5,618 examples sold respectively. The big change in the segment comes from Nissan's new Sentra that's now right behind the Jetta with 5,004 deliveries to its credit, whereas Subaru's Impreza and WRX/STI lost significant ground due to just 1,724 and 1,548 respective units down the road, which is probably due to an all-new WRX/STI soon debuting for 2022, plus a new Impreza (and Crosstrek) to follow for 2023.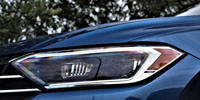 Others losing steam in this segment include Hyundai's Ioniq that only sold 1,538 units compared to Toyota's Prius at 3,107, but the Korean brand's Ioniq Electric is set to be replaced by the much more intriguing Ioniq 5 in the fall, while Nissan's all-electric Leaf just seems to be withering on the vine with just 639 sales to its name, although 2022 will see a substantially lower price that should boost interest. Additionally, Hyundai's Veloster will only come in super-quick N trim for 2022, probably the result of the rest of the line not getting much action, verified by only 328 deliveries, and finally the slowest selling car in this class is Honda's Insight hybrid, which at a mere 193 unit-sales is getting slaughtered by other HEVs that sell for thousands less.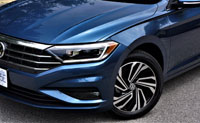 With the Puebla, Mexico-built Golf leaving our market after this year, Volkswagen will likely take a major negative hit in this segment too, falling behind others that focus more on reliability and comfort over perceived performance, although to be clear, Golf GTI and Golf R models will remain, as will the entire Jetta lineup, including its sportiest GLI variant.
It's difficult to say if the Jetta will be able to take up the slack on its own, being that other five-door alternatives like the new 2022 Civic Hatchback, the Corolla Hatchback, the Kia Forte 5, the Mazda3 Sport, the Impreza 5-Door, and some other stragglers noted a moment ago, could fill in VW's entry-level hatchback void. Of course, the German brand will hope such buyers will ante up for its new Taos subcompact crossover SUV, which is sized similarly, or the slightly larger compact Tiguan, while the all-new ID.4 kind of fills the void left by the Golf Alltrack (more on that car in a moment), albeit with an all-electric twist.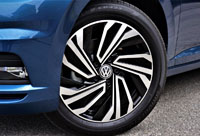 With all of that business out of the way, why choose a 2021 Jetta, or for that matter the 2022 model that shouldn't change by much? Compared to the 2019 version, which was the first year of this seventh-generation body style, the 2021 infuses VW's new MIB3 infotainment software into an interface that looks pretty well identical, although it's the system beneath the graphics that matters most, thanks to including wireless App-Connect, enhanced voice recognition, USB-C charging, upgrades to the navigation system, and SiriusXM with 360L streaming and satellite content, while a wireless charging pad now sits on the lower console below in as-tested Execline trim.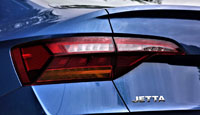 As for choosing a Jetta over one of its four-door competitors, that will come down to a lot of factors including styling, its Germanic feel, and on that note, its performance. Of course, the GLI is the Jetta version to drive if you've got a passion for going fast, but this said all Jettas have usually tended to be more engaging than most of their Asian alternatives. Performance has been a priority for the brand since the Golf/Rabbit arrived on our shores in 1975, with the sportier GTI variant hitting the market in 1979, three years before our American friends received theirs.
The Jetta, which back then was basically a two-door Rabbit with a trunk, arrived here in 1980, and quickly became our best-selling European import. A wagon (always a personal favourite) was introduced at the turn of the millennium for the Golf's fourth and fifth generations, although that baton was dubbed SportWagen when passed over to the seventh-gen Golf line, and even ended up being offered as a soft-roading crossover dubbed Alltrack that featured some SUV-like bodywork and raised ground clearance in an attempt to take on Subaru's Crosstrek.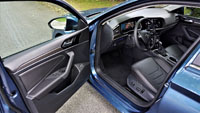 While wagon fans (including yours truly) still lament the loss of both Jetta and Golf variants, there's a lot to love about the sedan, especially in top-tier Execline trim. The four-door's styling has received mixed reviews, but that's hardly unusual in this entry-level class. Honda is undergoing the same type of scrutiny with its new 2022 Civic after the brand followed its usual two steps forward, one step back routine (it's as if there's a tug-of-war between styling progressives and conservatives resulting in each side winning out every other generation), while Toyota appears to have hit the sweet spot with its latest Corolla, although the sharply chiseled new Hyundai Elantra is giving both of these top-sellers a run for their design money.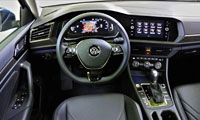 The other Korean, Kia's Forte, continues to look attractively conservative and thus places fourth in this class, just ahead of Mazda's rakish 3 that's probably the closest competitor to the Jetta and Golf due to its performance-oriented personality, this possibly why the smaller, independent brand's compact hatchback and sedan models sit so close to the Golf and Jetta on the aforementioned sales chart.
Moving inside, the Jetta is a tour de force when it comes to electronics. The just-noted infotainment system is very good, thanks to a high-definition gloss touchscreen, attractive graphics, an easy-to-understand layout and quick response to inputs, not to mention real analogue knobs for the power/volume and tuning/scrolling functions, plus it's one of the only touchscreens in the industry to feature proximity-sensing capability, which means that bringing your hand towards the display causes a row of digital buttons to automatically pop up even before your finger touches the screen. It's a really cool effect, but it's also useful because, when those buttons automatically disappear, the entire display is made larger for whatever function you're using.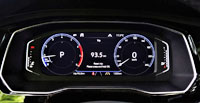 Of course, the infotainment system comes filled with all the expected features, including Android Auto and Apple CarPlay smartphone integration, and control of the decent sounding Beats Audio system, complete with eight speakers and a sub, but I must say the backup camera is a bit subpar for a top-line model in this segment, not for its clarity, which is excellent, but rather for not including dynamic guidelines.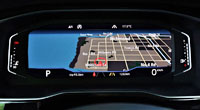 Nevertheless, the Jetta Execline's fully configurable 10.25-inch Digital Cockpit instrument cluster, that's exclusive to Execline trim and the top-level GLI, is in another world compared to anything else offered in this class. Certainly, others include fully digital gauge packages in upper trims, one that I recently drove being the 2021 Elantra in top-line Ultimate dress, but like the new 2022 Civic's take on this tech, its navigation map wasn't capable of filling the entire screen like Volkswagen's. I know that's not the end-all, be-all of functions, but just like this feature wowed me in Audi's Virtual Cockpit before, it once again had me mesmerized in the Jetta, even providing the ability to zoom in and out from a button on the right-side steering wheel spoke. The active display does more than just that, of course, offering up a smaller map with surrounding info in another mode, plus a particularly colourful duo of circular gauges in its default setting, not to mention plenty of other features in numerous configurations.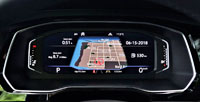 Framing the gauge cluster is another VW favourite, the Jetta's flat-bottom sport steering wheel, which is one of the nicest in its segment thanks to a meaty soft leather-covered rim with wonderfully form-fitting thumb spats to each side and grippy baseball-style stitching around the inner ring, plus thin spokes filled with high-quality switchgear, while those spokes are dressed up with a tasteful splash of aluminized brightwork and piano black lacquered surfaces.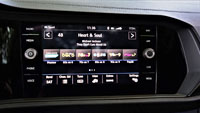 Yet more satin-finish accents and inky black highlights can be found throughout the rest of the cabin, but it's not overdone like some rivals from the east. I prefer to call the Jetta's interior purposeful rather than austere, but I'm sure some will find the mostly muted black interior a tad conservative, bright and colourful displays aside.
This said, most of the pliable composite surfaces that made earlier (pre-2010) Jettas feel like premium rides have been eliminated, only leaving a rubberized soft-touch dash top and upper instrument panel, plus equally pampering front door uppers. The only model in this class with less appealing plastics is the Elantra that doesn't even offer soft door uppers up front, but we're not exactly comparing D-segment luxury sedans here. The clear differentiator is Volkswagen's choice of hard plastics south of the waste line, other than the comfortable padded leatherette used for the door inserts and armrest, as well as the centre armrest overtop the console bin, which are nicely padded in plush leatherette.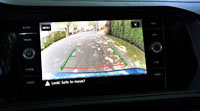 The front seats, on the other hand, are firmer than any in this class and most in the entire industry, which is a bit unusual considering the Jetta Execline's comfort-oriented mission. I'd normally never complain about cushion firmness, but the Jetta's seem designed by someone who dreams on a tatami mat. These things go beyond just firm, with a lower cushion that actually became quite uncomfortable on longer stints during my weeklong test.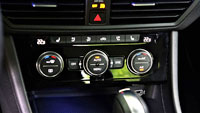 Oddly, GLIs, GTIs, and even Golf Rs that I tested previously never felt this way, but at least the Jetta's side bolsters were excellent, while the six-way power-adjustment on its driver's side (the front passenger gets no such luxuries), with two-way powered lumbar support that met the small of my back ideally, plus three-way memory no less, came to the rescue as best it could, as did the soft perforated leather that provided an exit strategy for forced ventilation, which kept me cool when otherwise ready to fume about my aching back. Their heatable capability was even more useful in this situation, as my driver's seat warmed to near therapeutic temperatures in order to ease two inflamed ischia. More on the positive, better than average reach and rake from the tilt and telescopic steering column made for a great driving position, while the steering wheel rim in Execline trim is also heatable, as are the rear outboard seats.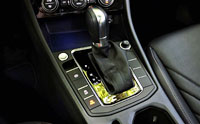 Also positive, my tester's rear outboard seats were truly superb, with more of a bucket-like feel than any others I've experienced in this class, thanks to excellent side bolstering that really wrapped all around my backside. The same can be said for the lower cushions, which provided a little more padding than the driver's seat, or so they felt. VW includes a nice and wide flip-down armrest with integrated cupholders in the middle position, so together with the door armrests the rear outboard seating area is comfortable for both forearms.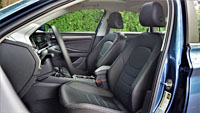 As for space, I had about half-a-foot in front of my knees and plenty of room to stretch out my legs, with feet under the front seats when the driver's position was set for my long-legged, short-torso five-foot-eight frame. Additionally, I had about three-and-a-half inches left over above my head, plus plenty of space next to my shoulders and hips. I'm not sure if the Jetta is best-in-class for rear seat roominess, but I'm guessing it's very close. Volkswagen should be commended for this, but unfortunately the rear compartment's finishing was less appealing than most in this category, including the expected hard plastic door upper, but also hard plastic door inserts that are almost never part of the package. At least the powered sunroof overhead was almost panoramic, helping to visually open the car up to more natural light.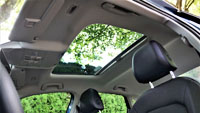 Like the rear passenger compartment, the trunk is large at almost 400 litres (14.1 cu ft), while the lid lifts up high and out of the way, but be careful to push it all the way up, because if you leave it down even slightly it will fall and smack you in the head, which happened to me once during my test. Also different from most Volkswagens, the Jetta only offers 60/40 split-folding rear seatbacks instead of the usual 40/20/40-split used in the Golf and other VW products. This limits the usability of the trunk when going skiing, for instance, especially if rear passengers want to enjoy the aforementioned seat warmers, but such is the same for most of the Jetta's peers.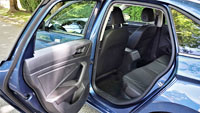 Leaving the best for last, I set the dual-zone automatic climate control system to 21.5C via outer rings wrapping large circular dials that wiggled a bit too much for my liking, their digital readouts bookending a row of nicely damped buttons that included those needed for warming buttocks and backside, after which I turned the fuel-saving auto start-stop system off and the drive mode setting from Normal to Sport, disregarding Eco and Custom, the lower-console mounted buttons for these rather sloppy and noisy, unfortunately, unlike the nice and tight aluminized ignition button and little electromechanical brake lever found nearby. I then slotted the eight-speed automatic's gear lever into "D" for drive before shoving it over to the right to "S" for manual shift mode, and let the Jetta's impressive 1.4-litre turbo-four spool up as much of its 147 horsepower and 184 lb-ft of torque as possible before launching from standstill.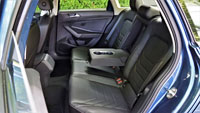 It's the torque that matters most in this little mill, with all of its available twist from just 1,400 rpm, while the gearbox is quick-shifting and very smooth, only needing a set of steering wheel paddles to make it more engaging. These come with the GLI, incidentally, along with a much faster-shifting seven-speed dual-clutch transmission, while its 2.0-litre turbocharged four puts out a much more energetic 228 horsepower and 258 lb-ft of torque, resulting in a zero to 100 km/h sprint time of just 6.6 seconds compared to 8.7 for the Jetta Execline, although opting for the more comfort-oriented Jetta pays of at the pump.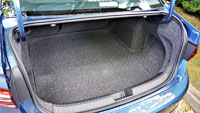 Driving more modestly in Eco mode results in 8.0 L/100km in the city, 6.0 on the highway and 7.1 combined in the Jetta Execline, whereas the automated transmission in the GLI is only good for a claimed 9.7 city, 7.0 highway and 8.5 combined. The GLI can be had with a six-speed manual too, by the way, which is identically quick and exactly as efficient with fuel, while the regular Jetta with its base six-speed manual (not available in the Execline) manages just 7.9 city, 5.8 highway and 6.9 combined for truly stingy operation, plus it reportedly takes exactly the same amount of time to arrive at 100 km/h from standstill as my automatic-equipped tester.
Better than its straight-line performance, the Jetta Execline provides a nicely weighted, electrically assisted rack and pinion steering system resulting in good handling for the class, despite incorporating a less-than-ideal semi-independent torsion beam rear suspension setup. The front suspension uses independent Macpherson struts, par for the course in just about any segment, but only the GLI gets an upgrade to a multi-link rear suspension design, which is much better for absorbing pavement irregularities and therefore keeping rubber on the road where it can apply traction.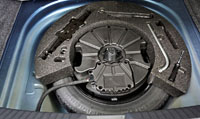 Comparatively, even Honda's most basic Civic LX comes standard with a fully independent suspension including a rear multi-link rear setup, as does Toyota's simplest Corolla L, and Nissan's cheapest Sentra S, while Subaru's least expensive Impreza with Convenience trim uses independent double wishbones, which aid comfort yet are more durable for heavier loads, and easier for tuners to tweak, not to mention easy for technicians to adjust for wheel alignment. What about the Golf? Unlike the Jetta, the most affordable Golf Comfortline gets the more sophisticated multi-link rear suspension setup, so while that model is still available it remains the go-to car for lower end VW performance enthusiasts, a worthwhile investment for just $1,500 more.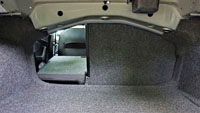 As you may have noticed I left out plenty of Jetta competitors when comparing suspension designs, so it's only fair to add that the Elantra, Forte, and Mazda3 utilize a similar rear torsion beam setup, which is prized for reducing cost and improving rear packaging, the latter sometimes resulting in increased cargo capacity.
In the end, the Jetta is a good car that deserves its success, however middling that may be. It hits high in some areas, such as roominess and advanced electronics, but doesn't really match up in interior plastics quality, front seat comfort, and overall performance, the rear end getting skittish when pushed hard around curves over rough pavement, something the Civic and Corolla, for instance, don't do.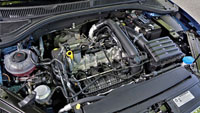 If it were my money and a VW was the target brand, I'd opt for a Golf every day of the week, due to its sharper styling, much better interior quality (even including cloth A pillars), wholly improved handling, and the increased usability (albeit less security) of its rear hatch. To think this model is on its way out is criminal, but it's not Volkswagen's fault that Canadians aren't buying as many cars these days as they used to, instead opting for crossover SUVs more often than not. At least we'll still have the fabulous GTI and Golf R, while as noted the Jetta GLI is a credible performance car as well.
The 2021 Jetta starts at a very reasonable $21,595 in Comfortline trim with its six-speed manual, while my Execline model is available from $28,995. Good news, Volkswagen is currently offering up to $1,000 in additional no-haggle incentives, while CarCostCanada members were averaging $1,527 in savings at the time of writing, thanks to their ability to access dealer invoice pricing that can save you thousands at the time of purchase. Make sure to find out how a CarCostCanada membership can help save you money when purchasing your next new car, and remember to download their free app from the Apple Store or Google Play Store, plus check out the 2021 Volkswagen Jetta Canada Prices page to find out pricing for all the Jetta's other trim lines, including the GLI.
Review and photos by Trevor Hofmann