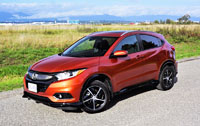 Honda has been a strong player in the subcompact crossover market for decades, although only chose to bring such models to North American markets when our desire for more affordable SUVs firmly took root.
Those of us that like small, useful crossovers owe thanks to early adopters, such as Honda Element that blazed the trail in 2003. Others followed, like Jeep's Compass and Patriot in 2006, Nissan's Cube and Juke in 2009 and 2010 respectively, and the Scion (Toyota) xB that arrived here in 2011, albeit joined the element in the U.S. for 2003. Suzuki's Samurai actually dates all the way back to 1985, but it (and the Vitara that followed) was a true 4×4 and therefore doesn't really fit into this crossover segment that often doesn't even offer all-wheel drive.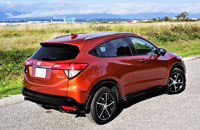 Being that AWD is optional and standard on my tester's Sport trim line, the HR-V isn't relegated amongst the subcompact SUV segment's FWD-only alternatives, which are quickly replacing subcompact hatchbacks, but just the same it effectively ousted the once-popular Fit as Honda's subcompact ride of choice.
The two, in fact, have a lot in common. Both share platform architectures and other unseen components, plus most noticeably their innovative 60/40-split "Magic Seats" system in back, that's long provided class-leading storage in their respective categories. This last attribute, along with their overall comfort, reasonable performance, impressive fuel economy, and expected reliability, are why I've probably recommended them more than any other two cars in their classes.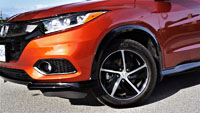 Honda isn't alone in discontinuing its subcompact car, by the way. In fact, this once dozen-or-so-strong segment has been whittled down to just three cars, or five when including 2020 models still loitering around unsold on dealer lots. A smattering of new Fits are probably on that list, so for those wanting to save big on a similarly sized car with near identical functionality, may want to take advantage of a $16,390 (plus freight and fees) starting price, plus factory leasing and financing rates from zero percent according to CarCostCanada (whose members having been saving an average of $1,000 when purchasing a new Fit due to their access of dealer invoice pricing info and more).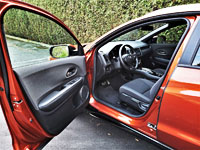 The HR-V, incidentally, starts at $25,200, although Honda is currently offering up to $1,000 in additional incentives no questions asked, while CarCostCanada members have been saving an average of $2,571. You really should check out how easy and affordable it is to save so much money, plus access all their other information about manufacturer rebates, pricing, options, etcetera. It's a great service, and now available from a free smartphone app that's downloadable at Google's Play Store or the Apple Store.
Honda provides the HR-V in three trims for 2021, including LX, which is available in both FWD or AWD, the latter starting at $27,500, plus as-tested Sport, which as noted earlier comes standard with AWD for $30,500, and finally Touring that starts at $33,700 and also features standard AWD.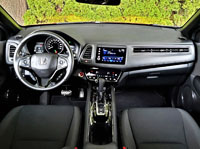 With the only available options for each trim being dealer-added accessories and $300 metallic paint colours, my tester finished in eye-catching Orange Burst Metallic, I might as well get such extras out of the way before delving into standard features. With respect to the latter, base LX trim includes 17-inch alloy wheels on 215/55 all-season tires, a front wiper de-icer, heated and powered side mirrors, remote access, heatable front seats, single-zone automatic climate control, a multi-angle rearview parking camera, a centre display with Apple CarPlay and Android Auto smartphone integration, a 160-watt four-speaker stereo, and more, including those fabulous Magic Seats mentioned earlier.
All HR-Vs come with the Honda Sensing suite of advanced safety and convenience technologies too, such as Forward Collision Warning (FCW), Collision Mitigation Braking System (CMBS), Lane Departure Warning (LDW), Lane Keeping Assist System (LKAS), Road Departure Mitigation (RDM), Adaptive Cruise Control (ACC), and automatic high beams, plus of course all the usual active and passive safety gear.
Adding AWD to the LX brings nothing more to the trim line, but moving up to the HR-V Sport makes a big difference visually thanks to much sportier looking machine-finished 17-inch alloys with black painted pockets, plus a glossy black surface treatment added to the grille insert, revised front lip spoiler, wheel cut-out and rocker panel extensions, rear bumper and more. Front fog lamps continue the performance theme, as does a chrome exhaust tip in back, while the mirror caps receive integrated LED turn indicators, and the roof becomes more useful due to silver rails at each side and a black glass moonroof in the middle.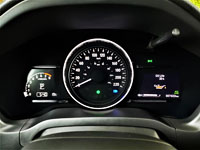 That powered glass sunroof is a lot more enjoyable from the inside, where it sheds light on a special leather-wrapped steering wheel with attached paddle shifters above, and chrome-accented sport pedals below, not to mention another zone for the auto HVAC system, two more speakers and 20 additional watts of power for the audio system, Active Noise Cancellation (ANC) to help maintain a hushed sense of serenity from the outside world, and possible best of all, proximity-sensing entry for easier access.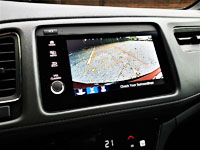 Touring trim replaces the wheels' black paint with a shade of medium grey, swaps out the halogen projector-beam headlights with LEDs and simple auto-off system with auto-on/off, reverts the grille insert to the base LX' dark chrome hue, paints the Sport's gloss-black exterior trim elements in body-colour, and adds rain-sensing wipers, leather for the shift knob and seating surfaces, ups the infotainment system with navigation plus HD and satellite radio, and tops everything off with an auto-dimming rearview mirror.
All HR-Vs come standard with Honda's i-VTEC-enhanced 1.8-litre naturally aspirated four-cylinder engine making 141 horsepower and 127 lb-ft of torque, resulting in amply spirited performance off the line and a cruising speed that's considerably faster than the posted limits. The aforementioned paddle shifters are good for downshifting to hold a "gear" when coursing through corners, something the HR-V does quite well despite its torsion-beam rear suspension, although I must admit to being more comfortable recommending this little ute for buyers who rate practicality over performance.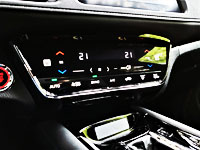 To that end it provides one of the more compliant suspension setups in the class, capable of absorbing any city's or countryside's pavement irregularities with grace and composure thanks in part to amplitude reactive dampers, while eking out a pretty decent fuel economy rating of 9.1 L/100km city, 7.7 highway and 8.5 combined. You'll need to engage the HR-V's standard Eco Assist system and drive modestly if you want to attain such numbers, but thanks in part to an efficient continuously variable transmission (CVT) it's easily doable.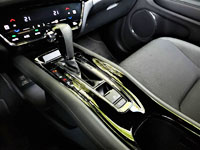 If those numbers seem a bit high, the LX FWD is stingier at 8.4 L/100km in the city, 7.0 on the highway and 7.8 combined, while the same base trim with AWD gets a respective rating of 8.8, 7.5 and 8.2. Some in this class do better, but then again others aren't quite as miserly. You should also keep in mind that most manufacturers provide more than one model in this burgeoning subcompact SUV category, with many that are smaller than the HR-V, while a few brands include hybrid-electric and full-EV variants as well, which, while initially more expensive, are much thriftier to drive.
Of course, now that this rapidly growing segment includes more than two dozen entries, compared to just 14 when the HR-V arrived in June of 2015, choosing the exact one to serve your needs has become more complicated. This said, despite the HR-V being three years into its fairly comprehensive mid-cycle refresh, and seven years into this second-generation body style (we never saw the first-gen model), its strong fifth-place position on 2020's subcompact SUV sales chart should help you understand what a superb little runabout it truly is.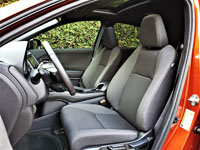 The interior has always been finished well, with a premium-like soft composite surrounding the centre display and bolster ahead of the front passenger, plus unique woven black fabric one-piece door uppers and inserts with comfortable padding underneath. The material almost looks like a black denim, but it's softer and appears more like the cloth used for the roof-liner above. I like the look and the feel, as its plush and easy on arms and elbows. The door panels' armrests are large and covered in a stitched leatherette, these mirroring the centre armrest and looking much like the sides of lower centre console, which while more rubber-like in feel, protect the inside knees of both front occupants.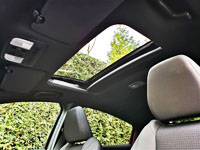 Unlike most vehicles in this class, Honda finishes the rear door panels as nicely as those up front, including the same high-quality fabric for the door uppers. This is a big deal, because most competitors downgrade the rear seating areas. This said, don't expect to find outboard seat warmers in back, or any other luxury touches, but you won't care as soon as you start playing with the magical seats that I keep going on and on about.
Need to stow a bike (without its front wheel) upright inside? Simply flip the rear cushions upward, pickup truck style, and an otherwise difficult challenge becomes as easy as walking it in. So configured, the second-row floor is ideal for transporting tall potted plants as well, or any other unwieldy cargo, while the dedicated luggage compartment benefits from a lower load floor than most rivals as well, even with the rear seatbacks are folded flat. Combined with its tall roofline, the HR-V's maximum cargo capacity is cavernous at 1,583 litres in Sport trim, while this model measures 657 litres behind the rear seats.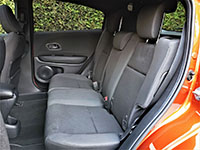 Back up front, the primary gauge cluster consists of a large centre speedometer, a digital tachometer to the left, and a multi-information display to the right, although the latter is more of a digital display providing oil, fuel, and odometer info. Its legibility is excellent in all lighting conditions, and adding a bit of fun to the functionality, a ring around the
Being that the gauge cluster's multi-info display is simple, the switchgear on the steering wheel spokes is for controlling the audio system, changing settings on the centre display, engaging and modulating the adaptive cruise control system, and more, while Honda includes some extra switches below those spokes for additional cruise control adjustments, plus answering calls and using the voice command system.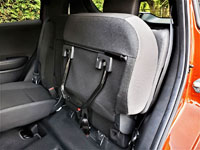 The high-resolution infotainment touchscreen is large, bright and colourful, with attractive graphics and a totally up-to-date look. Honda updated this for the HR-V's 2019 remake, and made sure to include a physical dial for adjusting audio volume and turning the system on and off. The backup camera is large and clear, while its multi-angle view really assists when trying to get close to the curb without scratching the wheels. I had no issue connecting my phone via Bluetooth or listening to favourite podcasts through streaming audio, while setting up Android Auto was easy and worked well.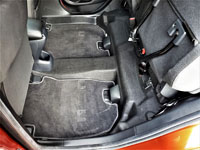 As for the dual-zone auto HVAC system noted earlier, you won't be able to miss its large interface resting just below on the centre stack. It includes nice big digital readouts and its buttons are touch-sensitive for a truly upscale feel. Controls for the two-way heated front seats are included on this panel as well, while its high-gloss black finish seems to flow downwards onto the lower centre console where inky piano black lacquer covers most of the top surface and much of the shifter knob and electromechanical parking brake pull-tab, just like it does on the lower steering wheel spokes and each paddle shifter. It's a nice look, but this type of surface treatment often scratches too easily and collects dust something awful. On the positive, Honda provides plenty of bright metallic accenting around the cabin too, which should wear well.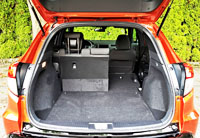 The small overhead console isn't much to write home about, but its two incandescent reading lights brighten the interior well when needed, and power sunroof switch works as required. Much better is the fabric used for the seat upholstery, which covers its bolsters with a similar cloth to the door panels, plus adds an attractively textured and dappled darker black material to the seat inserts.
The HR-V's driving position is excellent, with good adjustability from the seat and even better reach from the tilt and telescopic steering column. The backrest provides excellent lower back support and the bolsters are even good for keeping body in place during hard cornering. Likewise, rear seats are comfortable, while as you might expect given the HR-V's cargo capacity, rear passenger roominess is superb for this class.
All summed up, I can't help but recommend the HR-V once again, because it does everything a small SUV should, plus is more practical than anything else in the class. That's probably why the Canadian Black Book ranks the HR-V highest for retained value in its Sub-Compact Crossover category, this possibly the single most important reason you should consider purchasing one. All in all, it's hard to wrong with an HR-V.
Review and photos by Trevor Hofmann